You can get from A to B in an hour on foot, but if you have a Bugatti Veyron Super Sport, it takes 100 times less. Some will say that the result is the same, but if you have to cover the same distance every day, you better use some transportation.
Search engine optimization (SEO) includes lots of monotonous tasks like keyword research, on-page analysis, traffic analysis, etc. All of them can be optimized to some extent with the help of the right tools.
Here's a list of the best SEO tools every digital marketer should have it their toolbox.

Pricing: free.
Google Analytics is the most used web analytics in the world, which provides with the deepest insights into website traffic and user behavior. The tool allows you to understand what sources drive the most traffic, which landing pages convert best, and how your audience looks like.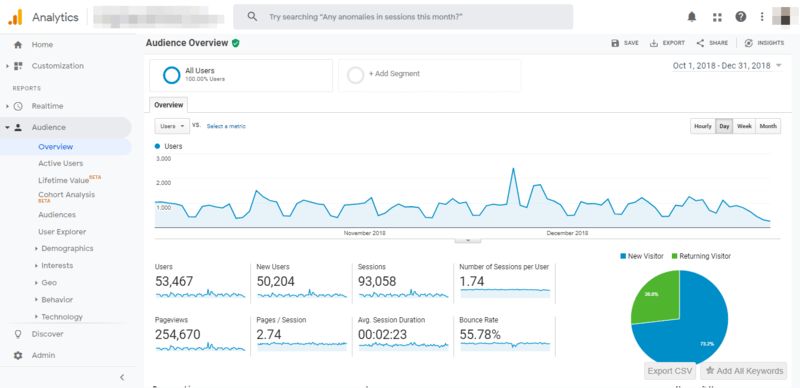 It consists of seven main reports: Home, Customization, Realtime, Audience, Acquisition, Behavior, and Conversions. All of them contain dozens of subsections showing unique and beneficial data.
For those who want to solve any specific tasks, there's an option to create custom reports in the Customization section. All the data is presented using various graphs, charts, and interactive tables.
Tip: You probably have several critical steps in your marketing funnel like an email subscription, registration, purchase, and others. Google Analytics allows setting custom goals and tracking their completion.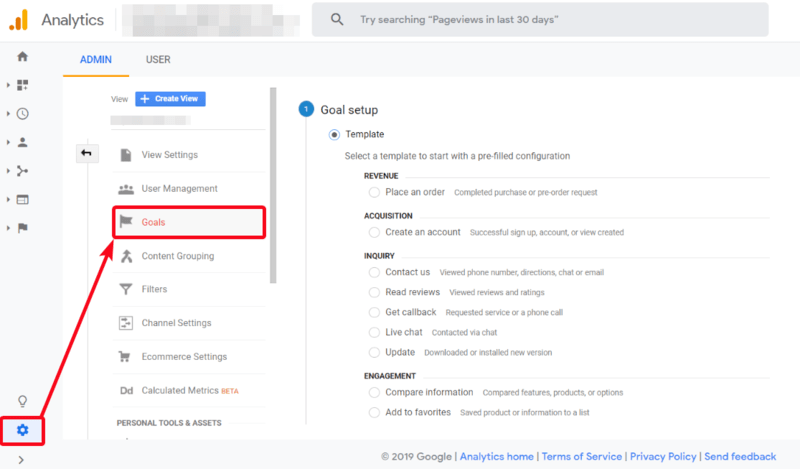 Pricing: free.
Provided by the leading search engine, this tool is an absolute must-have for every website owner. Using it, you can track website performance, find technical issues, analyze keywords your pages are ranking for.
Getting notifications about any issues straight from the horse's mouth is another crucial feature the tool provides. If for some reason your website has been penalized, or there are problems with crawling and indexing, you can check the details in your account.
Tip: Use the Performance report to find low-hanging fruits. These are keywords ranking on 10-20 positions of search results. Sort all the keywords you rank for by positions and select those having the most impressions. Optimizing pages ranking for these keywords and pushing them to the first page is the easiest way to increase traffic.
Pricing: free.
Google Trends is a free tool that shows trending searches over a specific period. You can add your keyword and see how frequently it has been searched for recently or since 2004, check interest volumes by countries, see related queries and topics.
The ability to analyze keyword popularity trends allows predicting its future search volume and makes this tool an irreplaceable element of keyword research.
Tip: You can add up to five search terms to compare their results. Use this feature to compare demand for products you want to sell, analyze your competitors, find profitable niches, check what questions people search the most.
Pricing: $19/mo with no limits, 14-day free trial.
A regular technical SEO audit is essential to keep your website clean from broken links, indexing issues, duplicate meta tags, and so on. Netpeak Spider is a web crawler that scans your site, checks more than 50 SEO parameters, and detects 60+ on-page issues.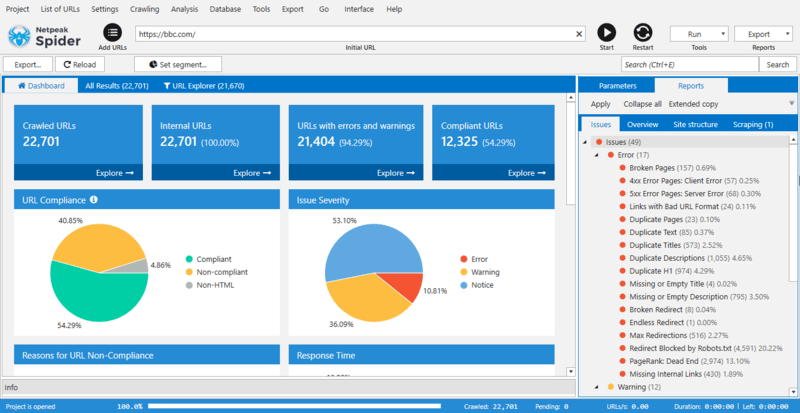 Unlike other technical tools, it is highly customizable. You can select specific parameters you want to check and use various filtering options. Each detected issue contains a detailed description and recommendations on how to fix it.
Tip: If you crawl a massive website, use the Segmenting feature to focus on a certain part of the data. For instance, you can segment the results by a specific issue like Broken Pages or any section of your website from the Site Structure report.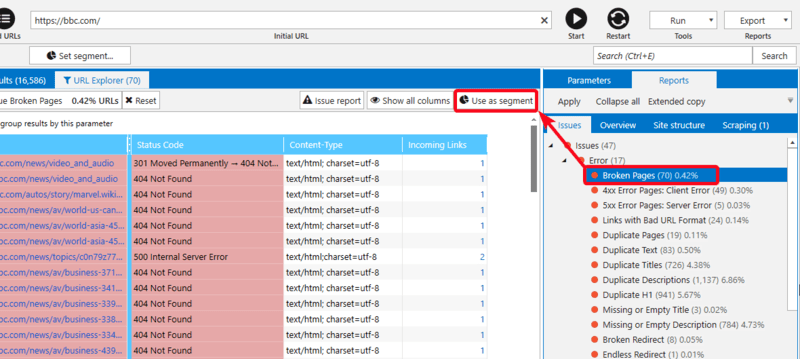 Pricing: free.
SEOquake is a browser extension that displays a handful of useful SEO parameters for each page. The tool shows a number of pages in Google and Bing indexes, backlinks according to SEMrush, Facebook likes, domain age, and more. You can set it to show data under each result in SERP and as a custom bar on each page.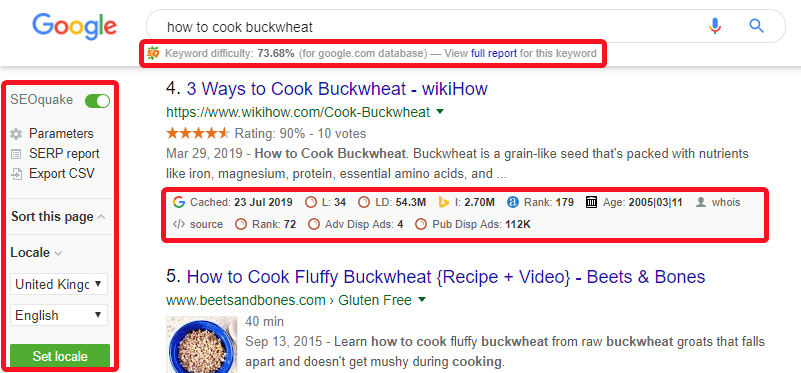 Tip: Most people use SEOquake only as a sidebar to quickly check key metrics, but it also shows internal and external links, conducts basic on-page audit, and analyzes keyword density. To see these reports click on the extension icon in your browser.
Pricing: free limited version, free 7-day access, paid plans starting from $69/mo.
Serpstat is a go-to platform for digital specialists, which has more than 50 tools for competitor analysis, keyword research, backlink analysis, audit, keyword clustering, daily rank tracking, as well as AI tools for content generation.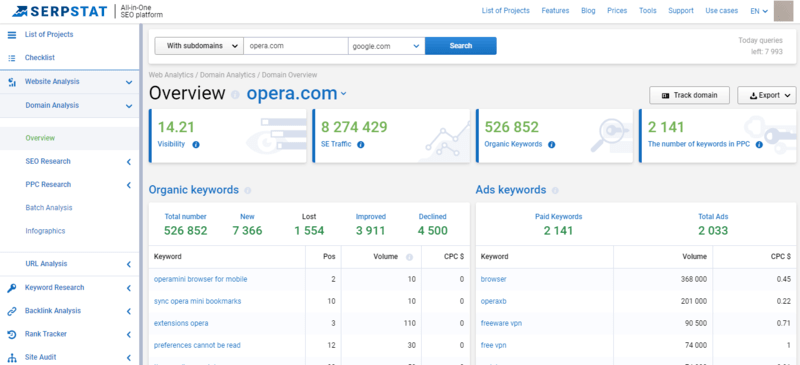 You can find what keywords your competitors are ranking for and you don't, get a list of keyword variations and search suggestions, analyze referring domains, and obtain lots of other useful data.
Tip: Along with essential data on each keyword like search volume, keyword difficulty, and competition in PPC, Serpstat also shows special blocks and social domains that appear in SERP.

Pricing: paid plans starting from $99/mo, 7-day trial for $7.
Ahrefs is another advanced platform for complex website analysis. AhrefsBot is the second most active robot after Googlebot and crawls more than 6 billion pages each day. It offers data on 16 trillion links and 170 million root domains.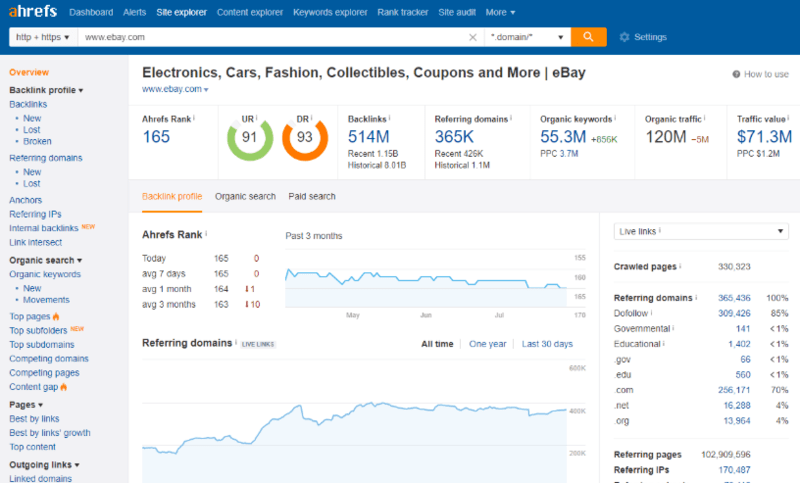 Competitive analysis, keyword, content, and backlink research, rank tracking, and web monitoring — all these tasks can be easily done with Ahrefs.
Tip: Link Intersect tool allows finding sites that link to your competitors but don't link to you. With the database of such size, it's an amazing way to uncover missing link opportunities.
Pricing: free Starter plan, $99/mo for Pro plan.
AnswerThePublic is a tool created by CoverageBook to get more content ideas based on people's searches. The tool shows Google and Bing search suggestions based on your keyword.
There are four sections: questions, prepositions, comparisons, alphabeticals. All of them come with next level visualization and an ability to download both data tables and visuals. The Pro plan allows switching locations to get location-based results.
Tip: Search suggestions are one of the best sources for content ideas since they are what people actually search for. Search by main keywords of your pages and extend them, adding more relevant phrases from the tool.
Pricing: free.
It's a free browser extension that provides users with keyword metrics based on Google Keyword Planner values and Clickstream data. The addon shows search volume, cost per click, and competition for keywords on 16 websites, including Google, Amazon, YouTube, Answer The Public, and others.
Moreover, it also displays two more handy keyword lists containing 'related keywords' and 'people also search for' for every query you make on Google.
Tip: You are googling profitable keywords every day. This extension makes sure you won't miss them.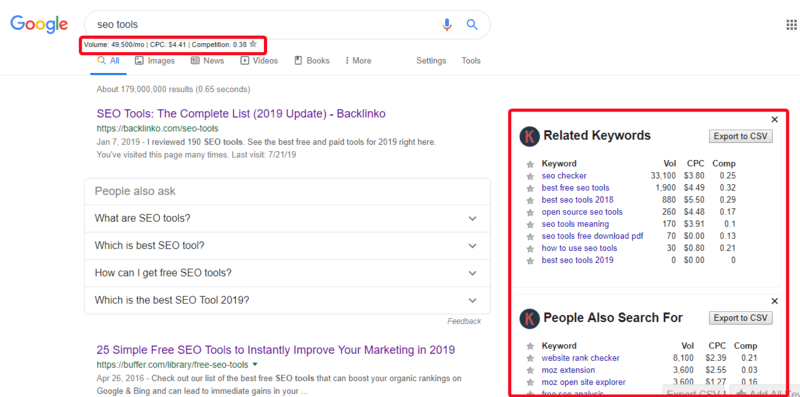 Pricing: free limited version, Premium version for €79 for one site.
If you are a WordPress user, this plugin for WordPress is a gift from above. It's the most downloaded SEO plugin used by beginners and experienced webmasters all over the world.
Yoast lets you improve your optimization across the board from keyword optimization to schema implementation. It allows controlling crawling and indexing through tweaks in robots.txt and .htaccess files, setting redirects, specifying canonical pages, and many other SEO essentials.
Many SEO beginners falsely assume that installing a Yoast plugin makes their site more optimized automatically. While this isn't true, if you learn the ropes, it will significantly ease the process.
Tip: My favorite features are Search Appearance and Breadcrumbs. The tool allows generating title and meta description using custom templates and configuring breadcrumbs for better navigation.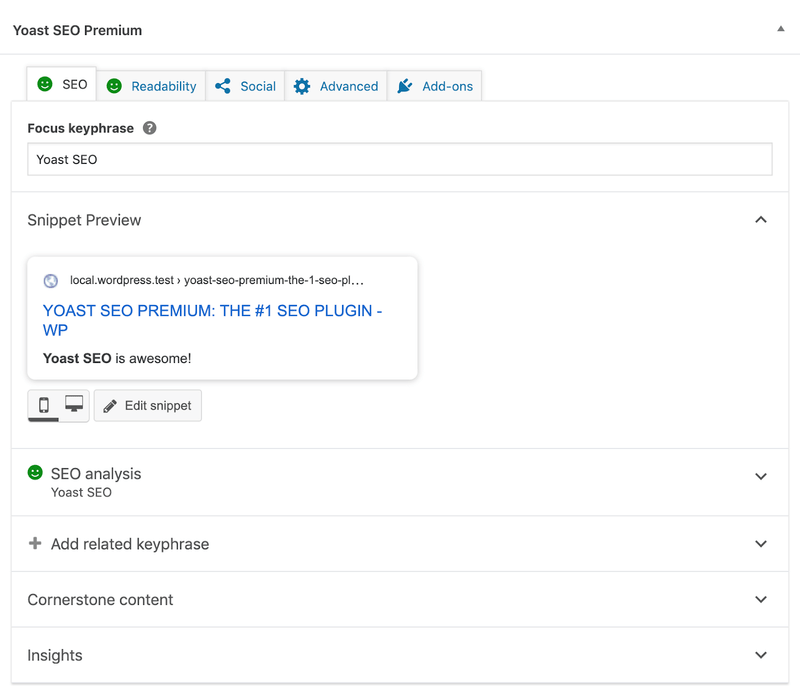 Pricing: $19/mo with no limits, 14-day free trial.
Netpeak Checker is a real SEO swiss army knife. The amount of data it provides is impressive. The tool checks URLs by more than 300 SEO parameters of your choice, including traffic, number of links, Domain Authority, Domain Rank, Trust Flow, Citation Flow, and others.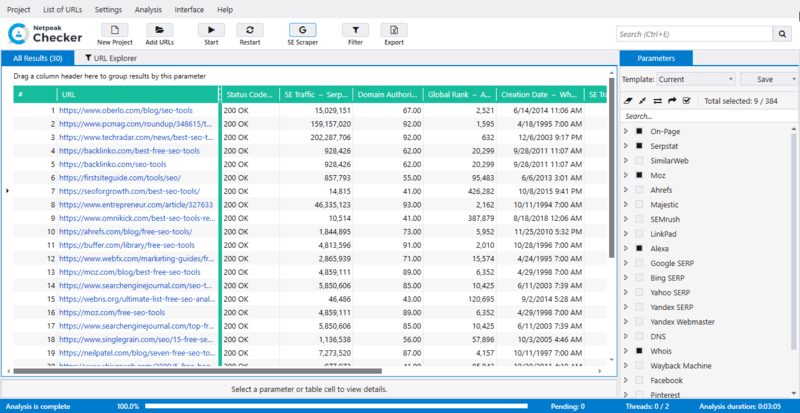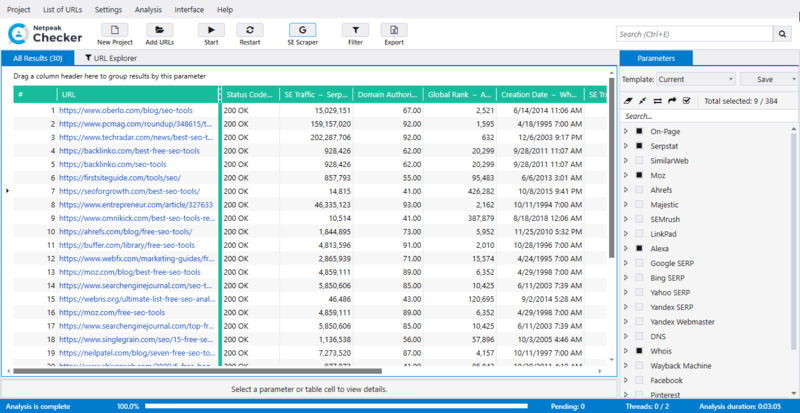 This SEO tool aggregates data from services like Moz, Ahrefs, SEMrush, Serpstat, Whois, various Google services, collects a handful of on-page parameters and contact info like emails, phone numbers, social links. The data table is highly interactive and allows filtering and grouping cells by certain parameters or set of parameters.
Tip: Another key feature is the search engine scraping. You can add a list of search queries and scrape as many search results as you need with a bunch of additional data on each of them. Use it for SERP analysis to discover why your competitors rank in top-10. For those who want to get geo-targeted results, you can specify country and language in settings.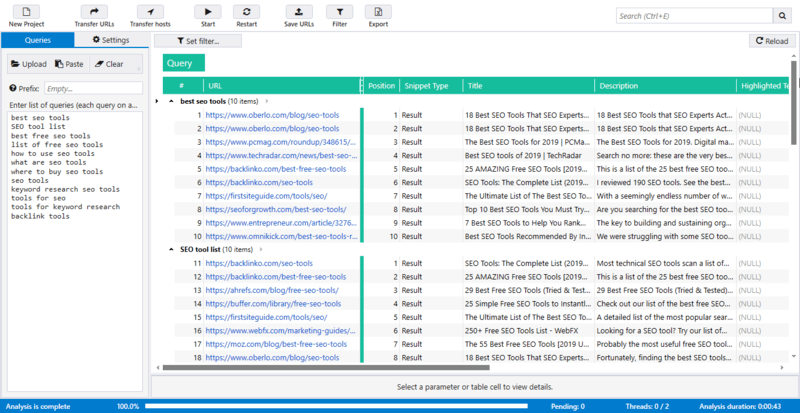 Pricing: free limited plan, custom enterprise plans.
SimilarWeb provides with profound insights into website traffic, audience, and competitors. On the contrary to Google Analytics, where you can get data only on your site, with this tool, you can analyze any website.
It shows total visits, traffic by country, traffic sources, top referring sites, organic and paid keywords, social traffic, audience interests, competitors and similar sites, advertising, and related mobile apps. Make sure you install Similar Web browser extension as it allows getting traffic estimates on the fly.
Tip: If there's no data on a particular site (usually it's because it's new or doesn't drive much traffic), try using another addon called SimilarTech Prospecting, which is a SimilarWeb spin-off showing some additional techy data.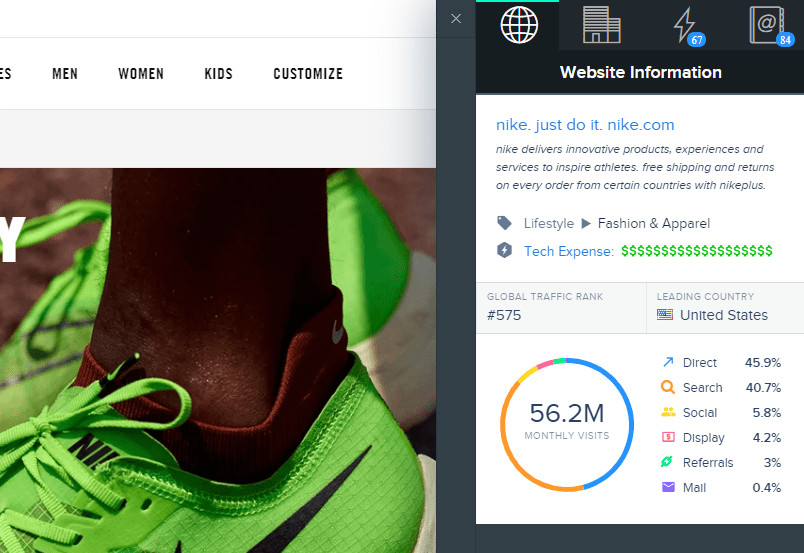 Final thoughts
Using the most advanced SEO tools in the galaxy doesn't guarantee you high rankings in search. Though, if you add the second component of the secret formula which is knowledge, you will be several steps ahead of the game.
Most of the tools from the list offer a free trial, so go test them yourself instead of taking my words at face value.
What are your favorite SEO tools? Feel free to share them in the comments.