"The Matrix is everywhere, but nobody can be told what the Matrix is." This legendary quote perfectly describes the situation with the content marketing matrix. It's a powerful tool that often goes unnoticed even by experienced marketers. How come?
It turns out that people confuse it with a content plan and think it's just another name for a typical social media calendar. In this post, we'll explain the difference between them. We'll also talk about what a content matrix is, how to create one, and why you'll never run out of ideas for content again.

What is a content matrix?
Ever had that nagging feeling of not knowing what to post about? After a few months of posting on your blog or social media, it might feel like you're repeating yourself — especially if it's your client's business and you didn't have enough unique content in the first place.
To add insult to an injury, generic or repetitive content may disappoint and repel your potential clients. If users don't find any relevant, valuable, or relatable information for them, they choose to leave. Leads may leak through the "holes" in your content strategy, but it's in your power to fix it.
A content matrix has all the chances to become your life jacket and prevent the discouraging circumstances we've just described. It's a content mapping tool that enables you to think in multiple dimensions and clearly see what you need to produce and publish. Call it a grid, a framework helping you organize your content, keep it fresh and diverse, and always hit the mark.
And by the framework, we mean something like this:
As a result, you'll stop feeding your audience with the same content. You'll also be able to cover holes in your funnel by crafting the most relevant pieces of content for every stage. This method helps you strike the balance between achieving your commercial goals and fulfilling your customers' needs.
It's all about putting the right content in the right place at the right time: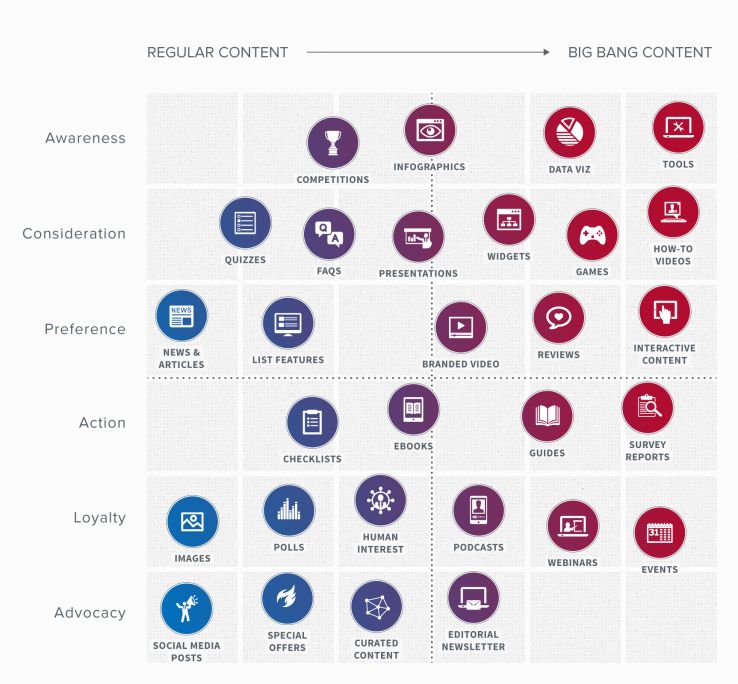 You can see how certain types of content are associated with certain stages of the buyer's journey. With a content plan, the situation is quite different. It is just a simple schedule, a way to keep your posting organized. It doesn't spark new ideas, and it shouldn't — it's an entirely different content marketing tool. A content matrix, on the other hand, helps you reach your content goals but doesn't impose any specific time frame.

Why do you need a content marketing matrix?
First things first, let's discuss why a content matrix is such a life-saver for marketers. Put simply, it helps you:
turn chaos into order by delivering content your clients actually want;
align your marketing efforts with sales;
save your resources by eliminating useless types of content;
focus on creating more impactful content;
detect gaps in your content marketing strategy and fill them;
come up with more ways to connect with your audience.
It's also clear what outcome this approach will eventually bring — you'll generate more leads, effectively nurture your prospects, boost social metrics, and generate backlinks. All because of the new structure you introduce into your work process with a content matrix.
How do you create a content matrix?
We need to emphasize that it's a very business-specific tool. For that reason, your content matrix doesn't necessarily need to look like someone else's. That being said, we've outlined the key steps you need to take.
Step 1. Focus on your target audience
Think about who you're posting for and who is buying from you. Write for different buyer personas and look at your product or offer from different angles. What pain points does your product solve? How does it improve people's social, professional, or personal life?
Write down all of the various fears and problems your potential customers have and target them with laser precision. Don't forget that different formats appeal to different people, so you shouldn't make your content monotonous.
Now, it's time for an example. Let's imagine that there is a hypothetical company called Pineapple. They sell smart kitchen gadgets, but they also have a platform where their users can learn more about health and nutrition. So, their buyer persona is a tech-savvy entrepreneur Tim in his thirties, who occasionally exercises, loves to invite friends for dinner, and always tries to squeeze more out of his time.
Step 2. Make sure you cover all the stages of your customers' journey
Every customer goes through several stages of their journey: the awareness stage, the consideration stage, and the decision stage. The first stage requires tapping into the emotional side of your client, the second stage is all about providing enough information to your leads and educating them, and the last stage just screams for personalized, high-quality content.
Think about what influences your clients' purchasing decisions — and make sure your content ticks all of the boxes. Highly visual, viral, and interactive content will appeal to your audience's emotions, while rational and expert content will catalyze the decision-making process.
In our example, Pineapple's marketers intend to do their best to make sure Tim discovers their product and realizes that it's exactly what he needs to make his cooking more professional and less time-consuming.
They provide him with enough educational content to explain the practical side of things. After that, they plan to connect with him in a more personalized way to answer his questions and demonstrate what other clients have to say about the product that piqued his interest.

Step 3. Be specific about your goals
Every piece of content you share should have a purpose. Be thorough and remove any irrelevant content that looks nice in your content plan but doesn't correspond with any of your marketing goals. Try writing down a CTA for every piece of content you make — this way, you'll be sure you actually help your visitors learn more about your brand and convert.
So what about our hypothetical company? They want to sell sets of gadgets and not just single items. The way they can achieve this is through a deliberate emphasis on how convenient it is to have the whole set in your kitchen.
They could simply post inspiring recipes and share professional tips by chefs and food bloggers using Pineapple kitchen gadgets. So, even if Tim purchased one gadget at first, the right content will eventually push him towards ordering other tools to make his set complete and enrolling in a Pineapple webinar series.
Step 4. Explore new formats and territories
List the types of content you can possibly use but haven't tried yet. Just to name a few:
brochures;
infographics;
articles;
emails;
blog posts;
landing pages;
podcasts;
webinars;
presentations;
newsletters;
case studies;
testimonials;
eBooks;
videos;
datasheets;
website pages.
Analyze growing trends in your niche and try tackling new topics and themes you haven't touched before. Also, it's helpful to check what your competitors do and don't do — and learn from their mistakes and successes.
In our example, Pineapple's marketers would start by conquering YouTube, but then, eventually, decide to use TikTok as well and try a new format — 15-second recipes or workout ideas, which could easily go viral.
Step 5. Create a content marketing matrix based on these insights
Put it all together by creating a spreadsheet or a virtual board with the stages of the buyer's journey on one axis and the buyer personas' pain points and solutions for each stage on the other axis. As you read from left to right, the matrix shows which content assets you need to use for the audience you want to target.
Or, instead of solving particular pain points, map your content by splitting formats into four categories, such as entertaining, educational, converting, and inspiring. Then, associate those formats with the stages of the buyer's journey.
Back to our example. Pineapple's marketers would lay out Tim's fears and problems, the ways they can solve them, and the types of content they can use to deliver those solutions. In the next paragraph, you'll see what it might look like.
Are there any content matrix templates?
Just to make it clear, there is not a single standard for content matrices — a simple matrix with four quadrants can be turned into a sophisticated document over time. Only you decide how many columns or blocks and keywords your content marketing matrix will have. With that in mind, let us show you a few content matrix templates and tools to help you get started.
Google Sheets
Let's start with the most obvious option. You can create a detailed content matrix with Google Sheets — it's a good solution when you are looking for something simple and don't need any flourishes.
Take a look at this content matrix we've created for a hypothetical company Pineapple and their buyer persona Tim:
We hope it will help you understand the main idea behind creating a content matrix. Define the pain points your audience has, pinpoint potential solutions, and shape them into ideas for your new content. Use this example as a content matrix template or create a similar one, and it'll become much easier to produce content that your audience craves.
Canva
If you want to create a vertical step-by-step content matrix to sort out different types of content, explore Canva's infographic templates. You can choose any appealing pre-made design and insert your data with a few clicks. Templates by Canva are easy to use, and they never look boring.
In this example, we took a six-step customer journey and added types of content we could use for each of the steps.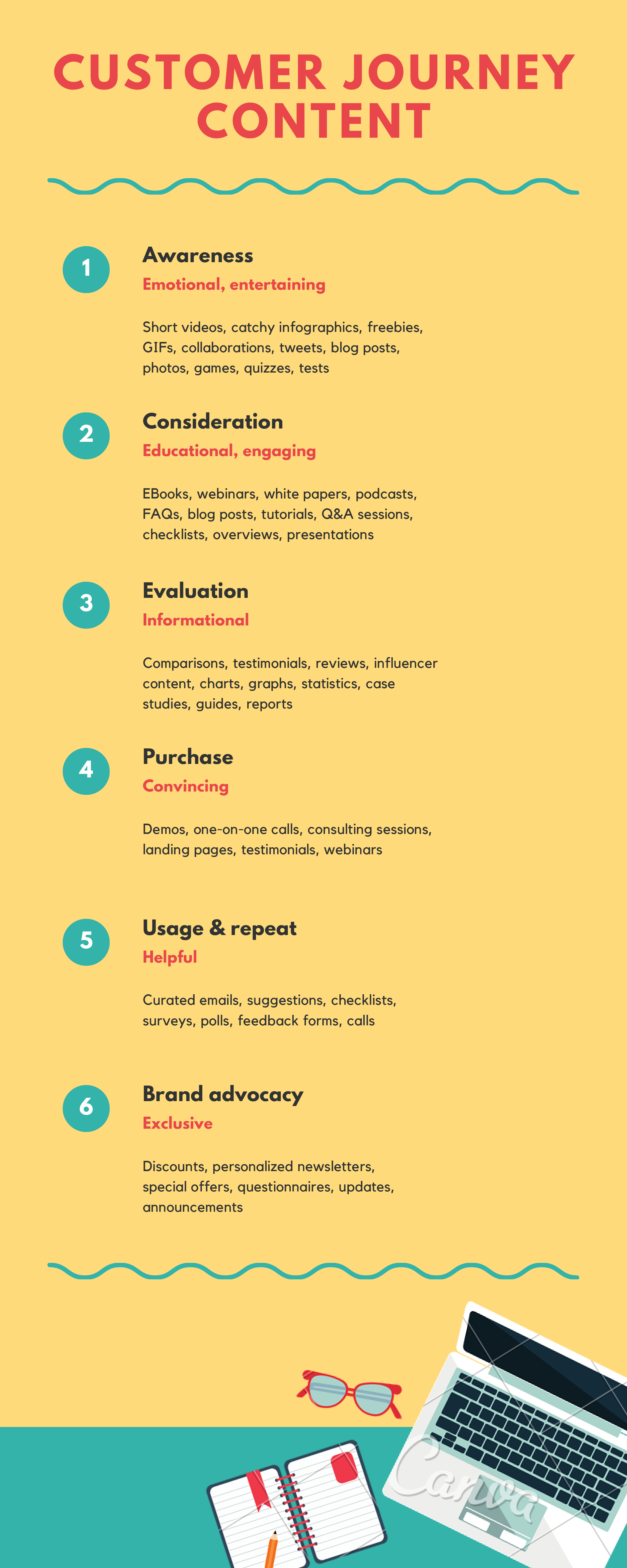 This is quite a generic example — you can get more specific and list the types of content that are popular in your niche. Next time you feel stuck, just take a quick glance at your matrix. The tool is free, but you need to pay around $1 to download your image without a watermark.
Miro
Miro will bring your content matrix to the next level. It's a drag-and-drop editor where you can create a virtual board with different stickers on it. Miro offers a variety of templates for planning, brainstorming, insight-gathering, and so on. Here, you can see what a primitive content matrix created with Miro looks like:
You can create up to three content maps for free, so don't shy away from this tool. It has dozens of templates you can customize to fit your own needs.
Ready, steady, go!
Put quality first and create more meaningful content using a content matrix — chances are your competitors already do just that. This tool will help you deliver more structured and relevant content centered on actual customer needs.
Now is the time to think about your next steps. What happens after you publish a brand-new video or share another infographic? With the use of a content matrix, you can produce content that will encourage leads to join your mailing list. Then, start nurturing your leads with the help of our automation tools. It's that simple!