Instagram is more than a simple photo-sharing app. This social platform has recently evolved to allow several other features like Instagram Reels, shops, stories, stickers, and more. These have made it an essential tool for marketers and businesses.
Despite the rising popularity of social media marketing, email marketing is still a successful marketing strategy. In fact, it offers businesses a $43.45 return on investment for every dollar spent.
All that said, the question is this: which of the two marketing strategies should you use for your brand? The answer? Both. Given the facts, just think of what you can achieve when you combine both Instagram and email marketing.
Don't worry. Combining the two strategies is not as difficult as it sounds. Here are easy email marketing Instagram tips to get you started.
Promote your newsletter on Instagram
The first of our email marketing Instagram tips requires that you promote your email newsletters on your Instagram profile by adding a sign-up link in your bio. Instagram bios are perfect for sign-up links because they allow clickable URLs, which you can't have in your post captions. The link will then lead your followers to a page where they can share their email addresses and join your mailing list.
Make sure you craft a bio that explains where the link will take followers, too. Your bio shouldn't just introduce your Instagram profile. It should introduce your email newsletter as well. Keep in mind that your bio has a 150-character limit. So, be creative and include a compelling CTA.
Here's an example of a bio that introduces the brand's newsletters. Check out the CTA directing users where to sign up, too.
Another method is to share screenshots of your newsletter on your posts. The post should have a well-crafted caption that explains the value of newsletters and a CTA that urges your audience to sign up via the link in your bio. Here's an example: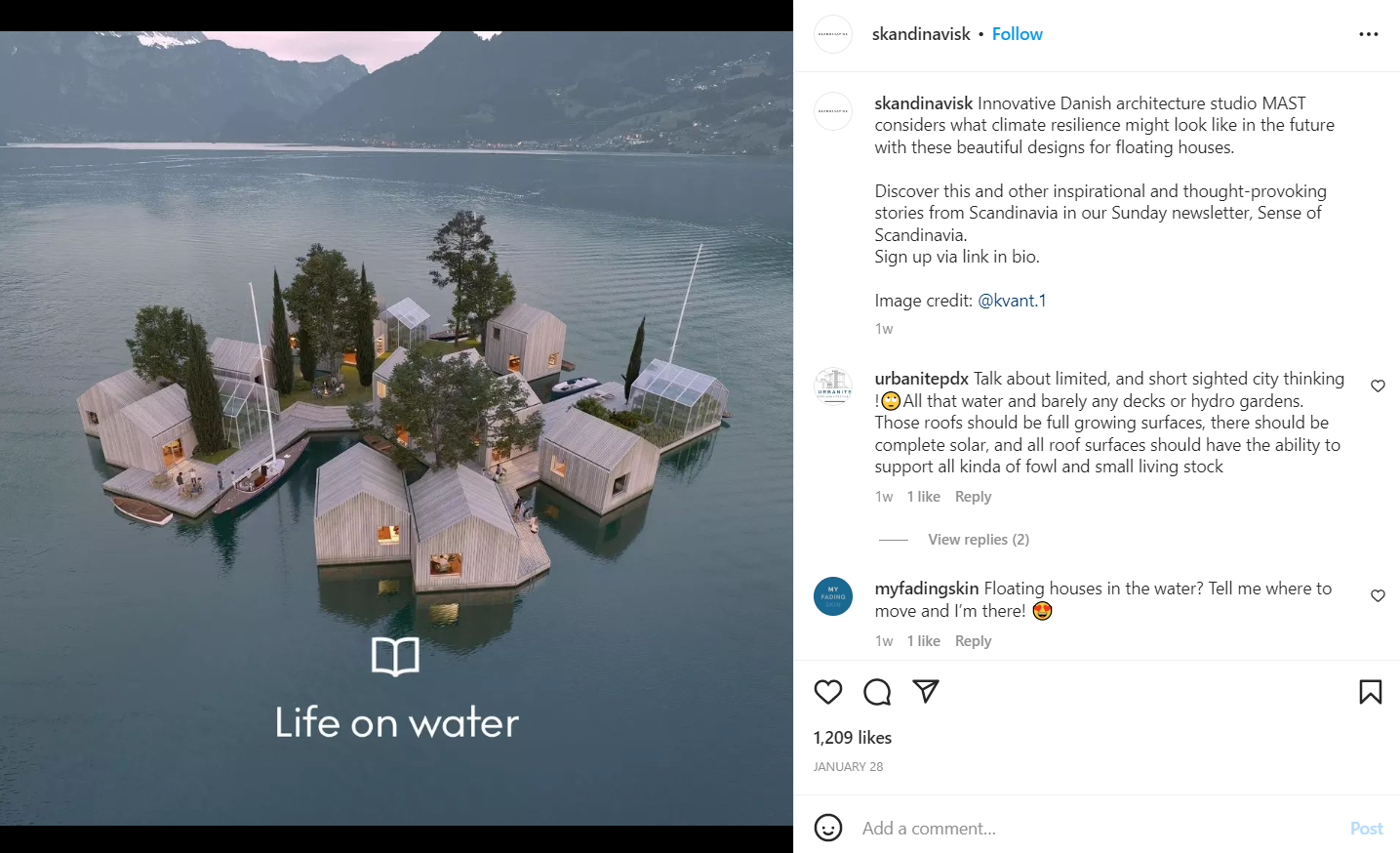 You don't need to share the entire content of your email newsletter in your posts. Your goal with the post, after all, is to pique your audience's curiosity and encourage them to sign up to access the complete package.
The best part about this tip is that the email subscribers you get are those that are truly interested in your brand.
Host Instagram giveaway and announce winners in newsletter
If you don't want to buy real Instagram followers to boost your follower count, you can always just incentivize people to follow you via giveaways on Instagram. It will take longer to build your following, but the strategy is just as effective.
The good news is you can do the same thing to increase the number of your email subscribers. Plus, it's easy to set up. Just follow these steps:
Announce your incentive. Make sure it's related to what you're selling. So if you offer them a discount on their next purchase from your store, for instance, your store also benefits when they avail of the discount (you generate a sale, too).
Create a specific task that the participants need to complete to win. For example, contestants may post a picture with your branded hashtag. Using branded hashtags helps you amplify user-generated content, increasing your social media visibility. You may also ask contestants to share your digital business card on their Instagram feed to get their network to discover your brand.
Say you'll announce the winner via email. So, give them a link to a landing page where they can input their email and subscribe to your content at the same time. Include the link in your Instagram bio.
You can adjust the above rules to suit your style.
When announcing the winners, make sure you thank your email recipients for joining the contest, as Vyper does below.
Then inform them in passing that you'll be sending them content they'll find useful.
Share Instagram posts with your email subscribers
You can also share your fun and engaging Instagram posts with email subscribers to give them a glimpse of what they're missing. Here's an example of an email sharing an Instagram post from MeUndies:
You can share any post you want, but we would suggest giving your most engaging Instagram posts more exposure. Since those posts piqued the interest of your Instagram audience, they're more likely to pique the interest of your email subscribers as well. This will encourage them to check out your Instagram feed and join the socials train.
However, for this email marketing tip to work, you need to ensure your Instagram page has the most engaging, visually appealing, and organized posts. You wouldn't want your email subscribers to get to your Instagram page only to find cluttered visuals. They might end up leaving your Instagram account without taking any action.
Leverage Instagram-style photography in both your Instagram account and email.
Use Instagram social button in your emails
You can increase the number of Instagram followers by adding social media buttons — including an Instagram social button — to your emails, too. The image below shows how Grammarly employs this tip in its weekly newsletters. The Instagram social button is right underneath the green CTA: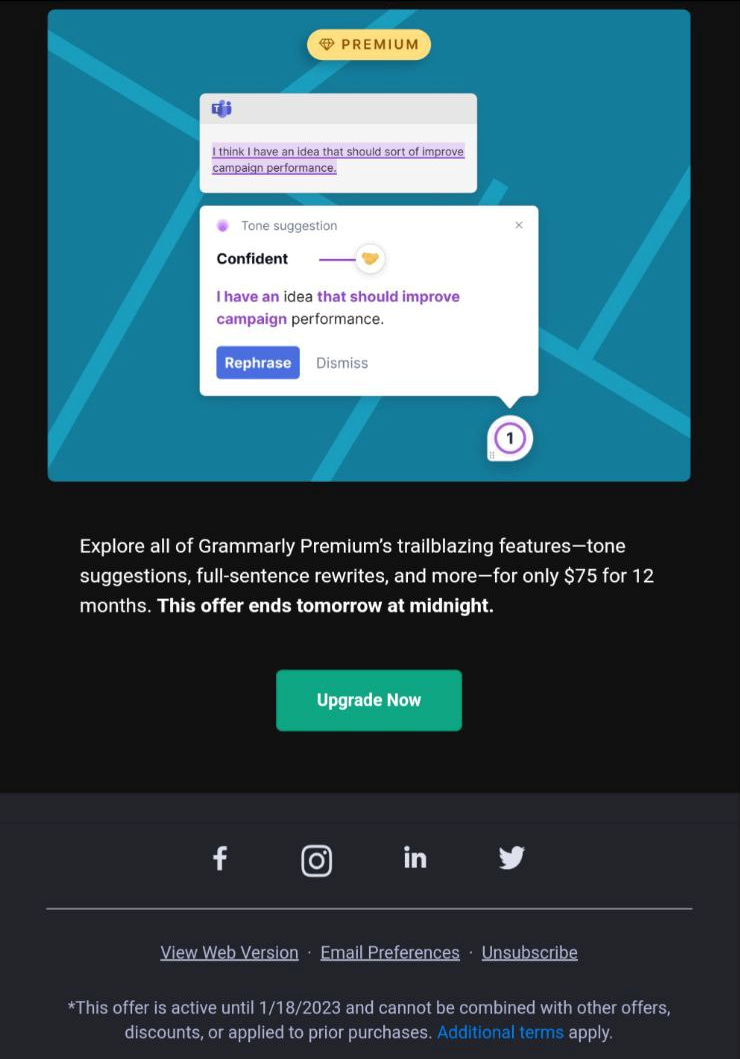 The social media buttons are placed at the bottom of Grammarly's email. Also, the buttons are clickable, quickly redirecting the email recipient to the brand's social accounts.
You can also pair your social media buttons with a CTA to nudge your audience to take the step you want them to, for example, follow you on Instagram.
Use Instagram Stories to grow your mailing list
Instagram Stories is a feature on Instagram that lets businesses post short-lived content. It has become very popular in recent years, with 500 million users viewing Instagram Stories daily.
Discover not-so-obvious
Instagram features
that can be especially helpful to marketers, solopreneurs, and small business owners.
There are a couple of ways you can use Instagram stories to build your mailing list. For example, you can post previews of your newsletters with a link that directs viewers to your landing page. This is where they can subscribe to your newsletters.
This is an effective strategy because Instagram Stories stimulate the "fear of missing out" (FOMO) effect in viewers because of their short duration. Think restaurant Instagram Stories promoting limited-time menu items. This, in turn, encourages viewers to take action, which is a window for brands to reach out to potential subscribers.
Also, you can add clickable links to Instagram stories using the link sticker. This makes it easy to include your customized landing page where customers can subscribe to your mailing list.
Additionally, Instagram Stories offer many features to create fun content and engage your target audience. For example, you can use question stickers to engage your audience, as Mila does in their Instagram Stories.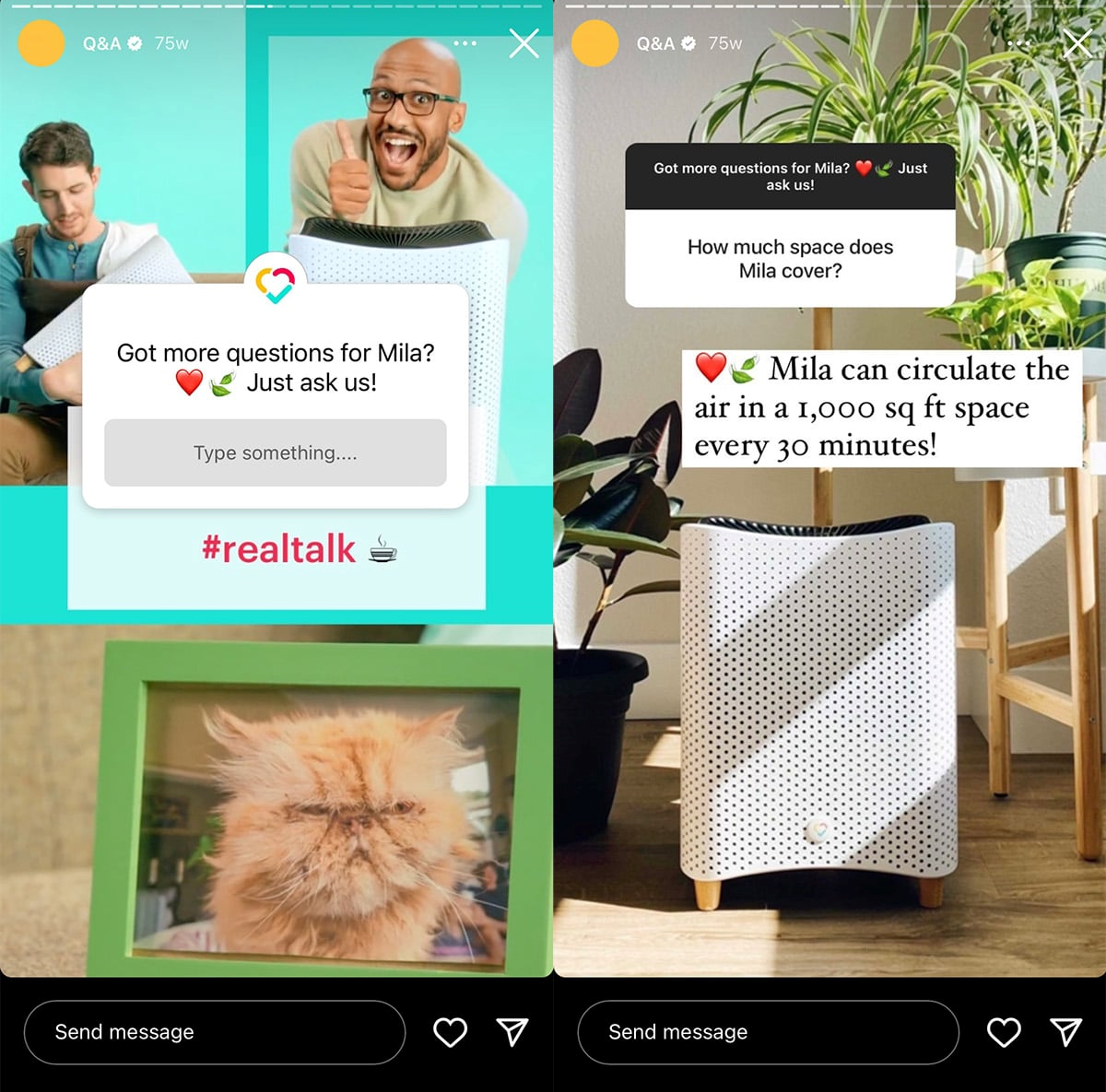 Use this feature to encourage your followers to ask you an important question. Then, instead of responding via Instagram, you can set up an automated message that encourages them to subscribe to your mailing list to get personalized answers.
Leverage Instagram ads
Of the email marketing Instagram tips, Instagram ads tend to be overlooked. But they can be very effective in growing your mailing list if you use them correctly.
You can leverage Instagram ads in two ways.
Use Instagram analytics to determine successful organic Instagram content. Then, boost that content. Just press the "Boost" button on your Instagram Business page. This takes you to the page below. Once there, select the "Get more leads" goal.
You can also use Ad Manager to run promotion campaigns. Here are the steps to creating an Instagram ad using Ads Manager:
Create a new campaign on Ads Manager.
You'll be given different objectives to choose from — website traffic, engagements on your posts or app, video views, app installs, or lead generation. To get more people to sign up for your mailing list, pick lead generation.
Choose your target audience based on their interests, age, work, gender, region, behaviors, and other factors.
Add placements by selecting platforms where you want the ads to run.
Create a budget and schedule your ads.
Determine what you want your ads to look like. Choose between a single image or video, collection, or carousel.
Set up your page by including links, adding a catchy headline, a well-written copy, and the appropriate CTA.
Publish your ads.
Here's an image showing how this looks, with a preview of the finished work on the right.
Like in the image above, you can run an Instagram ad with a CTA button that takes your target audience to your landing page or website. This is where you can prompt the audience to join your mailing list.
In closing
Combining email and Instagram marketing is an effective way to boost your marketing efforts. You learned some important email marketing Instagram tips in this post. They include promoting your newsletter on Instagram, hosting an Instagram giveaway and announcing the winner in your newsletter, sharing Instagram posts with your email subscribers, and using Instagram social media buttons in emails.
Other effective email marketing Instagram tips include using Instagram Stories and leveraging Instagram ads to target your email subscribers.
Implement these tips, and you'll reap the full benefits of both Instagram and email marketing.