Facebook has changed a lot since it was started as a social network for college students. We can now connect with old friends, meet new people, buy and sell items, and even promote businesses through the platform using text, images, and videos.
Facebook Watch, the platform's video streaming feature, now attracts 1.25 billion users every month, and that number is growing each year.
Marketers are now also using Facebook's wide user base to promote their products. If you're running a local business, Facebook video marketing can prove to be life-changing, especially if you succeed in creating viral videos.
Read on to learn why you need to do Facebook video marketing and how to do it properly.

Why is Facebook video marketing important?
Facebook has close to 3 billion active users as of 2020, making it the largest social network worldwide. As a marketing tool, its user base alone puts it way ahead of any competitors. The combination of Facebook's popularity and the catchiness and versatility of video marketing for small businesses makes it a recipe for success.

Here are three reasons you should include Facebook video marketing as part of your marketing toolkit:
Users seek out videos
Because users love video content, posting a marketing video on Facebook can attract a ton of new customers. According to a survey, 65% and 62% of people in the US and Canada, respectively, watch random videos on Facebook. Your marketing video has a much higher chance of being viewed when it is posted on Facebook.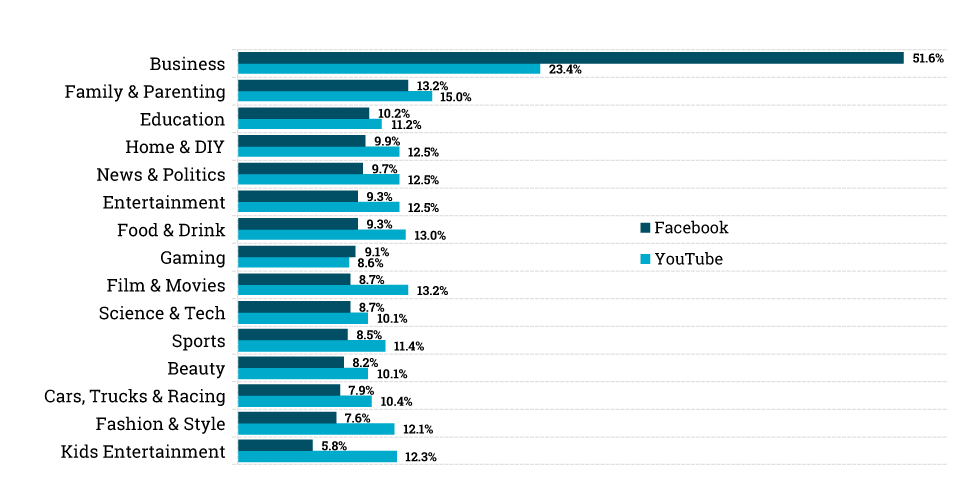 Compared to YouTube, which skews heavily towards entertainment, sports, news, and lifestyle videos, Facebook is a more effective option for business and marketing video content.
Videos have high user engagement
The average engagement rate for Facebook posts is around 0.18%. In contrast, video content engagement rates can go up to 0.26%, which shows that users are drawn to this medium and are more likely to interact with or share it. More engagement means more exposure for your brand.
Videos boost conversions
While Facebook videos have high engagement rates, they also tend to be more effective in generating conversions. Inserting a call to action (CTA) in the middle of your Facebook marketing video will boost your click-through rate by around 285%.
6 ways to level up your Facebook video marketing
As we've seen in the previous section, Facebook video marketing is one of the most effective tools when it comes to building your B2B video marketing strategy.
But to get the most out of your marketing videos, you need to follow a few best practices. Let's see six tips to give your Facebook video marketing a much-needed boost.
Upload video directly to Facebook
While YouTube is one of the best video-sharing platforms available, it's not a good idea to upload a marketing video there then share it on Facebook.
According to Quintly, Facebook native videos have more than 12 billion views per month, one billion more than YouTube. They also have over 30% higher engagement rates than photos. In contrast, links, including YouTube video links, get just 25% of the engagement that native videos get.
Facebook has a number of features that make this level of engagement possible. Autoplay, for example, plays videos without requiring the user to click the "Play" button. Users are likely to pause and view a few seconds of your marketing video. Creating a catchy marketing video intro will allow you to take full advantage of the benefits of Facebook native videos.
The video ad from SEMrush above, for example, catches your attention within the first three seconds by asking a simple question: "Are you tired of waiting for your site to show up on mobile SERP?" If you're a site owner who's having trouble with SEO, this intro will make you want to learn more.
Keep your video short
While there is a lot to be said for long-form content on a blog, short videos are best for marketing.
Even if Facebook says that their algorithm prioritizes videos that are at least three minutes long, you still need to make the most out of the first few seconds. Most viewers leave a video in 30 seconds or less if it is not sufficiently interesting. You need to nail it in the first few seconds.
The ad above, for example, starts out pretty typically — a date, dinner by candlelight, and small talk. Then, out of nowhere, a bodybuilder comes out and does something unusual. All of this happens in just the first ten seconds, and as we watch the rest of the video we don't notice that an additional 50 seconds has gone by. This ad has over a million views, and while not everyone agrees with the concept of the ad, the novelty value alone is priceless.
Include all the relevant details
Adding information about your video will give users a good idea of what they're about to watch. A few words add a lot of impact to a video, especially if the material itself is new to viewers.
Good headlines, titles, and captions will spark your audience's interest and keep them watching until the end. Moreover, it will positively impact your SEO, increasing the potential reach for the video.
Add a call to action (CTA)
A Facebook marketing video is a good place to add a call to action (CTA) that leads to your product landing page.
Adding a CTA to your video is very easy. Once you upload your video, the "Add a Call to Action" option appears right away. You can choose from "Learn More," "Shop Now," and "Book Now" options if you want to redirect a viewer to your site while choosing "Watch More" will show them more of your videos.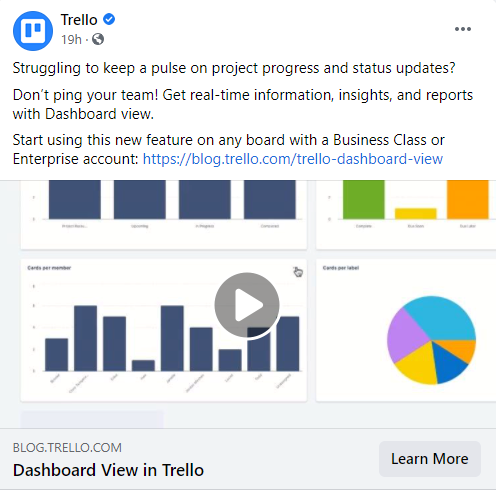 The video above from Trello allows users to learn more about the product by clicking the "Learn More" button. The CTA links to an article on the Trello blog that explains the app's new Dashboard view feature.
Go Live
Live marketing videos are all the rage nowadays. There are no restrictions on live marketing and promotional events on Facebook. These events will allow you to attract new customers and interact with existing ones to build brand loyalty.
Some of the events you can host on Facebook Live are product launches, product updates, Q&A sessions, and webinars. Your followers can ask you questions that you can answer in real-time. This will allow you to gauge audience sentiment, decide on potential improvements to your product, or address customer concerns.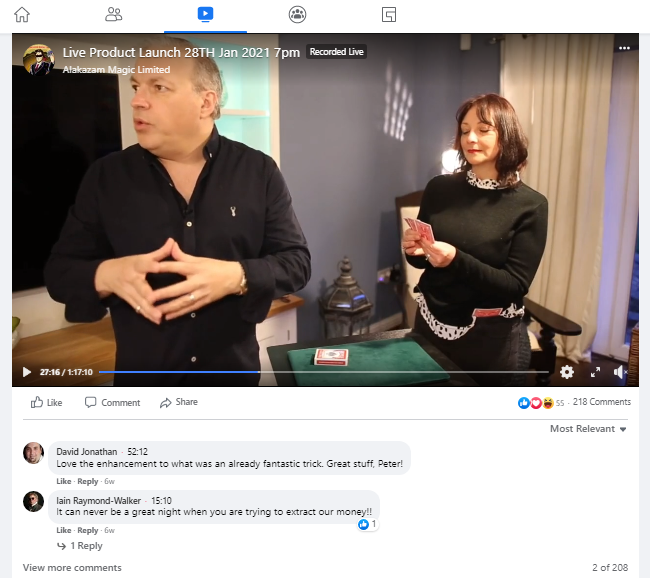 Facebook Live product launches work for almost any kind of business. While most product launches we've seen are in the tech niche, even the most unusual of businesses have used Facebook Live video to announce and demonstrate new products. For example, Alakazam Magic Limited, shown above, announced a new set of products — and showed off some new tricks too!
Conduct Facebook ad campaigns
Aside from relying on organic views to generate engagement and leads, you may also run Facebook ad campaigns to get your marketing videos out there. Over half a billion viewers watch 100 million hours of Facebook video content daily, and even if your brand is already well-known, your video content can easily get lost in the shuffle.
Sponsored video posts, or video posts that are boosted by your brand, get displayed on the timelines of Facebook users who match your customer persona, whether or not they already follow your Facebook page. When you run a sponsored video campaign, Facebook boosts your video and makes it show up on the feeds of users who might be interested in your brand.
The example above shows you the level of targeting you can add to your Facebook ads. You can target individuals according to their income level, education, and even their recent life events. For example, if your business sells baby clothing, you can target new parents who've recently updated their life events to include the birth of a child.
Creating a catchy, informative video, combined with smart Facebook ad campaigns, can be a gamechanger when it comes to your marketing performance.
Wrapping up
Marketers are now experimenting with different types of inbound and outbound prospecting to build effective reach for both new and existing customers, Facebook is one of the most popular and effective channels around. By uploading and promoting marketing videos on Facebook, your brand has the potential to reach millions of users worldwide.
Facebook marketing videos don't have to try too hard to be funny or viral. Uplifting, yet honest content, combined with relevant details and smart user targeting, will get your message across to customers and generate leads and conversions for your brand, leading to global exposure for your product offerings.