Guest posting is one of the most effective ways to establish your brand's image, improve your search result rankings, and build connections with other companies. Clearly, there are numerous benefits to implementing a guest post strategy for your website, but that doesn't mean that it's easy.
This comprehensive guide will provide you with useful insights that will help you get your content on top domains. Let's start by learning why guest blogging should be part of your content marketing strategy.

Why is guest posting important?
Guest blogging helps build awareness of your brand. People who read your posts will recognize you as an expert in your field and are more likely to turn to you when they need help. As a freelancer, a service-based company, or an eCommerce store, you want warm traffic. Having your content posted on an authoritative site also helps you reach new audiences.
Finally, guest posting allows you to boost your site's search ranking. Google uses backlinks as a factor for determining search result rankings. While you may improve your search ranking by guest posting on low-authority sites at first, getting your articles on high-authority websites will help your site get over the second-page hump and onto the first page of Google.
Every year, a new set of SEO tricks become trendy, but guest posting remains one of the most consistent methods of building and maintaining your search ranking.

Six steps to guest posting on a high-authority domain
Guest posting on high-authority domains will help expand your website's reach exponentially. However, it's not as easy as publishing one article and hoping it goes viral. The journey from a raw idea to a guest post on a well-known domain takes work.
This guide covers those steps. Apply the tips below to get your content published on high-authority sites.
Set quality standards
To help you start looking for the best sites for your guest post content, you need to establish your standards. You can start with the following criteria:
High website traffic. If you're looking to increase traffic back to your site, it's best to pitch to sites that get a lot of traffic. The more traffic a site gets, the higher the chance you have of getting clicks.
Relevance. An article about creating onboarding emails will look out of place on a website that sells skateboard parts. Not only will publishing content on irrelevant sites not attract the audience you want, but there's also the danger of getting a penalty from Google.
Target Authority Sites. Domain Authority (DA) is a ranking from 0-100. A website's domain authority is a measurement of its ability to rank on Google. The higher the authority, the better the link. Try to target sites with a DA of 70+.
When you know what you want to achieve with your guest blogging campaign, it will be easier to find suitable websites to pitch to. I'll show you how to use the factors I listed to find relevant websites in the next section.
Find the right websites to pitch to
The easiest way to find sites to pitch to is to review the backlink profile of your competitors. SEO tools like Ahrefs Site Explorer make it easy to identify potential sites easily.
Start by making a list of a couple of recognized brands at the beginning. Then, enter the domain URL into your SEO tool. Next, click on the option that lists referring domains. Below is an example of a result using Ahrefs.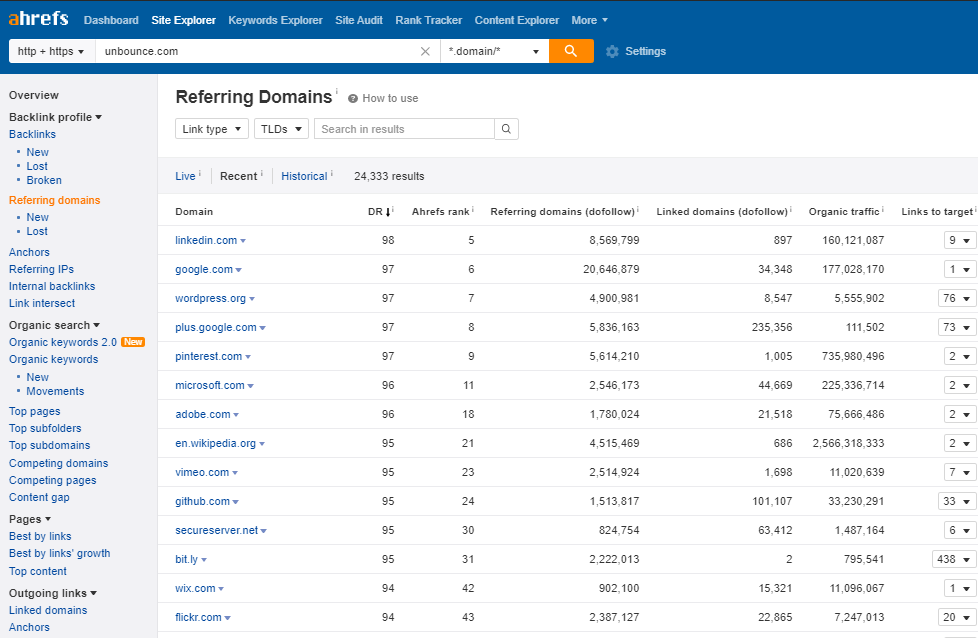 You now have a list of all the sites that are linked to that domain.
Export the list.
Remove sites that are not relevant. For example, Google, LinkedIn, or Facebook. Then, filter out those with low DA scores. We usually use a threshold of 70, but you'll be fine with 50 if you're just starting out.
You'll now have a list of a couple of hundred sites to target. You can repeat this process almost indefinitely with other high-ranking sites in your niche to get more potential guest blog opportunities.
Find relevant contact details
The next step of the process is to find the contact details of the relevant person or persons at the site. This process is quite easy, thanks to LinkedIn.
To find the contact details of any site's content manager, just go to the company's LinkedIn page, go to "People," and search for "content manager:"
Many LinkedIn users add their email addresses to their profiles. In case they haven't, you can always use an email finder like Snov.io to get their email address.

Repeat the process for the other websites on your list, then start your outreach.
Create a solid pitch email
If you're just starting out with guest posting, you probably don't know the people who manage content for your target sites. Therefore, you'll need to send cold outreach emails to introduce yourself and let them know you'd like to contribute an article.
Site owners and content editors at popular sites receive dozens of emails daily. If you want them to open and read your email, your subject line needs to stand out and be noticed. Here are three things that will help you get editors to open your email:
a short subject line that reflects the content;
the recipient's name or website domain;
emoji, which can boost your open rate by at least 50%.
What works with one editor might not necessarily work with another. So keep experimenting to find which subject lines work best for you.
Next, create your email template. It should be professional and straightforward, just like a sales proposal. Here's an outline we use for our outreach emails:
greet the recipient by their name;
introduce yourself and the brand you're writing for;
ask if they are looking for guest bloggers;
offer to contribute content and state what value you can offer;
close the email with a thank-you.
You could also mention your previous guest posts or professional credentials if you have them. Content editors are more likely to respond to people who have published elsewhere.
If you don't get a reply within two or three days, politely follow up. If you still don't get a response, move on to the next prospect. On the other hand, if you get a positive reply, you'll need to share topics to pitch.
Find the right topics to pitch
It takes time to master the art of pitching content. Luckily, you don't have to come up with a list of completely original ideas. You just need to find different angles for topics that have been discussed before. For example, writing about social media marketing for nonprofits is different from writing about the same thing for SaaS marketing.
You can use a tool like Google Keyword Planner to find relevant keywords for content.
Right away, you can see related keywords such as "social media marketing strategy," "Twitter marketing," and "social influencers." Take note of those keywords, then, here's a trick…
Go back to Google and enter the following.
site:website.com keyword
Replace the website with the website URL, and add the relevant keyword.
If the site you're targeting has already published content about the same topic, move to the next keyword. Or find a new angle.
Get approval
Hopefully, one of the article ideas that you pitched gets accepted. If so, great!
You'll need to write a great guest post.
Make sure the article you write does you justice. You want people to be impressed by the quality of your content. That means making sure it's comprehensive, insightful, and pleasing to read.
When you feel you've written a great article, ask a friend for feedback. Hopefully, they will provide some nice insight that will help you improve the content. Then, use a grammar checker. A good grammar checker will catch all the typos and grammatical errors you made. There are plenty of great grammar checkers.
Four tips to keep in mind when you pitch for guest posting
If you've been following along with this guide, you'll know how to find relevant sites to target, how to identify the person you should email, get their contact information, and pitch a guest post. Honestly, that's most of the process covered. Here are a few guest posting tips to make you a pro.
Keep pitching to the right people
If you want to improve your pitching, you need to make guest posting a habit. It's not enough to try and remember to pitch; it should be part of your daily routine. If you need to add an entry to your timesheet app or set a daily reminder to pitch, go ahead and do whatever works for you.
We suggest setting a monthly guest post target.
Send emails daily until you secure enough articles for the month. Count how many pitches you need to write on average to hit your target. With this information, you can set your weekly quota regarding the number of emails to send. It is very important to note these details because it is directly related to your work productivity. Pitching to the right people will automatically improve your success rate, hence your overall productivity.
Pitching to the right people doesn't take long. The difficult part is coming up with the guest post ideas and writing the content. That gets easier over time.
Don't make it all about you
A great guest post pitch or article is about sharing useful knowledge, not selling your services. Choose interesting topics that are relevant to your niche, and share that expertise across a wide audience.
Also, remember that the person accepting the guest post is doing you a favor. Try to find a way to return that favor. That might involve making an introduction to other people in your professional network, helping them promote other content on their site, or doing something else entirely.
Provide timely responses
Whether it's replying to a content manager's email approving your pitches or posting replies to your article's comment section, you need to respond promptly. As we've mentioned earlier, site owners and editors don't have a lot of time on their hands, so the least you can do is respect their time by sending a reply once you're available.
This also applies to your article's comments, whether it's posted on the guest site's blog or shared through Facebook. Guest posts are a great way to engage with your readers and expand your audience, and if you keep replying to emails on time, you can actually establish brand loyalty among those who do follow you.
Read guidelines carefully
I cannot stress this enough — guest post guidelines are there for a reason. Pay attention to the details. Do words have to be spelled in American English or British English? Is there a word count?
Guidelines help the site editor maintain the quality and authority of its blog. If you manage to follow every single word of the guideline, you might find it easier to submit guest posts to the same familiar faces later on.
The bottom line
In this article, I discussed how to set standards for your target sites, find sites that fit your specification, find the appropriate people to message, and pitch article ideas. If you follow the steps outlined in this guide, I'm confident that you'll land a guest post within the next fortnight.
Guest posting is hard work. If you lack a strategy, you're more likely to fail. When you do it properly, it will give your brand the traffic and exposure you seek.
Are you ready to start your guest posting journey? Share your experiences with us in the comments!