"You only link once —" this used to be one of the unwritten rules of Instagram. Not anymore. We're thrilled to discuss the ways to turn that single link in your bio into a colorful pinata — one that your subscribers hit to unlock all of the treats inside.

Why are Instagram bio links so important?
Let's be honest: Instagram isn't the most generous platform in terms of direct linking options. You can't put any clickable links in your captions or comments, and the swipe-up feature on Instagram Stories is only available for profiles that have at least 10K followers or a verified account.
Obviously, Instagram doesn't want you or your followers to leave their platform. So, what marketers and influencers are left with is a single link to place in their bio, and they need to squeeze the most out of it and monetize their content more efficiently.
At the time of writing, Instagram's algorithms encourage marketers to post every day, and that means promoting different products or services each time you post. But replacing the link in your bio every day would be a daunting task, to put it lightly. Subscribers stumble upon your posts at different points in time, and many of them would get confused trying to find a non-existing link mentioned in your previous post.
Even big brands make mistakes. Here is an example of what can go wrong when you're trying to put a link in your Instagram bio:
Multiple links tightly packed in your bio will turn into useless text many users won't bother copying and pasting in their search bar. This is why you need to get creative.
By using multiple Instagram bio links, you will be able to promote different products or pieces of content at the same time. This cross-promotion can boost your website traffic, views, or readership without any additional money-sucking marketing activities. By clicking through multiple links, your audience will quickly learn more about your brand and offer. You, in your turn, will be able to turn their initial interest into ever-growing trust and loyalty.

What do multiple links in an Instagram bio look like?
Basically, you create a stand-alone page where you place all your links in the form of clickable buttons or pictures. Then, you put the URL of this page in your Instagram bio. This way, you comply with the one-link rule but still share all of the pages and resources you want your audience to visit.
It's a simple trick many celebrities on Instagram use:
What happens when you use specific tools to put multiple links in your Instagram bio?
It's reasonable to question the necessity of using any third-party apps for social media because they can mess with your Instagram profile and even cause you to get banned. However, we're here to share some good news.
You can confidently stuff multiple Instagram bio links into your page with the help of dedicated third-party tools, and you won't compromise your data safety by doing so — none of those tools requires access to your Instagram account. All of the changes are made within the bio link service; your Instagram profile remains intact.
By breaking down that link in bio into multiple links, you'll create a list of links, a nice-looking landing page, or a clickable and shoppable gallery featuring your posts and linking them to related blog posts, products, or web pages. And all of that will be hidden behind a short URL in your bio — there is no way to do it within Instagram natively.
What makes these services more impressive is that you'll also be able to make quick changes and keep your multiple links up to date with a single click. Also, all of these services include nice features allowing you to make sense of how people interact with your link page.
And how about using a custom URL in your Instagram bio? Or creating a professional-looking link page with your branding? With the right tools at hand, putting multiple links in Instagram bio has never been easier — you can present your offering in the best light possible.

How do brands and businesses use multiple Instagram bio links?
Now, let's examine some inspiring link pages that big brands and thought leaders use to get more eyes on their products and content. Here is the first example, the Guardian using a list of links featuring their latest articles: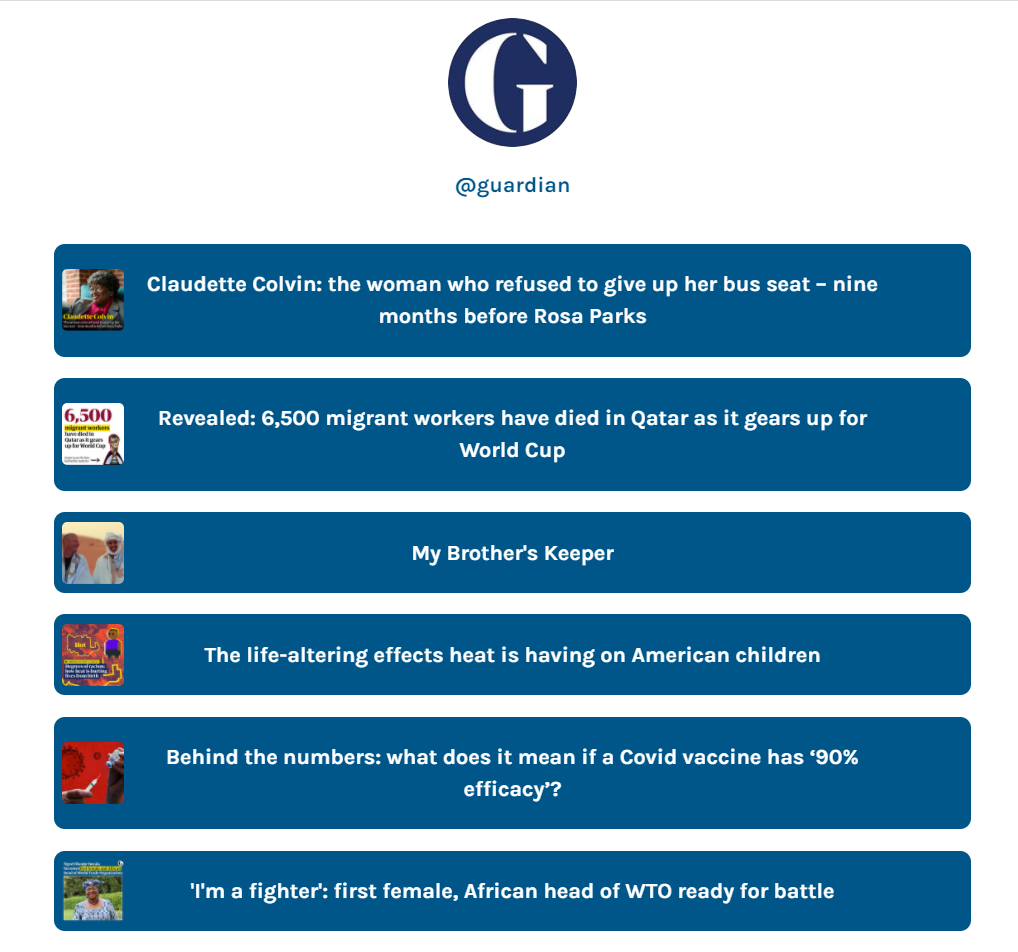 You can also use similar tools to promote your personal brand and share some downloadable content: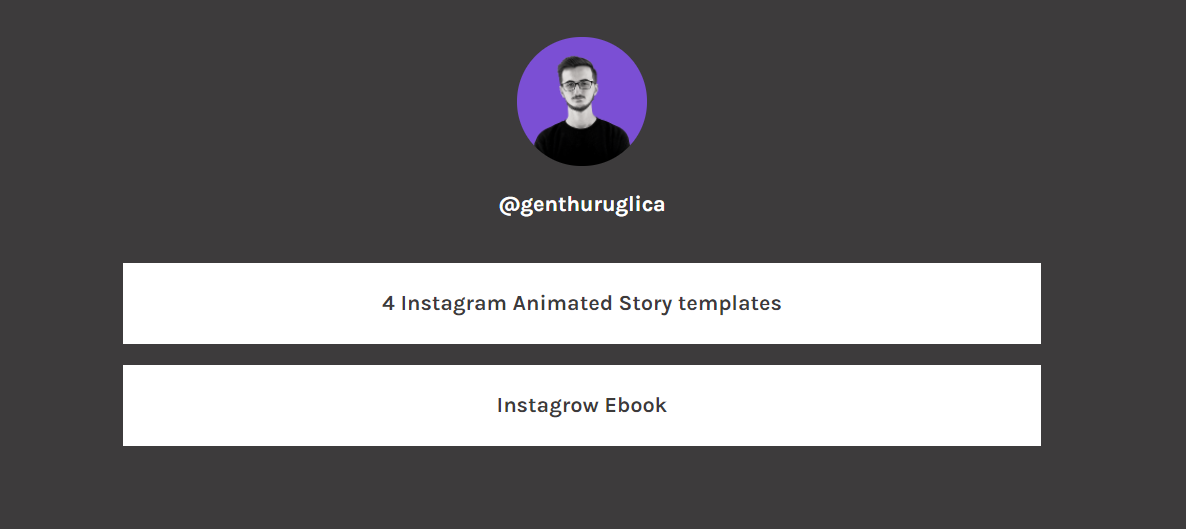 We recommend trying all of the above and featuring all your products, services, and links to other resources on a single page. Take a look at how Seth Godin promotes his workshops, books, and podcast using multiple Instagram bio links:
If you promote a shop or a physical product, why not make your whole Instagram profile shoppable, especially if you can't tag your products on Instagram yet? Hershey's Chocolate did exactly that. Your link for an Instagram bio can also lead to a virtual shop, a gallery where all your posts are linking to your products: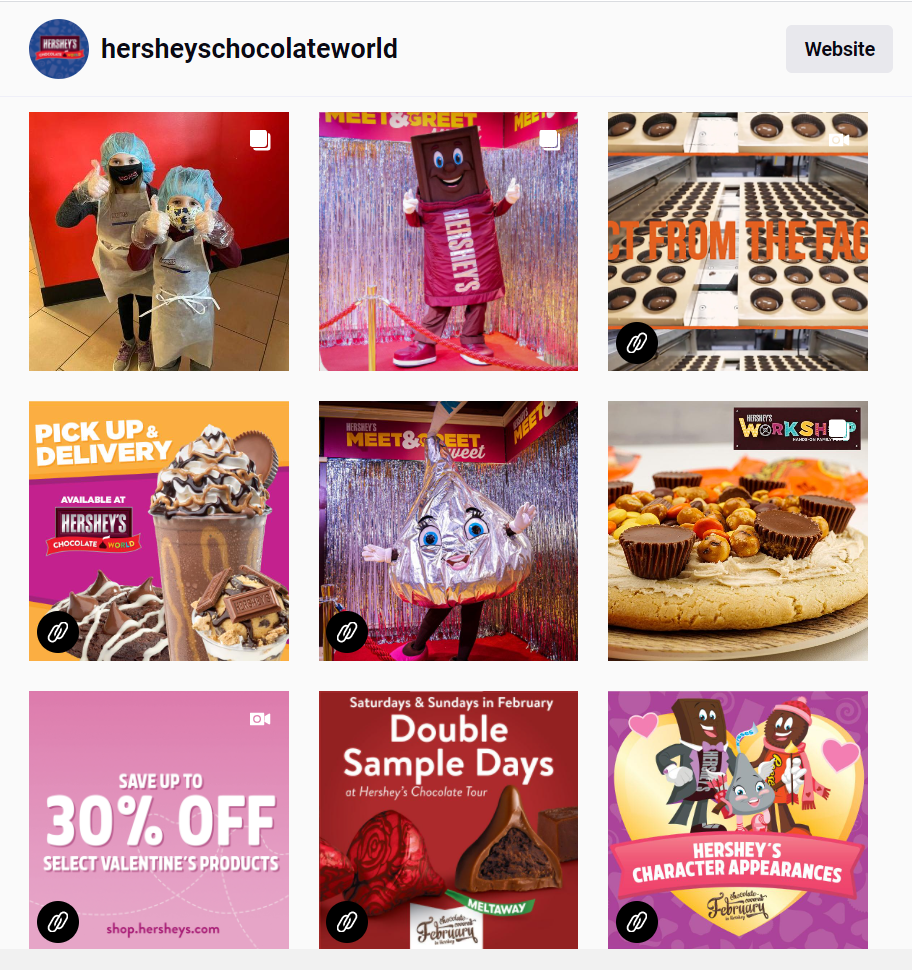 This method also works for blogs. The principle is the same — you create a landing page that looks exactly like your Instagram feed, but it also has all the necessary links. A user can tap on any image to open the related resource. Here is how Marketing Week put multiple links in their Instagram bio: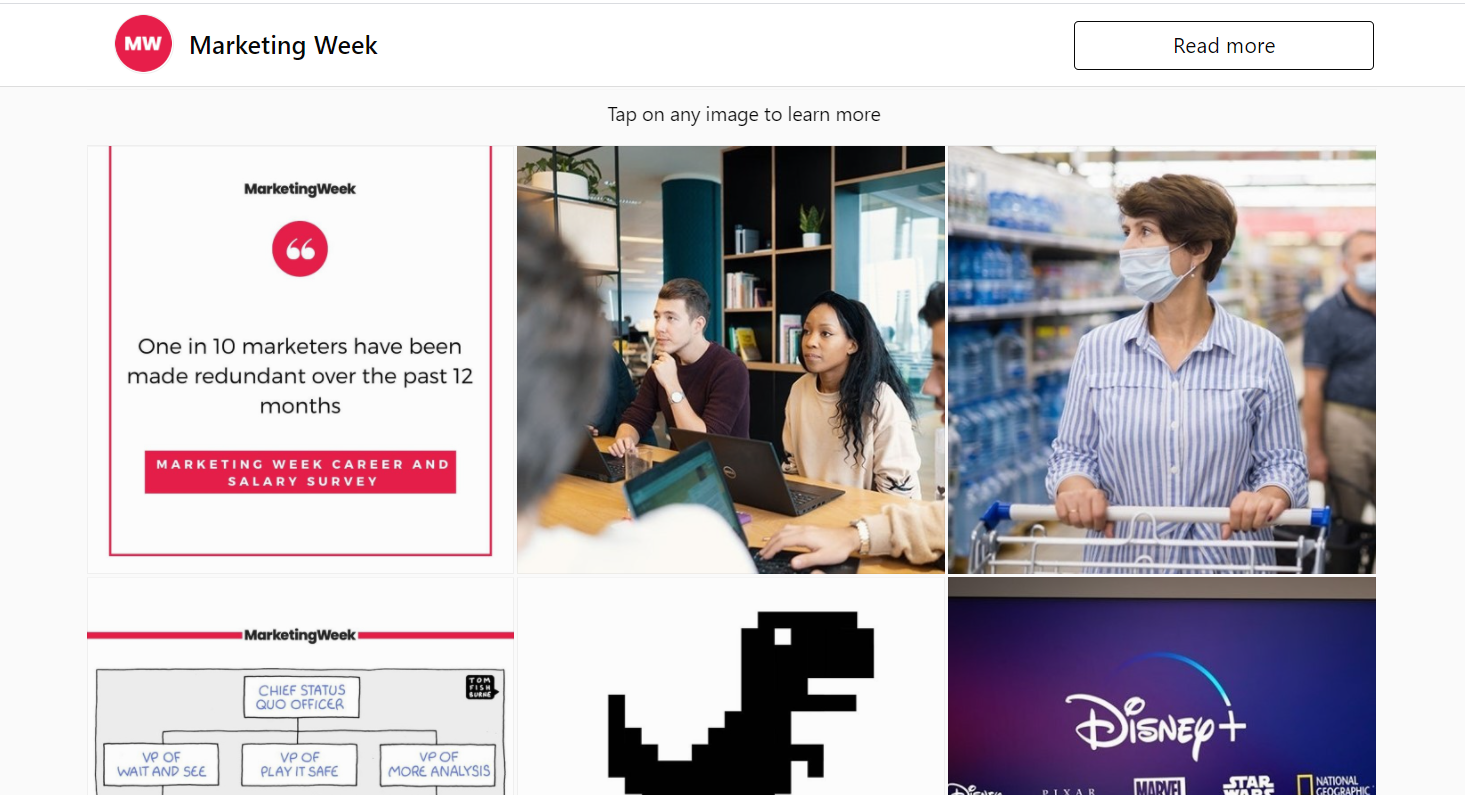 How to put multiple links in an Instagram bio
There are quite a few tools that can help you optimize the link for your Instagram bio and share your latest posts and products without compromising the user experience. You'll create a stylish and intuitive link page or clickable gallery that will help your subscribers learn more about your brand without having to copy and paste any URLs.
The best thing about these tools is that they're extremely affordable — with some apps, you don't need to pay anything at all if you're okay with keeping the service's watermark in the footer of your page. And even if you want full customization, it won't break the bank.
SendPulse Landing Pages
SendPulse Landing Pages is a simple yet powerful tool that lets you build a custom page filled with links to priority content and get a link to add anywhere you want to use it. This tool allows you to add a subscription form to collect more leads. And to top it off, you can even turn your page into a selling tool by adding a Buy button.
You can start with a pre-designed template and work from there or come up with your own bio link page from scratch using a drag-and-drop editor. You can customize the page to match your brand in terms of color and font style.
It's easy to see how well your link is working by looking at how many people have visited your page and clicked through links on it. Better yet, you can integrate external analytics and tracking pixels to the page you create, so you can monitor the success of your links and retarget repeat visitors on multiple channels.
The drag-and-drop builder will help you build a one-of-a-kind bio link page in no time:
Lnk.bio
This service is a simple yet aesthetically-pleasing way to link all of your resources and retrieve your unique URL. The nice thing about Lnk.bio is that they offer unlimited links — you can add literally every post or product that you want to feature on your Instagram. They use the official Instagram API.
With its smooth UX-design, this service provides a great visual experience for you and your subscribers. You can access this tool from your browser without having to install anything. It's easy to see how well your link is working by looking at how many people have clicked on it. Another cool feature is link scheduling. You can also integrate external analytics pixels.
Use their drag-and-drop editor to add, edit, and arrange your links: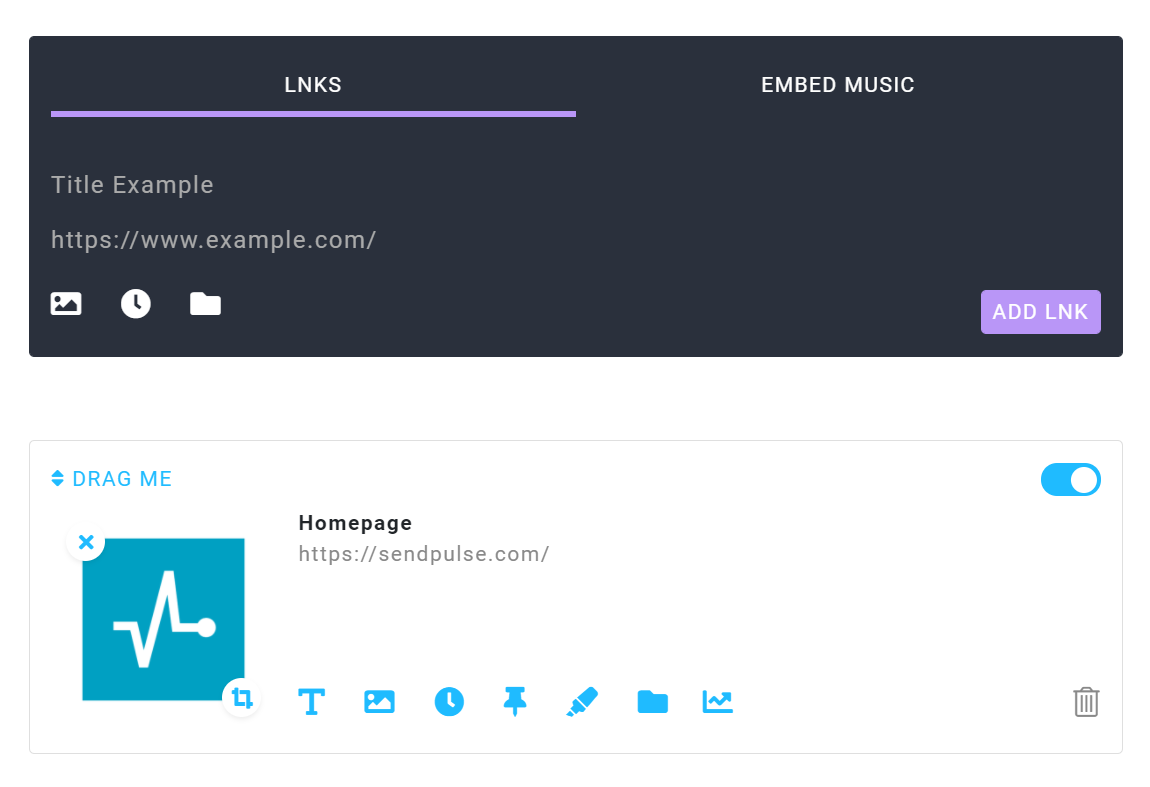 If you're fine with getting a random URL, this service won't cost you anything. You can obtain your custom URL by paying $0.99 a month or $9.99 as a one-time payment. Further customization options cost $24.99, but you'll only need to pay for them once. You can manage multiple Instagram bio links from one place by choosing custom agency plans.
Linktree
Linktree is a powerful tool that enables you to put multiple links in your Instagram bio and make them pop using animation and other visual effects. It's possible to have a custom URL even with a free plan, which is great news for small businesses.
Thanks to the Linktree drag-and-drop editor, creating and designing your link page will only take a few minutes. Additionally, all of the analytics lie within reach — you can check your performance by clicking on the button below your link. It's also easy to turn off the links you don't need at the moment.
Using the same editor, you can choose high-priority links and decide when your links go live. If you want all of the eyeballs in one place, just set up a temporary leap link to send your visitors directly to one link of your choice without deleting your Linktree.
You'll see a preview of your link page — all the changes will appear instantly: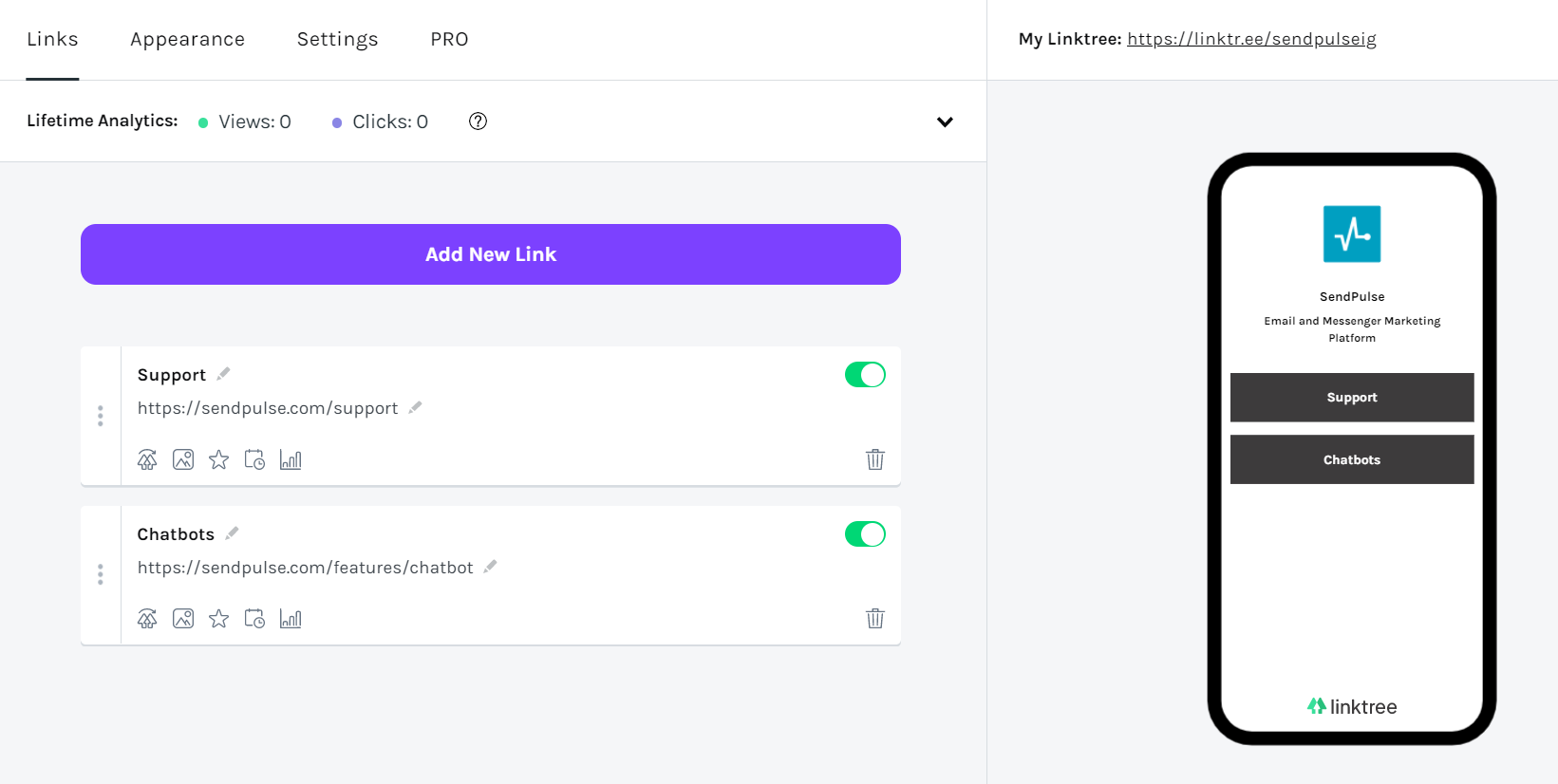 Linktree only has two plans. The free plan has all the basics: unlimited links, views and clicks stats, selected themes, and Amazon Influencer Program Integration. The pro plan offers much more: priority support, more customization options, premium themes, custom buttons and font styles, advanced analytics (CTR, location data, and more), integrations with other services. The latter costs $6 a month.
Leadpages
This tool is a sure way to turn your bio link page into a highly-converting piece of art. Leadpages is a service for creating code-free and mobile-responsive landing pages, which you can use to showcase your business, collect leads, and sell products and services. You can choose a minimalistic template or create a whole "Meet me" page with high-quality images and CTA buttons.
The drag-and-drop builder will help you design a professional-looking Instagram link page in no time: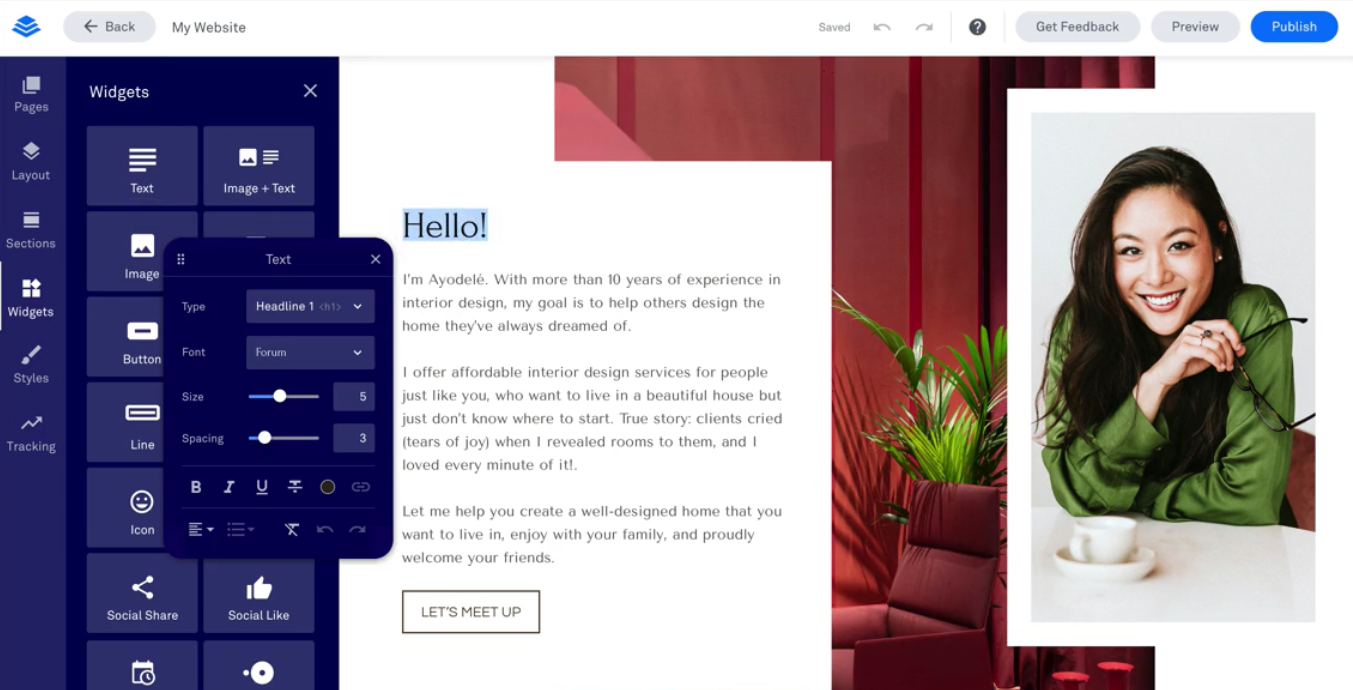 What makes this builder so special? Its conversion-oriented approach, intuitive interface, and professional toolkit. As if that wasn't enough, it also offers an easy-to-read analytics dashboard, A/B split tests, and real-time conversion tips.
Because it's an advanced tool, its price is noticeably higher, but you'll also get a lot of value from it. You can try Leadpages for free for 14 days. Then, you can start using a standard plan for $27 a month. One free custom domain is included in the price.
Tap Bio
Tap Bio is a tool that allows you to create mini-websites for your Instagram bio. Its special sauce is its resemblance to Instagram Stories — you also create vertical slides with a very similar design. You can promote a single call to action or attract attention to several products. Your Tap Bio address is also customizable.
The service has pre-made templates for different social media platforms: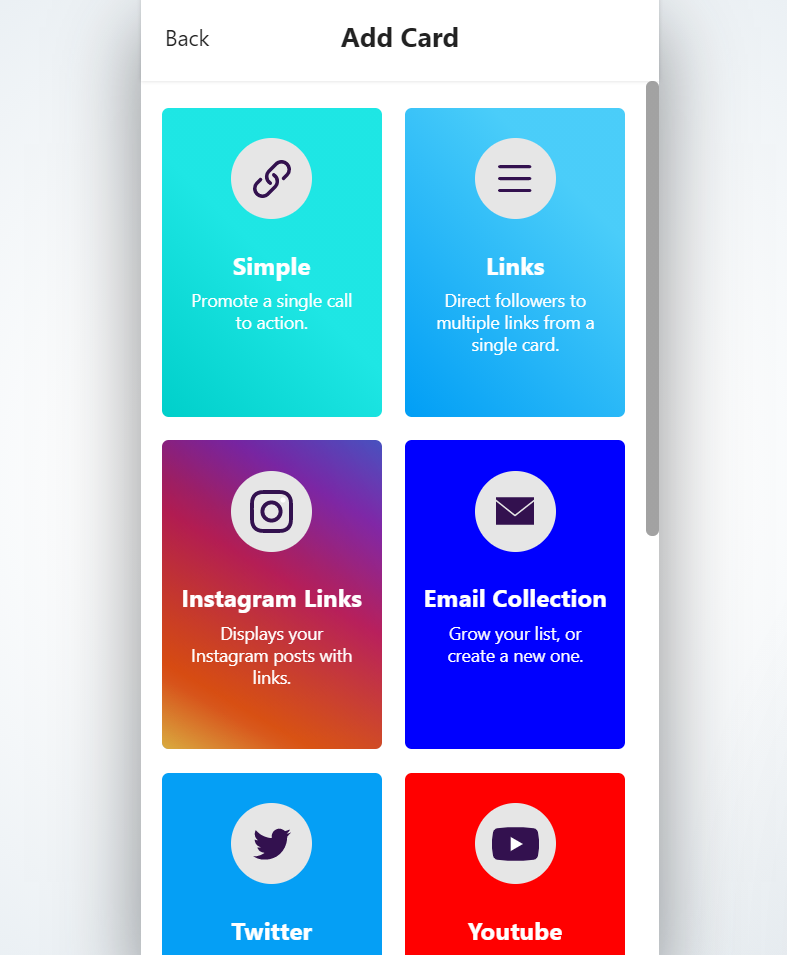 We find this tool especially interesting because it creates an elegant workaround for accounts with fewer than 10,000 subscribers. Using it, you can create tappable Story-like pages and connect with your audience in a new way.
Tap Bio gives you a one-month free trial — you can explore the features of the Gold plan with unlimited cards, stats, and a Facebook tracking Pixel and Google Analytics integration. Then, you can continue using that plan for $8 a month or settle for the Basic plan — it's free, but you get to create only two cards. Advanced branding options are also available for a custom price.
To recap
With our nifty tricks, you'll soon forget that sharing a link on Instagram was such a painstaking process. The devil is in the detail, and your Instagram bio link is quite an important one — this is why we suggest you unlock its full potential. After all, Instagram doesn't give you as much personal and commercial freedom as your website does. The recipe for success is to get the best of both worlds.
Now that you know how to put a link in an Instagram bio, it's time to explore more ways of bringing your social media marketing to the next level. We'll continue publishing helpful recommendations, reviews, and strategies to help you grow your business and crush your marketing goals. If you don't want to miss a single article, make sure to subscribe to our emails — you will find the subscription form at the end of this page. We'll send you our new articles so that you'll get to see them before anyone else!