There's a big opportunity waiting to be used by online businesses like yours. It's an opportunity to make more people loyal to your brand. Many companies waste this opportunity by relying too much on discounts, contests, sales, and other things that only make a short-term impact.
Although good for lead generation, they aren't the only things that drive brand loyalty. One more loyalty driver that has been untapped by many is content.
"Content? But there are thousands of blog posts published every day!"
Totally right, but for customers, the way they use and perceive content is much more complex compared to brands. When asked, 62% of Millennials saw content as a loyalty driver, but the content they receive is turning them off. According to them, it's mostly useless, too long, too salesy, or lacks personalization. In other words, the company writing the content is basically wasting their time and money.
This post is here to help you understand how to build brand loyalty with content the right way. Read on to see three battle-tested ways to do that.

Strategy to build brand loyalty #1: Write more useful blog posts for potential customers
Do you know how many people use your blog to research products like yours?
You can have an idea by looking at how your blog content generates leads and sales. Blogs are a major part of content marketing because they can be a great source of tips, resources, tools, and other helpful information that your prospects need.
Is the same true for your blog?
As we already know, useless content frustrates your potential customers. So you need something they can really use. Below, you can see a list of content types and ideas that you should use if they're applicable to your business:
How-to articles. Write step-by-step instructions with expert tips that are helpful to solve a problem that your customers are struggling with. For example, if your product is an email marketing tool for eCommerce businesses, you can make a post on when to send emails to achieve the best open rates.
Case studies. Share success stories of businesses to help your potential customers improve their strategies
Interviews. If you have a chance to interview an expert from your industry, record this interview to share as a blog post on thought leadership.
The most important thing to keep in mind is the value your content gives to your readers. If your copywriters have a template for writing blogs, ask them to add one more section to describe how a content piece creates customer value. It will help you keep each article customer-focused.
Also, keep track of all values in a special post to see if every article addresses a specific need and doesn't talk about the same benefits twenty times over.
It doesn't have to be anything big, a simple spreadsheet section like this is a good start.
Strategy to build brand loyalty #2: Share personalized content on Facebook
One big consideration when it comes to content making is distribution. Many of your potential customers might not visit your blog that often — plus, there are many competitors doing the same thing — so you need to deliver your content to them directly.
Facebook is, without a doubt, the best place to share it. But there's a problem: overfilled news feeds. Your content can easily get lost in a sea of other content, so you need to stand out.
One great and innovative way to do so is with a Facebook chatbot. Here's how it works.
A customer visits your blog and reads your posts. Suddenly, a small notification pops up, offering them to subscribe in one click to receive articles like these or updates on Facebook.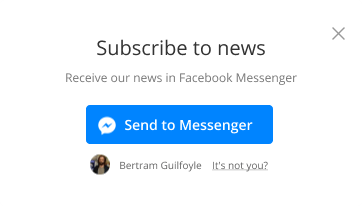 All they have to do is click on the blue button. Bam, they're subscribed. Just like that, you have a new subscriber to turn in a loyal customer.
The process of sharing content this way is called Facebook Messenger chatbot marketing. This strategy has an 80% open rate and a 20% click-through rate, so it's an excellent way to build brand loyalty with quality content.
Dive Deeper: Facebook Messenger Chatbot Marketing [Best Strategy with Examples]
Strategy to build brand loyalty #3: Write content for existing customers
This one deserves a dedicated section. Previously, we talked about how to write blog content for potential customers. Now, let's talk about those who are already using your products or services.
Your current customers are your greatest source of revenue. In fact, it costs five times as much to acquire a new customer than to retain an existing one. So, you'll need to spend a lot of time creating content for customer retention. It's also called "post-purchase" content and includes the following:
Setup guides and instructions
This could be a knowledge base or a blog category where your existing customers can find help with using your product or service.
Here's an example from the Knowledge Base from here at SendPulse. It's a large collection of how-to guides on using the company's products that people need may to customize and configure them.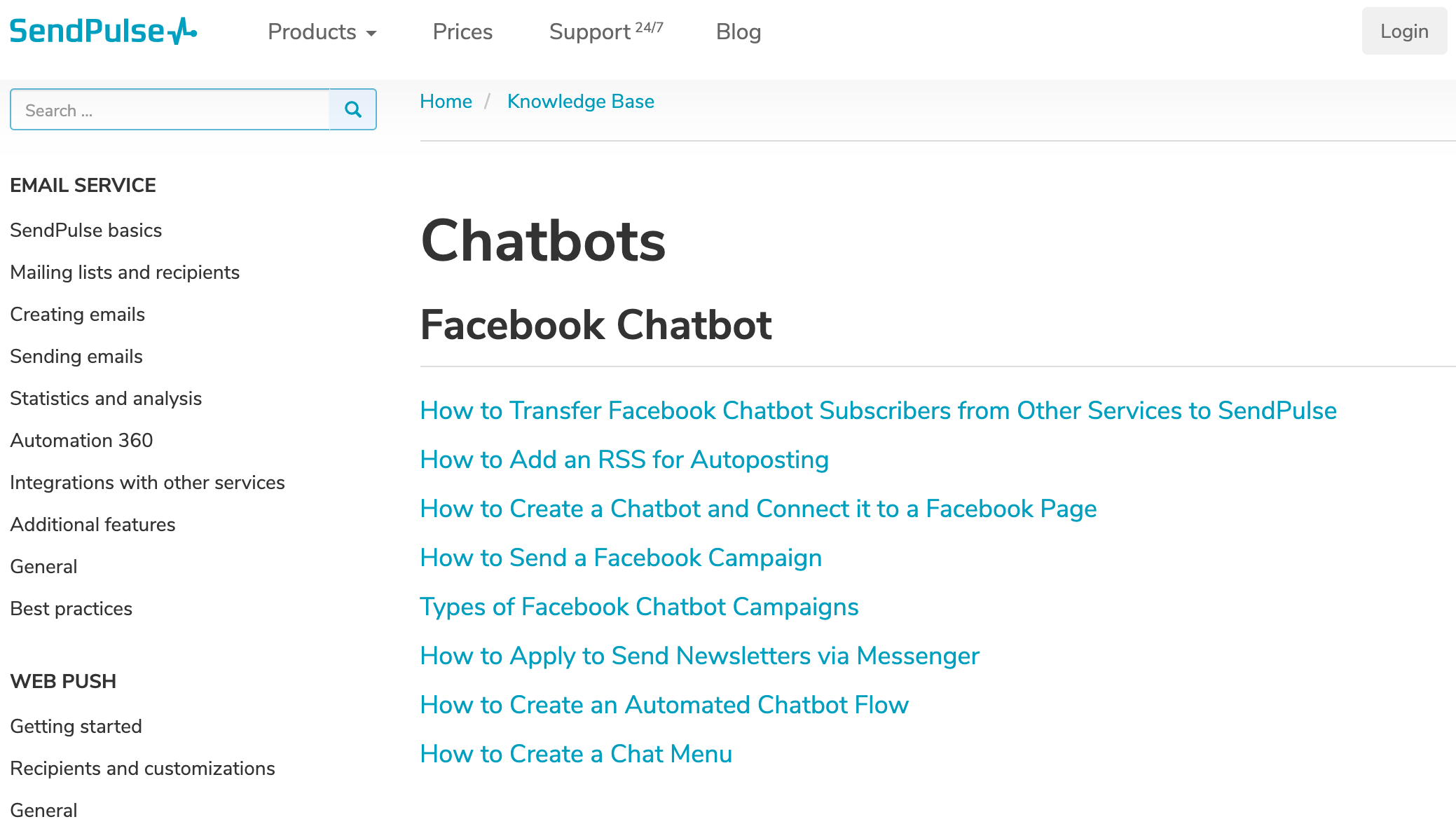 Remember that customers come to your knowledge base when something's unclear while using your product. So, they need to be concise, to-the-point answers. Consider using editing tools like Grammarly or TrustMyPaper to make sure they find clear content.
Usage guides and posts for specific customers
Write posts describing how to benefit from your product tailored to specific industries and use cases. For example, an email marketing tool can be used both for online sales and for updating employees on company news.
This blog post on chatbots for the travel industry, for example, is created to help hotels and travel agencies.

Thank-you emails
Quite often, brands send non-promotional email campaigns to their loyal customers. A thank-you post-purchase email is a great example. Its purpose is to express gratitude to customers who have been with the business for some time.
Not only is it a nice gesture but also helps establish positive relationships with customers. Here's how a Net-a-Porter, a clothing brand, does it.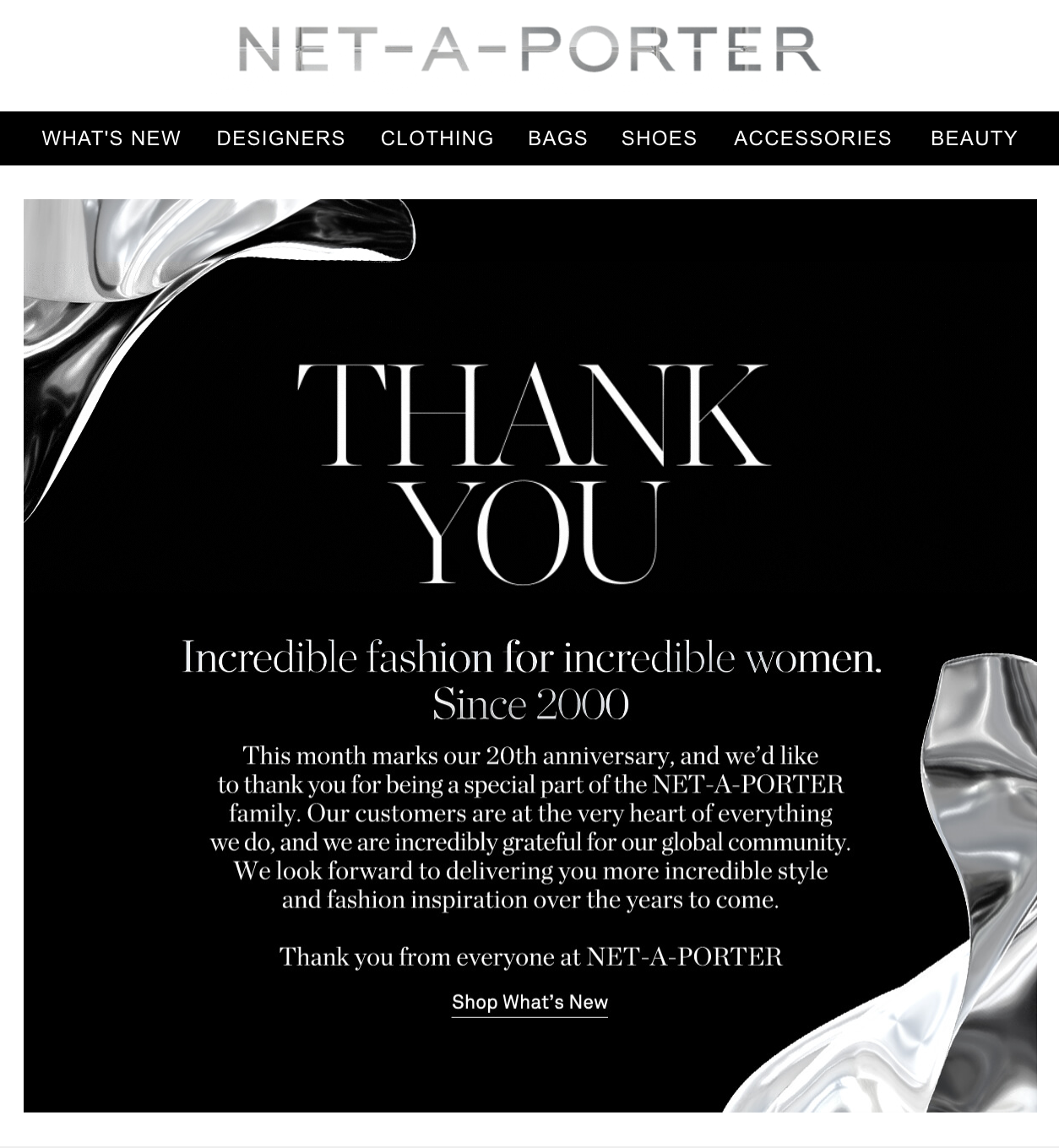 Quite often, brands give a gift like a discount or free shipping to build brand loyalty within existing customers. This is a legit technique that you should consider trying, too. So, as you can see, post-purchase content is not necessarily promotional. Its main goal is to help customers get the most value from your products.

Invest in creating content like this to increase
customer retention
and build brand loyalty.
Writing content for building brand loyalty: Final thoughts
With so many people receiving useless and irrelevant content from brands, there's a great opportunity for your business. If you invest in making your content more relevant and useful for your customers, you might outcompete a lot of other businesses.
Think about it: content is your link to the customers, so the better it is for them, the more likely they are to engage with it. Hopefully, your business will use this opportunity to the fullest and become a go-to option in your niche.