Imagine that you've built a high-quality mailing list, created a unique email template, and written an engaging copy — it seems like now you are ready to communicate with your subscribers. Well, there's one more thing you need to be aware of before you start to gather subscribers: email marketing laws, which differ from country to country.
In this article, we've gathered several most popular laws. Additionally, we've made a list of helpful recommendations which you can apply in your working routine to make sure you don't violate any spam rules for email marketing.

Email marketing laws around the world
Email marketing laws exist to ensure that recipients' rights are not violated and companies don't take advantage of user data.
As we mentioned, email marketing laws vary, but generally, all of them stand against spam and illegal mailing lists. Let's see what is considered to be legal email marketing in the European Union and five other countries in more details.
Legal email marketing in the European Union
The General Data Protection Regulation (GDPR) is what you need to take into consideration if you work with European subscribers. The GDPR was created to protect the data privacy of all EU citizens, so it affects you if you work with European subscribers, no matter what country the email is coming from.
Here are the main statements of the GDPR:
Get the explicit consent of each subscriber on your list and don't buy mailing lists.
Explain to subscribers clearly that you are collecting their data for marketing purposes and are going to send them email campaigns on a regular basis. Make sure you don't send these email campaigns to users who signed up only to get a freebie, for example.
If there's a breach in user data, inform your subscribers about it within 72 hours of becoming aware of it.
If a user requests access to their user data, provide it to them free of charge in electronic form. If asked, delete a user's data permanently.
Collect only data that you need for your marketing campaigns and be prepared to justify it.
To make sure you follow all of the GDPR regulations, you can take a look at this useful GDPR checklist.
The fine for non-compliance with the GDPR rules can reach up to 4% of annual global turnover or €20 million, whichever is greater.
Legal email marketing in the United States
The Controlling the Assault of Non-Solicited Pornography And Marketing (CAN-SPAM) Act of 2003 is the main document that you should be aware of when communicating with users from the USA. Its subject is "any electronic mail message the primary purpose of which is the commercial advertisement or promotion of a commercial product or service (including content on an Internet website operated for a commercial purpose)."
Here are five main statements of the CAN-SPAM Act:
Place a visible and operable unsubscribe button and remove unsubscribed users from your list within 10 business days.
Fill in the correct name of your brand or company in the "From" field and present your real physical address.
For adult content, always use a warning label. However, this is a very sensitive topic, so many email marketing services don't allow sending adult content at all.
Avoid using harvested email addresses, sending emails with images only, or using deceptive subject lines.
Make sure that the email service providers that have access to your mailing lists, and help you handle your email marketing, follow the CAN-SPAM Act rules.
An email sender can get up to $42,530 fine for each email that violates these anti-spam rules for email marketing.
Legal email marketing in Canada
Canada's Anti-Spam Legislation (CASL) is a law which protects Canadian users from spam, personal data leaks, and other types of digital technology misuse.
The main statements of the CASL are the following:
Always get explicit consent from each user on your list.
Use a clear and real sender name to provide your contact information in each email.
Provide a visible opt-out button in each email and remove every unsubscribed user from your lists within 10 days.
The penalty for violation of any of the CASL rules can reach up to 1 million Canadian dollars for individuals and up to 10 million Canadian dollars for corporations.
Legal email marketing in Australia
The Spam Act 2003 both protect Australian email subscribers and prevents Australian senders from sending spam and disrupting user personal data.
Here are the main statements of the Spam Act 2003:
Make sure your subscribers accept your Privacy Policy and other rules giving their explicit consent to receive your emails.
Write your company or brand name and remember to give your contact details.
Add a clear unsubscribe button to your emails and process all opt-out requests within 5 days.
Don't use email harvesting services.
The fines for the violating these rules can reach up to 2.1 million Australian dollars.
Legal email marketing in the United Kingdom
Privacy and Electronic Communications Regulations 2003, or the "EC Directive," should be followed if you communicate with UK citizens. This directive is similar to the Australian and the Canadian laws, the main difference is the number of days you have to clean your mailing lists from the unsubscribed users.
The main statements of the EC Directive are the following:
Get consent to receive promotional emails from each of your subscribers.
Introduce yourself in a sender name and add detailed contact information inside your emails.
Provide a simple way to unsubscribe and delete users from your base within 28 days.
For those who don't follow the regulations, the fine can be as high as £500,000.
Legal email marketing in China
Two laws protect Chinese citizens as well as those who are in the territory of China at the moment of receiving your emails — the Consumer Rights Protection Law 2013 and the Measures for the Administration of Internet email Services 2006.
The main statements of the Chinese email marketing laws are as follows:
During the opt-in process, state that your emails are sent for commercial purposes.
Get verifiable and explicit consent to send emails from every user on your mailing list.
Give your contact information and clearly state your name or the name of the company in a sender name field.
For the links to third-party services, make sure you mention that they have nothing to do with spyware.
Provide an easy way to unsubscribe and follow up with unsubscribers within 30 days.
Refrain from political or any other sensitive topics in your emails.
The penalty for the violation of these email marketing laws can be up to 30,000 Chinese yuan.
How to make sure you follow the anti-spam laws for email marketing
No matter how complicated it may seem, doing legal email marketing is easier than you might think. Let's see which steps you should take in order to comply with the most popular anti-spam rules for email marketing all over the world.
Make sure your mailing list is clean
First of all, you should take care of the quality of your mailing list. Buying a mailing list is never a good idea, so use subscription forms and lead magnets to build your own, legitimate, mailing list. We recommend using double opt-in because it allows you to build a quality mailing list with no inactive or incorrect emails, spam traps, or other things you don't want to see there.
For example, Vox introduced a special subscription page that contains all the types of email campaigns they send. They also point out that their emails comply with the Privacy Policy and the data transfer policy. This is how they ensure people get emails they are really interested in, increasing their own chances for high engagement rates and adopting legal email marketing practices at the same time.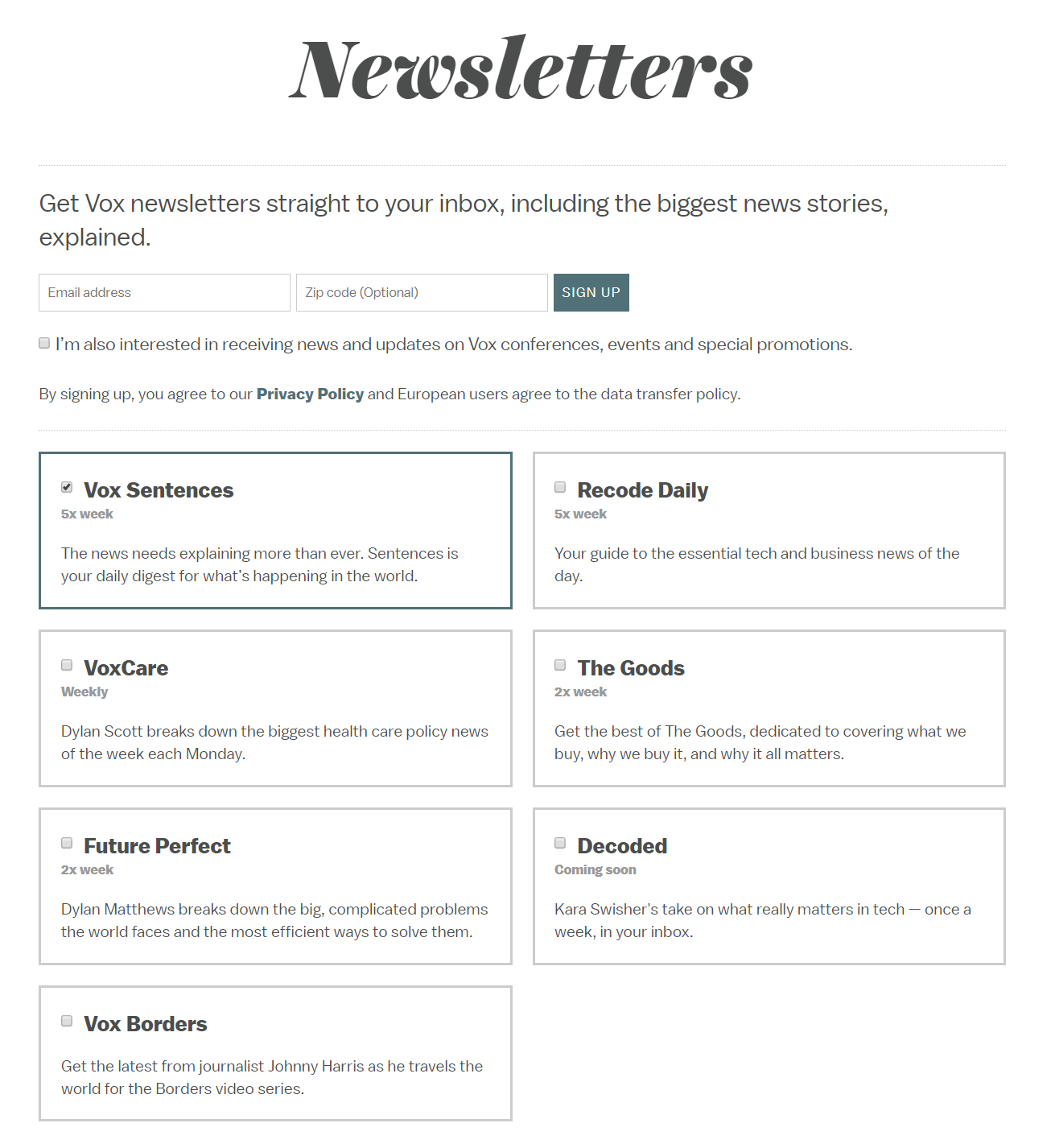 Allow users to opt-out easily
One of the main legal email marketing rules in every country is letting users opt-out quickly and easyily. For that, you should place a visible opt-out link in all of your emails and make sure that the unsubscription process is not confusing in any way.
For example, Gaiam use bright green to highlight the unsubscribe link in the footer of their emails.
When you click the link, the webpage opens up, and you can choose between unsubscribing totally, receiving emails less frequently, or leaving everything the way it used to be. Note that the opt-out button is pretty large and is hard to miss.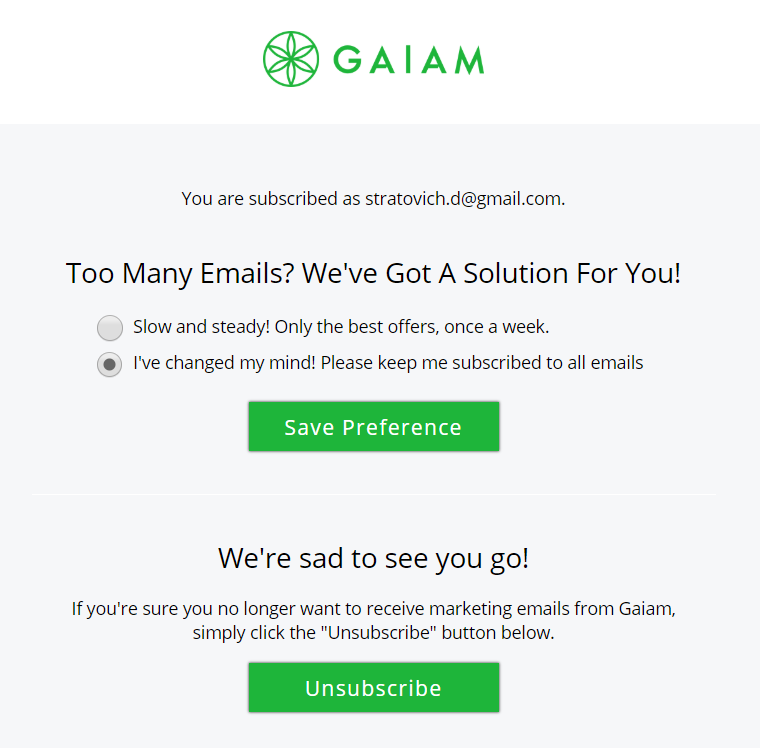 Introduce yourself properly
Always write your real name or the name of your company in the "Sender" field, so users know who the email is coming from and can recognize you in their inboxes.
Just look at the following example. Here, all the emails have a clear sender name with no extra information:
Let's open the last email on that list, which is from The RealReal. The first thing you see is a header with a large company logo. In the footer, you can find all the necessary contact details, which is also important for complying with email marketing laws from different countries.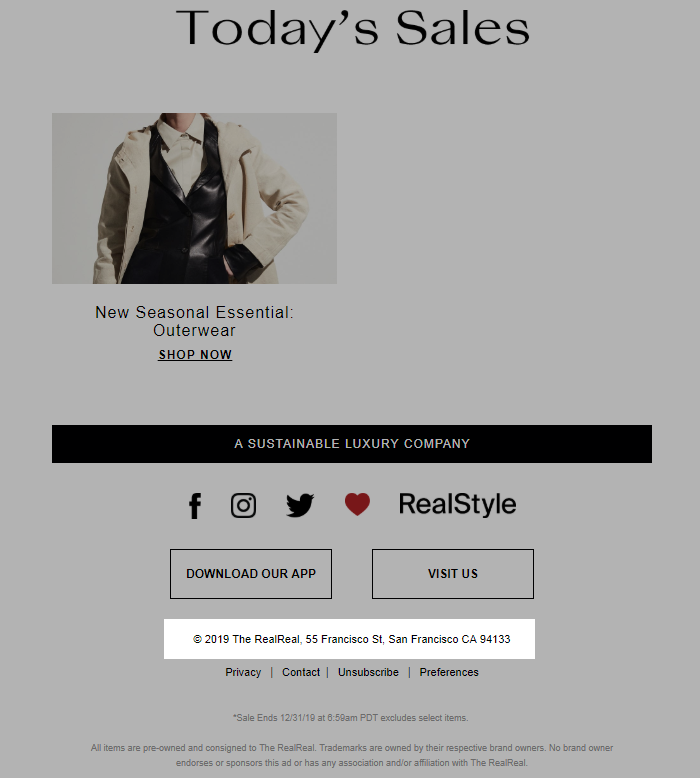 Be clear and honest in your subject lines
Honest and clear subject lines will not only help you build trust with subscribers, but also comply with the email marketing laws.
The subject line of an email from SmarterHQ claims that the email will reveal some information about the new product launch, and it does. As you can see, it is the main and the only topic of this email, which, by the way, has a very good email design and structure.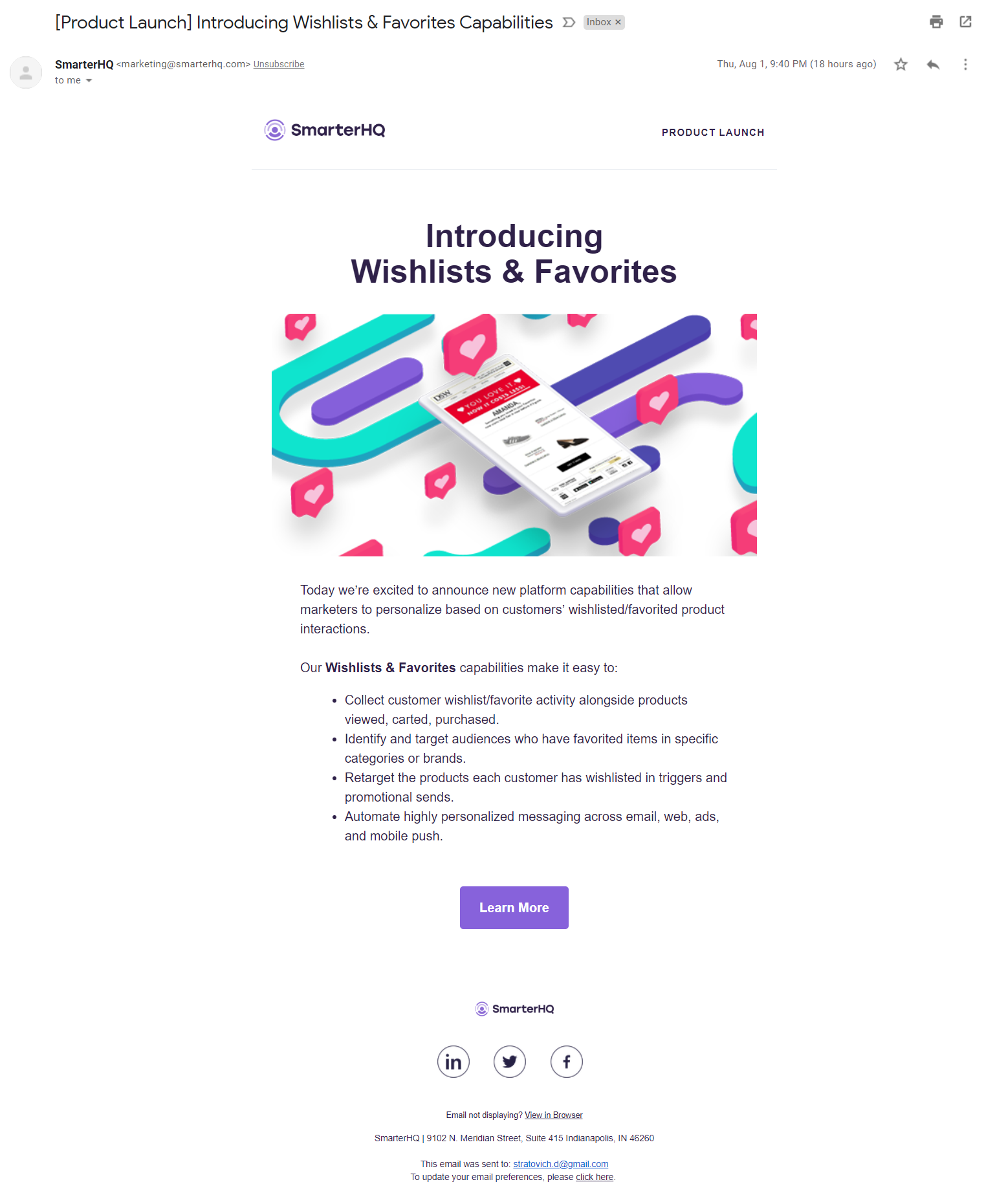 All in all
Here's what you should remember to comply with email marketing laws around the globe:
Create your own mailing lists instead of purchasing ready-made ones.
Use double opt-in to make sure your mailing lists are clean from spam traps, fake and incorrectly spelled emails.
Get explicit consent from your users.
Inform your users if you will be sending emails for commercial purposes.
Provide a clear and simple way to opt-out of your emails.
Make sure you delete unsubscribed users from your lists within a week, to be safe.
Always use a clear sender name. Your real name is always best.
Make sure your subject line always matches the content of the email.
In every email, provide a way for a user to easily contact you.
Make sure you are always able to explain clearly how you will use each subscriber's personal data and what information about them you have collected.
And remember, when it comes to anti-spam rules for email marketing around the world, honesty is always the best policy.
We wish you engaged subscribers and high sales! To bring your email marketing ideas to life, try out SendPulse, which will not only help you create emails with no pain, but will also supply you with the necessary automation and personalization tools.