"Work smarter, not harder" can certainly be applied to using Instagram for business. Sure, you can hire a social media manager and have them sit and reply to repetitive comments or publish every post manually. Or, you can save money and human effort by automating most of those processes.
Let's talk about Instagram automation tools that can make you rethink how you communicate with your audience and promote your business on social media.

What is Instagram automation?
Just a heads-up, we're not going to be talking about spammy automated liking software. We're only going to be focusing on legitimate Instagram automation tools and apps for increasing user engagement, boosting brand awareness, and driving in-app and website purchases.
Instagram automation software is all the rage because the platform itself isn't exactly feature-rich in that regard. Yes, you can set up primitive saved replies and FAQ within the app, but it will only take you so far: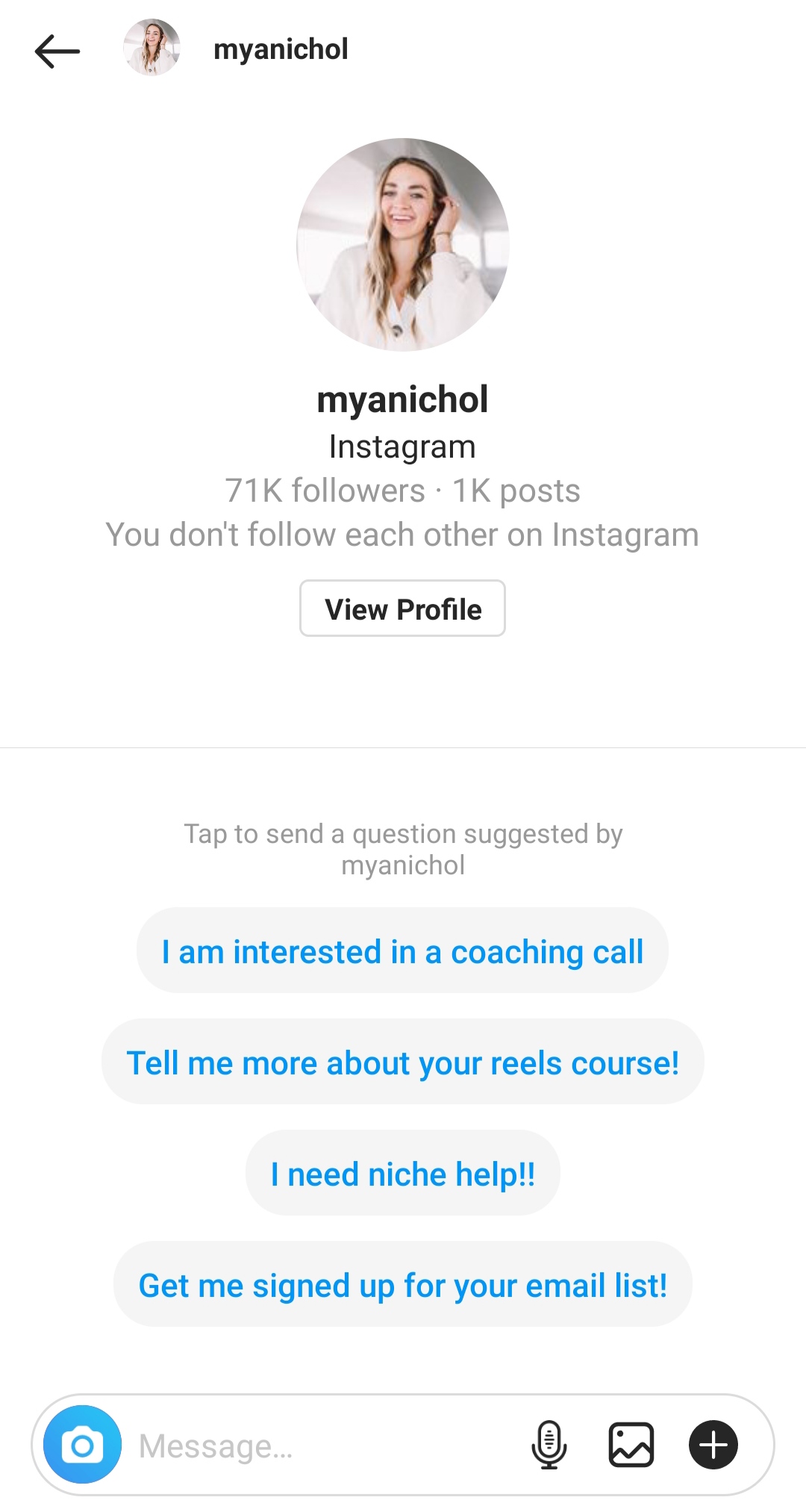 There is nothing inherently wrong with the standard Instagram options except that they are rigid and uninformative — you'll still need to tune in and answer manually. Here is why this type of "automation" isn't enough for business purposes:
you need to memorize your shortcuts to be able to use saved replies;
there is no conversational flow;
personalization isn't possible;
it still requires your physical presence and attention.
These days, business owners prefer having meaningful conversations with their users instead of sending them generic replies, and rightfully so. With proper third-party Instagram tools, you can set up complex conversational flows and publish content as well as interact with your subscribers 24/7.

What exactly can you automate on Instagram?
There are several processes you can legitimately run on an automated basis. Let's take a closer look.
Automate conversations with users by connecting a chatbot
This one is a must for any business page — a properly built chatbot can handle all of the repetitive questions and user inquiries you get while maintaining a personalized approach. It's a flexible solution: you can always update and redesign your bot to reflect your ongoing processes better.
Small companies can use an Instagram chatbot to create a feeling of constant presence and boost customer loyalty, especially when they're understaffed. Big brands, in turn, can ease the load on their customer support center while "keeping it real." That's exactly what Shein, one of the biggest Chinese online fast-fashion retailers, does.
Here are the most common use cases of Instagram automation bots:
Customer service and support — a chatbot helps users solve their problem or connects them with a real agent.
Sharing gated content — a chatbot shares an eBook or any other freebie with a user in exchange for their email address.
Follow-ups — a chatbot asks a user for their order number and immediately provides them with updates regarding their purchase status.
Gamification — a chatbot runs a quiz or a test to give a user a personal recommendation.
The more scenarios you create, the richer and more natural conversations with your Instagram chatbot will feel. Your subscribers won't ever have to leave their favorite platform to communicate with your brand — another benefit of implementing an Instagram automation bot.
Your chatbot can become an extension of your brand if you give it the right tone of voice. Also, you can integrate emoji and other visual content into your messages to increase engagement and be more concise.
Use a chatbot to qualify leads and help them get what they need
An Instagram chatbot can also ask your users simple questions to assess their needs, interests, and how far they are in their buyer's journey. It's practically lead routing because then your bot will quickly connect them with the right department or the most qualified agent.
This type of automation kills two birds with one stone. Your customer service team only deals with users who have clear intent, and they, in turn, receive the exact information they are looking for.
Drive website visits and purchases
Certain Instagram automations such as self-updating link pages and chatbots can help your followers find their way to your website and discover other resources related to your brand. Instagram itself doesn't provide business pages with tons of opportunities to share links and CTAs so third-party Instagram automation software comes in handy.
Bio link pages help you share all your important links and even collect payments with just one url. Depending on the page builder you choose, you can get more traffic from Instagram by making your link page automatically update with your latest posts — it'll save you a lot of time and effort.

Instagram chatbots can also boost your website visits by inviting users to check out your latest products or encouraging them to enjoy the perks of being a registered customer. If your follower expresses a desire to sign up for your event or newsletter, it's also a good time for your bot to send them to a registration page on your website and thus keep them moving down the funnel.
Discover and share UGC in seconds
With Instagram automation tools like Later, you can track your branded hashtags, mentions, and tags in other users' captions and Stories to quickly discover fresh user-generated content and customer feedback. Of course, you'll still need to ask permission before you repost it, but it'll take just a few seconds since all the tracking has already been done for you.
This type of Instagram automation allows you to be in control of your brand reputation on Instagram and easily manage it. Instead of scrolling through thousands of accounts manually, you'll just get notified every time someone mentions your brand.
Answer FAQ and reply to frequent comments
If you don't want to add an FAQ section to your Highlights, use an Instagram automation bot instead to be sure every basic question in your DMs gets answered. Manually sending the same replies can become tiresome — let your bot do that instead, but don't forget to give your users the option of switching to another conversational flow, taking a step back, or connecting with a real agent once they've gotten their answers.
Managing and filtering Instagram comments can be just as overwhelming unless you use tools like Sprout Social. With Instagram automation in place, you can instantly and informatively reply to questions in your comments, just like iHerb does:
Most Instagram automation tools generate a unified feed where you can see all of your new comments. You can instantly reply to them or delete them as you scroll — there is no need to open each individual post as you'd normally do on Instagram.
Automate scheduling and publishing posts and Stories
Plan your content in bulk and never worry about missing the optimal time when your users are the most active. Most scheduling tools for Instagram allow you to schedule a month's worth of content in a drag-and-drop calendar. After doing that, you can just sit back and relax knowing that every post will go live on time.
Another nice feature many Instagram automation tools have is a feed preview. Plann, for example, helps you both with scheduling and creating a beautiful layout.
You can actually see what your account will look like when you schedule your content — it helps you create a cohesive, pixel-perfect feed. In addition, you can double-check and get your content approved by your clients or co-workers when you schedule it in advance.
Unclutter your captions by scheduling your first comment
Another way to automate your Instagram routine is by automatically adding the first comment with hashtags to each of your posts. Why type your favorite hashtags every time manually when you can pre-save them and post in a separate comment like many popular creators do?
Also, tools like Hashtagify can automatically generate the most relevant hashtag suggestions for you so you can save time on that as well.
Get detailed analytics and personalized suggestions
Instead of scratching your head trying to figure out what all those numbers mean for your business, you can rely on a dedicated Instagram tool that automatically turns your dry Instagram statistics into clear personalized insights, intuitive graphs, and actionable recommendations.
Using automation software, you can uncover what works for your account and how your followers interact with your content on Instagram. Instagram automation software like Buffer or the aforementioned Later, identify the best time to post and the most engaging type of content based on your followers' behavior.
Buffer, for instance, generates a table showing your total impressions, average reach, average completion rate, and total exits. It helps you establish which type of Stories work best for your audience.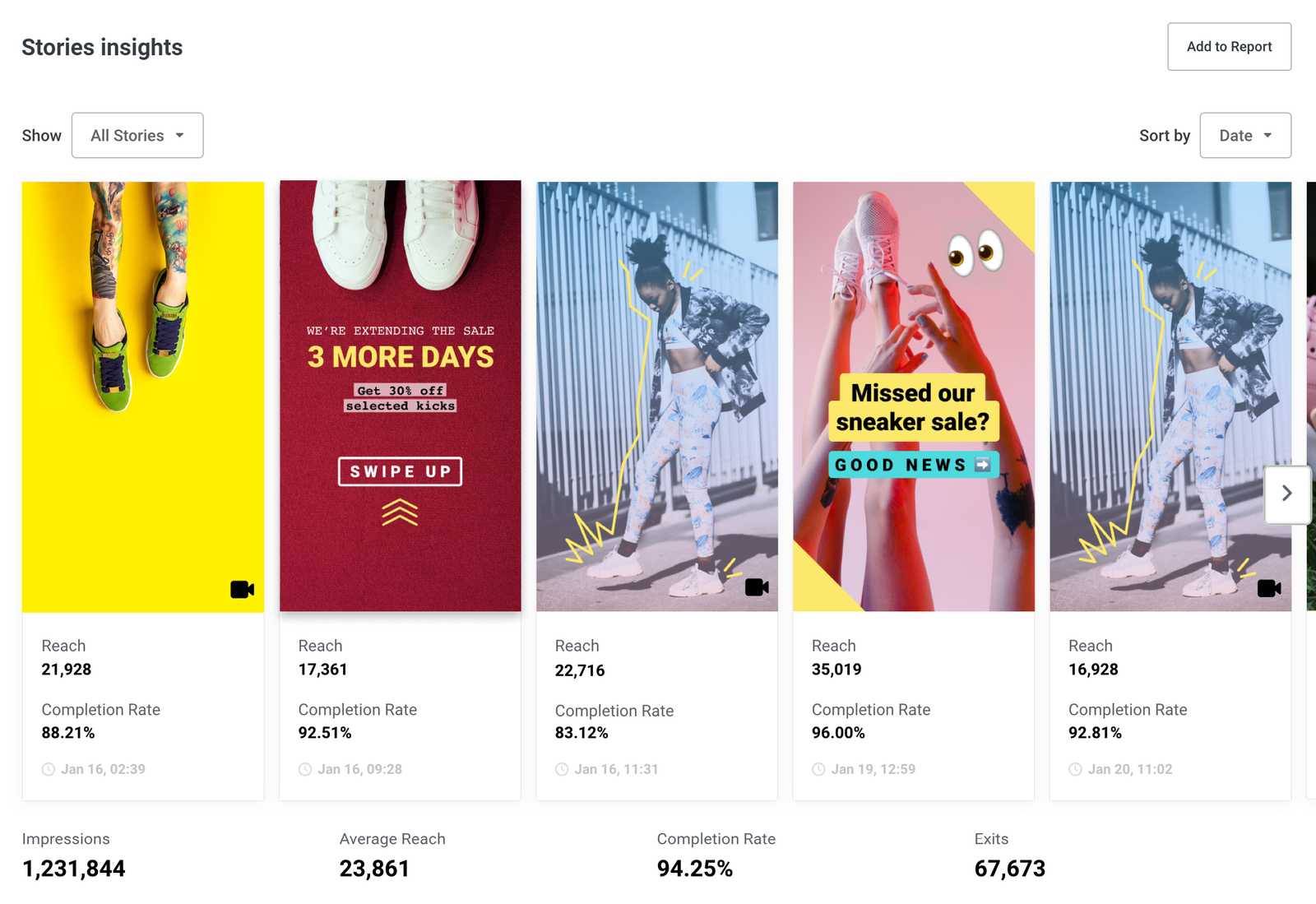 We've already done the research for you — check out our list of 10+ essential Instagram tools for business and find even more software that can help you supercharge your Instagram. But first, let's talk more about the rationale behind paying for additional tools.
How will your business benefit from Instagram automation?
Let's bring it all together. Automation tools for social media and Instagram in particular enable you to:
engage with your audience when they're most active;
spend less time on repetitive actions such as publishing posts every day;
never miss a single negative comment or high-quality UGC;
stay connected with your potential customers around the clock;
understand which content works best for your target audience;
turn Instagram from an additional platform into a reliable source of leads.
The latter point is crucial if you want to use Instagram for sales and not just for creating awareness. All in all, we would argue that using additional tools for social media is necessary as they optimize your work processes and leave no room for mistakes.
How hard is it to automate conversations on Instagram?
Let's take a look at our example — you'll see just how easy it is to create your own Instagram chatbot with SendPulse's bot builder. Surprisingly, you won't even have to code anything.
Log in to your SendPulse account or create a new one and connect your Instagram business account.
Grant SendPulse permission to access and manage your business account conversations.
Open the "Chatbots" tab, click the account you've just added, and start designing your bot's logic in a visual builder.
Add and edit triggers for automatic replies and message flows such as a "Welcome message," "Standard reply," "Story mention," and "Unsubscribe from bot."
When you edit a message flow, you can simply drag and drop elements from the left sidebar: "Message," "Flow," "Action," "Filter," "API Request," "Pause," and "Random."
Add, edit, and connect elements one by one to create a coherent conversational logic and make sure your followers can always take a step back in the dialogue.
Enrich and personalize your chatbot messages with emoji, pics, buttons, fields, and variables.
Once you've created your first script, test it right away by sending your bot a DM on Instagram.
This is what an Instagram chatbot created with SendPulse looks like:
And this is how it looks from the inside when you edit it in the visual builder — you can always see how your elements are interconnected and what needs to be adjusted: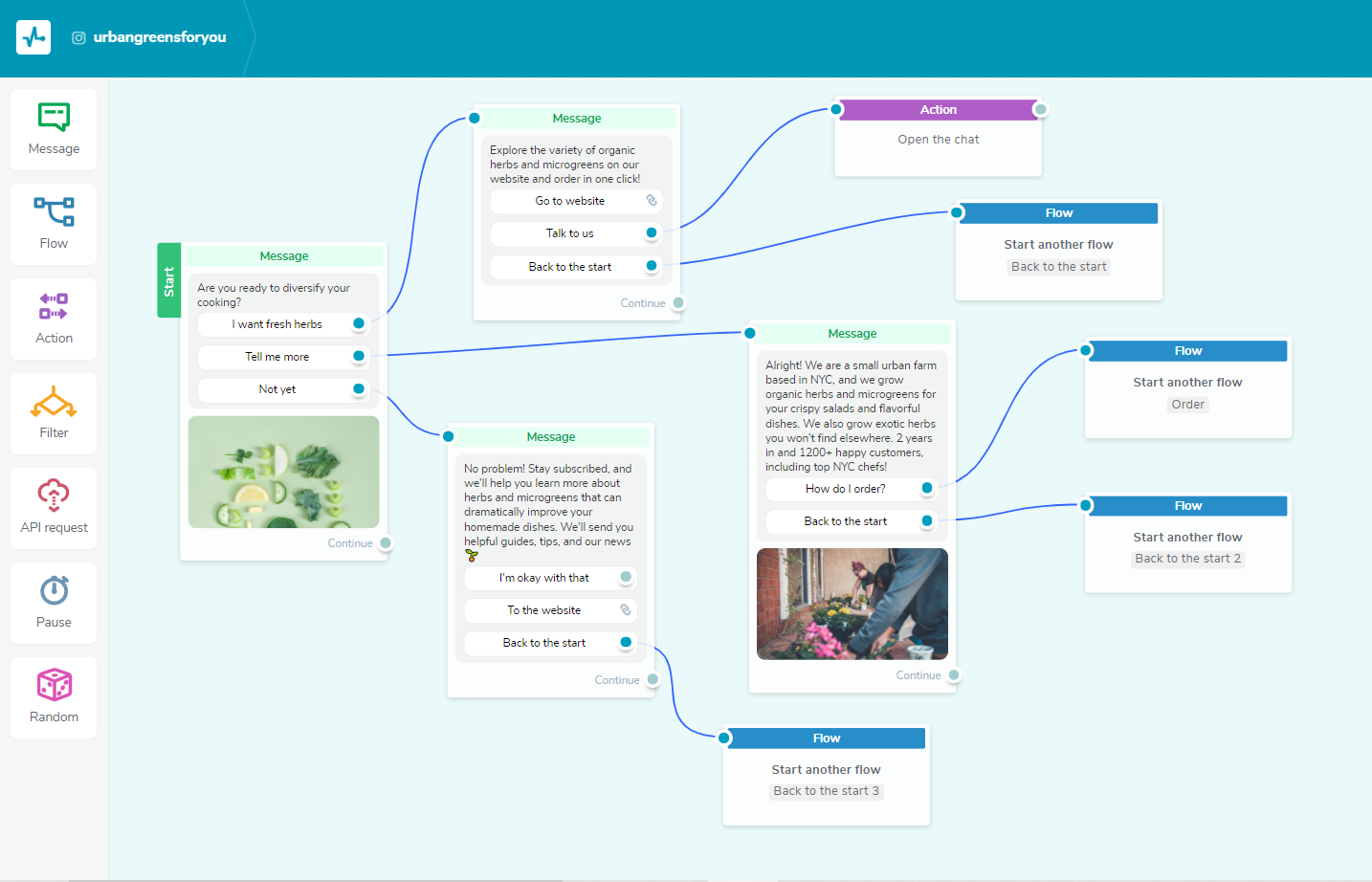 As you see, creating Instagram chatbots is a very intuitive process, and a lack of experience shouldn't stop you from upgrading your professional toolkit. You'll find a more detailed description of how to create an Instagram bot with SendPulse in our blog.
There are also step-by-step instructions on creating an Instagram chatbot in our knowledge base — check them out and feel free to try your hand at building your first bot now!
The bottom line
All of this is to say, you will benefit from using Instagram automation software regardless of your niche and the size of your audience. Start optimizing the way you work with social media to make room for growth and outpace the competition.
If you're interested in learning more about new tools and strategies for social media marketing and content marketing, be sure to subscribe to our news — you'll find the subscription form below!