More and more users are migrating to messengers for a meaningful conversation not only with friends but with businesses as well. So, now choosing a gift or picking the most suitable workout routine is possible without the two-way in-person communication. But what if we tell you that even purchasing a whole house can be possible through a simple chatbot?
In this entry, we're going to unveil the mechanisms of real estate chatbots and provide an example of a functioning chatbot template.
Before you start: Make sure to check out our video about building and deploying a chatbot.
Benefits of real estate chatbots
In a nutshell: chatbots are lifesavers. They can relieve the stress of you not being there for each incoming user's request.There are, however, even more advantages of chatbots:
Qualified leads and prospect data. The information audience can provide you with while interacting with your chatbot can tell you a lot about their preferences, wantings, and behavior. You can prepare a set of questions to qualify your leads and move them further in the sales funnel.
Automated follow-up process. You can ask users how they prefer to get contacted — through email or phone — and reach them through the appealing channel.
Trustful relationship. Your chatbot can help you onboard the prospects and lead them through all stages of the sales funnel.
Saved time. Obviously, by generating qualified and satisfied leads, answering their questions, and automatically uploading the data to your CRM, a chatbot relieves you of small piece queries, so you can dedicate your time to resolving more complicated issues instead.
You might be curious how chatbots can serve you in your real estate business apart from being a 24/7 helper and ultimate time-saver? Let's have a closer look at the chatbot opportunities for your real estate marketing.
What a real estate chatbot can do
Here's a bunch of beauties a chatbot can bring into your real estate marketing:
Search MLS listings. Multiple listing service, or MLS, is a database that contains information about the property, various estate agencies using this system for cooperation. So the bot can scan this database to search for relevant properties.
Schedule property viewings. Although a chatbot can't replace an actual real estate agent leading the prospects through the property, it can still set up the meeting without in-person communication.
Take on virtual tours. In case your prospects are too busy to check the property in person or they are located elsewhere, the chatbot can give them a virtual walk through the appealing spot.
Keep track of conversations. With chatbots, you do not need to keep a record of each interaction available in your logs.
Now let's jump to the example of a real estate chatbot template and see how we used
SendPulse Facebook chatbot builder
to create it.
Real estate chatbot template
To showcase how the chatbot auto reply flow works, we've created a real estate chatbot aimed at helping a user to find property for purchase, rent it, or to get a loan.
This is how the flow looks altogether: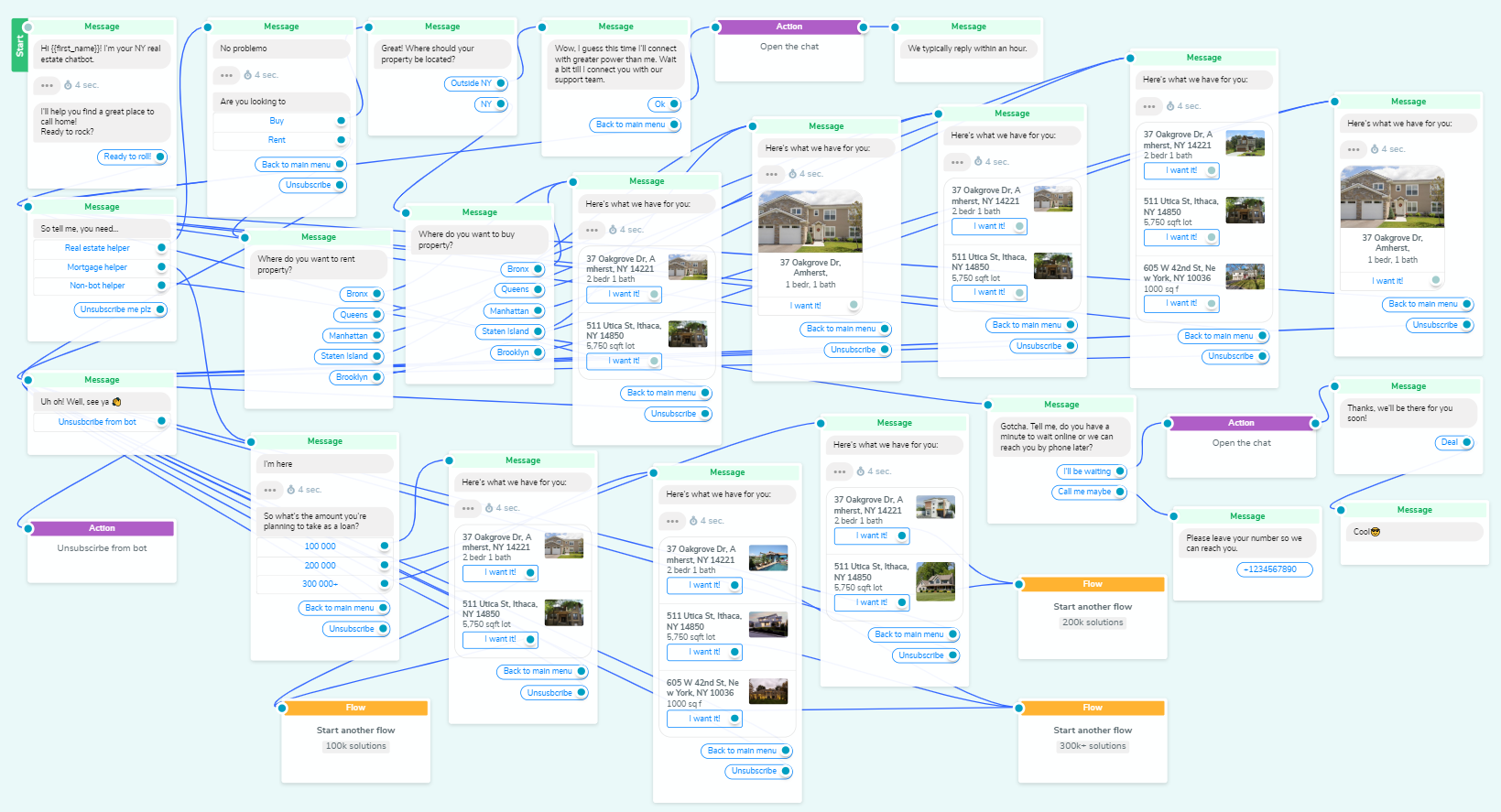 The flow includes three scenarios of the conversation unfold, which we'll show in detail below.
The entry point of any well-mannered chatbot is a welcome message, and surely we included such in our flow.
The bot offers three scenarios which start when the user presses the following buttons:
"Real estate helper" — for the users who want to buy or rent property;
"Mortgage helper" — for the users who want to take out a mortgage;
"Non-bot helper" — for the users who need an in-person conversation and the Unsubscribe button — for those who want to unsubscribe.
Let's take a closer look at each scenario.
The real estate helper flow
In case users press the "Real estate helper" in the welcome message, they get a message asking whether they need to buy or rent the property. The "buy" option leads to properties in New York City and its outskirts while the "rent" button redirects the user to auto replies with renting offers.
Here is how the "Real estate helper" scenario looks in Facebook Messenger:
For users to be able to unsubscribe or check out other options at any point of interaction with our chatbot, we've also added the corresponding buttons to its basic blocks.
The mortgage helper flow
In case the user presses the "Mortgage helper" in the welcome message, they get a message specifying the amount of money they want to borrow. Upon pressing on the appealing amount of money, the user gets messages with the property of the corresponding price. When the user chooses the appealing property, they get redirected to another flow, for example, specifying the details of taking out the mortgage.
And this is how this part of the scenario looks in Facebook Messenger:
The non-bot helper flow and unsubscribe option
In case the user needs a customer support manager, they are to press the "Non-bot helper" button. This way the chat priority escalates and the support team contacts the user as soon as possible.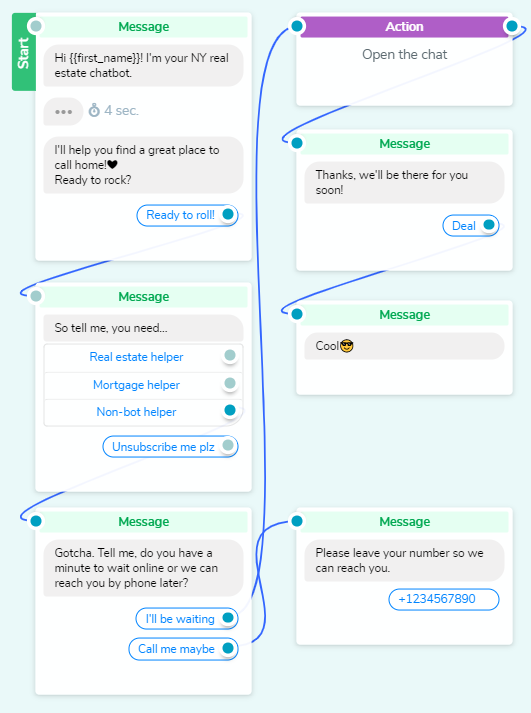 This is how the flow looks in the Messenger:
Alternatively, users can unsubscribe from your chatbot by clicking the corresponding button in the welcome message or after each block:
The chatbot we've created can be used as a backbone of your own more complicated auto reply flows. Feel free to use it and create a chatbot that will gradually automate your marketing routine, providing customer support or carrying out sales, engaging the audience, and ensuring a personalized approach towards the users. Follow our guidelines and create your own Facebook chatbot with SendPulse!