The style of communication you use for your B2B audience your choose depends on the type of business you run and your email marketing strategy. In this article, we'll sort out the kinds of emails your B2B company can use to connect with other businesses and illustrate some cool B2B email marketing examples from different companies.

What is B2B email marketing?
B2B, or Business to Business marketing deals with companies or business representatives rather than ordinary users. This is why B2B email marketing needs to shape its message in such a way that it provides benefits to another company. Companies usually buy products that focus on saving them time, money, and resources. All business can relate to wanting to reduce their overhead costs.
When designing your B2B email marketing strategy, take into account the following steps:
Identify your customer persona to align your offers to their needs and preferences.
Segment your audience to sort it out according to its purchase history, size, and reach them with personalized offers.
Choose the goals of your business to be able to choose tactics for your future emails.
Plan your email marketing campaigns in advance to know what and when you will promote and create corresponding templates.
Now let's proceed to B2B email marketing examples you can easily implement into your routine.
B2B email example #1. Announce a new product or service updates
In case you are going to launch a new feature or upgrade an existing service, the first thing you should do is to inform your audience about it. That's also the right time to remind your audience about your brand, allow your subscribers to try your new functionality, and invite them to share their thoughts on your updates.
Here is an email about service updates from Mixpanel; the company listed all the main novelties in it, focusing on how businesses can benefit by trying them out.
B2B email example #2. New partnerships and crew expansion
Inform your customers about significant crew changes or new partnerships you've obtained. It's one thing to say you're excited about those innovations; it's another thing, to make your customers excited too. List reasons why the new partnership is valuable for your customers, i.e. how they will benefit from your collaboration. This way, you'll show that you are constantly working to improve the quality of your product or service, and in turn your customers' experience.
Email Monks, for example, sent an email informing their subscribers about their new executive. The company also listed why they were thrilled to have a new Vice President of Client Success on board and how his professional experience will help other companies grow.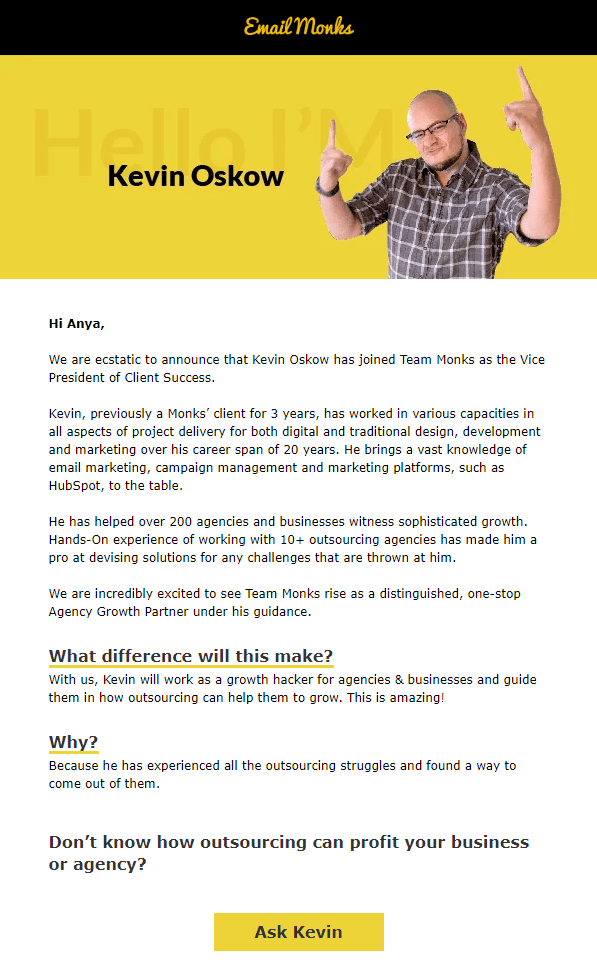 B2B email example #3. Send personalized updates
Build a reputation as a brand that cares about their customers by personalizing your emails. Come up with important information from the personal accounts of your users like statistics, credit score, activity on social media, and whatnot.
This is what Buffer did in one of their emails. The company gave their subscribers a chance to check out the report on the performance of their social media posts within the week.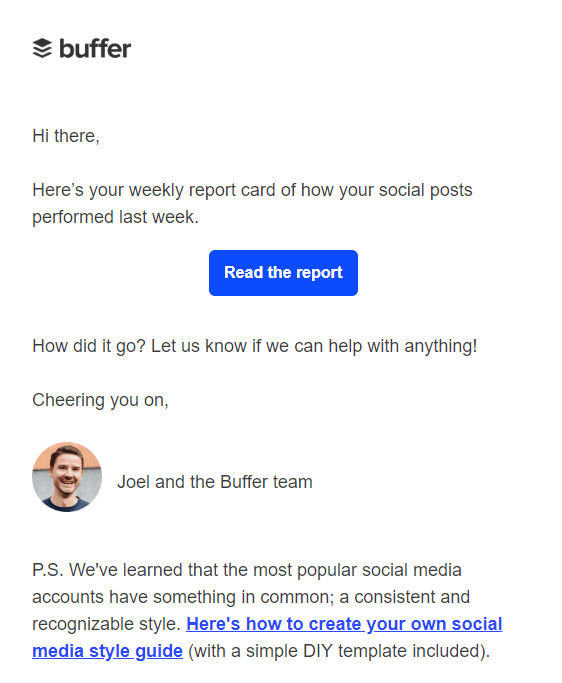 B2B email example #4. Event invitation
When you decide to host an event, dedicate an email to the invitation. Make sure you explain what kind of event you are going to run, introduce the speakers, and clarify the benefits of this event.
Adestra, for example, sent their audience an email with an invitation to a webinar, specifying a clear date and time for the event, introducing the speakers, and letting the customers get acquainted with the latter by connecting with them on social media.
Here is another B2B email marketing example from MarketingProfs. The company complemented their event invitation email with an actionable CTA to inform users how much they would save upon registering for the event with the code.
B2B email example #5. Popular blog posts
Group your popular articles from your blog in a weekly or a monthly digest. This helps effectively link your email marketing and SEO — by driving more traffic to your website and also keeping users' eyes on your latest or most popular articles.
Email Monks, for example, sent a list of popular blog posts as a part of their welcome email series.
B2B email example #6. Welcome new subscribers
Sending a welcome email is a crucial step for establishing a trusting relationship with your potential customers. Send it right after a subscription to introduce your brand and its unique functionality. List the brand's key content, onboard new users with tutorials, or introduce fundamental values of your company.
Rocketbots, for example, thanked their new subscriber for signing up and specified the platform's key features which users can apply in their messaging routine.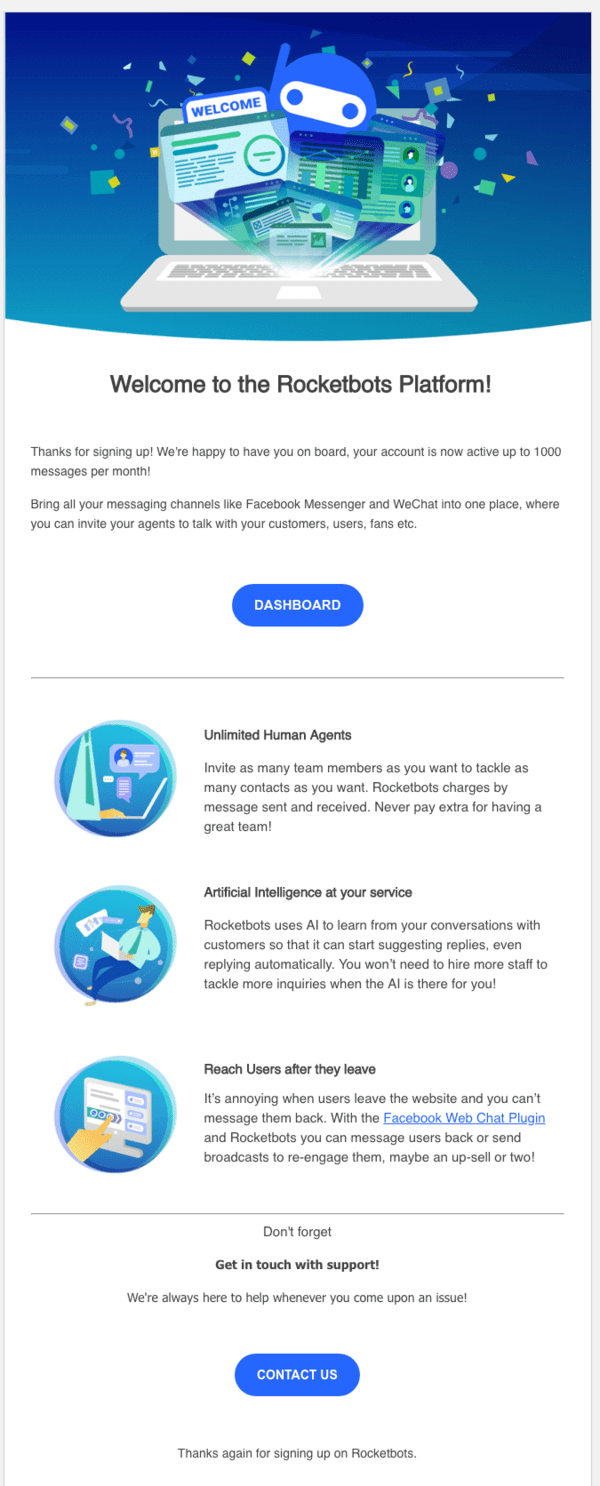 So get inspired by these B2B email marketing examples to grow your business, boost your revenue, and build strong relationships with your audience. Rely on SendPulse and choose pre-made email templates from our library or create your own to send welcome emails, announce new features, or invite users to the events you're hosting.