In this post, we will shed some light on how to write effective text for your email campaign, make it logical, well-structured, and informative for your readers. We will outline six important points to help you compose a compelling email even if you are a newbie at email copywriting.

Tips for effective email copywriting
Beginners in email copywriting often look for a magic pill to make their texts stand out and boost sales. Those who have more experience in the field know that there is no single all-purpose solution but rather general rules for structuring your email copy. Let's see what to pay attention to in order to make your emails effective and target-driven.
Write for readers, not yourself
The most common mistake companies make is concentrating on their company rather than their readers' interests. An effective email copy should, first and foremost, address your client's direct needs instead of simply telling them about your company's product.
Take a look at this New Year email from Yes. It is warm and client-oriented. All of the content blocks talk about something important to the reader. Moreover, the email ends with their president's signature, which gives it a personal touch.

Avoid heavy structures and email copywriting cliches
Make sure your text is understandable, even for those who are not familiar with the topic. If you are well-versed in the topic you are writing about, you are most likely inclined towards using specific terms and buzzwords. When it comes to email copywriting, it is important that your texts are clear and useful for both pros and newbies.
Do not use email copywriting cliches that hardly mean anything, such as 'a market leader', 'gaining a competitive edge','highly technological solutions', etc. Think of several facts about your company that will highlight its actual advantages and make its image attractive to your audience. For example, 'we win nine out of ten cases' or 'we deliver products all over the world within three days'.
Important! For email copywriting to be effective, ask yourself three questions: which of the company's objectives will be addressed in this email? How will my email help the reader? How can I make my copy sound clear and client-friendly?
Keep it short enough
People have lots of other things to do besides reading an email. If you send them a long email, they will likely never even look at it. Brevity is necessary for effective email copywriting: formulate your proposal in accordance with the three questions highlighted above and then express it in your email copy in as few words as possible.
The beauty brand NYX offers its clients a subscription to their new online product, an app to virtually try-on the cosmetics they sell. Their email has a bright banner, a short proposal, and a CTA button — the shorter the better: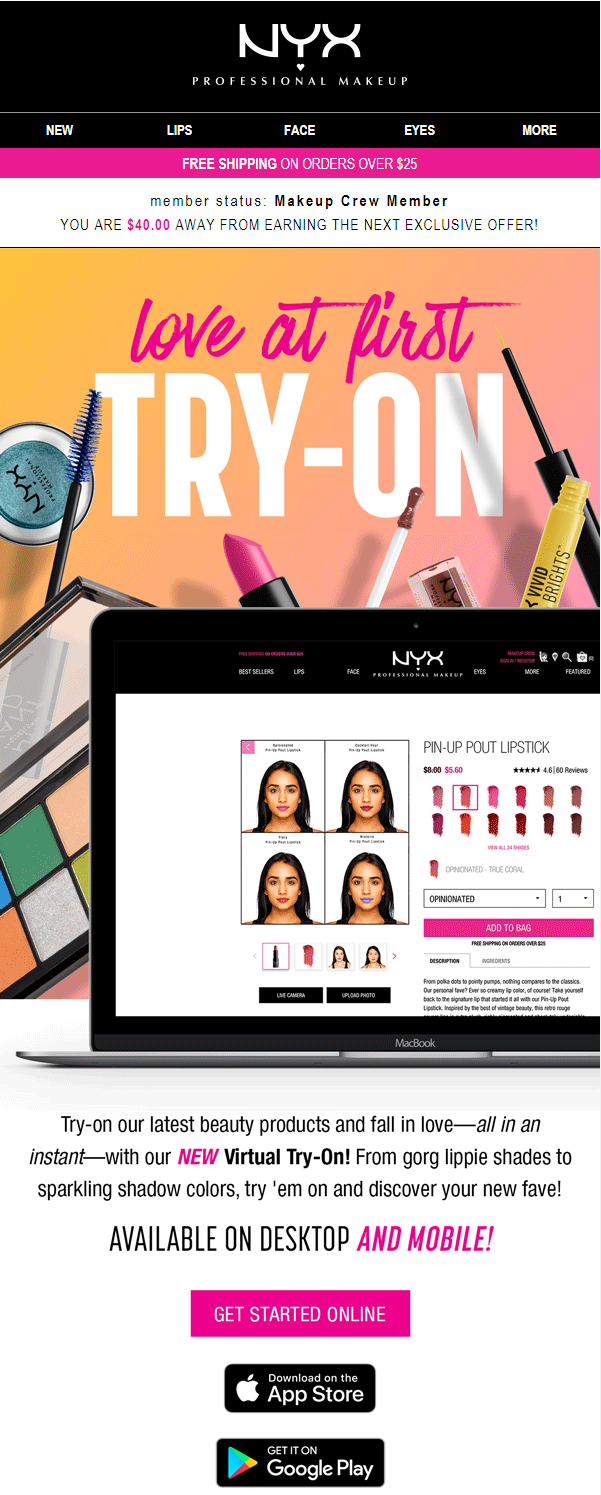 Do not overload your email with CTAs
Your email should direct the reader towards the target action, namely, visiting a website, proceeding with their purchase, signing up for updates, etc. To avoid vagueness, choose one useful action that you want readers to complete and lead them to it. This will help readers concentrate and understand your expectations. In this article, you can learn how to make your CTA convincing.
In this example from MAC, you can see one CTA button, which leads the client back to their abandoned cart and encourages them to proceed with the order. The email is concise and clear-cut, with no added confusion.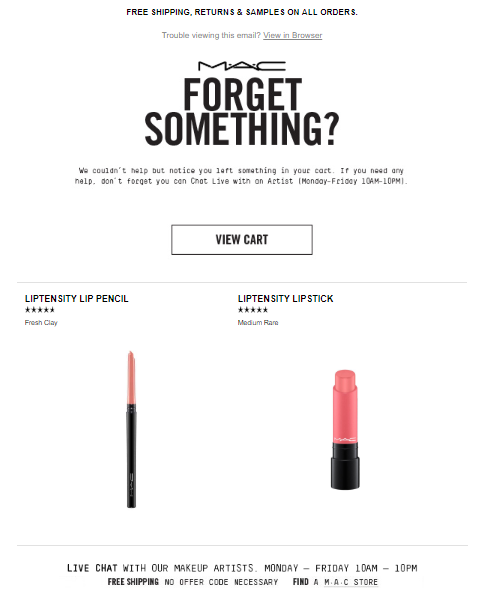 In email copywriting, you can use several duplicate CTAs, for example, in the product lineup, so that subscribers can immediately make a purchase. If your email is long, it can also benefit from using several CTA buttons to separate different content blocks. Every content block should come with its own CTA button so the reader doesn't get confused about what target action to perform. Be sure to place the most important block at the beginning of your email.
Here's an abandoned cart email from Dr. Martens online store. Along with one primary content block with a CTA 'checkout now' at the top of the email, there are duplicate CTA buttons encouraging the client to view each product in the order.
Use a logical structure
See for yourself which email template is easier to comprehend:
Our brain is designed to look for the easiest solution to a problem. A big chunk of text looks like a pretty challenging task to cope with, so one of the most popular email copywriting tricks involves breaking the text into shorter paragraphs to increase its readability.
If you are planning a long email covering several topics at a time, make sure to break it into several content blocks. This way, you will simplify the readers' task. Thus, they will be able to scan the email quickly and identify the most interesting points.
Proofread before sending
Just like any other text, emails should be proofread before they are sent to your contacts. If you write, edit, and format emails on your own, you can easily overlook some mistakes, logical lapses, or heavy sentences, as you get used to the text flow.
Here are some tips for spotting errors in email copywriting:
Leave your text out overnight. Postpone reading your email text and get back to it tomorrow. If you are too pressed for time, put the copy aside for at least two hours and work on other tasks in the meantime.
Ask your colleagues to proofread your email copy. If you need someone to take a sober look at your text, ask for your colleagues' help with proofreading. This will come in handy as the deadline looms closer.
Read your email aloud. This method helps you detect any parts of the text that are hard to digest. If you cannot read the whole sentence in one breath and get stuck on complicated phrases — reword the sentence.
Get 'grandma's' help. Imagine that your email lands in the inbox of an elderly relative. For example, imagine your granny is receiving your message, knows nothing about what you are writing about, and hardly uses the internet. Could she understand your email? Ensure that your email copywriting style is clear enough for all readers to understand easily. 'Granny's' method for email copywriting can help simplify even a technical email, leaving it warm and reader-friendly.
How to make your email copywriting stand out from the rest of the inbox
If you come up with a concise email copy, which can solve the reader's problem — you're already halfway to success. Now it's time to use some email copywriting tricks to make your email look attractive from the outside so readers notice it in their inbox, and open it.
The sender's name. This should match the overall tone of your email. In formal email copywriting, we normally use the company's name in this field; while in more casual emails, it's a good practice to add the name of the person who sent the email. If you promote your personal brand, use your own name.
Include an eye-catching subject line. Right after the sender's name, the reader notices your subject line. If the recipient is not familiar with your content yet, they will look at the subject to decide whether to open the email at all. To make your subject line stand out, use the following methods that have already proven effective:
indicate why the email is useful;
add some intrigue;
use emoji.
To gain more insight into this topic, read our article about the ways to make your email stand out in the inbox. For this article we have picked the most effective email copywriting tricks.
Preheader. This element serves as an extension to the subject line. Since the subject can only be 60 characters, the preheader can provide some additional details.
If you do not use a custom preheader, it will be automatically generated from the first line of your email, which may often look rather irrelevant. For example, take a look at this email from The Hustle:
And here is an email from Justice online store. The subject line announces why the email is useful by promising a discount and other incentives and looks rather intriguing. The preheader offers additional information regarding the special offer, while the emoji makes this email more eye-catching.

Important! Try to employ different email copywriting tricks to make all the elements of your email work together. Also, read this article to learn more about email anatomy and ways to achieve harmony in email copywriting.
Good email copywriting examples
Let's take a look at several effective email copywriting examples:
Example №1
The first email in our selection is a 'how to' email from New Balance.
Take note of:
the subject line 'Rules of Running' is intriguing and attracts the reader's attention — the products are advertised subtly, while informing the reader about exercising life hacks;
the email is divided into content blocks, so the reader can easily find the necessary information and quickly assess the content;
the shoe models are described concisely but effectively, and their strong points are highlighted in relation to the main topic of the email — the reader can easily find the right running shoe for them.
Example №2
The second excellent email copywriting example, from J. Crew, is about Giving Tuesday.
What's good about this one:
the main offer comes at the very top of the email;
the body of the email is divided into content blocks, so each promotional offer is described separately; the reader can easily grasp the gist of each offer.
each content block has its own CTA button, so the reader does not get confused.

Example №3
Here's a welcome email from the beauty brand, Birchbox. Take note of some of its most prominent advantages:
the subscriber immediately learns about a great opportunity to receive customized boxes with new beauty products upon subscription;
the email is divided into several content blocks;
CTA buttons match the headings of the content blocks.

Finally we recommend reading and writing more. Practice email copywriting daily, start your own personal email campaign or blog, and subscribe to strong players in email copywriting world. With constant practice and the help of SendPulse tools, you will definitely bring your email copywriting skills closer to perfection.