Developing a powerful email marketing strategy is impossible without thinking through your content in advance. You need to create your email marketing calendar that would correlate with your business priorities and sending routine.
In this article, we'll explain why you need an email marketing content calendar, guide you through all the steps of creating one, and give a hint what upcoming holidays and unusual opportunities you may add there.
You can jump right to the month you're interested in:
Why email marketing calendar is important
An email marketing calendar is a schedule of content you are going to send to your audience. Such schedule reflects the overall goals of your business and helps you create a clearer view of how you can achieve them and enhance your efficiency.
A well-thought email marketing calendar can help you
Increase productivity. Since you plan your marketing activities in advance, you have a distinct outline of your potential workflow. With this information on hands, you'll be able to set your priorities straight and divide the responsibilities among your team members so that they will have sufficient time to create a smart email template and write a killer email copy.
Make your emails relevant. Preparing an email marketing content calendar means taking the interests and preferences of your audience into account and coming up with meaningful offers.
Meet your top-priority goals. Scheduling your marketing routine, you can better understand your objectives and the ways of achieving them. For instance, if you plan to send three campaigns a month — simply schedule them in your calendar. Alternatively, if you aim to increase your sales, you can plan your special offers with optimal frequency.
How to create an email marketing calendar
If you are not sure what to start with, we'll bring you three core steps to take while elaborating your email marketing schedule.
Categorize your emails
Narrow down the emails you are sending into several categories based on their purpose. For instance, promotional emails, digests with blog and service updates, emails based on customers' action or their lifecycle stage, and holiday-specific emails. Think which of them can be automated, for example, welcome email series or transactional emails.
Determine the email sending frequency
Determine the sending frequency that won't bother your audience. For example, you can segment your subscribers based on how engaged they are with your campaign or run A/B tests, varying email frequency to see what works best for your audience.
Brainstorm email content
Based on the goals of your campaign and your business in general, figure out what topics and design ideas can help you hook or convert your target audience. Look through your past campaigns to determine the most successful ones. You can further repurpose your high-performing email campaigns up to the latest trends and occasions you've chosen to add to your email marketing calendar.
Finally, put it all together and decide who of your team members will be responsible for financial aspects of your email marketing, its copywriting, and design. If you feel the lack of engaging occasions, check out a six-month list of holidays we've gathered topped up with some real-life email examples.
Holidays to add to your email marketing calendar in May
05.04 — Star Wars Day
05.12 — Mother's Day (the second Sunday of May)
05.15 — International Day of Families
05.20 — Jeans Day
For inspiration, check how ModCloth used the Star Wars Day to promote their holiday-related products. The company credited the iconic sci-fi movie by using creative copywriting in their heading and call-to-action text.
Harvey Nichols, in their turn, sent a whole guide dedicated to the Mother's Day, having come up with gift ideas for any taste and need.

Holidays to add to your email marketing calendar in June
06.01 — International Children's Day
06.07 — National Running Day
06.16 — Father's Day (the third Sunday in June)
06.21 — International Day of Yoga
Reebok, for example, celebrated National Running Day with their subscribers by offering two pairs of sneakers at the price of one. On top of that, the company shared useful workout tips to get the most out of running.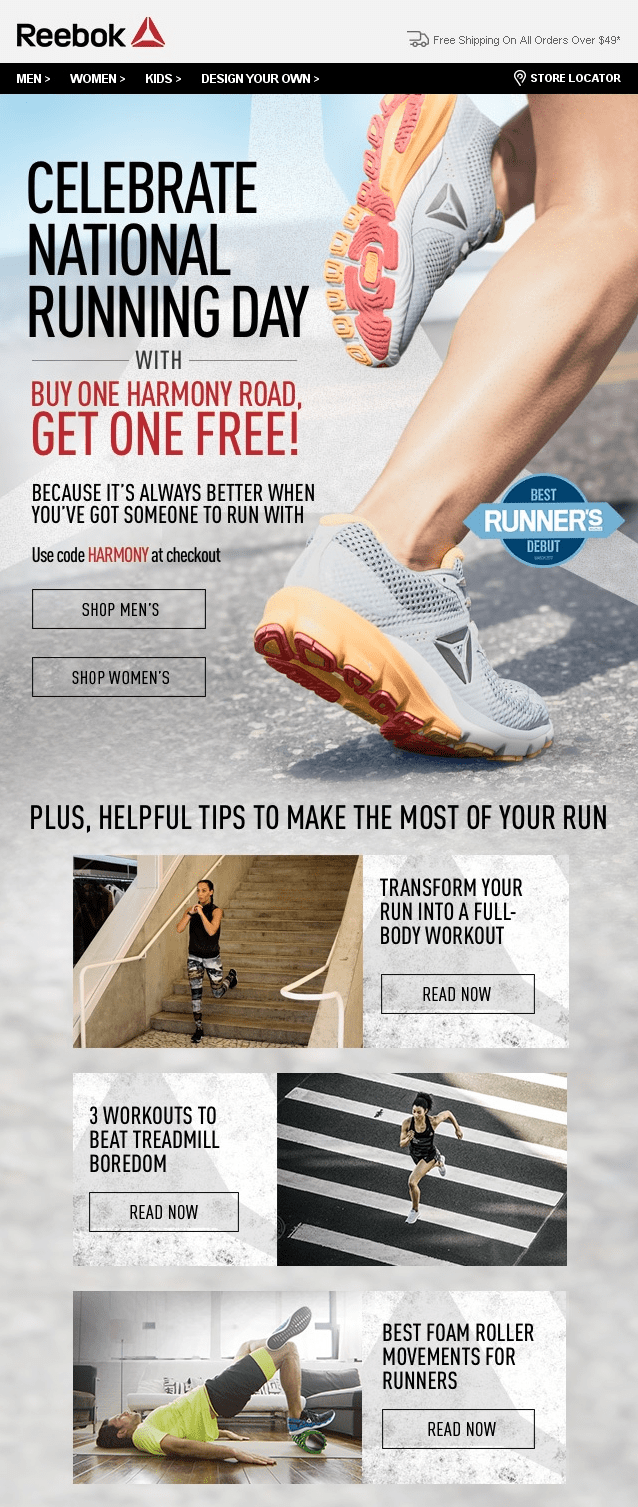 Holidays to add to your email marketing calendar in July
07.04 — US Independence Day
07.06 — International Kiss Day
07.17 — World Emoji Day
07.30 — International Friendship Day
Have a look at how Victoria's Secret used the International Friendship Day for their marketing purposes — the company came up with twinning offers in their email.

Holidays to add to your email marketing calendar in August
08.02 — International Beer Day
08.08 — International Cat Day
08.12 — International Youth Day
08.19 — World Photography Day
ModCloth proved themselves to be real cat lovers and didn't miss an opportunity to celebrate the International Cat Day in one of their campaigns. The brand shared the photos of the community's feline pets, announced a sale, and offered to proceed to their blog to check out the cat-like looks.
Holidays to add to your email marketing calendar in September
09.09 — International Beauty Day
09.18 — National Cheeseburger Day
09.21 — International Peace Day
09.27 — World Tourism Day
This is how Hot Topic, a retail chain, used Cheeseburger Day in their email campaign. The company associated this holiday with a famous cartoon and offered its users to check out the themed clothes collection.
Holidays to add to your email marketing calendar in October
10.01 — International Coffee Day
10.05 — World Teachers' Day
10.15 — World Maths Day
10.31 — Halloween
Take a look at how Penguin Random House, a book publisher, tailored their campaign to Coffee Day. Since book lovers usually enjoy reading a book with a cup of coffee in hand, the company prepared a list of books coupled with their coffee match. On top of that, the brand offered its readers to take a quiz in order to find out their personal perfect coffee and book pairing.

We couldn't go past the Halloween-themed emails, although launching a spooky campaign isn't a new thing in email marketing. Just have a look at how J. Crew managed to adjust their email to Halloween: the discount total, the copywriting, the colors, and the promo code — all speak about the holiday.
Final thoughts
Let's recap what basic steps you should take while creating your own email marketing calendar:
Group your emails into categories based on their purpose and think which of them can be automated.
Decide how often to send each type of email through A/B testing and exploring your audience.
Narrow down possible topics for your emails; list email content and design ideas.
And of course, look through the six-month inspiration list we've prepared to figure out the holidays that may be suitable for your business and go creative sending your email marketing campaigns with SendPulse.