Having your company recommended by the users is a clear sign your brand is being trusted and appreciated. Yet customer loyalty isn't something you win in a day; it takes much time and effort to reach that level of relationship with your audience. Read on to find out how to increase your customer loyalty and turn your audience into a devoted fan base that is always ready to spread a good word about your company.

What is customer loyalty?
Customer loyalty is a customer's wish to make repetitive purchases from a particular brand. Typically it comes as a result of a company's satisfying customer experience and value its products provide to the consumers. Loyal customers are eager to spread the word about businesses they like, attracting more new customers, and this way driving more revenue to the company's piggy bank.
According to statistics, 61% of consumers state that offering discounts and gifts is the most important way how brands can interact with them. From the consumers' perspective, a discount or free services you offer is a pleasant kind of reward for collaboration, whereas for your business, such initiatives are crucial steps which you should budget, plan, and account for in your email marketing strategy.
Well, but how to know what exactly can turn an ordinary customer into a loyal one? The statistics unveil that discounts and free products attract 43% and 27% of users correspondingly, while 10% of users stay with your brand as loyal customers thanks to your exclusive rewards.
With 90% of companies investing in loyalty programs, the question arises: why do you need to increase customer loyalty?
Why increase customer loyalty
Here's a bunch of beauties a loyal database can breathe into your business routine:
Reduced costs of attracting new customers. In fact, it's from five to 25 times more expensive to acquire new customers than grow loyal clients out of your existing audience.
Increased sales and profits. Existing customers are likely to spend 31% more compared to new customers, so retaining a loyal database is a surefire way to improve your bottom line.
Strong ties with existing customers. A loyal customer is eager to support their favorite brand rather than scold it, so they are more likely to share their honest feedback, which will help you improve your offer further.
Increased number of referrals. 81% of users trust their family and friend's advice rather than any recommendations from businesses. Thus, getting recommended by satisfied customers within their communication circle can be quite beneficial, especially in the era of social networks.
To make the above-mentioned advantages work for your business, take a closer look at how you can grow a happy and satisfied database yourself.
How to increase customer loyalty through email
There's a great deal of tools to improve customers loyalty, starting with a simple thank you or a welcome email to fancy multi-level loyalty programs. Using email as a way to communicate with your customers, you can build up a strong relationship with them and create timely and personalized offers by automating your campaigns.
Have a look at how you can use email marketing to increase customer loyalty and boost your sales.
Study consumers' behavior and segment your database
To be able to come up with highly relevant offers, you need to study subscribers' preferences, tastes, browsing or purchase history. Having this data on hand, you'll be able to create groups with similar behavior and interests — segments.
You can segment your audience according to their
purchase history — what kind of products they prefer or how much money they typically spend;
demographics — users' age, gender, location, or marital status;
browsing history — which sections of your website they visited and which links they clicked;
interests — which hobbies they have, and others.
Personalize your emails
By sending personalized messages, you showcase that you treat your customers as real people rather than just an address in your mailing list. The easiest way to go is to address a user by their name, yet there are other ways how you can personalize your messages:
recommending products and services based on previous purchases;
notifying users whether the product they were interested in is in stock or a discount is available;
congratulating users on various milestones like their birthdays or anniversaries of collaboration with the brand.
Gmail, for example, send their users an overview of places they've visited based on their travel history. This email also features an infographics of how much the user scored by walking and taking the transport, which can be both informative and entertaining for them.
Provide value for your customers
Users get tired of twin promo emails, so bring in some value in your campaigns rather than just trying to sell. Turn to storytelling to engage your audience and create an emotional bond with your story. You can also answer the frequently asked questions, send reviews, advice on how to use your products or services, and so on.
Dermalogica, for example, dedicate a campaign to the World Sleep Day. Apart from demonstrating their night-time skincare products, they also include some tips on how to set a healthy sleeping routine.
You can also ensure the "wow" effect and establish your brand as the one that really cares for its users. This is what Chubbies did in one of their campaigns just before Mother's Day and Father's Day season. They offered to unsubscribe from the reminders about those holidays in case users find such emails too painful to see in their inbox.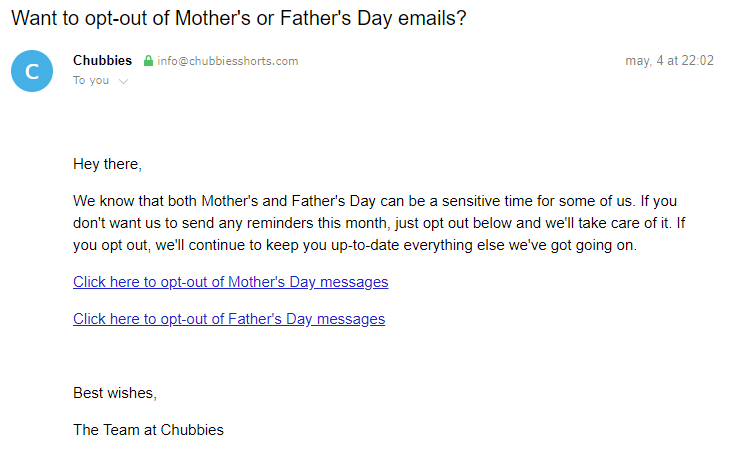 Consider customers' preferences and opinions
This one is simple: the more your customers are satisfied with your services, the more loyal they become. Keep track of your customer's satisfaction by getting regular feedback from them: ask about their preferences and encourage them to make reviews of the products. For instance, you may send them a survey email asking whether they were pleased with the customer support service or requesting to rate their latest experience of collaborating with you.
Take a look at the welcome email from MobileMonkey. They greet a new subscriber and send a straightaway survey so that the newcomers can help the company improve their services.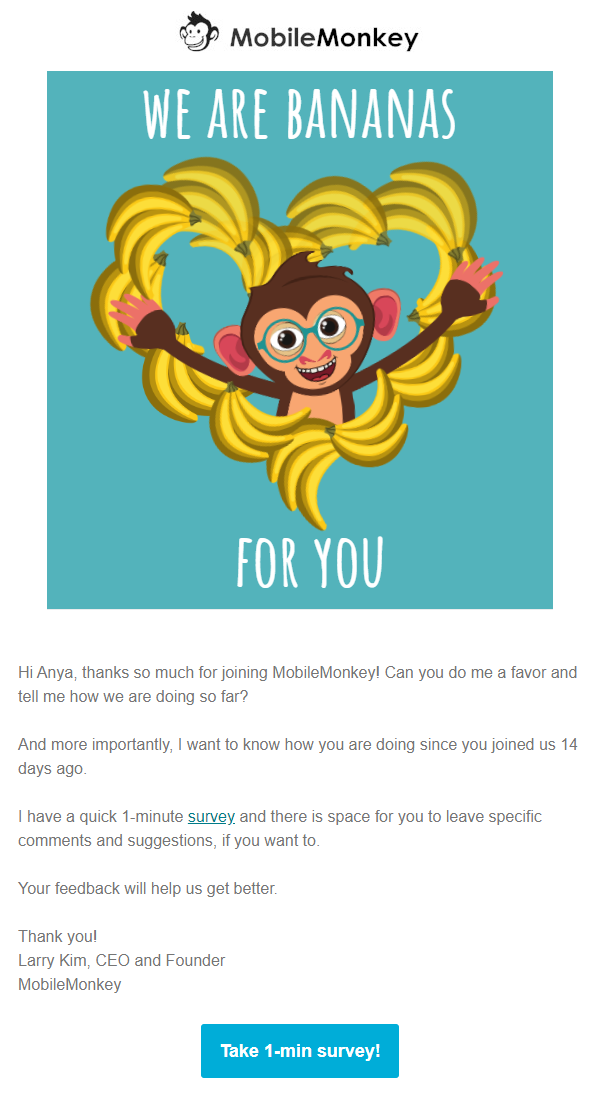 So, as you can see, customer loyalty and love can't be imposed or bought by discounts and special offers alone. You need to work for it by delivering value to the users and showcasing that you appreciate their cooperation with you.
Use SendPulse to reach your database through email, SMS, web push, and Facebook, spice those tools up with your smart marketing tactics, and get ready to meet the loyal customers!