Creating an appealing email is quite difficult without decent HTML formatting. But the thing is that not all of your campaigns need a fancy template. Sometimes a text-only email is enough. In this post, we'll unravel the pros and cons of plain text emails and provide some tips on how to optimize them.

What is a plain text email?
A plain text email is just that — a text-only message, without any HTML elements. A typical plain text email doesn't contain any formatting, hyperlinks, or images, like the example below:
As you can see, this text-only email is easy-to-read as it is free of distractions. It also feels more intimate, like it was crafted with the only one recipient in mind. This makes plain text emails so popular among B2B marketers and salespeople who are striving to forge meaningful, long-term relationships with individual prospects.
The pros and cons of using text-only emails
There are several reasons why plain text emails are effective:
Higher chance of delivery to Gmail's primary inbox. Plain text emails or emails with basic HTML are less likely to be recognized as spam compared to promotional messages full of images.
More personal communication. People typically associate emails with a one-on-one conversation, so it's a good chance to add a personal touch to your campaigns.
Wider device outreach. Time zips along, and nowadays, you can even check your emails using your watch. Smartwatches can only display text, so they will most likely display plain text emails properly.
Better rendering. Some browsers and email clients fail to display HTML elements or block images by default, so your plain text email is a surefire way to break through those barriers.
However, there are two sides to every coin and the simplicity of plain text emails can cause you to bump into the following obstacles along the way:
Limited design options. You can't highlight words in bold, italic, colored fonts, or control the text size to make headings stand out.
Inability to display links and add images. You should fully type any URL you want to include in your message. You can't hide a link into a button or image, so in an email, it will look like this: /blog.
Basic reports available. Because there are no links in plain text emails, you can only access basic results about your campaigns, like the number of delivered emails or unsubscribes — no data is available for email opens or clicks. This makes it difficult to track the success of a plain text email campaign.
How to optimize plain text email formatting
Creating a plain text email shouldn't necessarily mean a yawn-inducing mass of text; here is what you can do to construct a readable text-only email.
Highlight the headings
Without formatting options, it's pretty challenging to build a clear content hierarchy in plain text emails. Since it's still important to highlight essential parts of your email, try using asterisks (**) or equal signs (==) to separate important parts of the email.
By the way, the best practices of plain text emailing say that you don't necessarily need to break your text with wholesome lines — a bit is enough.
Use whitespace
Another option to escalate the scannability of your plain text email is to break your text into paragraphs by simply pressing the "enter" button. You'll have an email that is easier to read and follow the links.
Don't neglect lists
Bad news: bulleted lists aren't displayed in plain text emails. However, you can solve this problem by marking each new point of your list with a minus (-), plus (+), or an asterisk (*) instead. This way, your HTML-free email will still possess a structure that can draw the reader's eye to the necessary parts.
This is how optimized plain text email formatting can look: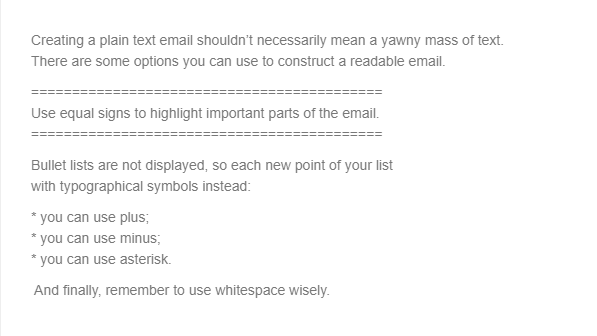 Turn to simple HTML emails
You have no opportunity to monitor opens or clicks from text-only emails. However, if you don't want to give up on analytics and at the same time, want to preserve that feeling of intimacy with your subscribers, you can turn to simple HTML emails.
A simple HTML email looks like a plain text message, but you can add some minor HTML components to it. These code elements allow you to dig deeper by tracking opens and clicks.
For example, Neil Patel uses not only links but also italic text formatting to draw attention to the most necessary parts of the message.
Matt Backer, a financial consultant, went a bit further and broke the email with the line which is achieved with a piece of code.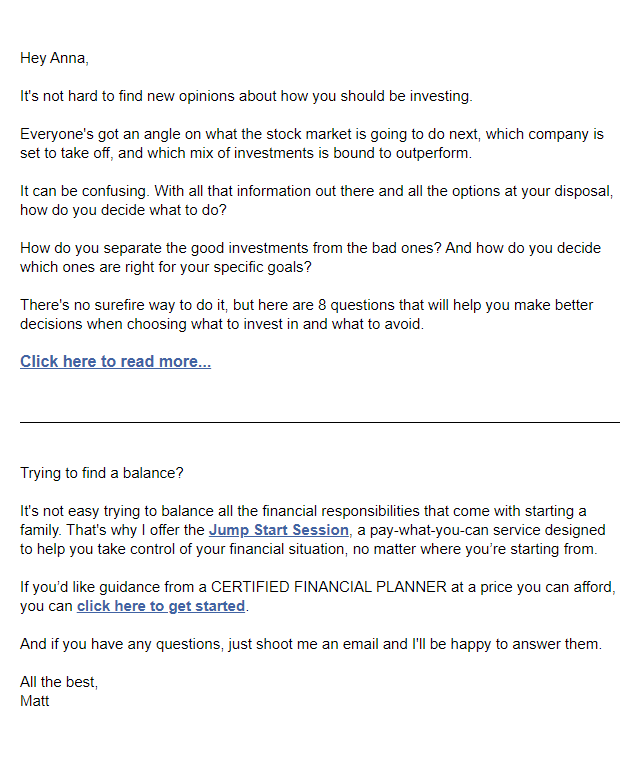 With SendPulse, you can create a simple HTML email using the HTML editor. It allows you to add basic formatting, include hyperlinks, change text to bold or italic, use bulleted and numbered lists, and so on.
Don't be scared to use plain text emails in your marketing routine — it's all about the type of content you distribute with their help. No matter what, SendPulse is ready to deliver your campaigns and track their deliverability.