It is an unfortunate fact of life that no matter how hard you try, some people will simply not listen to you. This may be a hard pill to swallow, but it also applies to email inboxes, often more dramatically.
But, fear not! Re-engagement campaigns are exactly what you need to bring your passive subscribers back to life. We have gathered ten stellar re-engagement email campaign examples that are sure to remind your subscribers how great you really are. Check our tips for creating a re-engagement email of your own if you need more advice.

Value reminder re-engagement email examples
A popular tactic for winning someone back is reminding them of good things about your brand and even offering them something like a discount or freebie as an extra motivator. It is likely that at one time, the subscriber was interested in your emails, but something changed. Now is your chance to help them remember why they were interested in the first place.
Tell subscribers about new features
Subject: 21 reasons to give Dropbox Paper another try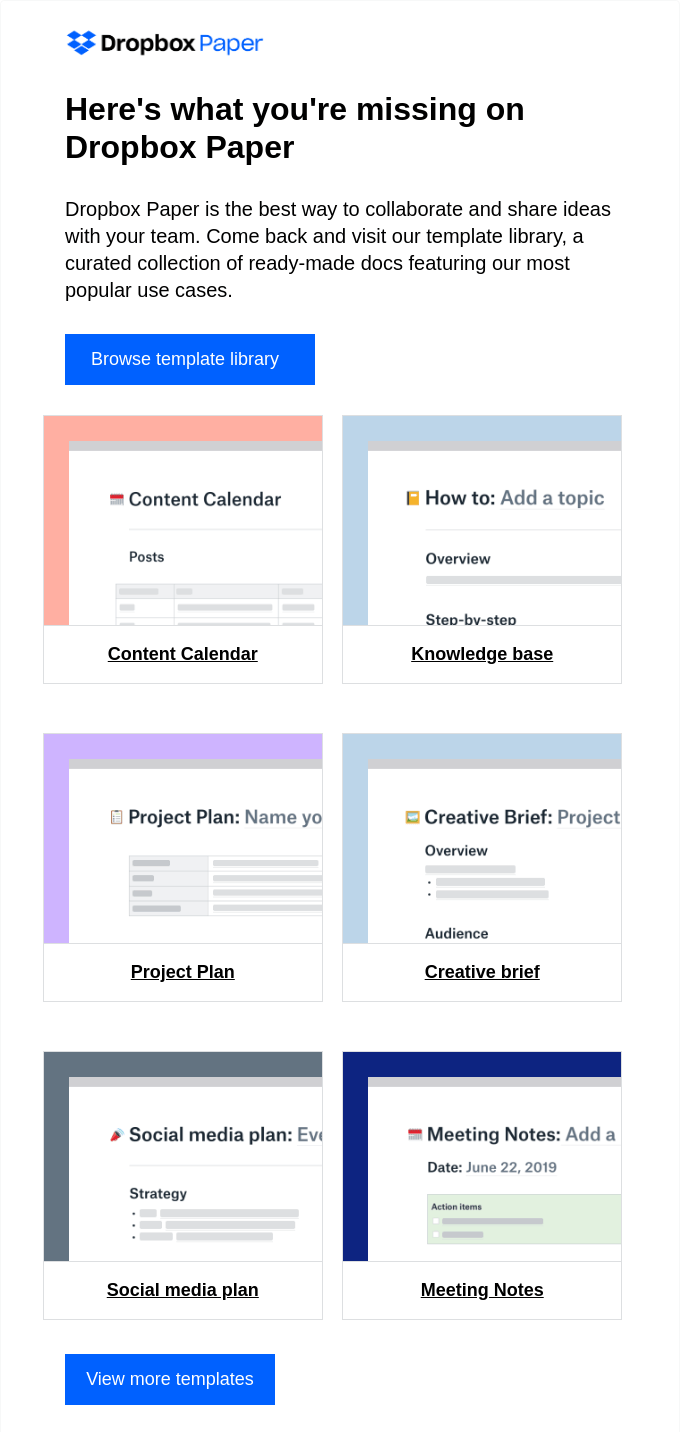 We all love numbered lists, and Dropbox takes advantage of our psychology with its compelling subject line. Inside the email, the subscriber is reminded of all of the good things they used to get from Dropbox Paper and told that innovations have improved the product even further. This email aims to bring subscribers back based on their product's merit alone. Using photos and very little text is a great way to quickly highlight what you want users to know, while still persuading that your product is valuable.
Entice your subscribers with a discount
Subject: Come See What's New!
Every online service wants to sell premium plans, and often users need a little motivation to continue using a paid plan consistently. Skillshare provides its users with a generous discount and information about their new features for premium plans. Giving subscribers a chance to come back at a fraction of the price will surely wake them up. This email uses a minimalist design with plenty of white space, making it stylish and easy to read.
Persuade your subscribers that they are missing out
Subject: You could be earning $650 this week*
Wouldn't you love some extra money? Airbnb is here to help you do just that by listing your place for rent. This is a classic and powerful example of FOMO at its finest. Reminding people that they are leaving money on the table is a serious motivator. Actually, I'll be back after I list my apartment on Airbnb.
Getting straight to the point is always appreciated
Subject: Hello?
Motorola took advantage of our short attention spans with this pintsized email. A one-word subject line stands out in the inbox, and when opened, the subscriber sees the creator of the legendary Razr breathe a sigh of relief. The company mentions, in passing, that "big things" are coming, without saying much more. Being vague can build intrigue, in turn causing users to want to stay in touch.
Note: Don't wait until your subscribers lose interest to get their attention. Here are some tips to keep your subscribers interested before you need to send them a re-engagement campaign.
Appealing, witty, or comical re-engagement email examples
Using FOMO or adding offers to re-engagement emails can turn users off to your brand. There is a fine line between asking for someone's attention and looking like you are trying to make a sale. This is where the tactic of using a more emotionally appealing email comes in handy. Making a user laugh or feel emotion can be enough to pique their interest and get your communication back on track.
Keep it short and sweet, animals help
Subject: We miss you on Google Maps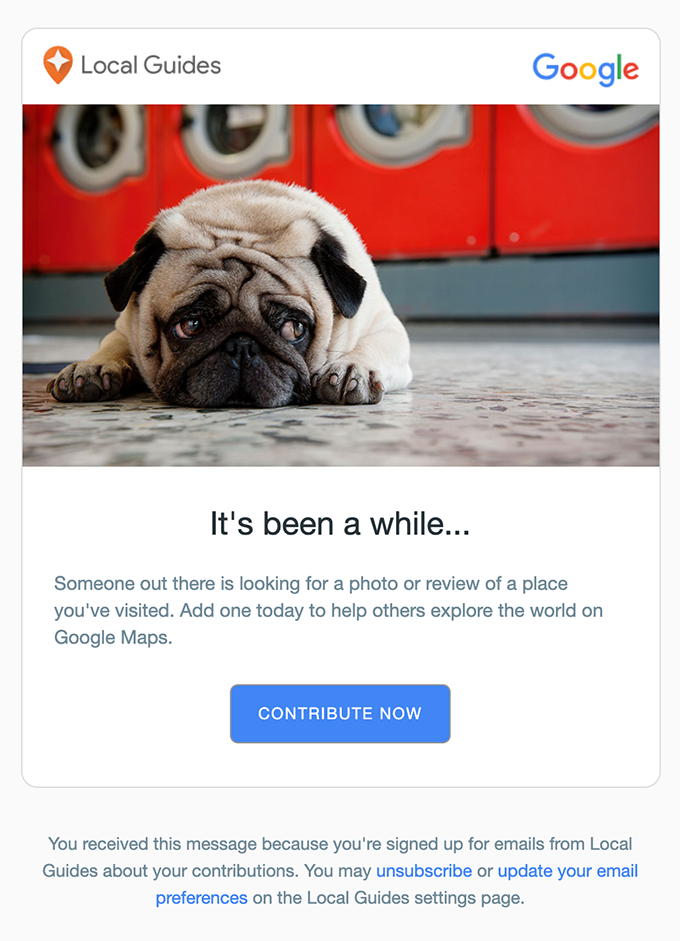 Who wants to upset a dog? This email leverages an appealing image and brevity to encourage users to review a location that they recently visited. Google also works a little social influence into their email by telling their guides that someone is looking for information that they have. We all want to help our fellow humans. Google knows a thing or two about marketing, and this simplistic re-engagement email shows that sometimes less is more.
Make light of subscribers ignoring you
Subject: Goodbyes are hard…
Framebridge uses some humor in this re-engagement email example by playing on the "pain" they feel from losing a subscriber. The company is offering to give the subscriber some distance but also uses the well-known sympathy approach by saying, "we'll go now, but if you want to stay here's your CTA." This email is direct but adds some comedic relief to the break-up process, and is hoping for a reunion.
Make recipients laugh there way into re-engagement
Subject: You don't call, you don't write…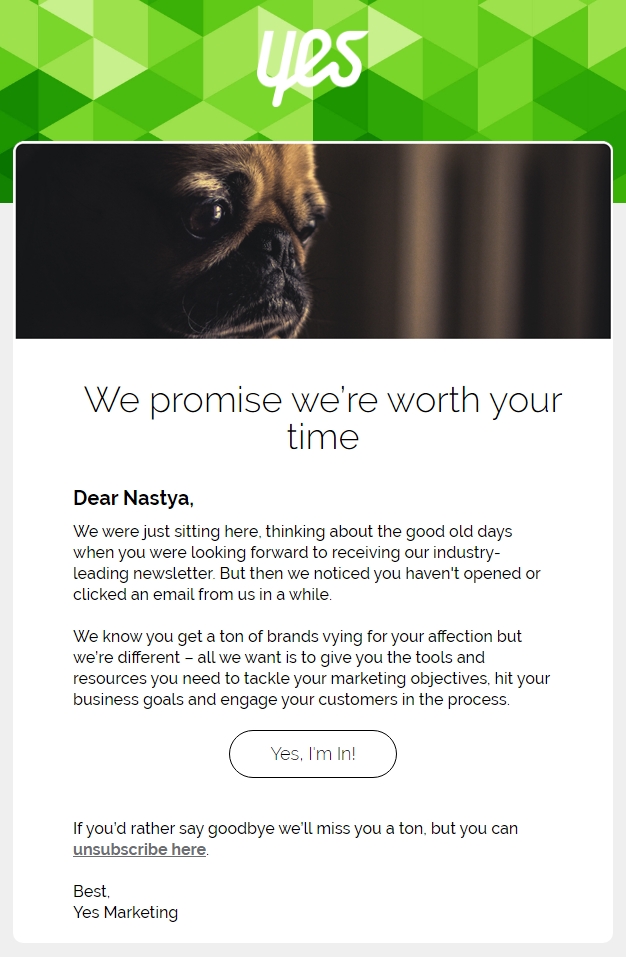 This email does a little bit of everything and it really works. Using a great subject line that reminds you of a disgruntled partner, and starting with another sad dog, it is sure to catch recipients' eyes. The email relates to recipients and their overflowing inboxes and then gives some reasons why staying in touch is worth it. Reminding subscribers about the value that you can provide is always a good idea. Wrapping it up with a simple CTA surrounded with plenty of white space. All of this comes together to make an excellent re-engagement email example that we can all learn from.
Let recipients know that you are there to help
Subject: Caleb, see what's new on LinkedIn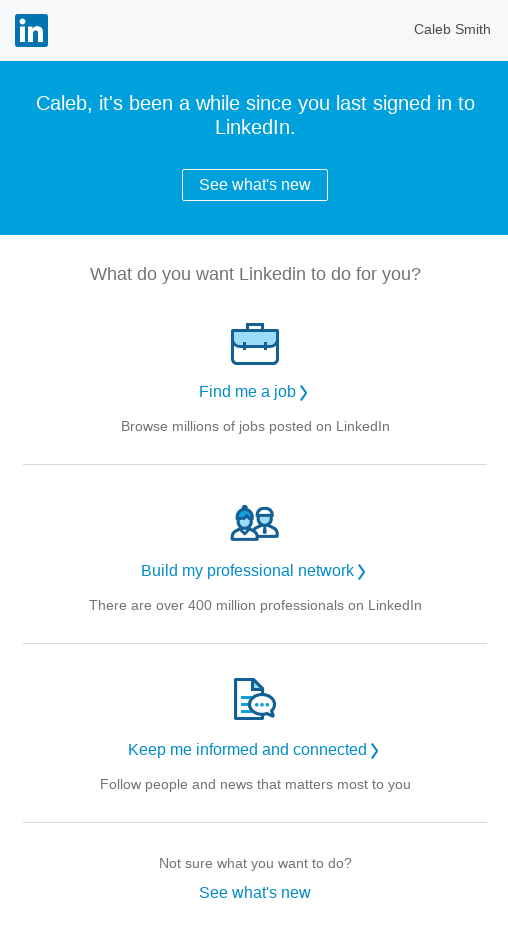 LinkedIn is a platform for professionals, so it's no surprise that their re-engagement email features a professional copy and simple, but elegant design. The email highlights some of the benefits of using LinkedIn and asks recipients what their platform can do to help. This email uses a mix of showing their value but also uses a more helpful tone, which reads more like a mentor offering their advice. Working in your value in a non-pushy way makes this an excellent re-engagement email campaign example.
Note: It's always a good idea to update your email marketing fundamentals. In addition to these re-engagement email examples, check out our guide to designing perfect email templates to use in all of your campaigns.
Subscription preference re-engagement email examples
Maybe goodbye just feels like the only option, and slowing down is really the solution to the problem. Asking your subscribers if they would prefer to hear from you less instead of not at all is a great way to empower subscribers and let them have a say in this process. Additionally, offering subscription preferences can increase your chances of retaining subscribers that are interested, but maybe short on time.
It is easier to read one or two emails per month than feel bogged down by having many more looming in your inbox. Likewise, you can offer specific categories, maybe your subscriber wants to receive emails about new products, but isn't interested in your monthly digest.
Ask not what your subscriber can do for you, but what you can do for your subscriber
Subject: Did you still want to hear from us?
With a well-designed email and a prominent CTA, Animoto makes a good case for why their recipients should stay on their mailing list. Giving them the option to update their preferences allows a granular level of adjustment to ensure that you meet everyone's needs. Just be sure to offer the subscription preferences that people want to help reduce email fatigue.
Relate to subscribers and give them options
Subject: ♬ Should we stay or should we go? ♬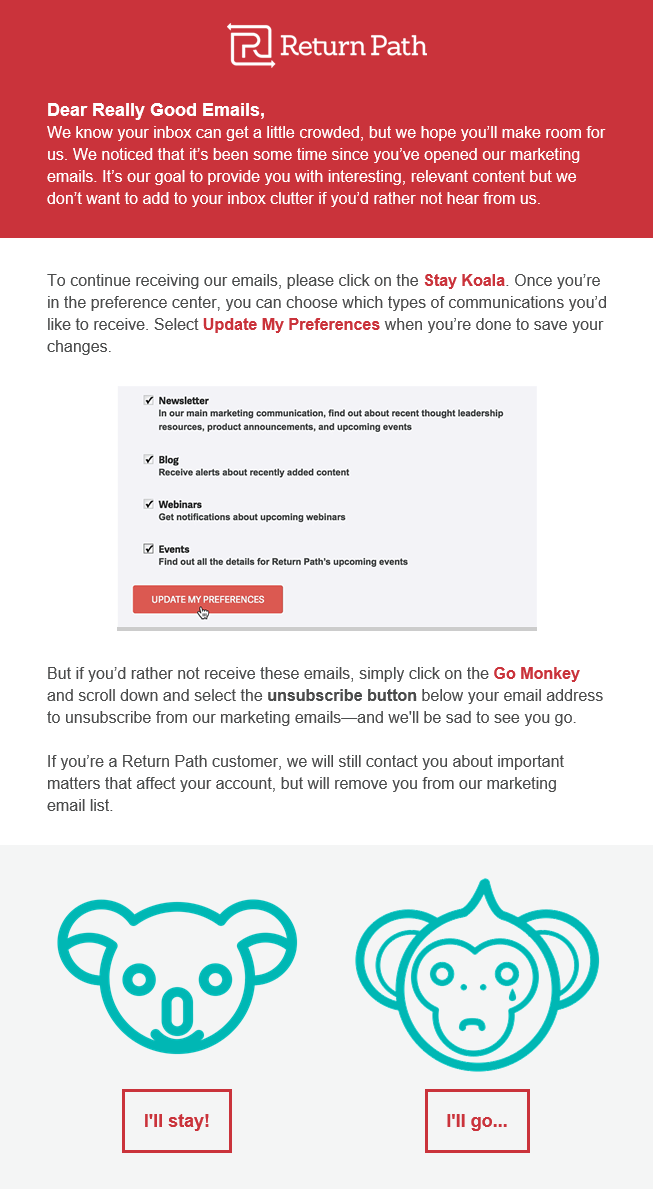 A simple design, CTAs, email preferences, and a koala, what's not to love? Starting with the subject line, Return Path draws attention in the inbox with emoji and a catchy pop culture reference. Acknowledging that we all get too many emails and letting your subscribers change their settings is an effective way to be relatable and meet people's needs. Lastly, including two compelling CTAs with a happy and sad cartoon animal is a great way to appeal to our desire to make people happy.

Conclusions
Now that you have seen some re-engagement email campaign examples, you have probably noticed that all of these emails approach the same goal from a different angle. There is no one-size-fits-all approach, but there are some things to keep in mind:
Keep it brief. No one likes to read a long email, especially if they have already lost interest in your company.
Don't be afraid to be a little silly. Many of these examples let their hair down a little and used humor to connect with subscribers. This is a great way to loosen people up and win them over.
Offer something. Giving people a reason to come back always makes things easier. Offer a discount or explain some new features, this will bring interest and remind people why they subscribed in the first place.
Appreciate your subscribers. Remember, these are people who once cared about your brand, use this email to show that you also care about them. It's not the best time for pushy sales or promotional content.
Don't forget that you can use SendPulse to send 15,000 emails to 500 subscribers for free every month.