Today's customers crave personalized interactions and offers, with 90% of US consumers finding company messages that are not personally relevant annoying.
Businesses big and small have taken note of this shift, and email is now the leading online channel for personalization. It's a move that's unsurprising when you consider the average email marketing return on investment is $36 for every dollar spent.
For restaurants, email has proven to be an especially fruitful means of communication, with 68% of guests reporting that they want to receive emails from restaurants at least once a month. With an eager audience waiting, restaurants can't afford not to add email to their marketing plan.
The best way for restaurants to do this is with email automation. Automated email campaigns allow restaurants to communicate with their guests at scale by delivering personalized messages. This opens up a world of new interactions that would be impossible without technology.
To help you unlock the potential of email automation, this post will cover:
what automated email campaigns are and why restaurants should use them;
types of automated email campaigns with examples from real restaurants;
the benefits of each type so you can decide which are the best automated email campaigns for your venue.
By the end of this post, you'll be chomping at the bit to start growing your restaurant's mailing list, segmenting your audience, and building engagement in your email subscribers to get the best from email automation for your restaurant.
What are automated email campaigns?
Email automation allows a restaurant to send personalized emails to their potential or existing customers at scale. By setting up triggers to automatically send out emails to customers based on their actions, preferences, or order history, you can communicate with many people and build an engaged audience without spending hours sending emails manually.
The emails can be personalized with the customer's details and include offers tailored directly to them. In fact, automation triggers and personalization are two of the biggest email marketing trends for 2022.

Email personalization is being used in virtually every industry, but
restaurant email marketing
is especially lucrative because there are so many opportunities to connect with guests and keep your restaurant top of mind. For instance, you could send a welcome email when someone signs up for your loyalty program, or send a tailored offer to a customer based on their past order history.
To make personalization even more effective, email automation often involves segmenting your audience into groups based on their preferences or actions. For example, you might have a different email list for dine-in customers and customers who order online for delivery. Once your audience is segmented, you can send out messages and offers that are relevant to each segment.
Ultimately, automated email campaigns allow you to engage better with your guests to foster loyalty, build trust, boost sales, or simply welcome a new customer.
Why email automation is important for restaurants
Email automation allows you to communicate with your customers at scale at every stage of their journey with your restaurant. It is essential for welcoming first-time visitors, nurturing loyal regulars, and sending out timely offers, as this just wouldn't be possible manually.
Let's discover the main benefits of automated email campaigns for restaurants.
Create a better customer experience
A series of carefully crafted emails with nuggets of personalization can improve the way a customer interacts with your restaurant. Whether it's a simple welcome message, a handy tip to make their visit more enjoyable, or a personalized offer they can't refuse, automated emails can improve every stage of the customer experience.
Boost brand loyalty
With more engagement and a better experience, guests are more likely to return and order from you again. Automated emails keep customers returning by listening to what they need and continuing to deliver the right offers and an excellent dining experience.
Eliminate manual tasks
If you tried to send out thousands of tailored emails to different customers, you'd never get anything else done. Automated email tools eliminate hours of manual work. And they don't just save you time typing out emails. Email marketing software offers a ton of features like audience segmentation, automation triggers, and design templates that make sending thousands of personalized emails possible for even the smallest teams.
Increase revenue
Automated emails are often used to send offers and deals to customers that can have a huge return on investment. For instance, a restaurant might send automated emails encouraging customers to make reservations, buy gift cards, or order online. Coupled with the boost in loyalty and improved customer experience we've already talked about, automated emails offer a huge opportunity to capture revenue that would have otherwise been lost.
Add a personal touch at scale
Automated emails, when implemented correctly, have the potential to offer the kind of personalization consumers are craving at an unlimited scale. You'll never quite recreate the hands-on customer experience, but personalized offers and friendly messages go a long way to giving that authentic personal touch.

How restaurants can get started with email automation
No matter what type of restaurant you run, email automation software makes preparing for an email marketing campaign easy and involves just a few simple steps:
Choose your email marketing tool. There are a number of options on the market, but remember to check if there is a restaurant marketing platform built into your existing software first. If not, you can always use a standalone email service provider such as SendPulse.
Segment your audience for the type of email campaign you are sending. Again, email marketing tools make this easy to accomplish. Use the tools to group contacts from your list by how they signed up, or by their interests, preferences, behaviors, and even order history. For instance, you may want to create separate mailing lists for your loyal regulars versus those who have only visited your restaurant once.
Create your email campaigns. Most email marketing tools have templates and email design editors to help you make them look good and perform consistently well. Write your copy and add your logo, images, and the all-important call to action button — the "learn more," "book now," or "order online" button that drives the desired action.
Set up an automation trigger. This is the event that causes an email to be sent. It could be something simple like someone completing a form to sign up for a loyalty program or placing their first order. Or it could involve more conditions, for example, if you wanted to send a re-engagement offer to those who have not visited your restaurant in the past 30 days.
Set the frequency if you are sending an email series. A drip campaign sends out a series of emails once every week or every few days to keep the customer engaged. This is a great option if you're running a promotion or launching a new menu item.
Activate your campaign and then monitor the analytics to see how well it performs. This often means checking key performance indicators (KPIs) such as open rates, click-through rates, and unsubscribe rates. However, the metrics you track will always depend on the goal of your email campaign.
Six types of automated email campaigns for restaurants
As we've seen, automated emails have a range of benefits for restaurants, and different types of email campaigns are used for different purposes.
Below, we look at six different types of automated email campaigns that are commonly used by restaurants and the unique benefits of each. Then it's over to you to decide the best automated email campaigns for your venue.
Restaurant welcome email
A welcome email is triggered when someone joins a mailing list or signs up for your restaurant loyalty program. It will usually thank the recipient for joining the list or program and provides the key information they need to get the most from it. This might be a schedule for upcoming emails and content, or links to popular pages such as your online ordering platform or reservations page.
Take a look at 20+ splendid welcome email examples and tips you can learn from.
Benefits of a welcome email for your restaurant
A welcome email aims to build a strong customer relationship with diners from the very beginning. It keeps people engaged and gives them a confirmation of the action they have taken, like joining a rewards program.
As these emails are sent at the beginning of the customer relationship, it's essential to set the brand's tone and build rapport with the customer.
Here are just a few of the benefits at a glance:
build the foundation for a strong customer relationship and turn a first-time customer into a loyal regular;
redirect customers to other content like your online ordering page;
engage new leads or customers automatically so your restaurant stays top of mind.
Examples of a restaurant welcome email
For example, this welcome email from Bruegger's Bagels is sent when you join the rewards program and features a tempting welcome offer for a free bagel with cream cheese.
This welcome email from Domino's also acts as confirmation of joining the loyalty program. It sets the tone of the brand with a joke and finishes with a direct call to action to "Order now."
Onboarding email series
An onboarding email series goes further than a welcome email and helps customers get set up with the service they have joined. For instance, if a customer has just joined your loyalty program or signed up for a meal subscription, you'll need an onboarding email series.
An onboarding series might be a weekly email that details how to get the most out of your loyalty program, or it could be a daily send outlining your current menu. The purpose is to build a deeper relationship with the reader, generate ongoing engagement, and nurture them so that they become a loyal customer of your restaurant.
Learn some tricks to craft your own best-in-class onboarding email campaign!
Benefits of onboarding email series for your restaurant
Onboarding emails have a twin purpose of keeping your restaurant top of mind, while also guiding new customers through an ongoing program like a rewards program. You can use these automated emails to redirect subscribers to different content and offers, or to elicit more information about their dining preferences and better personalize future marketing.
Here are a few of the benefits:
nurture the customer relationship and keep your restaurant top of mind;
direct subscribers to additional content like current offers or promotions;
gain further insights into customer behavior and dining preferences.
Examples of onboarding email series
This onboarding email from ordering platform Just Eat has a call to action button and includes essential information about your account.
Glenlivet takes a different approach, using this onboarding email to find out more about the customer's preferences and direct them to relevant content. This information can be used in future emails to send tailored offers.
Review request emails
An astonishing 94% of U.S. diners say they are influenced by online restaurant reviews. This means that if you're hoping to drive more traffic to your restaurant, you will definitely need a steady of good reviews.
Fortunately, setting up review request emails is an easy way to make sure your diners are leaving reviews regularly. Review request emails can be set up and automated so they are sent out to each diner right after they visited your restaurant — usually within 24 hours.
Discover how to ask for reviews and apply them in your marketing strategy.
Benefits of review request emails for your restaurant
While there's no way to guarantee that customers will always leave your restaurant a glowing review, review request emails do have the potential to help you collect some incredible reviews. And the more positive reviews you have, the more likely you are to influence other diners' decisions to eat at your restaurant.
Even reviews that are not overly positive can come with big benefits for your restaurant. Reviews help you collect feedback almost immediately after someone has dined at your restaurant, which can help you make adjustments to your food or service so problems do not persist.
Here are the biggest benefits of review request emails:
expand your roster of online reviews;
influence future diners with up-to-date information;
easily gather diner feedback to make key business decisions.
Example of a restaurant review request email
These examples below provide a quick look at how restaurants are collecting reviews. The first example from Gourmet Burger Kitchen promotes a sense of urgency by telling the reader they only have three minutes to add their review. On the other hand, you can see a more pared-down and simple example of an automated review email sent via an online reservations platform.
Newsletter
Email newsletters or other informative content sent out regularly to subscribers — often on a weekly or monthly basis — are intended to keep your restaurant top of mind and boost loyalty by keeping existing customers engaged. When sending out a regular restaurant newsletter, provide the reader with content that will enhance their experience with your restaurant, rather than trying to overtly sell to them each time.
Learn more about email newsletters from our Glossary!
Benefits of an email newsletter for your restaurant
Automated newsletters are an excellent way to build a deeper customer relationship by helping guests solve problems or provide greater context for your brand. You can then turn that rapport into sales by sending personalized offers or targeted CTAs.
Here are some of the benefits of restaurant newsletters at a glance:
build stronger long-term customer relationships;
boost loyalty among regular customers;
increase revenue through personalized offers.
Example of an email newsletter
The below example from the plant-based restaurant Planta provides readers with more information about the restaurant and the people behind it with a quick Q&A with its co-founder.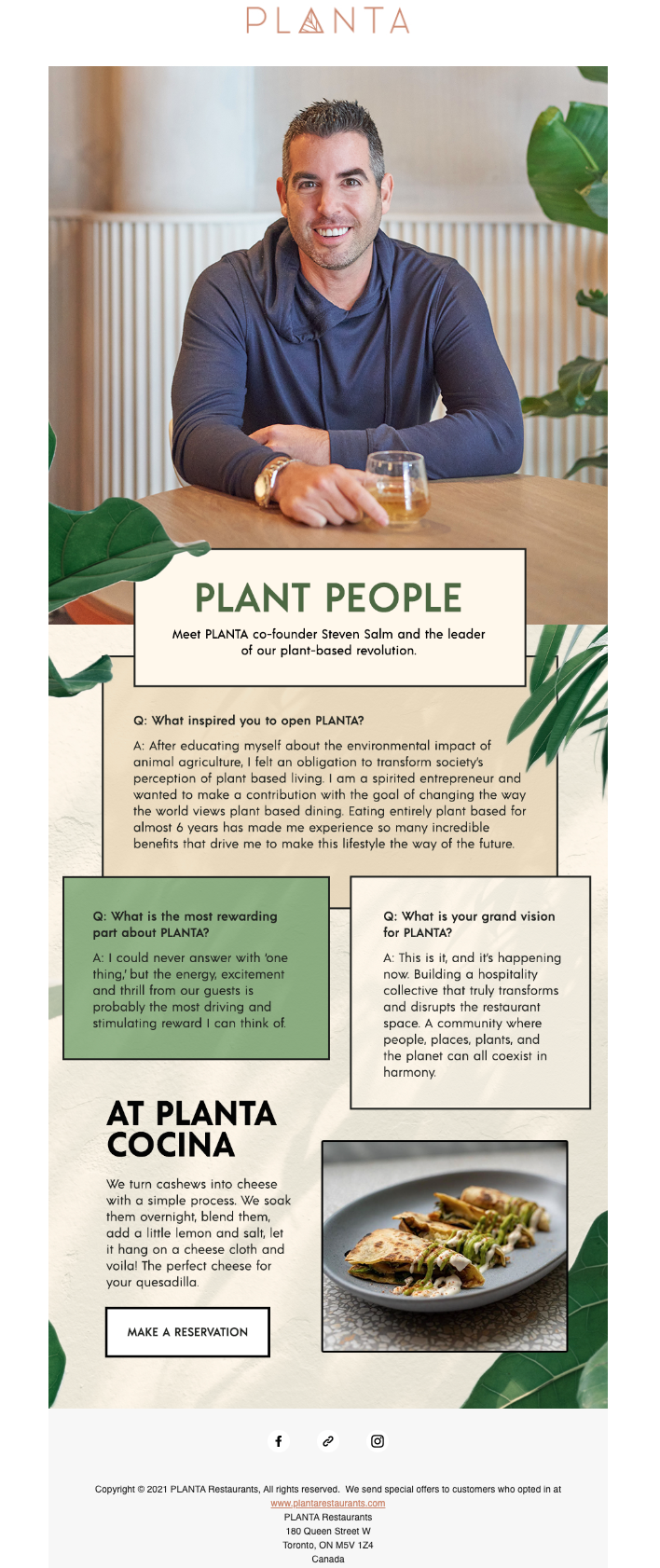 Special occasion emails
Restaurants often set up automated emails to send on special occasions such as birthdays, anniversaries, or holidays. These types of emails are easy to automate because they can be set up to send on very specific days of the year. These automated emails can also be very lucrative because they are designed to capture the customer's attention at just the right moment with a timely offer.
For instance, a restaurant might send an email offering a free bottle of wine if a customer books a table on their birthday or an email advertising a special menu for Father's Day.
Check out some tips and tricks on emails dedicated to a specific milestone.
Benefits of special occasion emails for your restaurant
Special occasion emails help you turn casual diners into regulars by showing that you care about their special day or an important holiday and want to give them the VIP treatment. But special occasion emails are also valuable because they have a high chance of capturing the customer's attention and converting it into a visit, an order, or a reservation.
Some of the benefits at a glance:
build rapport and loyalty with diners through personalized offers;
timely offers are more likely to succeed.
Examples of special occasion emails
Here's an example of a special occasion email from the Hong Kong restaurant group Pirara, which sent out this email to encourage reservations for Father's Day.
Another classic example comes from Starbucks, which is well known for personalizing its emails to draw customers into its stores. For instance, everyone enrolled in the Starbucks rewards program receives a birthday offer that can only be redeemed on the guest's special day — a message that creates a sense of urgency and a drive to order.
Re-engagement emails
Re-engagement emails are all about reigniting a relationship after a long period of inactivity. The trigger may be a certain amount of time since the customer's last visit to your restaurant, the last time they made an order online, or the last time they booked a reservation.
Re-engagement emails often involve an offer or discount to entice the customer back to your venue. Plus, these emails often start with a strong subject line to jog the memory and get the email opened in the first place. For instance, if it's been three months since a customer placed an online order, you might tempt them into reordering with an email that contains a 20% off coupon.
Find out some stellar re-engagement email examples that are sure to remind your subscribers how great you really are.
Benefits of re-engagement emails for your restaurant
Because you are targeting customers who already visited your restaurant or placed an order, there's a good chance that you'll have success with re-engagement emails. Regain customers who you've lost touch with and turn them into regular customers once again.
Benefits of re-engagement emails include:
high chance of success;
regain customers and boost long-term loyalty;
recoup lost revenue.
Examples of re-engagement emails
This email from Giraffe showed a countdown for the international restaurant chain's reopening and a copy that hints at a re-engagement by saying "We missed you."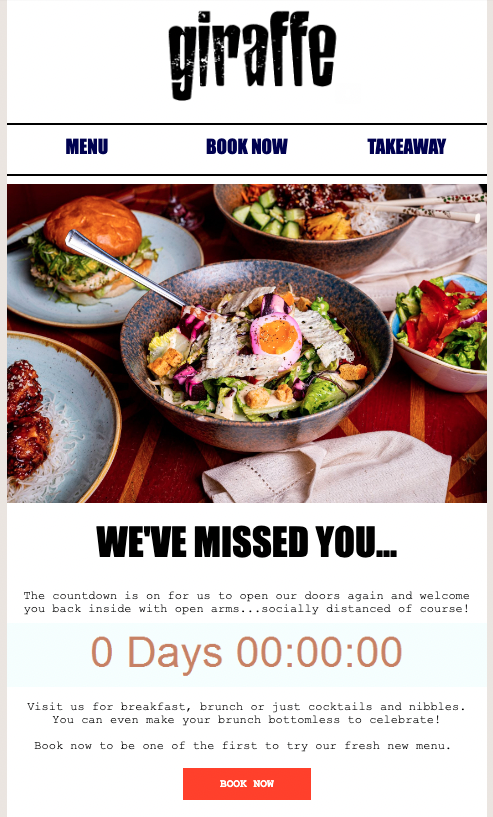 Deliveroo sent this email after a lapse in using the service with an invitation to re-engage with the ordering app's latest offers.
The below example from Mother Clucker attempts to re-engage the recipient with news of a new restaurant opening in their area.
Build an engaged audience for your restaurant with automated emails
Restaurants not using automated email marketing are missing out on opportunities every day. With the ROI so healthy, you can be sure your competitors will soon be making the most of email marketing (if they're not already).
By utilizing different types of automated emails for restaurants, such as review requests, re-engagement emails, and more, you can bring in more revenue immediately in the form of more frequent visits, orders, and reservations.
But the benefits don't stop there. Building your customer relationships and a strong list of engaged subscribers will boost customer loyalty and brand awareness, ultimately feeding you a steady supply of customers ordering well into the future.