Webinars are an incredible tool for marketers in terms of building their brand's reputation and driving sales. In 2020, we have become accustomed to constantly taking in information from many platforms and mediums about any topic you can think of. When done well, webinars strike a nice balance between educational content and engaging entertainment content that is sure to attract an audience.
Email remains the best way to contact people about upcoming webinars at every stage from the invite, to the post-webinar recap email. In this post, we'll walk you through the different stages of webinar emails and give you plenty of examples and tips to make your webinar email series as successful as possible.

What is a webinar email?
As the name suggests a webinar email is an email sent to your subscribers inviting them to an upcoming webinar. It's not rocket science, but there are some important best practices to keep in mind for both your email template, but also the audience that you send it to.
Next, you will want to send at least one webinar reminder. We all have short attention spans and it is easy to be genuinely interested in attending an event and then forget about it and miss your chance. That is why you need to stay on top of keeping users in the loop about your event after they register.
Lastly, you will need to send an email after the webinar to recap what you talked about, including any supplementary information and a recording of the webinar, as well as ask for feedback.
We will walk you through each stage of the process and provide examples and tips to get your webinars up and running efficiently.
What should you include in a webinar invitation email template?
While all of the emails in a webinar email series are very important, none is more make or break for your event than the invitation email. We will look closely at what it takes to make a killer invite and get people to come to your webinar.
The date and time of your webinar
If you want people to attend your webinar, you want to tell them when it is, and how to join. Remember to keep time zones in mind, make sure that you include the time zone in your date and time information to make it easier for people to know how to convert it to their local time. It is best to limit this part to as few words as possible to keep your email short and have the focus be on the section meant to create interest in your webinar.
This email from MarketingProfs includes the date and time information in three places. If it feels like you are overdoing it, you are not. With our short attention spans, it is a good idea to reiterate core information like the date and time.
Value proposition
Webinar invitation emails have some things in common with normal promotional emails. However, with webinar emails, the focus is on promoting the value of your event instead of the value of your product. It is not enough to create an excellent webinar about an important or trendy topic. You really need to "sell" it to your subscribers. Tell them what you will talk about and most importantly, how this information will help them. Mention what they will learn and how they can apply it to improve their life. This is where bulleted lists come in handy. With a list, you can explain the benefits of attending in a simple and straightforward way.
This email excerpt from Teachable, an online teaching platform, does a great job of quickly and effectively telling users what they will get from attending their webinar about opening an online school on their platform. The bullet points use emoji to draw attention and they keep it short and sweet while telling users the benefits that are waiting for them. This method of creating interest works by showing that you are offering so much value that is hard to resist.
Information about the speaker
You'll want to say a little about the speaker of the webinar. It's best to mention your speakers by name and include their pictures so that your recipients can do some research if they want to know more about them. Be sure to state the speaker's title and consider adding a sentence or two about why they are an expert on the topic of the webinar. It's also a good idea to attach a link to the speakers' pictures that takes recipients to a landing page where they can learn more about the speaker.
This webinar invitation email from Litmus, a digital marketing company, provides pictures of their speakers and tells users where each of them works to show their authority on the subject.
A call to action button
Of course, you also want to include a CTA button so that users can register for your webinar. Popular webinar invitation email CTAs include:
"Register today"
"Sign up"
"Register now"
"Save my seat"
It is also a common practice to include more than one CTA in your webinar invitation email. Some brands include multiple sign up CTA buttons and an additional CTA button with something like, "Get more information." This is used to save space by taking recipients to a webpage that provides more detailed information about the event or speaker without using precious space in the email.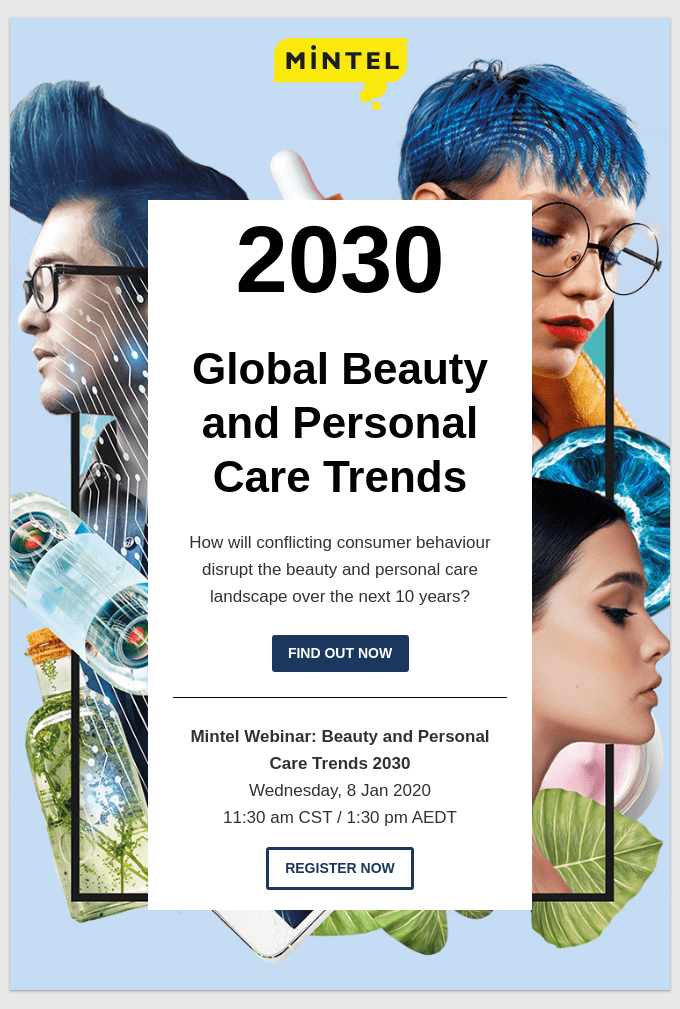 Sending post-registration emails
The bulk of your design effort and testing should be focused on your invitation, after all, the next emails we will discuss quickly become irrelevant if your invitation isn't effective. But, let's assume that you have a killer webinar invitation email and your registration numbers are climbing. First, great job! Now it is time to get your registrants to the finish line and have an excellent webinar.

Registration confirmation email
The first email that you need to send after a user registers is an easy one, the registration confirmation email. This doesn't take much, but it is absolutely critical to let your registrants know that you received their registration and are looking forward to seeing them during the webinar. It is best to send this email immediately after a person registers for your webinar. It is also a good idea to give them the option to add the webinar to their Google calendar.
You can also include links to allow your future attendees to learn more about the speaker or topic in this email. This can be accomplished with a simple CTA button saying something like "Learn more." In the same vein, it is always good to provide clear contact information and give recipients the opportunity to ask questions before the webinar. This not only helps people get their questions answered, but can inform your speaker about common concerns that they can address during the webinar.
Here is an example of a registration confirmation email that does a lot of things right. It includes a link to see the agenda of the event, offers an email address so that attendees can reach out if they have questions,and includes buttons allowing recipients to add the event to their calendar.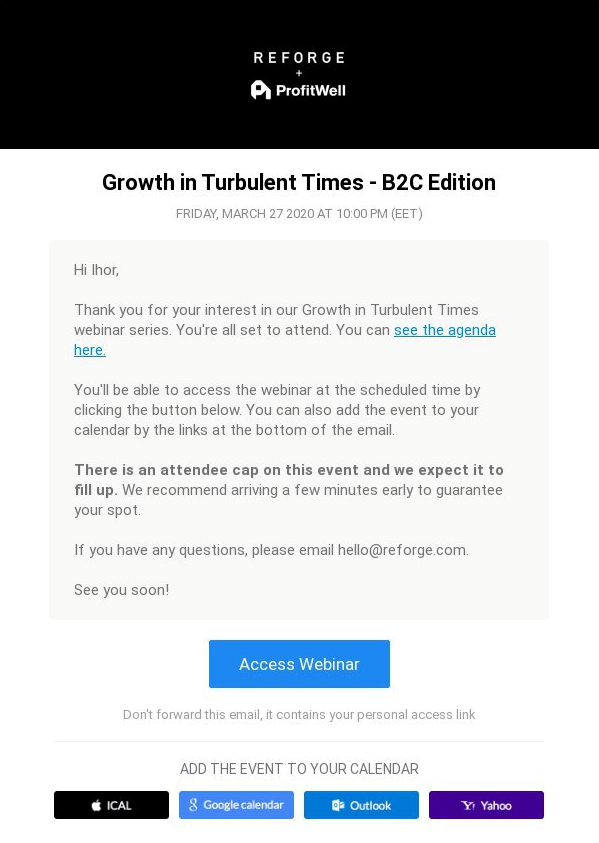 Webinar reminder email(s)
The stage is set, now it's your job to make sure that your registrants finish their transformation into attendees. It's a good idea to remind them that your webinar is coming up. If you send your invitation a week in advance, one or two reminders will suffice, but if your webinar is highly anticipated or a larger web conference, you should send your invites earlier and naturally send more reminders as well.
The reminder email is pretty simple and is something of an expansion of your original invitation. You want to reiterate the information that you said before, but it should not be a carbon copy. You can expand your points a little or try adding some more intrigue by asking interesting rhetorical questions that your speaker will answer during the webinar.
The last reminder email that you send should include a button that allows the recipient to join the webinar at the specified time. The example below is a webinar reminder email from Digiday that was sent right before the webinar to serve as a reminder and allow attendees access to the webinar room.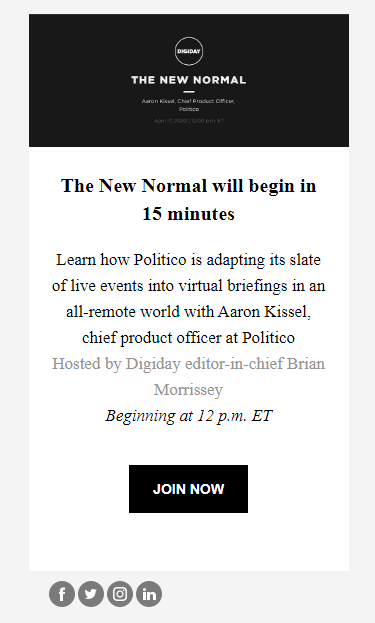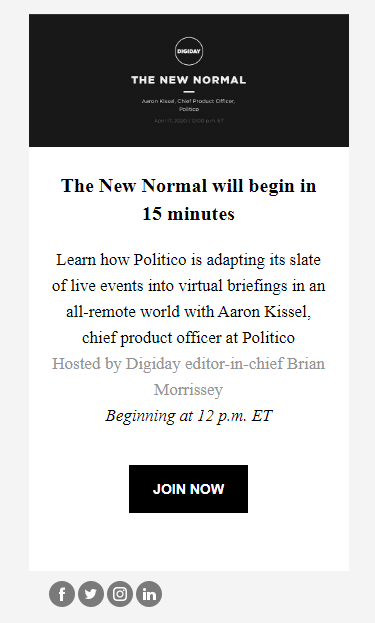 Post-webinar emails
Your event is over, congratulations! Now it is time to send one last email to thank your participants, sum everything up, and include any supplemental information and a recording of your webinar, or a feedback request. This email is invaluable for your attendees because it provides all of the takeaways from the event in a nice package that they can reference any time. This is all about completing the experience and giving users tons of value.
Here is an example of a post-webinar email from axosoft, a SaaS company. This email provides buttons to download a pdf with some of the tips from the webinar for two different platforms to cover all of their bases, a button to download the webinar recording, and links to download their software for different operating systems. This provides everything that a user could want in an easy-to-find format that is sure to be helpful for anyone that is interested in the topic.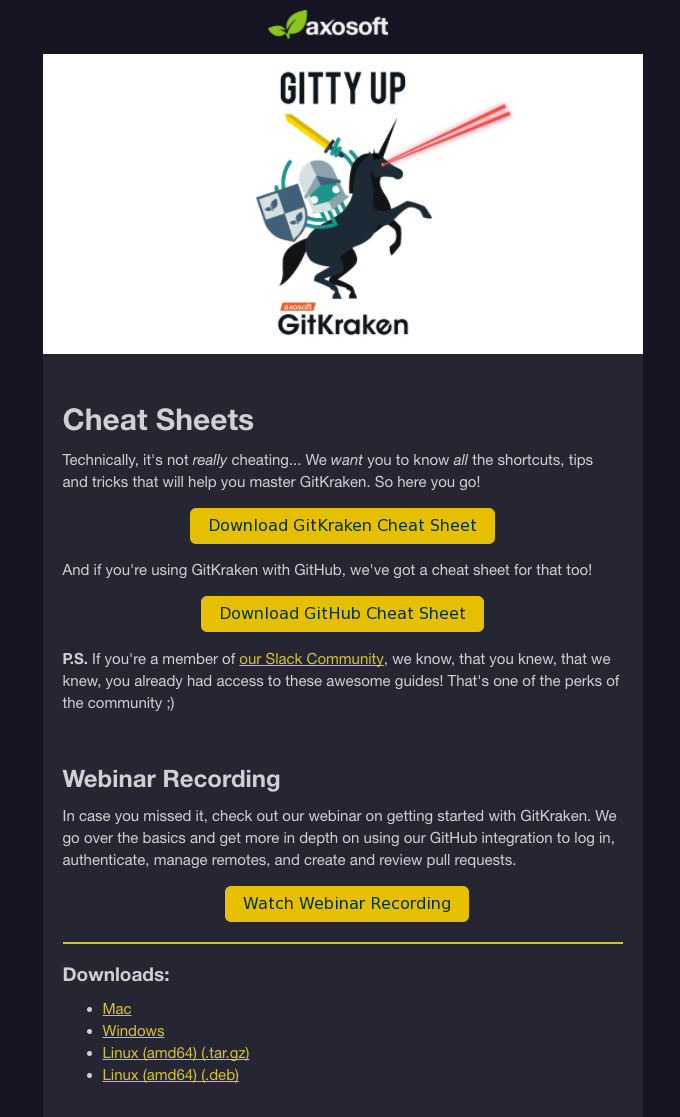 Creating attention-grabbing webinar email subject lines
Now that we have your webinar email templates ready, let's take a look at some subject line ideas that are sure to grab recipients attention. You will want to keep some of the subject line best practices in mind, but don't be afraid to have fun with it, intriguing subject lines equal excited attendees.
Try adding a little mystery to your subject line to get people interested. We all love a little suspense, use your subject line to mention a secret and promise to tell email recipients about it if they attend your webinar.
It's always a good idea to lead with the value that you have to offer. Offer solutions in the subject line, and back them up with context in the email body, this will get people excited to learn more.
This webinar email subject line promises things that everyone wants, a way to make your life less stressful. Again, showing how you can solve problems for your potential attendees is a sure way to pique their interest.
Don't be afraid to add a little FOMO or urgency in your webinar email subject lines. If something is scarce, we want it more, and this especially applies to timely information.

Putting it all together
A good webinar email series is sure to increase attendance to your event and help you build your brand's image by providing tons of value to your subscribers. The best part is that if you can remember a few quick tips, you're golden:
Keep your emails brief. Only include the essential information. Add links and contact info for people who want more to learn more about your event or have questions.
Be clear about the date and time. Every email that you send before the webinar should include the date and time of your event clearly so that recipients don't forget.
Highlight value. Make sure that you tell potential attendees what they will gain by attending your event and don't be shy.
Now you're ready to send a webinar series! Be sure to send it with SendPulse. You can send 15,000 emails to up to 500 every month at no charge. Get started sending email campaigns today!