An email autoresponder is a series of messages sent automatically to a mailing list based on specific rules at defined intervals. The process may start after a user subscribes to the sender's email list or when a particular condition is met.
Marketers use email autoresponder functionality to send both promotional and educational content at the right time without much work. With each email series, the sender should set out to address the concerns of their prospects and emphasize the benefits of their businesses, products or services.
How about an example? A marketer can set email autoresponders so that 5 minutes after someone joins the mailing list, they receive a welcome email. Then, if subscribers shared their birthdates, the company sends them a birthday email with a unique offer. Besides, marketers use email autoresponder to send emails predefined by subscribers' action.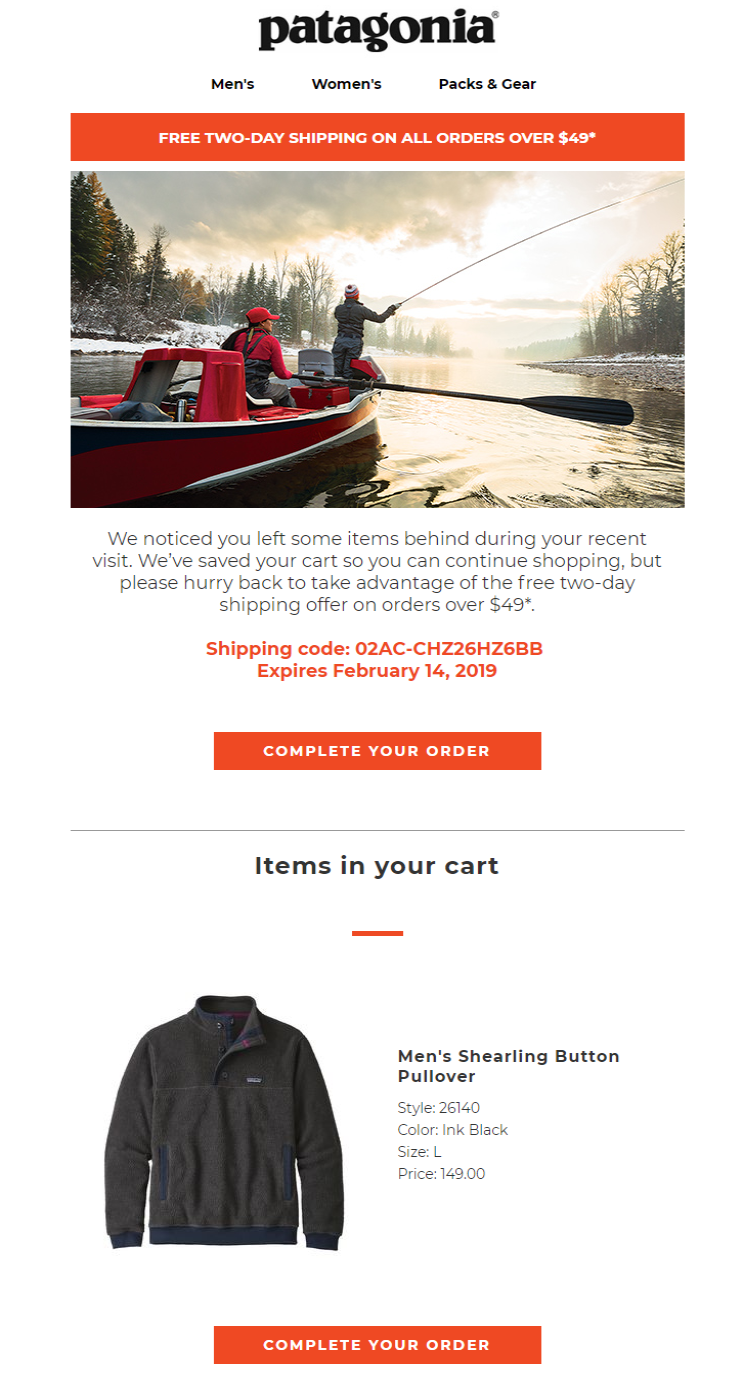 What is the purpose of an email autoresponder?
An email autoresponder series enables companies to build trust with their prospects. Email autoresponders get a recipient to open promotional emails, visit websites, and eventually make a purchase. Most sites use email autoresponders to provide their subscribers with the most relevant offers at the right time. Besides, this automation tech helps eliminate mistakes caused by human error when email scheduling is needed.
Advantages of email autoresponders
Turn new visitors into subscribers
Establish stable and long-term relationships with subscribers
Ensure continuous advertising without hiring new staff
Offer immediate follow-up
Create repeat sales
Direct customers to websites or blogs
Help marketers access measurable results
Ensure better delivery of marketing emails
Help marketers increase brand awareness
Email autoresponders come bearing gifts for marketers. Here is what they can do:
Turn new visitors into subscribers. Email autoresponders offer an excellent communication line with new visitors on a website. Marketers provide valuable offers in these email series that entice the visitors to submit their names and email addresses. In exchange, users receive exciting offers, including free reports, trial offers, no-obligation consultation, and more.
Establish stable and long-term relationships with subscribers. Email autoresponders allow marketers to create automated messages and schedule them to go out to their subscriber lists on specified dates. This way, subscribers hear from the company frequently and look forward to future communication. This anticipation creates a unique bond between a business and the prospective customer.
Ensure continuous advertising without hiring new staff. Email autoresponders take care of regular marketing email delivery to customers and prospects. And given that the process is entirely automated, there is no need to hire new people to do the job. So, a business has no extra expenses and earns a better return on investment.
Offer immediate follow-up. With email autoresponders, a marketer can diligently follow-up with customers without leaving any of them out. These emails are automated, thus eliminating the possibility of missing customers or prospects who are on the mailing list.
Create repeat sales. Email autoresponders ensure that there is constant communication with existing customers. Marketers use cross-selling and upselling to cause repeat sales.
Direct customers to websites or blogs. Marketers use email autoresponders to direct subscribers to video channels, blogs, websites, discussions on socials and so forth. These different channels display information regarding a company and help the prospects or customers better understand the products or services offered by a brand. This results in both traffic and conversion increases as the users have access to facts that influence their buying decisions.
Help marketers access measurable results. Marketers can gain a variety of meaningful insights from email autoresponders that help evaluate their strategies better. For instance, they help senders find messages that are read most, the time when most messages are read and so forth. In turn, marketers can tweak their email campaigns to ensure that content is personalized and higher engagement is achieved.
Ensure better delivery of marketing emails. Email autoresponders eliminate any guesswork from email delivery. They are designed to ensure that all messages in the system are sent on time to all subscribers on a mailing list.
Help marketers increase brand awareness. Marketers can brand their email messages by adding their taglines, logos, physical addresses, and phone numbers to ensure that they emphasize their products or services to prospective customers.
How does an email autoresponder work?
Marketers that use autoresponders have a lot of their email marketing automated. Email autoresponders consist of two individual components that work together to achieve the primary goal. The first is the automated email campaign which includes marketing messages that are sent to subscribers when specific events or actions are triggered. Then there are the automation rules. These are triggers or actions the sender puts in place to determine when particular automated messages are to be sent.
For example, a business wants to follow-up on customers who made purchases by cross-selling and upselling. So, a sender creates a particular message and sets a trigger such as the purchase of a specific product. When a customer buys the item, the action is triggered, and the automated email is sent.
Businesses and websites can set up email autoresponders to inform customers about special offers or new posts, send welcome emails or gifts to subscribers who have just signed up. One can also use them to send other email messages that keep the subscribers engaged. To get started, register and set up an email autoresponder in SendPulse.
How to create an email autoresponder series
Set up an event in Automation 360
Create the necessary email templates
Connect emails in a sequence
SendPulse allows you to create or upload mailing lists and send email sequences to subscribers when they perform particular sets of actions. Here's how to create a custom event-based autoresponder using SendPulse's Automation 360.
Step 1: Set up an event in Automation 360
Decide which user action will trigger email sending. Actions like shopping cart abandonment, registration, subscription, purchase, etc., are called events.
Go to the "Automations" tab in your SendPulse account, open the Event Manager, choose the type of event, and add the generated code to your website.
Here's a detailed guide to creating events.
Step 2: Create the necessary email templates
Design email templates to include in your autoresponder sequence. With SendPulse, you can do it in three different ways:
Create email templates from scratch with a convenient drag and drop editor;
Take templates from our free library and customize them to your liking;
Use our Chrome extension to save any email from your Gmail inbox as a customizable template in your SendPulse account.
You can create an email template, like in the one in the screenshot below, in half an hour.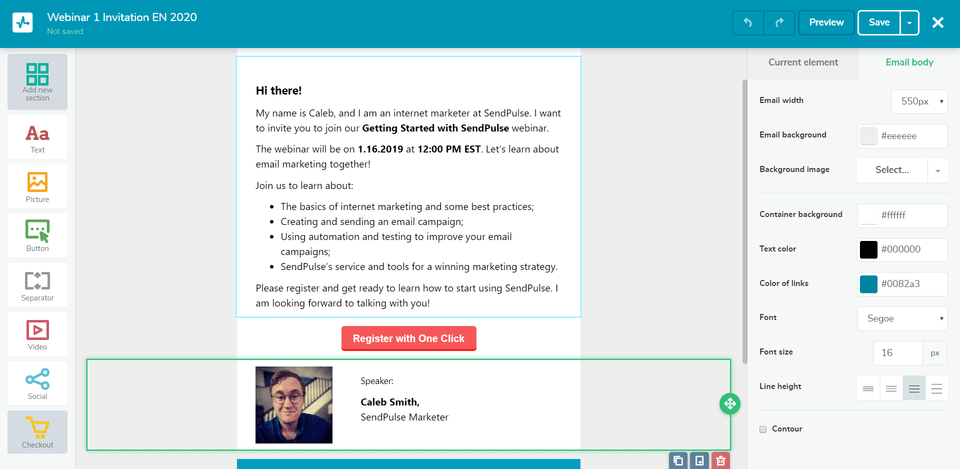 Step 3: Connect emails in a sequence
Use the event you've just created as the start of your autoresponder. Then, connect your email templates with the "flow start" element and with other elements to create the automated flow. Enter the subject lines and schedule the sending time for each element in the flow.
Here's an example of an abandoned cart autoresponder series created with SendPulse's Automation 360.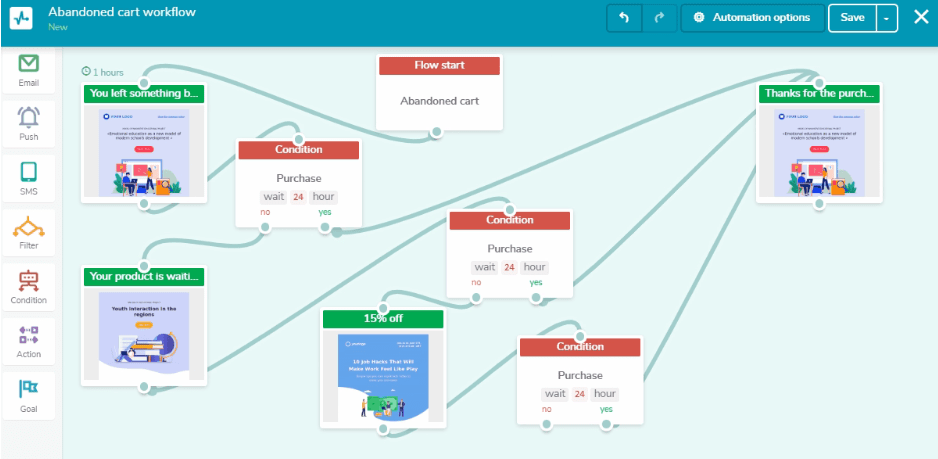 Now, that you're acquainted with the technical side of things, let's check out some inspirational examples.
Email autoresponder examples
Here are some examples of common email autoresponders:
A subscription confirmation email. This email is sent right after a user leaves their email address on a website. Marketers use this method to build a high-quality mailing list.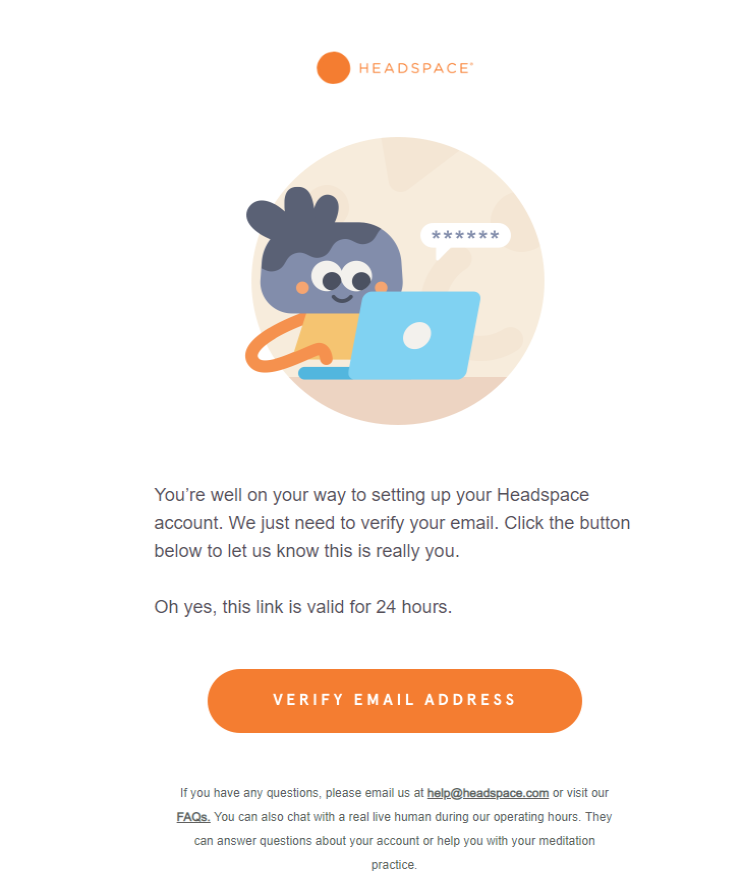 A welcome email. This is an onboarding email for new subscribers. Marketers usually send it to give a warm welcome and shoe what their brand is engaged in.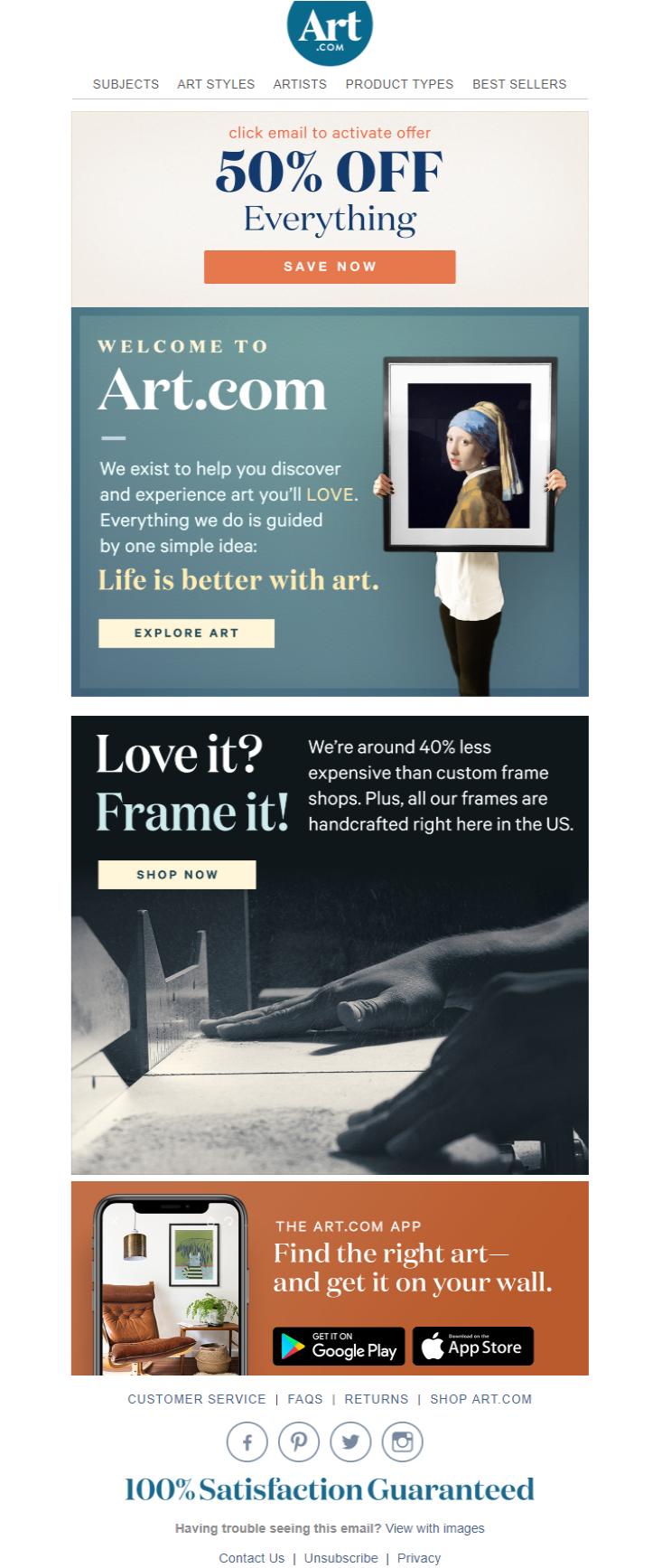 A birthday email. This is a good chance to congratulate subscribers on their special day, increase sales and raise customers loyalty. Brands usually create special offers and give discounts.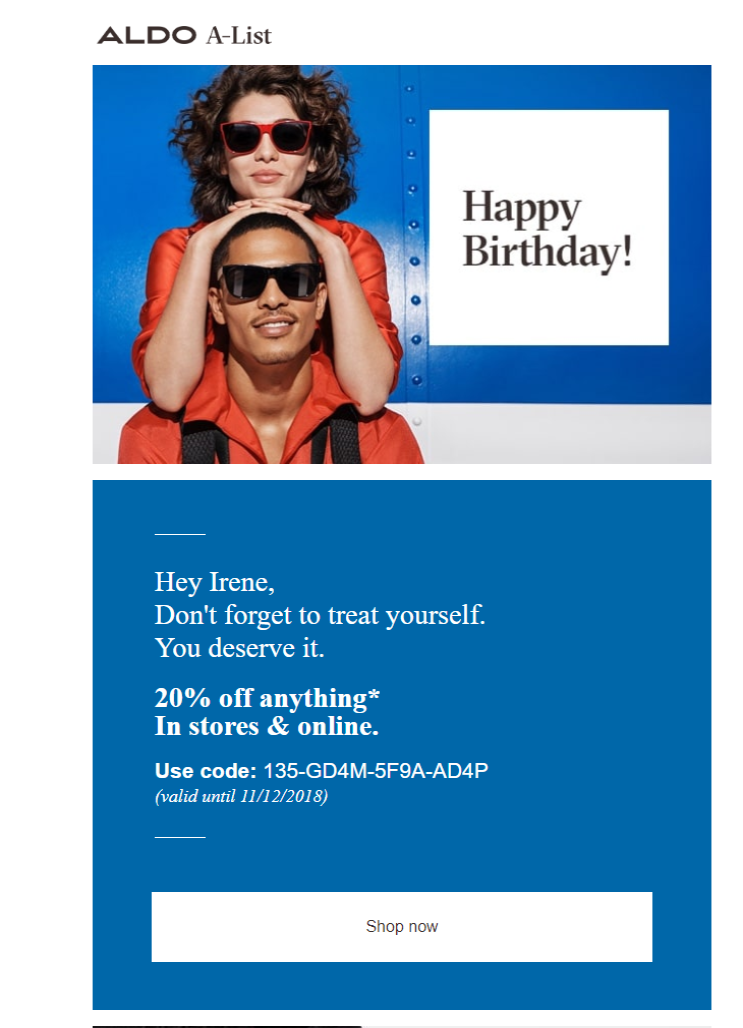 Register and send an email autoresponder with SendPulse!
Last Updated: 21.03.2023