A cold email is an email sent to a recipient that a company hasn't interacted with before. It helps build long-lasting relationships with clients and partners, especially in B2B.
In this article, you'll get to know the benefits of cold emails, how they differ from warm emails and SPAM, and learn how to write and send them for free. Stay tuned!
Why send cold emails?
Cold emails are great for starting partnerships and scaling a business. With a thought-out strategy and personalized approach, you'll reap the following benefits.
Networking opportunities. Cold emailing is a powerful tool for establishing partnerships after events, conferences, summits, etc. You can collect email addresses of companies in cooperation with which you're interested and contact them immediately after the event.
Lead generation. Email marketing is one of the most popular and effective ways to generate new leads. Prospects can leave their emails while visiting your online or offline store, or you can collect the addresses of interested users during your event. Since people leave their contacts, they're potentially interested in buying from you, so don't miss this chance to acquire new leads.
Recruiting opportunities. While looking through profiles on LinkedIn or communicating with specialists during the events, you may find potential candidates that will perfectly suit your company. Cold emailing allows you to headhunt to find top talents.
Brand recognition. Cold emails help brands establish recognition without much effort. After users share their email address with your company, they are not likely to remember it and recognize its logo while scrolling the feed. So, you can send them targeted and personalized email campaigns. Sometime later, they will associate a specific problem with your brand as a potential solution, which will be to your advantage when they have to choose a product or service.
Boosting traffic. If you launch an event, webinar, or workshop, sending an email to users who have shared their addresses previously is a great idea. You'll increase the number of attendees, which you can later convert into clients.
Increasing sales. Emailing is a proven way to increase sales. You can inform your subscribers about updates, product launches, and hot deals via an email campaign. This way, you'll increase engagement and multiply conversions.
Sometimes, marketers hesitate to send cold emails, confusing them with SPAM. Although, a thought-out cold email strategy has nothing to do with SPAM. So, let's make the difference clear.
Cold Email vs SPAM
Cold email is contacting a user with whom you haven't interacted before. They might have left their email address while visiting your store, or you might have received them during a conference. So, while sending a cold email, you state where you've got their email address and communicate the goal of a potential partnership with your company.
SPAM is an unsolicited email. It means a user hasn't shared their email address with a company. It might have parsed a list of email addresses on the internet. More importantly, a SPAM email's goal is to trick something from a recipient. So, the sender's name is usually fake, and the email is not sent from a business email address as it should be. In addition, such an email provides no opt-out button.
So, you see that the goal of a SPAM email is to deceive a receiver with fake information. In contrast, a cold email aims to establish business partnerships.
To create a winning cold email, check out the next section.
How to write an effective cold email?
Having users' email addresses is not enough to start cold emailing. Follow these three steps to prevent your emails from landing in the spam folder and harming your sender's reputation.
Step 1. Warm up your IP address
If you have a new IP address from which you haven't sent emails before, you need to do a warm-up. Otherwise, your campaigns will land in the spam folder, hurting your sender's reputation. IP warm-up is a chance to tell email service providers that you're not a spammer. A warm-up implies gradually increasing the email-sending volume, which usually takes 4-12 weeks. Firstly send emails to your engaged subscribers who are most likely to interact with the email. Then, increase the number of emails sent day after day. This way, you'll build a good sender reputation.
Read this article to learn how to do IP warming correctly, and check out five valuable tips.
Step 2. Check your mailing list
A high-quality mailing list is the basis of effective cold emailing. Use SendPulse Email Verifier to ensure wise investments and keep your mailing list clean. With this tool, you can verify email addresses on your list to find invalid ones, preventing you from sending them to non-existent addresses. As a result, you'll have a high sender reputation and a list of valid email addresses.
Watch the short video below to verify your email list for free.
You can collect users' email addresses by creating a smart widget using our templates or find leads on social media. Check out LinkedIn and Facebook to find users who have interacted with your company. They might have commented, sent you a message, or asked questions. Request their email address for further communication. Using such tools as Snov.io, you can get an entire lead profile having their email address. This will help you send highly targeted and personalized emails.
Step 3. Stick to the correct cold email structure
Follow the tips below for your email to look professional and build trust among its recipients. Each email element should be thought out.
Send from a business email address. This step is vital as it increases the loyalty and deliverability of your campaign. Business email address includes your domain name, so recipients can easily recognize you. For example, "sales@yourdomain.com" or "support@yourdomain.com." For more details, follow our guide on how to set up a business email address.
Write an informative subject line. Your subject line, along with your sender name, is the first thing a recipient sees in their inbox. It makes them decide whether to open your email. So, take it seriously. First, make it short and sweet. Mind that users' smartphones can cut off subject lines. Make sure to make it as informative as possible. It should be relevant to your email body and reflect the central message of your email. Avoid writing clickbait subjects since they tend to deceive subscribers. You risk harming your sender's reputation. Keep away from using excessive capitalization and spammy language. This will lead your email to the spam folder. If you have a subscriber's name or any other personal information, use it to personalize your subject line. This will blow open email open rates. Follow the tips to create a subject line that converts.
Make use of an email preheader. You can see it after the subject line. Very often, email senders underestimate the power of an email preheader. Use it to your advantage. Keep it short, include emojis, and encourage subscribers to open an email. Make sure your preheader supports the email subject line idea and continues it. Here you can also incorporate personalization for better performance. Read this article to create an effective preheader.
Craft a nice email body. It is the central part of your cold email. To create an effective email, you should know your subscribers. Research a bit to find out who you're going to talk to. Learn their demographics to speak their language. Avoid gendered language, familiarity, and exclamations. Personalize your greeting to set a friendly tone of communication. Get straight to the point, and don't beat around the bush. Communicate why you are writing and explain where you got subscribers' email addresses. Thus, you will immediately answer the questions that the recipient may have. Avoid using slang, colloquial language, and professional terms not to scare off a potential client. Personalize your email body as well if you have some subscriber data. Include a clear call to action. It should tell the recipient what they should do next. Make sure it's short, visible, and easy to click or tap. The CTA button should be only one. Create a neat design. It should be consistent with the design of your brand. This will help you increase brand recognition.
Create a professional email signature. It provides subscribers with information about the email sender. Include your name and company name, email address, position held, business phone number, company logo, link to your website, and social media icons with links to your company's profiles.
Provide an unsubscribe button. This is a must. Otherwise, your email will land in the spam folder. Let users unsubscribe in one click. Make this option visible and easy to click and tap.
Now that you know how to design a perfect cold email, learn how to send it for free with SendPulse without having to code.
How to send a cold email for free?
SendPulse provides a bulk email service. You can send up to 15,000 emails each month for free to 500 subscribers. Design a professional email template with an intuitive drag-and-drop email editor. You don't need code knowledge or any technical skills. Personalize your subject line and email body for a higher email open rate.
You can also collect site visitors' email addresses with our subscription forms. Create a form using a pre-designed template.
To create a cold email with SendPulse, follow the three steps below.
Step 1. Register with SendPulse
If you don't have a SendPulse account, register.
Step 2. Upload your mailing list
You can upload an existing email list or import it from other services. Upload a file or copy and paste the necessary addresses.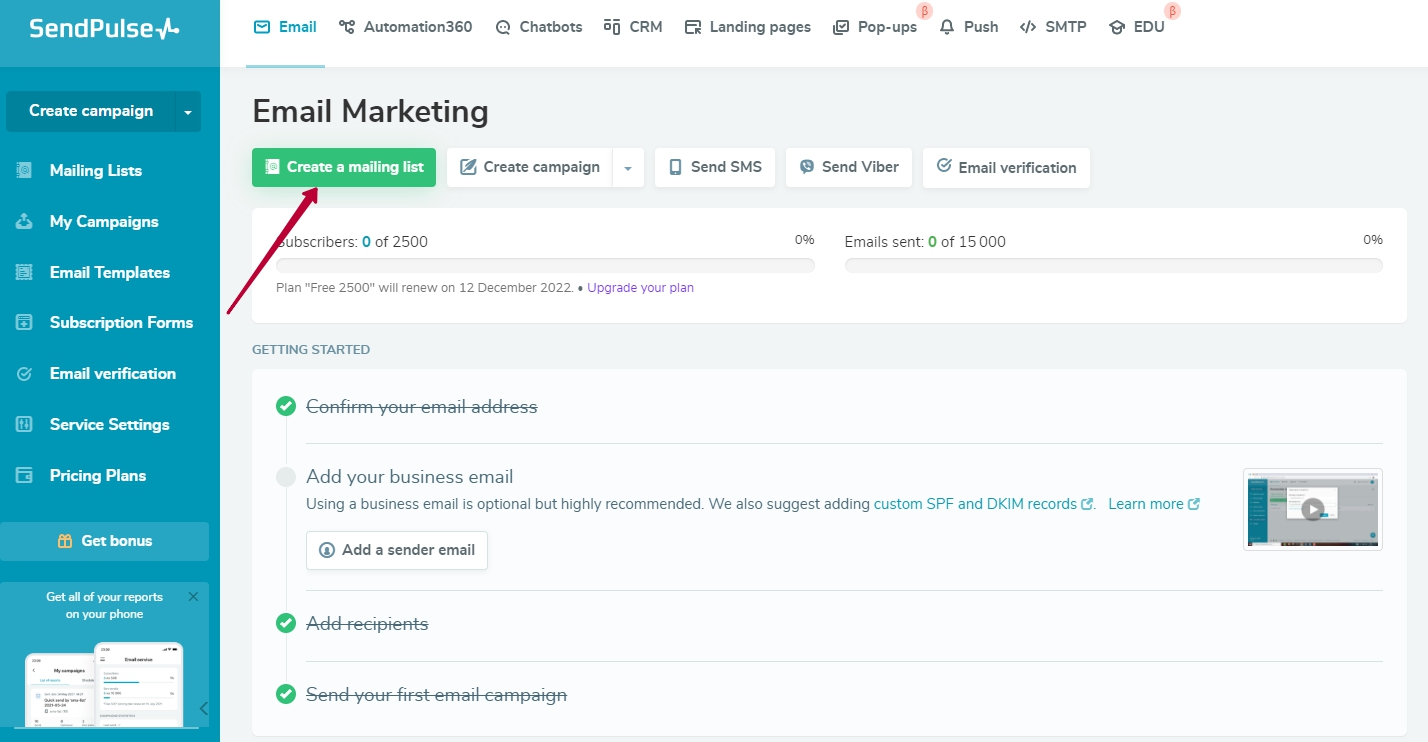 Create variables for subscribers' data. It can include any information. Below is a mailing list created in SendPulse.
You can enable email verification while uploading the addresses to ensure a high-quality mailing list.
Step 3. Create an email campaign
With the SendPulse convenient email editor, it won't take you more than an hour to create a professional email campaign. You can use a pre-designed template or design a unique email.
Check out a webinar invitation email below to see how things work with SendPulse.
Drag the text, picture, and button blocks from the left to your email body, and design them on the right.
You can preview your email before sending and track the email open and click-through rates after sending.
Congrats, now you know the advantages of cold emails and how to create a powerful campaign. So, register with SendPulse and get started!
Last Updated: 22.03.2023