Contextual marketing is advertising the products relevant to people's current needs. It aims to personalize promotions by studying user buying behavior.
In the article, we clarify what contextual marketing is and why it is important, highlight its benefits and describe the way it works. We also provide examples of successful contextual marketing campaigns and explain why they are so powerful.
Why is contextual marketing important?
According to Statista, spending on contextual advertising will grow by 13.3% every year. In this section, we explain why this process is so promising and how it can help you boost your company.
The main advantage of contextual marketing is providing perіonalized and relevant content to the audience. Slideshare states that 80% of people are more likely to purchase from a brand that ensures an individual approach. Consequently, contextual marketing allows companies to attract more clients by offering personalized experiences. Contextual ads are not annoying because they offer the products that users need at the moment.
Contextual marketing is cost-effective because providing only relevant advertisements lets businesses generate more sales. You can save money on the promotion of the ads that don't meet the users' needs. The success of contextual advertisements is easy to measure, so you can optimize your strategy anytime it is necessary.
Now you understand why more and more businesses choose contextual marketing to sell their products. Let's go further and discover the benefits of this type of promotion.
Benefits of Contextual Marketing
According to McKinsey & Company, 71% of consumers expect personalized experiences. This fact explains the overall interest in contextual marketing and its strong position within other ways of product promotion. Discover more about its benefits in this section.
It helps increase conversions and generate more sales. Contextual advertising promotes products that people want when they are ready to make a purchase. It helps get a higher click-through rate and increase ROI significantly.
It improves customer satisfaction and engagement. Contextual marketing involves the placement of the ads relevant to the previously viewed content. Therefore, users are more likely to engage with them. Also, such promotions help consumers save time on searching for necessary products which increases the rate of their satisfaction. Moreover, providing personalized experiences allows you to improve your service quality, build trust with your clients and make them more loyal to your brand.
It helps increase retention and reduce cases of brand switching. When the customers are already loyal to your brand, it is vital not to irritate them with continuous advertising. Contextual marketing allows you to promote your products only when people are interested in them. Such an organic advertising strategy will motivate consumers to choose your brand again and again.
It is cost-effective and easy to measure. Platforms charge payment for clicks on contextual ads, not for views, which decreases the cost of the promotion significantly. You can track the performance of your ads using such metrics as CTR, CAC, and the number of conversions. A deep analysis of them will let you define the weak points of your strategy and improve it to make it more effective.
These benefits motivate many business owners to implement contextual advertising into their marketing strategy. We explain how to use this type of promotion effectively in the next section.
How does contextual marketing work?
Launching contextual marketing campaigns is easy, but there are some peculiarities you need to know. In this section, we describe how to set up contextual ads and explain how contextual marketing works.
The first step is to define the main parameters of your promotions. You should identify the topic, such as food, clothes, cars, etc. and select 5-50 related keywords. Exclude negative keywords if you don't want your ads to be shown for a specific search query. You can also set a broad or specific reach for your promotion. Broad reach means placing your ads based on the topic, while specific reach makes them appear only on the pages that match with chosen keywords.
Once you define the parameters of your promotions, Google searches for the most relevant pages on the network. The platform examines page structures, languages, texts, images, link structures, etc. to find the websites your advertisements will fit. When people search for something on the Internet, the server analyzes the data about the URLs they visit and chooses the best pages your ads should be promoted to. If the chosen parameters match the content on the website, your advertisements can be placed there.
Such a strategy allows companies to reach the audience interested in their products and increase the effectiveness of advertising campaigns. In the next section, we provide a few examples of successful contextual marketing to inspire you to optimize your promotions.
Examples of Contextual Marketing
According to CodeFuel, 49% of marketers in the US use contextual marketing. This percentage is growing, and such ads are becoming more and more popular over the years. Below we provide examples of successful contextual marketing campaigns launched by well-known companies.
Fitness Blender
This popular website provides many workouts and programs to help people improve their physical and mental health. While reading their blog you can see small advertisements on the left of the page connected with the topic of the article you read. For example, below there is a screenshot of the ad that promotes a guide on roller exercises. It may be relevant to the readers of the blog that are already interested in healthy living.
Amazon
This company uses contextual marketing to promote products similar to the ones you are looking for. Once you open the product page on their website, there is a sponsored card with suggestions on the left of the screen. There is an example of such a promotion below.
LinkedIn
This employment-oriented platform allows you to find jobs that fit your profile. Look at the screenshot below. When you open the companies' pages, there are sidebar advertisements with vacancies on the left. Such contextual ads are beneficial both for businesses and workers. They help companies find experienced staff and, at the same time, provide a list of offers to employees who use Linkedin.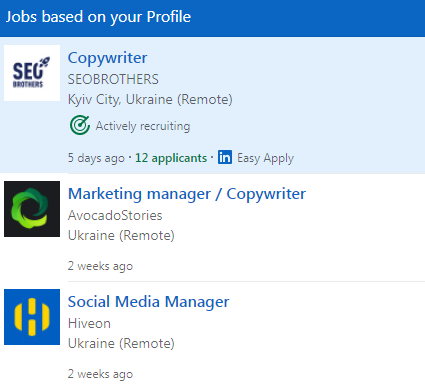 Congrats, now you know what contextual marketing is and why it is important, understand its benefits, and the way it works. You have discovered examples of successful contextual ads and can use this type of promotion for your company.
Last Updated: 22.03.2023