Customer care is building an emotional bond and fostering long-lasting relationships with clients while troubleshooting customer service. The term is related to customer service, however, requires fewer calculations, focusing on satisfying users' emotional needs.
In this article, you'll find out why customer care is important and the way it differs from customer service and customer success. In the end, we'll provide examples of companies caring for their clients. Stay tuned!
What is the role of customer care?
If you want to concentrate on retaining loyal clients rather than acquiring new leads, focus on customer care. However, it's important to know that answering users' questions and providing the necessary assistance on your product define excellent customer service, but not care. Customer care implies building an emotional connection with your customer, genuine interest in their needs and pain points, kind treatment, and empathy.
Listening and adjusting to client's needs and preferences allows businesses to reap several benefits. Firstly, a respectful attitude towards clients' problems helps boost their satisfaction with your brand. Although customer care impacts figures and stats not that much, clients appreciate it.
Secondly, customer care helps you increase your consumers' loyalty. Satisfied clients are likely to buy again from the brands they loved. So, showing that you care makes them stay with your company. In long term, it positively influences your customer's lifetime value. This metric allows business owners to forecast the sum of money a client can spend during the relationship with your brand. The more customers are taken care of, the more they want to reward a company.
Treating consumers with respect helps improve brand reputation. Finally, excellent customer care allows you to generate higher revenue. Although, if your main goal is making money, this approach won't do, since people appreciate brands that don't put their earnings in the first place.
In addition, you can make customer care your competitive advantage. Low prices and free shipping is awesome but they have nothing to do with building trustful long-lasting relationships. So, decide what plays a more important role in your business and make the right choice.
We've mentioned customer service while covering the topic. Very often, marketers use the following terms interchangeably: customer care, customer service, and customer success. Still, they differ, so let's make it clear.
Customer Care vs Customer Service vs Customer Success
As we've already defined, customer care implies special treatment towards a client while providing customer service. So, customer service is an element of customer care. We'll illustrate the difference with an example. Say, you've ordered a vase. After opening it, you find out that it's broken. You contact customer service to fix this issue. If they ask you to send a photo of the vase from the pick-up point and promise to refund it, it is an example of customer service. If they don't require any proof from you, apologize, and send another vase, it is customer care. The goal of customer care is to provide not only a solution but make the interaction with a brand as pleasant as possible. Clients will realize relationships are more important for a brand than money.
Customer success is what you can experience when dealing with a SaaS or any complex product. SaaS platforms require some learning curve which may be stressful for each client. So, companies invest in customer success departments to smooth this process. They take each client's hand and walk them through the entire path of discovering the service. Customer success teams answer users' questions, provide informative tutorials and instructions, and share cases for better understanding. Their goal is to show all the benefits of choosing their service.
So, these are three different shades of customer service but they perform better when used in a mix. For you to get a clear picture of this approach, let's discover examples from popular companies.
Customer Care Examples
Showing you care is not necessarily worth a big investment. All you need is to demonstrate your kind heart and understand your customers' needs. Check out several inspiring examples of customer care.
Virgin Trains, a train operating company from the United Kingdom, received several moving words from its client on social media. A client is thankful to the company not only for arranging another travel day due to the hospital appointment but for moving a family to the 1st class for a child to have a nice relaxation after. This way, the company not only solves the customer's problem but shows its big heart.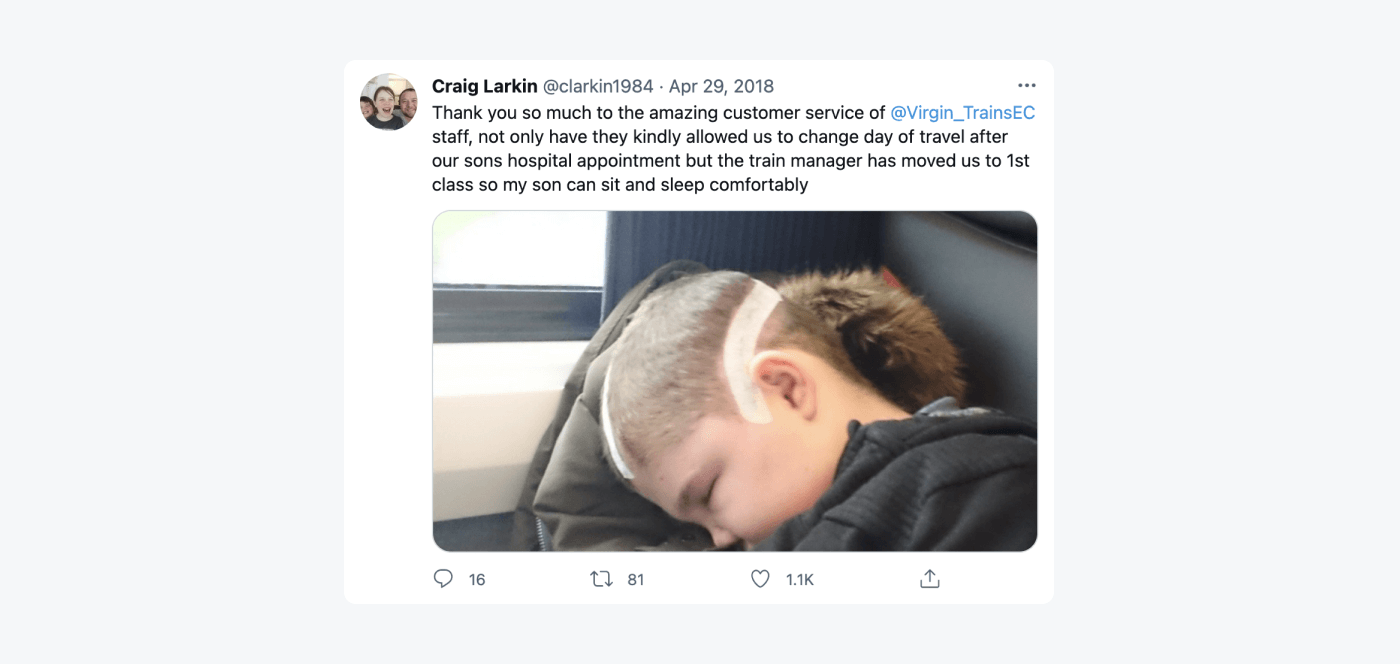 A happy customer created an Instagram post to give thanks to the Canadian grocery store. It allows consumers not only to make an order and take it from the store but takes care of people who need it. It can be challenging for mothers with children to do shopping so the grocery store staff brought the products out to her car. So, the woman didn't have to shop with her babies and saved her time.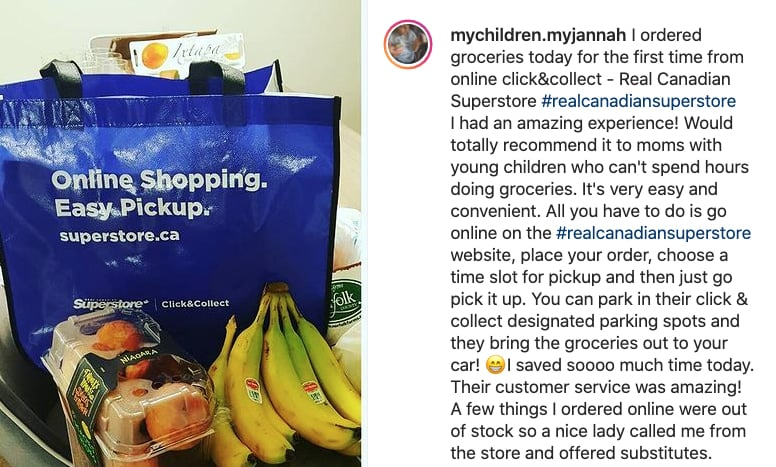 Congrats, now you know why customer care is so important, and how it differs from customer service and success, and you've got inspired by several examples. Make use of SendPulse services to bring your relationships with clients to the next level!
Last Updated: 22.03.2023