An email subscription is an option on a website that allows visitors to receive updates via email by specifying their email addresses in a subscription form. Email subscription is the core part and a starting point for any email marketing strategy. After registering with SendPulse, you can create any subscription form for free.
Watch this video to create a multichannel subscription form using SendPulse visual form builder.
Email subscription is an opportunity to receive an interesting newsletter from a website. Once a user fills in the subscription form on a website, a confirmation email is sent to this email address to get the user to double opt-in. After this, a user's email address is added to the website's mailing list.
As a result, a customer starts to receive automated emails. With the latest GDPR rules implementation, a double opt-in process is a must and is a great way to make sure your content won't end up in the spam box. Design an original form and grow your base legally!
Let's get more email subscribers!
With SendPulse, you can create a unique subscription form for free in less than 30 minutes without any technical know-how.
In this SendPulse video, you will find out how to create your email subscription form from scratch or modify an existing one.
Email Subscription Elements
A lead magnet
A subscription form
A confirmation email
A lead magnet is a kind of incentive given to potential customers in exchange for their email address, a phone number, or another form of contact information. Marketers may offer different kinds of lead magnets, like an eBook, a video tutorial, a PDF checklist, etc. An incentive is a great way to make your customers feel rewarded, and it also adds value to the whole business-customer interaction.
A subscription form is a set of fields users fill in to subscribe to receive a newsletter from a website/blog that interests them. Subscription forms offer a simple and functional way to grow your mailing list. Again, lead magnets are useful for motivating subscriptions.
SendPulse allows users to create multichannel forms by adding links to your chatbots in Facebook Messenger and Telegram. This way, you can significantly grow your audience. With our subscription form builder, you only need to drag the icon of the necessary channel to your form. Check out such a form below.
A confirmation email is an automated email sent to users to verify their consent to receive emails from a website. This type of email also serves the purpose of having the users double opt-in. With GDPR rules now in effect, a double opt-in feature is an excellent way to keep your emails out of spam boxes.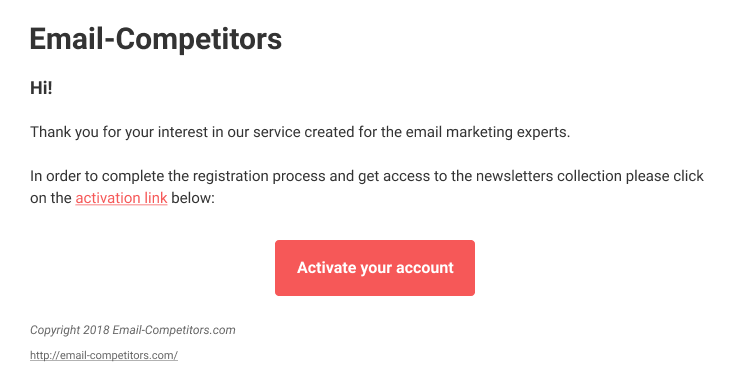 How to Set Up an Email Subscription Form on Your Website
After registering with SendPulse, you'll have access to loads of features like email automation, segmentation, A/B testing, statistics, and more to empower your email marketing effort. Building a mailing list is an essential step if you are looking to promote your product or content on your website. Here are six simple steps to set up an email subscription on your site.
Get a free SendPulse account.
Go to "Subscription forms" and click "Create."
Choose a pre-designed form or create your own with the help of our form builder.
Play with the form options and configure it to your liking.
Add the generated code to your website.
Confirm all the changes, and you are good to go.
Email Subscription Steps
You've got great content on your website, and users don't want to miss any updates, here is when email subscription comes into play.
A user fills in all the necessary fields on your subscription form and agrees to a privacy policy.
An automated subscription confirmation email is compiled and sent to the user's email address.
In the email, the user is asked to complete their subscription by clicking on the link (with a double-opt-in feature).
The link takes the user to a subscription confirmation page.
The user's email address is added to your mailing list.
Email Subscription Best Practices
Make it easy to subscribe
Use lead magnets
Go with double opt-in
Be mobile-friendly
Provide newsletter frequency options
Be recognizable
Take the sender name and subject lone seriously
Run tests and make changes
Consider drip campaigns
Send triggered emails
Email subscription is an opportunity to drive traffic to your site and nurture leads. If you play your cards right, you can see some outstanding results from your email campaigns. Take a look at these ten tips to get you inspired.
Make it easy to subscribe. Using embedded or a pop-up subscription form on your site/blog with a clear CTA is a place to start.
Use lead magnets. The lead magnet, also known as an incentive, is a great way to motivate your customers to share their personal information.
Go with double opt-in. It's a sure way to have a good mailing list that consists of an engaged audience.
Be mobile-friendly. Use responsive sign-up forms since many people use their smartphones or tablets to consume content on the internet.
Provide newsletter frequency options. Let your subscribers choose how often they want to hear from you.
Be recognizable. Design your emails using your brand colors and styles to increase user awareness.
Take the Sender name and subject line seriously. Make your sender name recognizable and personalize a subject line for better email open rates.
Run tests and make changes. A/B tests are a great way to see which email works best.


Consider drip campaigns. Lead your prospective customers down the sales funnel with carefully designed sets of emails sent at a specific time. Segment them to meet each subscriber's needs.
Use triggered emails. Emails sent to your clients triggered by their actions. Registration — welcome email, purchase — 'people also buy' email, client leaves a shopping cart — abandoned cart email, etc. Automation 360 by SendPulse offers functionality and simplicity in one bundle.
References
The article "Email Signup Forms: The 3 Factors in Boosting your Email Signup Form" on Orbit Media considers 3 P's of email signup forms and provides seven examples.
The article "10 Effective Ways to Get More Email List Subscribers" on Neil Patel's blog suggests proven tactics to increase an email list.
FAQ
Last Updated: 23.03.2023