Interactive advertising is a type of advertising which encourages consumers to engage and interact with an ad. It allows brands to establish and develop communication with their clients.
In this article, we will explain why you should use interactive advertising and highlight its advantages and disadvantages, describe the types, and provide examples of interactive ads.
Why use interactive advertising?
The main advantage of interactive advertising is a personalized experience. You can control what is shown to different customers and in such a way set apart from traditional ad campaigns.
The Journal of Interactive Advertising 2001 states that interactive ads also have some features that improve advertising effectiveness. You can gather information about customers via cookies to create each consumer's profile and show the most relevant ads to them.
Interactive advertising also enables to decrease the overspending of advertising budget connected with poorly coordinated advertising. You can convey an advertising proposal more clearly to different audiences by using varied ads.
Like any other type of advertising, interactive ads have their advantages and disadvantages. You need to keep them in mind and know how to deal with them to promote your business successfully. Read more about them in the next section.
Advantages and Disadvantages of Interactive Advertising
Interactive advertising is a great way to develop two-way communication. On the other hand, it is often costly and time-consuming. We will tell more about these and other pros and cons in this section.
Look at the advantages of interactive ads below.
They encourage potential customers to be a part of a brand. Such adverts require feedback and let users give it, so people interact with them much more than with usual ads.
Such ads boost social interaction between businesses and potential clients. To establish healthy long-term relations with consumers, interactions are important. Interactive advertising helps you to detach from competitors, improve brand awareness and increase people's loyalty.
However, there are some disadvantages of interactive ads.
Creativity might be distracting. Interactive ads have greater benefits if you need to capture the attention of customers and encourage them to engage. However, it is important to avoid the excessive use of creativity. The ads should not disrupt the conveying of a brand's messages to the clients.
Preparation can take a long time. If you want to succeed in interactive advertising, you need to prepare properly before launching the campaign. Analyze your competitors, gather the data to build profiles of potential clients and ensure that ads are targeting the right audience.
Interactive advertising may be expensive. High costs are associated with gathering data about consumers and money spent on creating the ads. Moreover, it is rather challenging to create such adverts independently, and you may need to hire an ad setup specialist, which will require additional spendings.
Now you know the advantages and disadvantages of interactive ads. Let's take a look at different types of them to choose the most suitable ones for your business.
Types of Interactive Advertising
New forms of interactive advertising are being developed all the time. This type of advertising can take many forms, but we will consider the most widespread ones in this section. Let's look closer at each of the types.
1. Interactive Facebook Ads
Nowadays, Facebook and Instagram are popular social media platforms. According to Pew Research, the user base of Facebook includes 69% of US Adults. There is an excellent chance of success in promoting your business here. The most popular interactive ads on Facebook and other social media are virtual tours, gaming, promoted stories with polls, quizzes, and other similar elements.
Create interactive posts, stories, or reels to reach and engage more people. You can interact with people and get more feedback by using different polls and quizzes. You can also use live videos to communicate more with the audience in real-time and, consequently, increase brand loyalty.
Check out the example of such an ad in Lady Gaga's stories. She promotes her new album "Love For Sale" recorded with Tony Bennett. The story is interactive because you can tap the link and go to YouTube to listen to the album.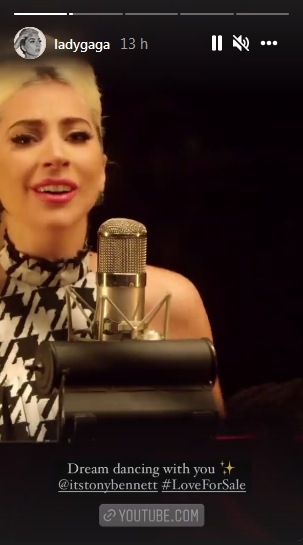 2. Augmented Reality
Augmented reality (AR) is a changed version of the real world achieved through digital elements. Customers like this type of advertising because it lets them create their content with the products they need and want to buy.
Today you can find Augmented Reality ads on Instagram, Facebook, TikTok, and many other social media platforms. You can use AR in your ads to give people an opportunity to try on clothes or view goods in their own homes. Customers can interact with certain products, choose the ones they like the most and buy them from your company.
Look at the example of Ikea's design lab, Space10. It enables users to redesign the entire 3D room plans using LiDAR sensors, like the Studio app created by Ikea.
3. Playable In-App Ads
According to eMarketer, people spend over 3.5 hours a day on their mobile phones. Consequently, it would be easy to find your audience here.
Playable ads allow your audience to try a product without buying it. Games and entertainment apps may let the audience use certain features available only after purchasing a complete app. Fashion brands and other companies often promote their goods in collaboration with existing applications.
Check out an example. In a recent campaign, New Balance partnered with TreSensa to create an app called 'Fresh Foam Cloud Jumper', where people bounced from cloud to cloud. At the end of the game, there was a call-to-action to shop the sneakers or play again.
4. In-Game Advertising
Many people are fond of eSports nowadays, so in-game advertising is one more great opportunity to promote your company. There are several ways to use interactive ads in games, such as creating sponsored features, promoting billboards, and organizing events.
Research your audience through partnerships with digital games or streamers if there are lots of gamers among your business clients. Keep in mind that you need to prepare carefully for such campaigns because advertisements should fit the interface of the chosen game and convey the brand's message.
Let's look at the example. In April 2020, hip-hop singer Travis Scott collaborated with the game 'Fortnite' and held a virtual concert. Travis's giant hologram on the main screen and posters within the game promoted the future event and created a unique atmosphere.
5. Display Ads
Display ads and banners are among the most popular types of paid media, so they are almost everywhere on the Internet. It is a great idea to make them interactive to get greater engagement and increase ROI. Banners can open up and show your product in the form of a video, a game, a poll, or a quiz.
The advantage of such type of advertising is that you can use contextual targeting. Choose keywords and find websites to place the ads on. To choose the site, you can use ad networks that buy and sell ad space to advertisers, or ad exchanges, where you can buy ad inventory from ad networks.
In this example, we can see a banner ad of sports villas that opens wider while users roll over it. Such a feature helps this advertisement attract more attention.

Below there is the way this banner expands to fill the entire screen.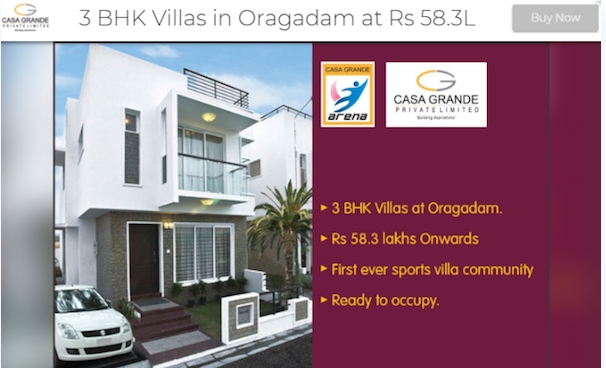 6. Interactive videos
Video ads include interactive elements to show product details and lead viewers to the buying page. According to MarketingProfs, interactive videos convert more than 11% higher than other types of video advertising.
Such an alternative to a regular ad prevents users from skipping the advert because the content is much more engaging. Moreover, interactive videos are much more memorable. Make your potential clients a part of the story to engage them and provide positive emotions through their buyer journey.
Look at an example from Boursin that takes viewers on a journey through their refrigerator. You should move your phone around to interact with an ad.
In conclusion, the most popular types of interactive advertising are interactive Facebook ads, augmented reality, playable in-app ads, in-game advertising, display, and video ads. Now you know the main information about the types of interactive ads. Let's proceed to the next section and discover more examples of such advertisements.
Examples of Interactive Advertising
To succeed in interactive advertising you need to be creative and test many types of content. Here we provide more examples of using interactive ads in different spheres. Read this section to get some fresh ideas.
The first example is an ad for J & J where a brand promotes a new product line. There are two banners on the advert and the first one encourages us to scratch the card and reveal the second picture. Such an interactive element makes people interested in what hides under the scratch card and encourages more customers to interact with an ad.
The second example is the lookbook for Hector&Karger FW collection called RE_ALITY. It was created in 2015 and was the first interactive fashion lookbook in the world. You can use a special application to see the collection RE_ALITY in the form of 3D images. Later on such famous fashion brands as Khaite, Hermes, Gucci and Carlings supported the idea of using AR in their collections.
The third example includes different variants of Facebook ads using interactive elements. The first company uses polls in their advertisement to encourage customers to choose what they want in their Mac 'N' Cheese. The second ad is a kind of game. Brand 'Vans' asks their clients to help a character and collect gifts as quickly as possible. There are augmented reality elements in the third ad. You can choose the color of the lipstick by trying different ones on the photo of your lips.
Congrats, you learned the basics of interactive advertising and discovered its advantages and disadvantages. You know the most popular types of interactive ads and are ready to promote your business successfully using interactive ads.
Last Updated: 22.10.2021