A marketing campaign is a set of actions and efforts aimed at reaching customers and achieving specific objectives. It helps achieve a company's SMART goals: launch a new product, increase sales volume, improve social shares of an event, etc.
In this article, we'll discuss the effectiveness of marketing campaigns, their benefits, objectives, and types. We'll also review several great ideas, tips, and examples. Finally, we'll uncover how to create a marketing campaign with SendPulse.
Why are marketing campaigns effective?
You've probably noticed that successful marketing campaigns stay in your head for a long time after you watch a TV commercial or buy a certain product. The number of effective campaigns increases all the time. Their examples include Nike's "It's Gotta be the Shoes!", Old Spice's "The Man Your Man Could Smell Like", and many others. They improve company image, build brand recognition, boost sales, and increase ROI.
These campaigns are effective because they stay in the minds of customers for a long time and encourage them to buy products from certain companies. People remember really impressive and unique campaigns long after they were streamed on TV or the internet. Apple's "Get a Mac'' campaign which the brand ran in 2006 customers recognize until now and are ready to pay high price for the brand's products.
Great campaigns make people remember certain companies. They provide brands with identity, personality, and emotions.
So, now when you know why marketing campaigns are effective, let's proceed to the benefits.
Benefits of Marketing Campaigns
Consistent campaigns that communicate a clear message have a chance to succeed and bring great results, such as:
brand recognition;
big sales volume;
good reputation;
wide audience;
trust;
increased efficiency;
raised awareness of a product;
credibility;
Since companies can reap many benefits, there's a point in developing effective marketing campaigns that integrate different channels. Yet, to create it, you need to have clear objectives. So, it's time to move to the next section.
Objectives of Marketing Campaigns
Creating a successful marketing campaign is a long process that requires a lot of effort and cooperation of professionals. All activities are directed on reaching the main company's objective. Below you can see the main goals brands usually chase in their marketing campaigns. They strive to:
drive sales;
enhance brand awareness;
reach a new wider audience;
improve relationships with current customers;
enter new local or international markets;
present new products;
increase market share;
improve sales funnel;
increase ROI;
establish online presence;
take a position of industry leader;
increase revenue.
Now that you know the key objectives, let's proceed to the types.
Types of Marketing Campaigns
Email marketing campaign
Brand awareness campaign
Traditional media campaign
Seasonal push campaign
Product launch campaign
To achieve your goals, you need to decide which marketing campaigns suit your purpose. Well, next we'll cover the most popular types for your business.
Email marketing campaign
Companies leverage this type of campaign to stay in contact with customers and keep them updated about the upcoming sales, launches, referral programs, giveaways, and events via email.
Let's take Walgreens, for example. The email below informs customers about its discounts.

With SendPulse, your company can set up email send-outs informing about sales, discounts, webinars, special courses, etc. To create a great email campaign with our service, you don't need to have special technical skills or HTML knowledge. It's one of the cheapest and most effective communication channels. SendPulse also provides its users with a free plan and allows them to send up to 15,000 emails to 500 subscribers.
Brand awareness campaign
Many companies gather all their efforts around building and strengthening the awareness of their products or services. If you have the same goal, you don't necessarily need to use traditional advertising (run ads on TV or place them on billboards). With digital platforms, everything is more convenient and accessible. Consider starting a blog and producing unique and informative content, guest blogging, using branded hashtags, partnering with a more popular company and using its visibility, starting your own podcast, etc.
For example, Coca-Cola's #ShareACoke branded hashtag succeeded to gather even a wider audience than it planned to.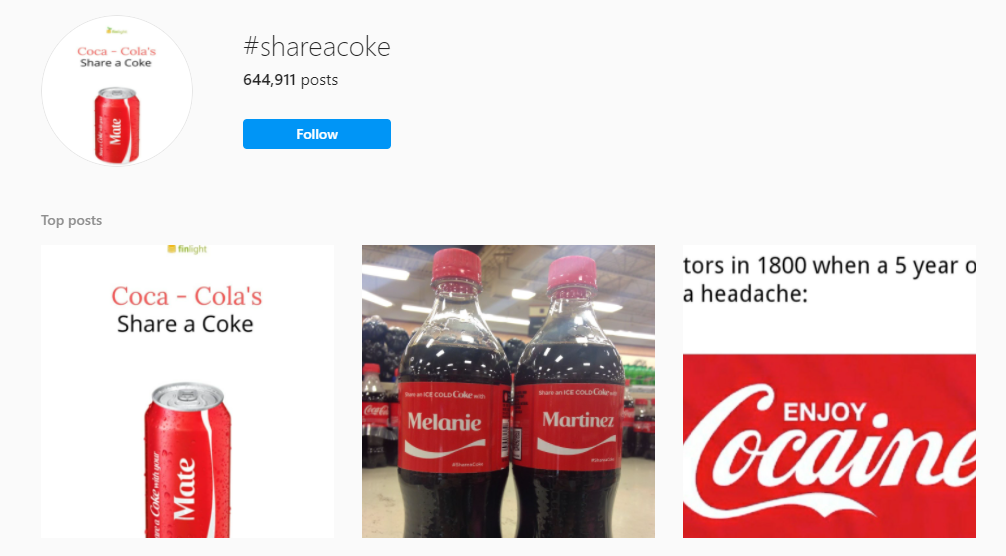 Traditional media campaign
This type relies on traditional media channels like radio, print advertising, and TV. To improve brand awareness and sales volume, brands place their ads on billboards, create commercials for TV, and write articles for newspapers and magazines. Yet, bear in mind that this method is expensive, especially if compared to email campaigns.
For example, M&M's created an engaging and funny TV commercial with personalized characters. The brand's marketing success amazes everyone till now. The company's team managed to turn multicolor candies into interesting characters that create a special atmosphere typical only for M&M's.
Seasonal campaign
Retail brands and restaurants make use of these campaigns to promote seasonal sales of their products. Companies that experience a seasonal deficiency of financial resources use daily offers, conduct winter or summer sales, give discounts on celebrations like Mother's Day or Independence Day.
Let's take H&M's summer sale, for example. The brand offers customers to enjoy its summer sale and buy summer clothes for men, women, and children with up to 60% discount.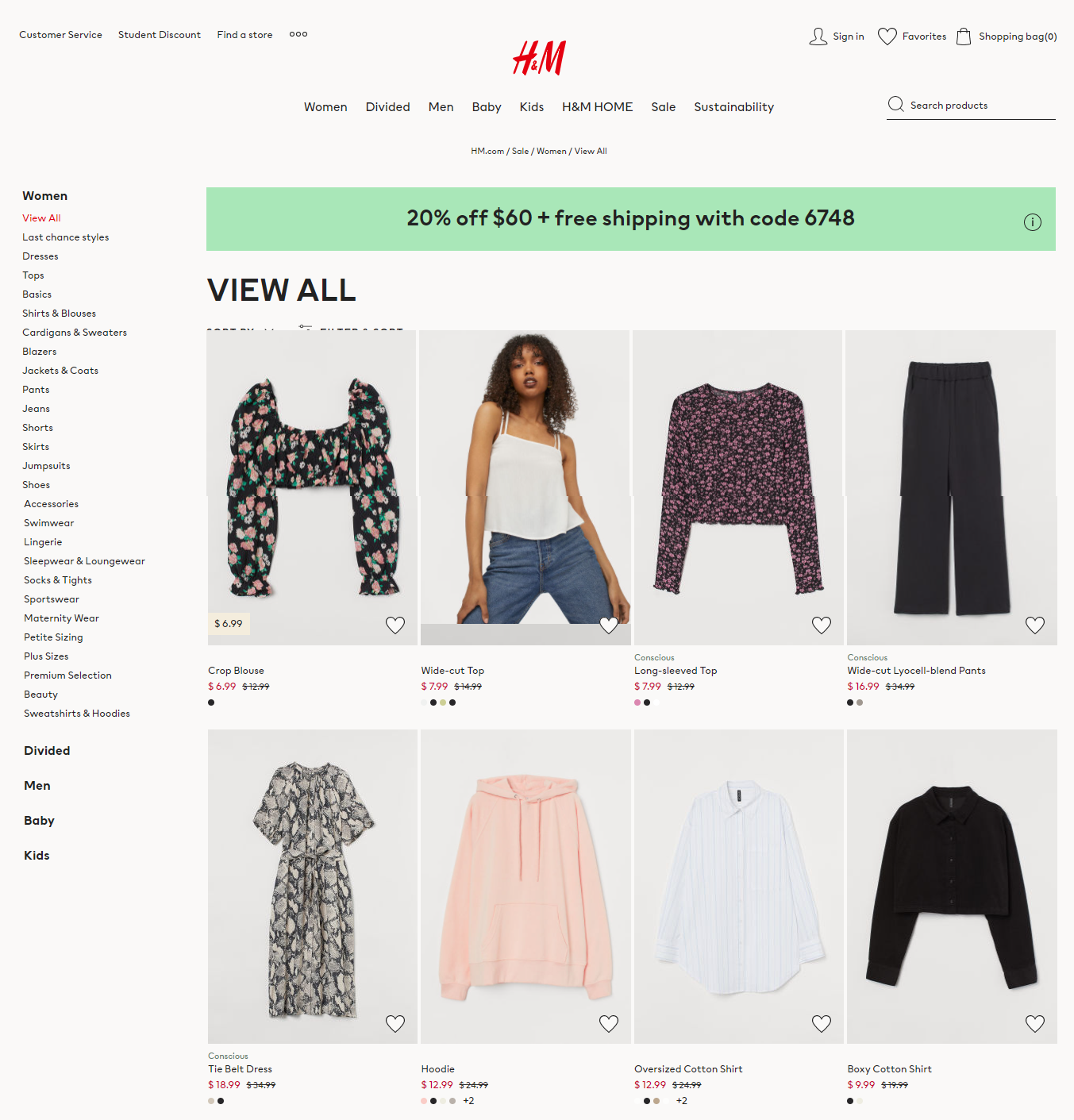 Product launch campaign
When companies launch a new product, they need to introduce it and educate customers about its benefits and features. To build brand awareness, you need to market your product right so that you can attract more people. To do this, you need to embrace different marketing strategies. The most effective include video marketing, trial offers, opt-in forms, influencer marketing, and new communication channels.
Let's tale Harry's, for example. The brand offers razor blades for an attractive price. To launch a new product, the company provided customers with a trial offer. The brand's team announced the offer on its website and social media accounts to make it visible. Harry's succeeded to a giant of online retailing with lots of customers and high revenues.
Now that you are acquainted with different types, we'll discuss several great ideas you can implement into your business.
4 Marketing Campaign Ideas
Leverage social media
Conduct seasonal sales
Create promo codes
Provide customers with a freebie for purchases
We've prepared the most effective marketing campaign ideas, so let's explore them right now.
Leverage social media
Since the number of active social media users increases all the time, it's worth using the famous platforms to your benefit. With video and photo sharing networking, you can reach your audience without spending lots of resources. Using social networks enables you to communicate with current and potential clients, establish brand loyalty, and increase sales volume. With social media campaigns, you can also improve brand awareness and website traffic.
For example, a campaign created by Airbnb on Facebook was aimed to promote its new app. Users had a great opportunity to see live-streamings of people's travels. The campaign had great success and a high level of engagement: likes, shares, and comments.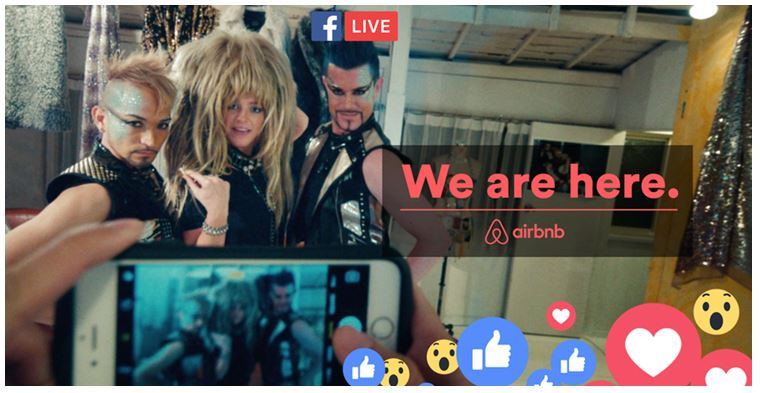 Conduct seasonal sales
To attract attention to your brand and obtain new customers, run a seasonal sale. You'll boost your product sales and profit. Think of promoting your sale through different platforms to gain more exposure. By giving your brand visibility, you can significantly increase your reach and ultimately sales. Moreover, various paid ads can increase the customer base and make consumers come back.
For example, Monki invites customers to enjoy its 70% off sale for summer clothing.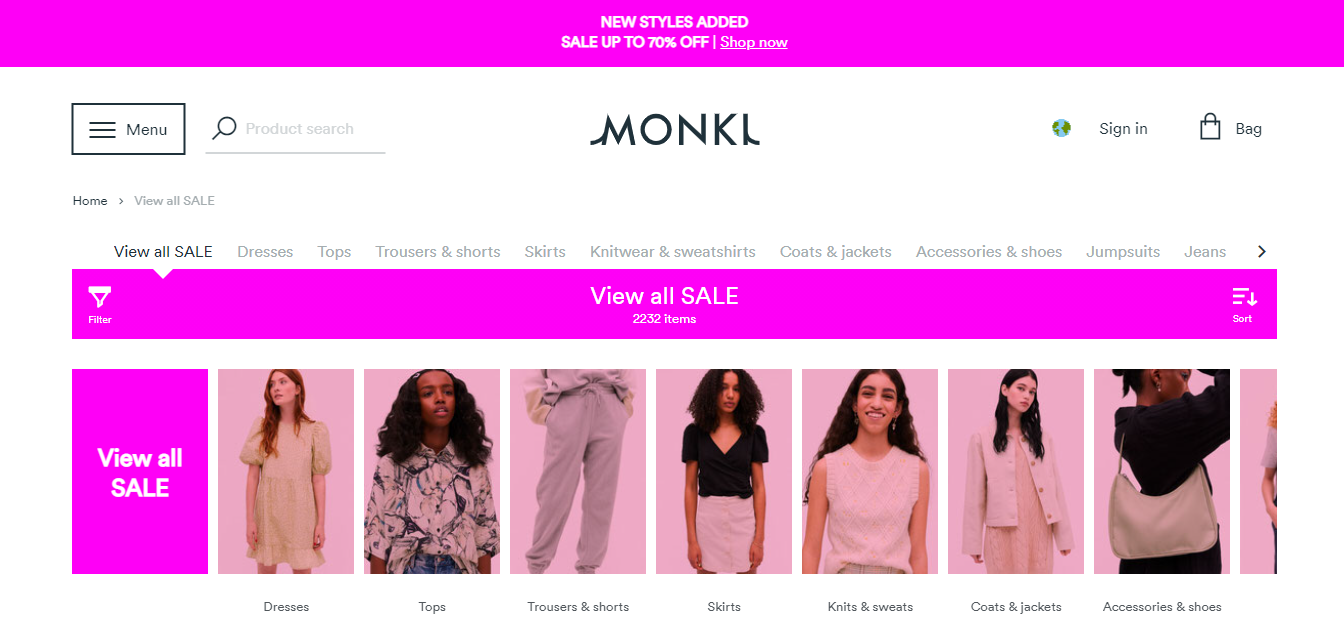 Create promo codes
If you want to introduce new clients to your brand, provide them with coupons. They are beneficial both for customers and your company. Coupons make a first buy cheaper for customers and encourage impulse purchases. At the same time, they give space for new inventory, introduce new product lines, and increase sales.
For example, Asos invites customers to use its code to get 20% off everything.
Provide customers with a freebie for purchases
It's good to thank your customers after they purchase for a certain amount of money. So, consider providing your clients with a special gift. To promote such an offer via email, send email campaigns to your subscribers. Encourage them to participate.
For example, MAC Cosmetics gives customers gifts when they purchase for a certain amount of money.

Now that you have some ideas for your future campaign, it's time to explore our tips to create it.
4 Tips to Create a Killer Marketing Campaign
Set SMART goals
Choose appropriate communication channels
Think about how to drive the desired action
Track and analyze the results
To develop and run a great marketing campaign, you need to have a clear understanding of your goals, select the most suitable channels, and make customers take the desired action. So, if you are interested in doing everything correctly, stick to our 4 main steps.
Set SMART goals
Before running any campaign, plan all the details to gauge the effectiveness and guide your marketing department. Firstly, define your campaign's goals. Create it to promote a product, improve brand engagement, obtain customer feedback, generate leads, bring in new customers, improve customer satisfaction, advertise an upcoming sale, product launch, etc.
Establish SMART (specific, measurable, attainable, relevant, and timely) goals for the best results. For example, let's say that an apparel brand sets the goal to gather customer feedback from 200 clients about its customer service via surveys sent to customers' emails by 21 July 2021.
Secondly, determine the ways to evaluate your campaign: email open rates, email click-through rates, responses, spam complaints, etc. Thirdly, select an appropriate audience segment that might be interested in your campaign. The people you target and the message you create depends on the stage of the buyer journey.
Choose appropriate communication channels
Once you know customers' preferred communication channels, their level of engagement, needs, and problems, it's time to select the main distribution channels. Сheck out your metrics to find out which mediums have the best performance and which of them you can afford.
Select two or three channels your customers prefer the most. Remember to choose mediums that enable you to achieve your company's goal. For example, if you aim to promote a website builder, consider using digital platforms for the promotion.
Sometimes companies forget about timing which is critical for the effectiveness of campaigns. That's why you need to define the start date and deadline of your marketing campaign. Consider making a calendar to add all important dates of the campaign, schedule when and what content to publish, what channels to use, etc.
Think about how to drive the desired action
At this stage, you need to think of the efforts and ways to attain your goal. Let's continue the previous example. To gather feedback on satisfaction with a brand's customer service, the company needs to apply a call-to-action button. For example, it can be in an email asking a customer to take a survey and evaluate its support.
As an option, a brand can have a special form on its landing page for customers to leave feedback. To gauge the effectiveness of your campaign, track the metrics.Metrics can vary and depend on the marketing channels you prefer to use. If you have an email campaign, track open rate, bounce rate, conversion rate, number of unsubscribes, click-through rate, and spam complaints. In case you leverage paid advertising on social media, monitor engagement, impressions, click-through rate, reach, follows. Companies focusing on SEO, gauge average session duration, conversion rate, website traffic, bounce rate.
Track and analyze the results
To figure out what worked and didn't, monitor the results. It will help you find out whether you succeeded to attain your goal. Campaign data also gives you insight into the things you should and shouldn't do for your next campaign. This valuable experience and information will help you improve your future campaigns and reach your next SMART goal.
Next, we'll review the ways to create effective and successful campaigns with SendPulse.
How to Create a Marketing Campaign with SendPulse?
Email campaign
SMS campaign
Chatbot campaign
Web push campaign
With SendPulse you can create and send marketing campaigns via email, SMS, message in WhatsApp, Telegram, or Facebook Messenger. Everything depends on your company's goals.
Email campaign
SendPulse enables you to create and send professional email campaigns without any technical skills and knowledge of the code.
Register with SendPulse.
Upload or create your mailing list and segment it, if needed.
Fill in information about the Sender and add a subject line.
Select a ready-to-use template or create one from scratch.
Use our drag and drop editor to add or remove elements and design an email to your liking.
Double check your email before sending it.
Send your campaign or schedule it to be sent at a desired date and time.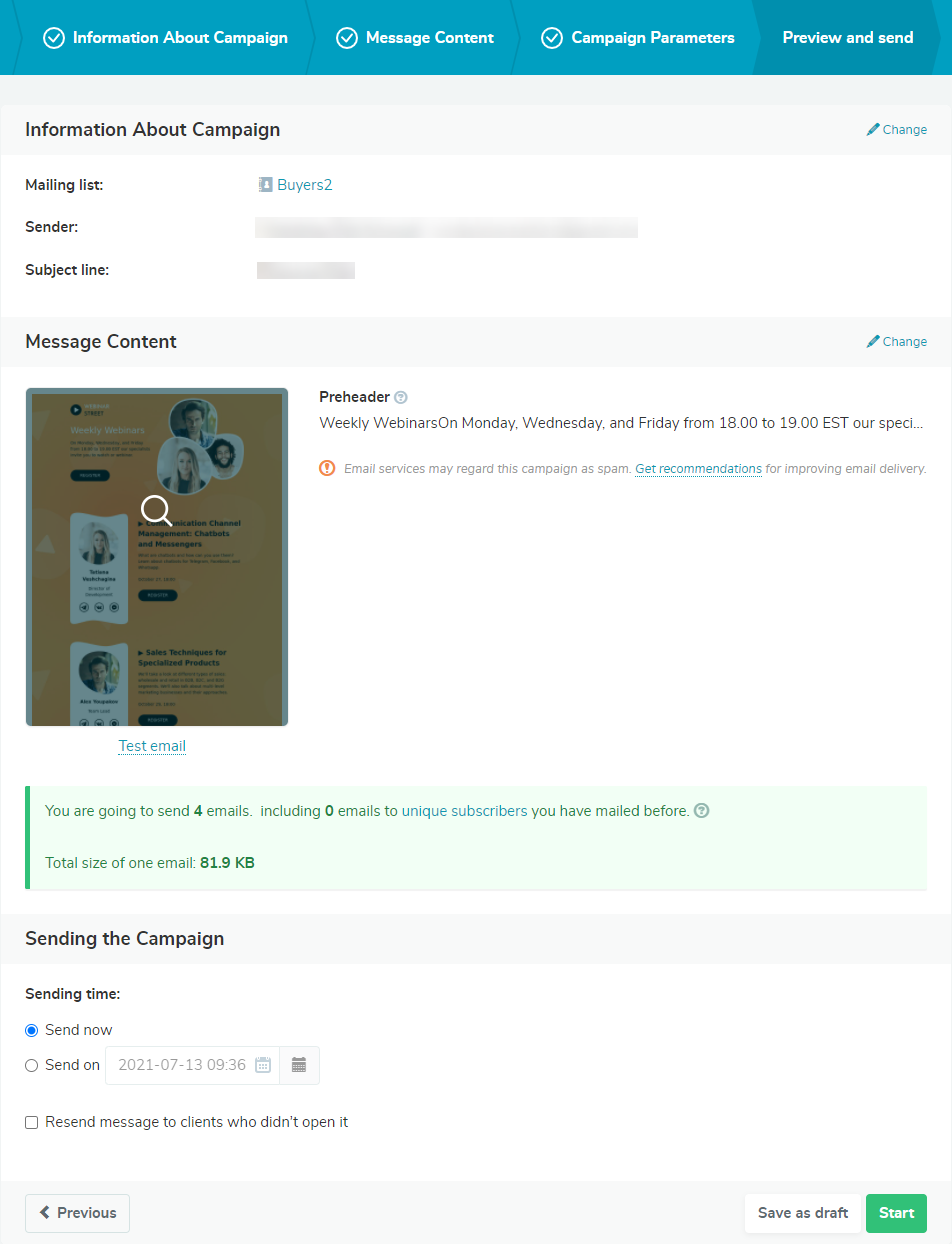 SMS campaign
Reach your customers and build brand recognition by sending SMS campaigns.
Create an account with our service.
Create a mailing list.
Insert Sender ID.
Write message text.
Select recipients.
Set the date and time of your SMS campaign send-out.
Send the campaign.
Chatbot campaign
You can send campaigns in Telegram, WhatsApp, and Facebook Messenger with our service.
Sign up to SendPulse.
Go to the "Chatbots" tab and click "Manage bots".
Sign in with your social media platform or messenger to create a campaign.
Select the necessary group pages for the chatbot campaign and click "Enable".
Select your bot and segment recipients, if necessary.
Write your message.
Add a button and other important elements (image or file).
Double-check your message and campaign information.
Send your campaign or schedule its send-out.
Check out our detailed instructions if you want to send chatbot campaigns on Facebook, Telegram, or WhatsApp.
Web push campaign
You can easily send web push campaigns informing customers and prospects about various seasonal sales, product launches, and events with SendPulse.
Sign up, if you don't have an account with SendPulse yet.
Add your website (click "Push" and then "Add New Website").
Fill in the necessary information about your website.
Add the code you obtain to your website.
Track your subscribers.
Click "Create PUSH".
Select a list of recipients, add title, message, link, and image if needed.
Send your campaign or schedule it to be sent at the predefined time.
Check out the article to find out more.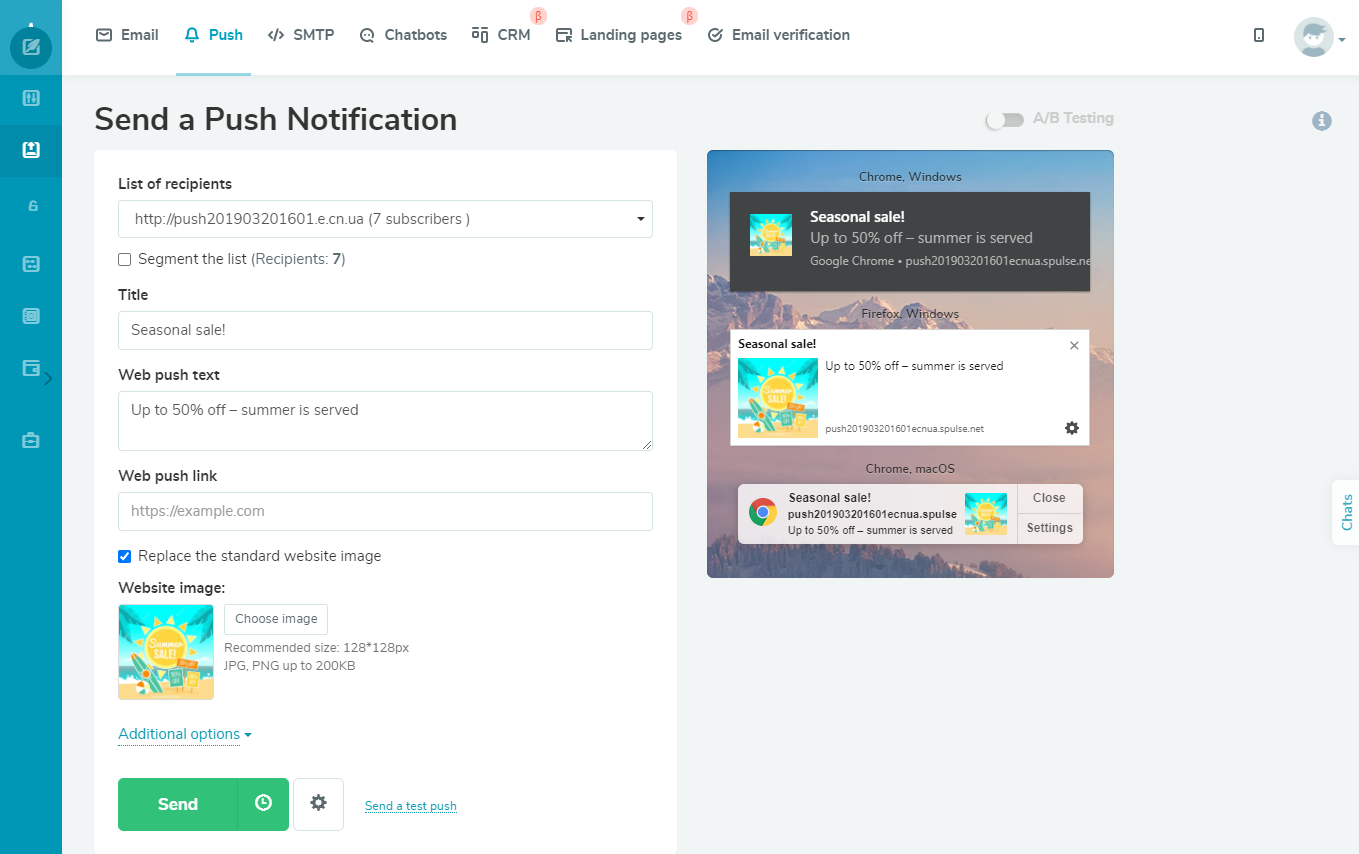 Let's now jump into several examples.
Examples of Successful Marketing Campaigns
Companies write plans, invite professionals, and decide on the idea to develop effective campaigns. We've prepared several examples of successful campaigns for you to get inspired.
Thank You, Mom
In 2012, the famous Procter & Gamble campaign won the hearts of viewers with its TV commercial. The commercial's main characters are mothers of athletes who put all their strength and soul into their children. This campaign tries to convey gratitude to mothers for everything they do and is considered P & G's biggest campaign in the company's history.
Got Milk?
"Got Milk?" is a great example of a marketing campaign that achieved its main goal. Marketers identify 4 main reasons for such a large-scale success of the campaign: it was simple, actionable, integrated, and had a sense of humor. By capturing famous people and leveraging different platforms for promotion, there was a noticeable increase in the level of milk consumption so that milk sales in California became 7% higher.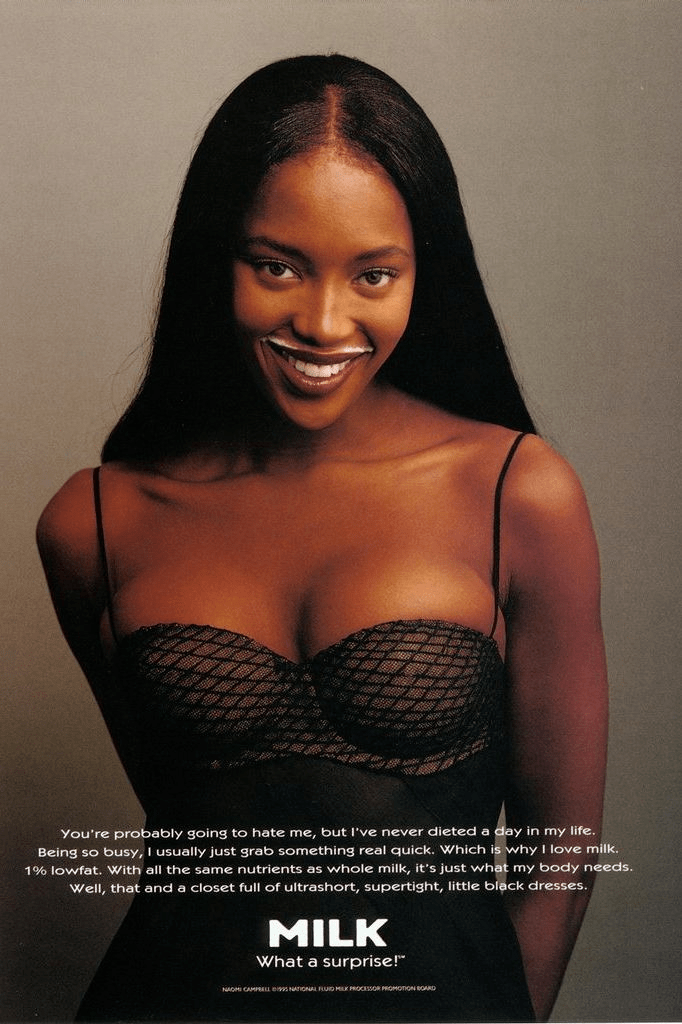 Source: CR Fashion Book Naomi Campbell for "Got Milk?" campaign
Just Do It
Probably the most recognizable and successful in Nike's history. Created in the 1980s, the "Just Do It" campaign made the brand even more popular. It increased sales of its products and raised the company's revenues to an incredible $9.2 billion in 1998.
With marketing campaigns, companies manage to achieve their main goals and communicate their messages across different platforms. Use our tips above to create a campaign that will evoke trust and credibility.
Resources:
This article defines the term, uncovers the types and components of marketing campaigns, and provides readers with a step-by-step guide on how to create a successful campaign.
In this article, you'll find important facts about marketing campaigns.
This article defines the term and unveils several examples.
Last Updated: 29.09.2021