A popup builder is a plugin that enables a company to add popups to its website. It empowers businesses to design promotional and informative popups and place them on sites to improve conversions and increase sales.
In this video, George, a product manager at SendPulse, explains how to create free smart pop-ups without coding skills.
In this article, we'll unveil why you need a popup builder and review the three best platforms for you to consider.
Why do you need a popup builder?
Today, online advertising evolves and brings advantages to business owners. Popups help you get new subscribers, encourage customers to complete the checkout process, provide visitors with coupons, and update them on your limited-time offers. This way, you can boost sales and increase revenue. However, building popups isn't an easy task. You need to have coding skills and knowledge to add popup windows to your eCommerce website.
If you don't have the necessary skills, looking for a no-coding popup builder is a great decision. Since builders don't require coding skills, you can create popups with a drag-and-drop editor. Consider designing your popup from scratch by dragging and dropping the necessary elements into the editor's field. If you don't want to waste time building a new popup, choose one of the ready-to-go templates. Select the most suitable for your industry and edit it based on your needs and your brand's style. You can tailor your popup to look attractive to your leads and encourage them to act.
Creating popups with a builder empowers you to automate communication with site visitors. Popups enable you to catch users' attention, improve conversion rates, customize your message, and show your brand from the best perspective. Popup builders help you to craft different scenarios for various interactions with prospects. Display conditions allow you to adjust your messages based on visitors' activity on your website.
Now that you know why to use a popup builder, it's time to proceed to the next section to review the 3 best ones. With their help, you'll build popups within minutes.
Discover effective pop-up tips on our blog
3 Best Popup Builders
In this section, we'll review the three best services for designing popups without any coding skills. These platforms are best in terms of usability, pricing, and features. Let's dive in to choose the best one for your business goals.
SendPulse
SendPulse is a multi-channel marketing platform that empowers startups and large enterprises to build communication with customers and automate sales. Its smart popup builder allows you to collect site visitors' data and turn them into customers. SendPulse's library has 30 free templates that suit various events and activities. You can choose an appropriate template and set it up in around 10 minutes.
SendPulse's popup builder enables you to automate communication with prospects by developing different scenarios. The builder also takes into account prospects' behavior. Display conditions allow you to craft your communication with potential clients based on their actions on your website. Personalize your message based on the actions users perform on your website. For instance, you can identify users' browsers or the time they visit your website. Afterward, you can make well-informed decisions on the content of your personalized messages. SendPulse offers you 22 scenarios that you can combine. This way, you'll be able to gather all your efforts and focus on collecting prospects.
With the help of the editor, you can create an attractive and catchy message. Add a message based on the purpose of your pop-up. It can help you collect customer information, update on new arrivals, and inform about sales.
If you want to design popups with SendPulse, you need to register first.
Once you log in, you need to click "Pop-ups" and proceed to "Create project." The service will provide you with two options: design pop-ups for your site created with SendPulse and an external site.
Choose a popup template that best suits your business purpose. You can change the appearance of your popup based on your needs and requirements.
Personalize your popup by adding a targeted message.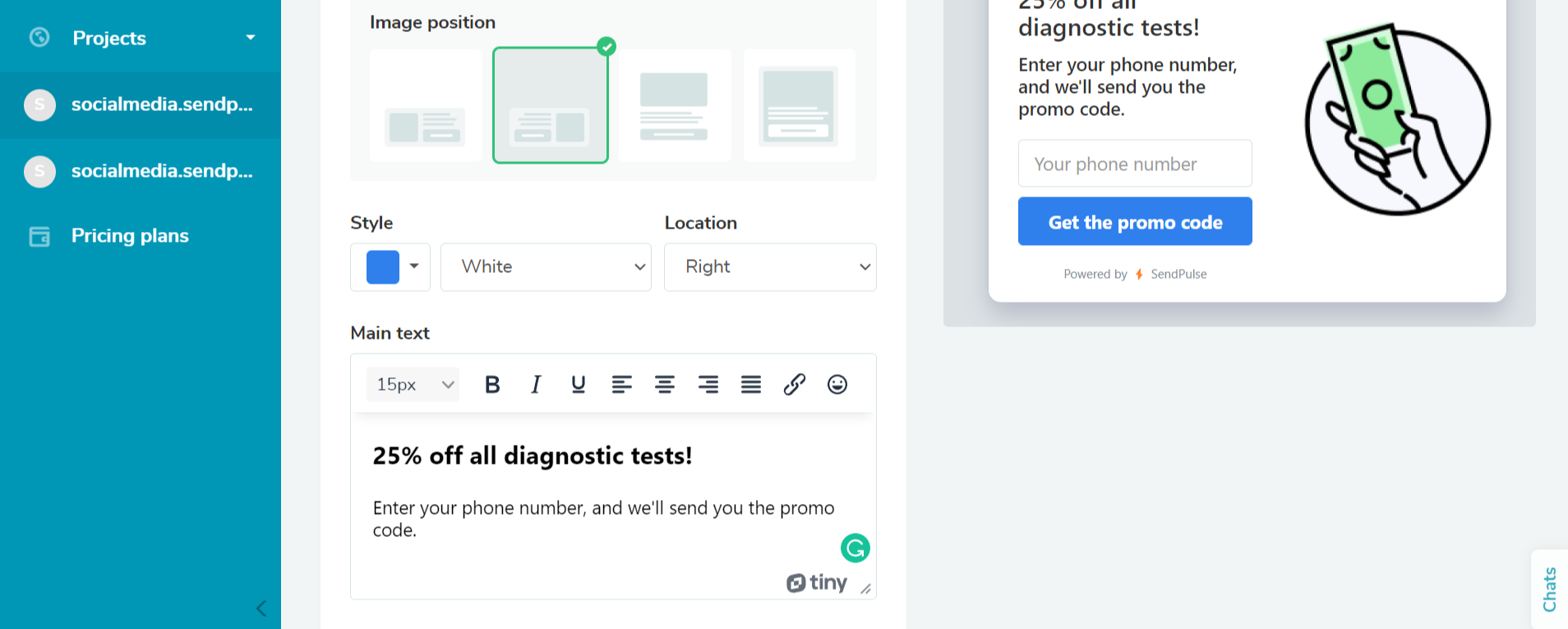 After you write the main message of your popup, select the target action.
Afterward, set up a scenario for your popup. To do it, proceed to the "Targeting" tab and choose the display conditions you need. Visitors will see the widget when they perform an action you set up. Select one of the conditions listed to determine when users will see your popup message. The screenshot below shows the popup will appear once a prospect scrolls more than 50% of your website.
If you need to combine several operations, click "Add condition." This way, you can target qualified leads with popups. For instance, you can reach people interested in your product and likely to purchase it.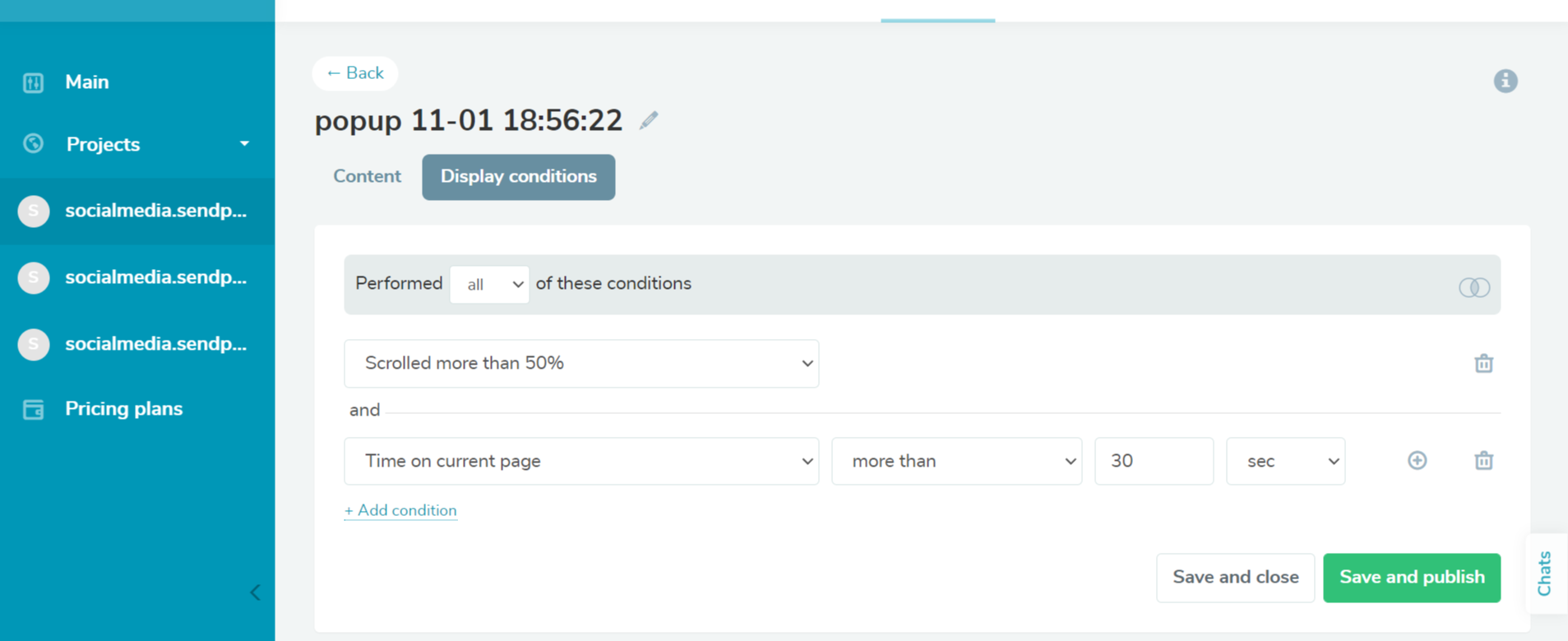 Finally, choose a name for your popup. Click "Edit" right near your automatically generated popup name.
As you can see, the process is simple and fast, so you can do it without the developer's help. The interface is user-friendly, and you'll get used to it within seconds.
SendPulse has two plans: "Free" and "Standard." The free plan covers 10,000 unique visitors per month, 3 projects, 10 active pop-ups per project, and 1 domain per project. The paid plan has more features and includes the following features: unlimited projects and popups, 10 domains per project, webhooks, Google Analytics, and lead location data. You need to pay $8 monthly for 10,000 unique visitors.
Popupsmart
Popupsmart's no-code popup builder empowers you to collect data for your email list, interact with users, and boost sales. The platform allows you to choose different scenarios and events your company wants to showcase to users. If you have problems with converting users into customers, the service will help you do it faster with popups. With Poupsmart, you can develop recommendations, special offers, and cart abandonment pop-ups within five minutes and increase conversions. You can add any message to your popup to win more deals, redirect users to converting web pages, and provide potential customers with coupons.
This marketing solution takes care of your conversions and helps reduce customer acquisition costs. The platform's popups have exit-intent triggers that react to the users' cursors and prevent them from leaving your website. Scroll triggers enable you to share the popup only when visitors explore the necessary percentage of a web page. Moreover, Popupsmart provides you with real-time analytics, in-activity sensors, geo-located targeting, and many more.
To create a popup, you need to select your business goal and choose a template. Once you finish with the template, proceed to the next step by clicking "Next to Customize." At this step, you'll be able to edit your template based on your needs.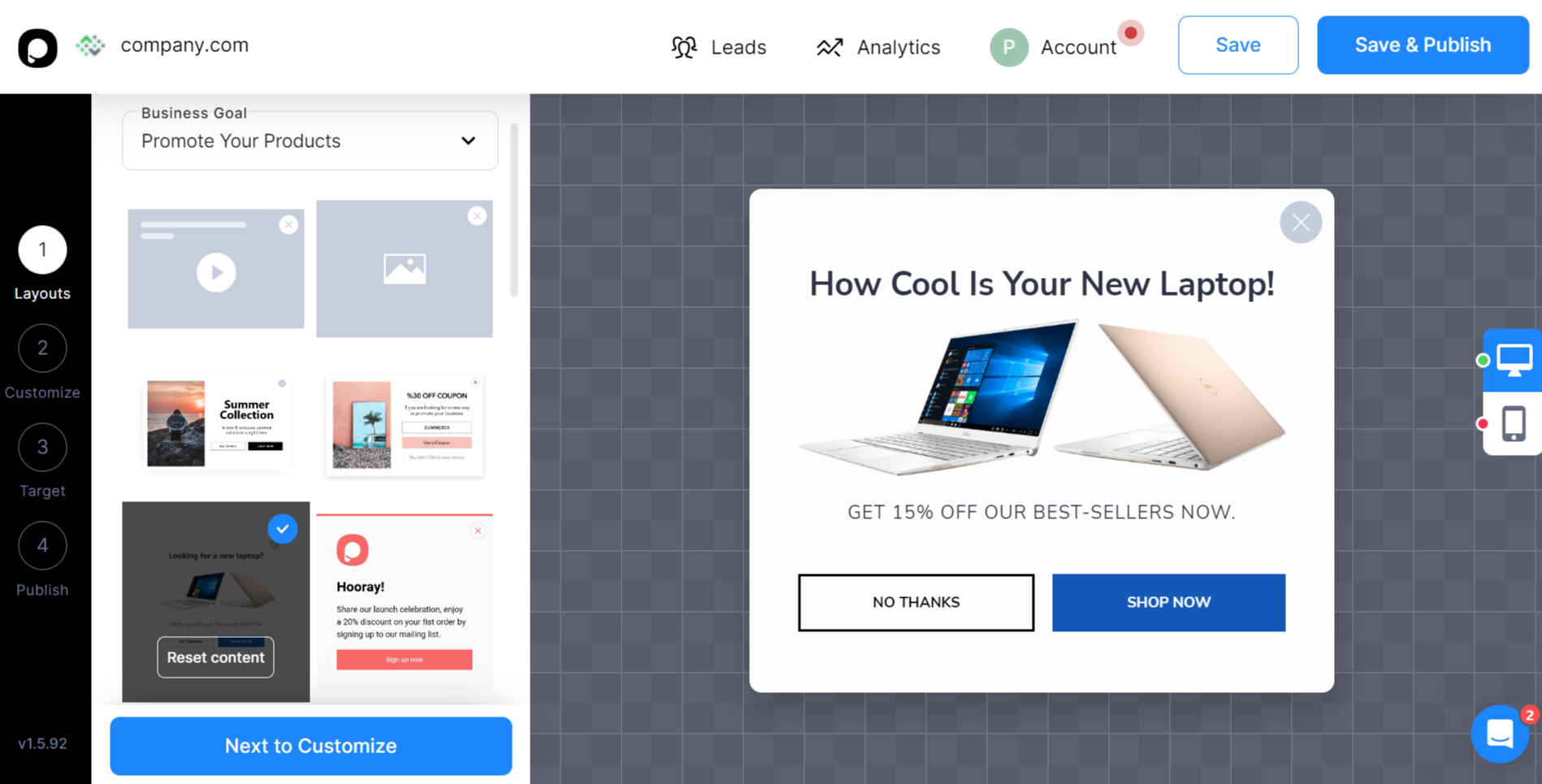 Tailor the message of your popup based on the requirements. Consider modifying the general appearance of your popup widget. Change headline, font, image, etc.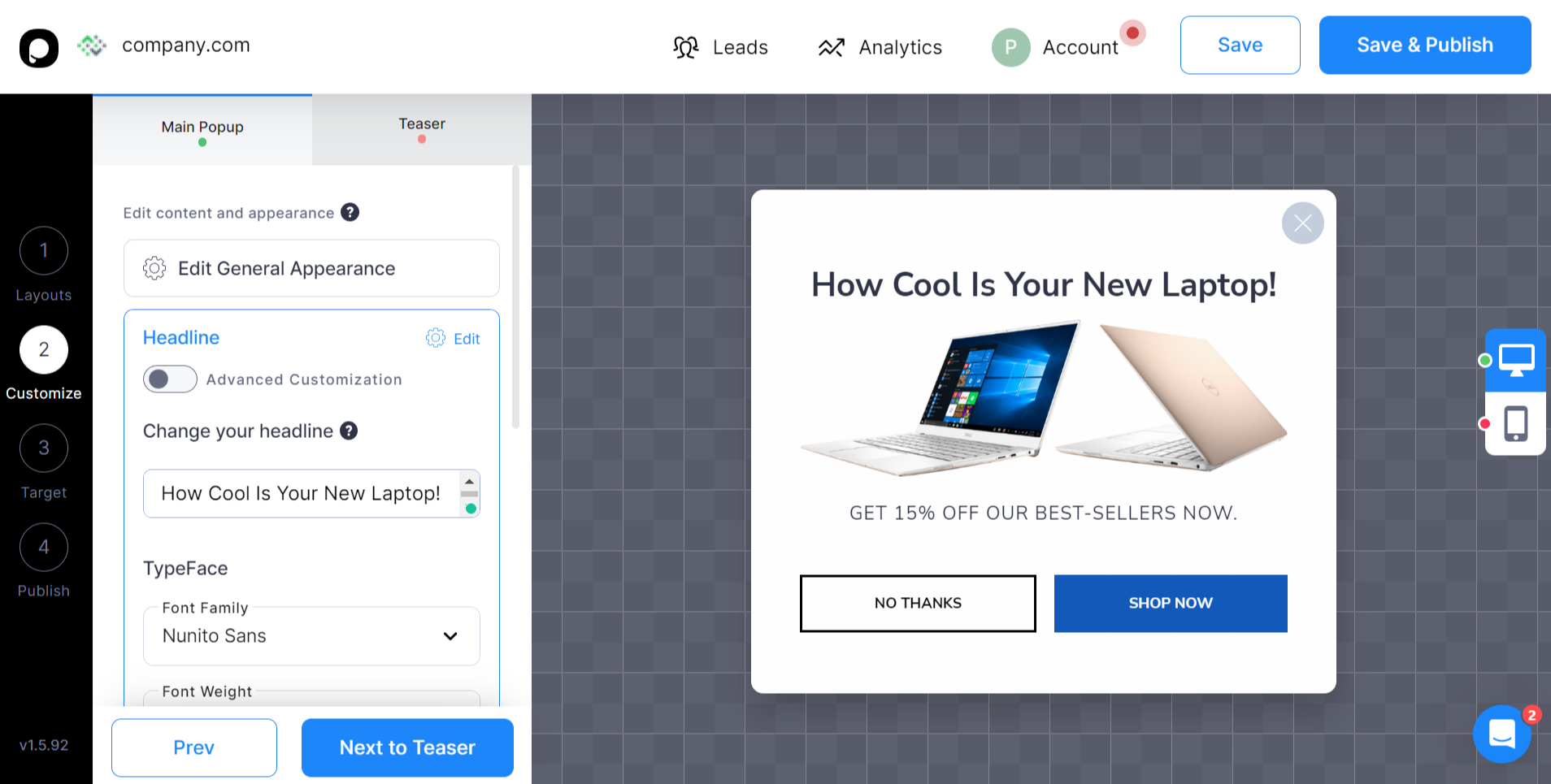 After customizing the popup, you need to select the time to display the teaser and on-screen position. Click "Next to Target" to proceed.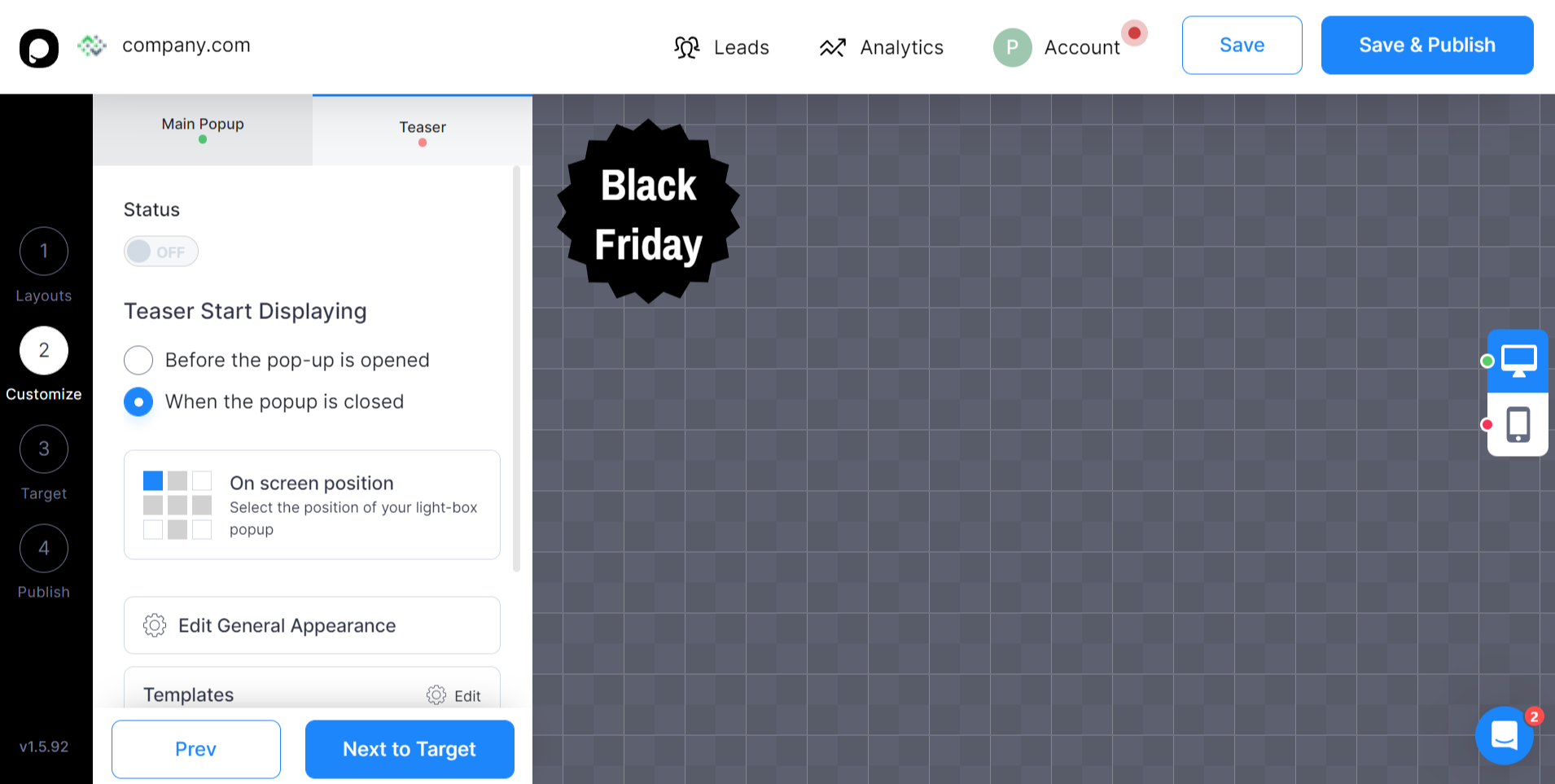 You can use artificial intelligence or manual segmentation to set up when your popup will be visible to visitors. Consider scheduling the time, targeting the right audience segments, choosing the location, determining visitor behavior, etc.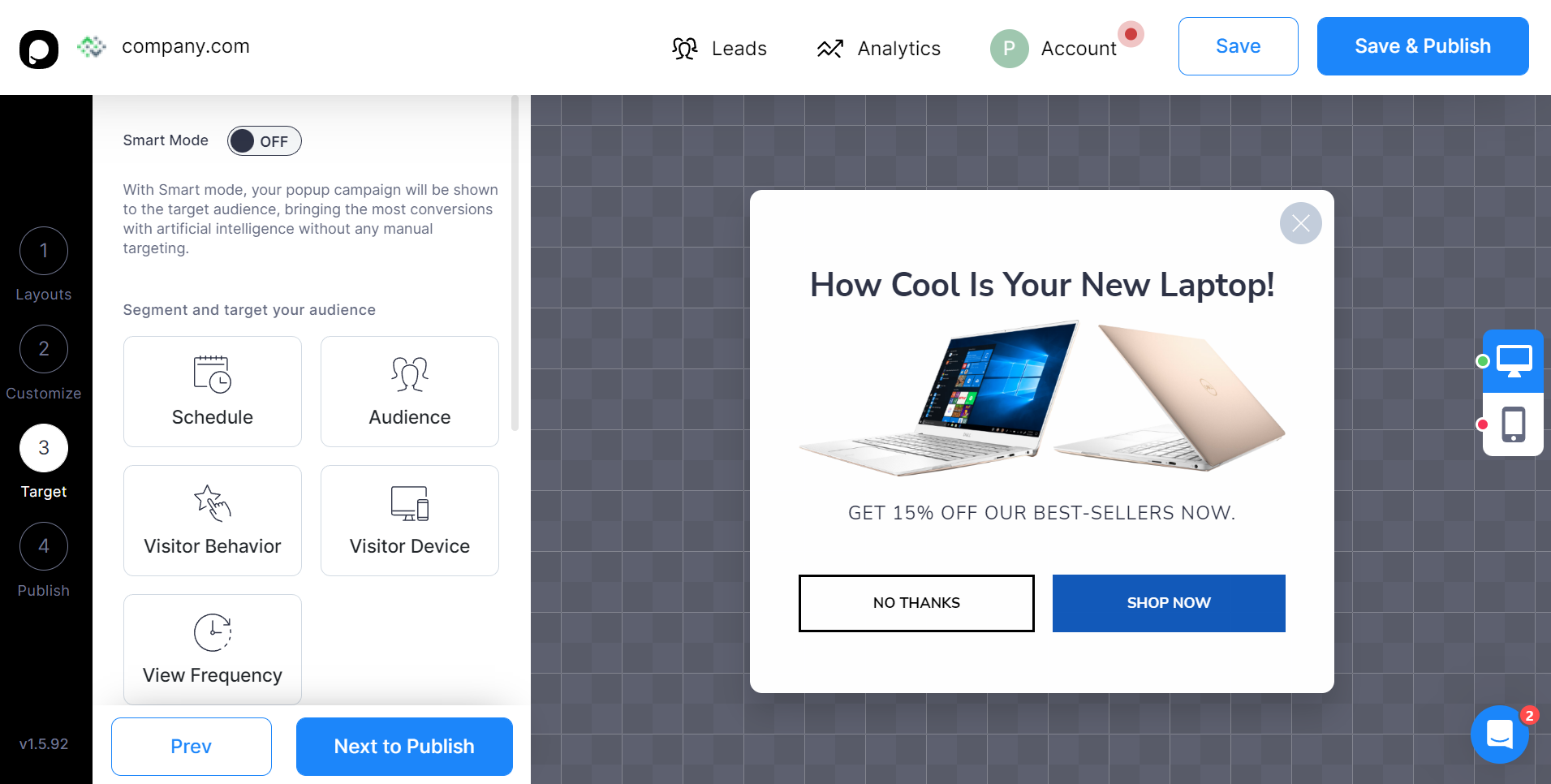 For instance, you can set the minimum time a user should spend to see your popup. Click "Next to Publish" to set up your ready popup.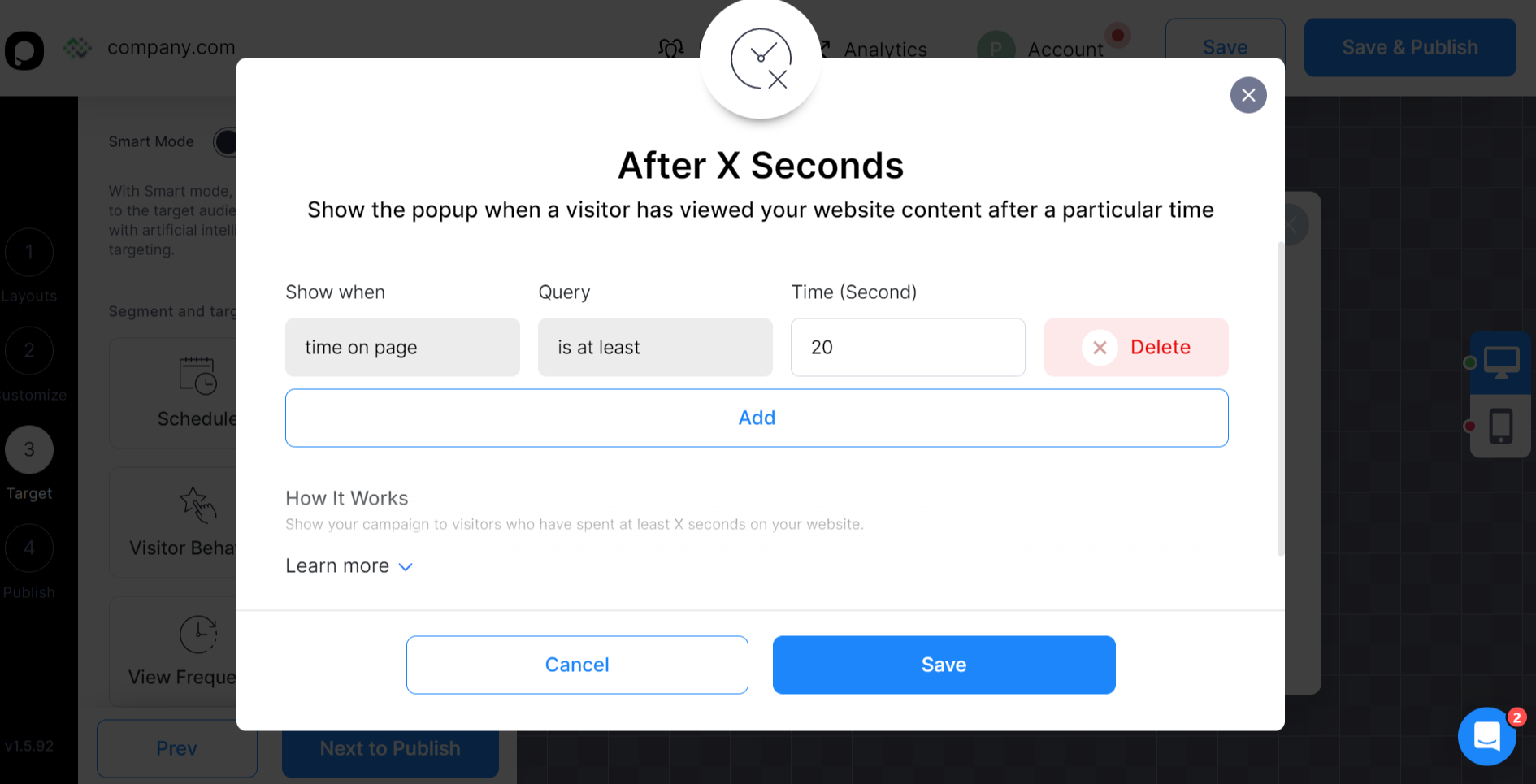 Verify your company website, add Google Analytics, set up respondent email notifications, and popup button creator, if needed.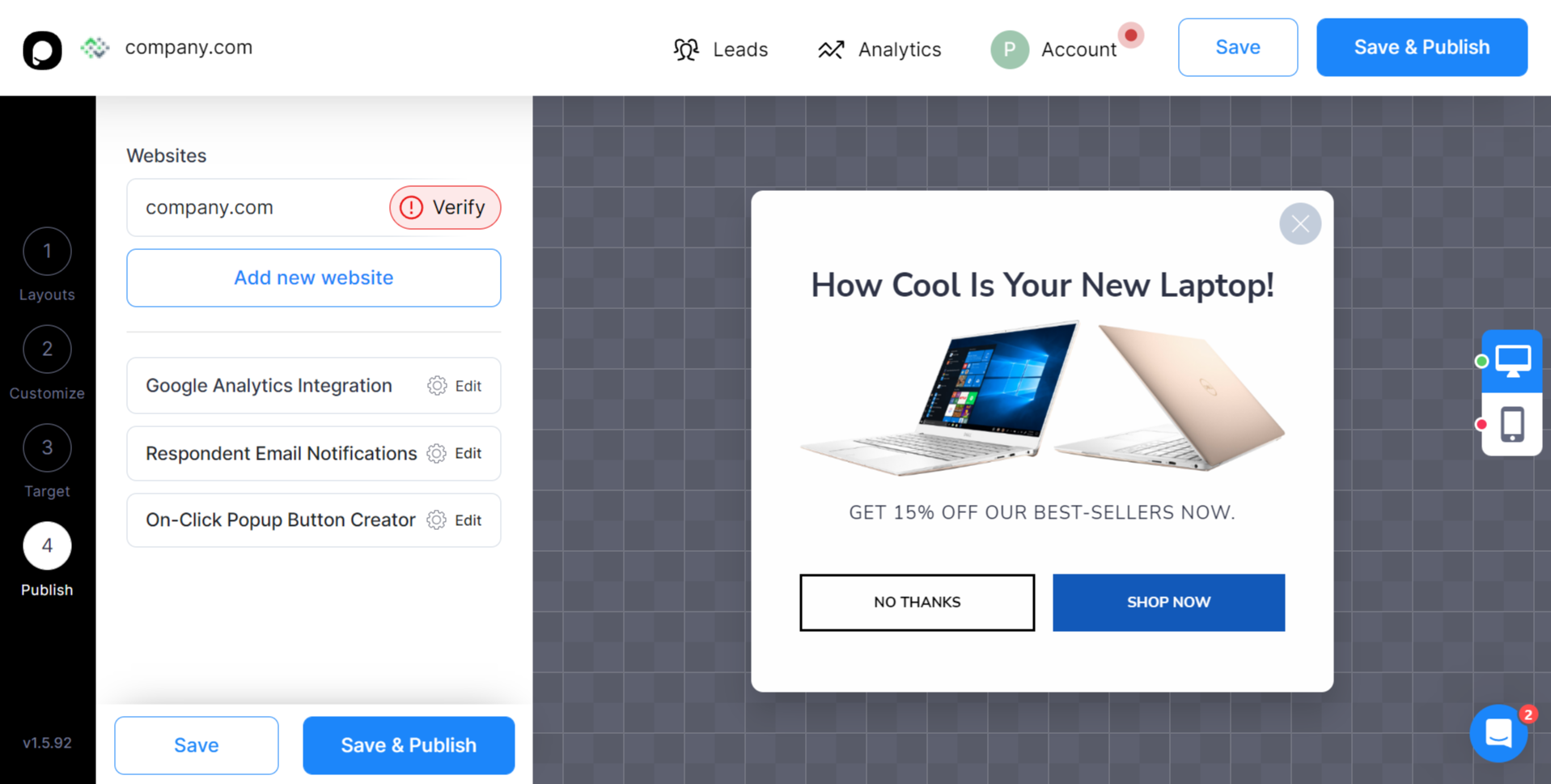 The service has a free plan and three paid plans. A free plan allows you to develop one popup. Pro and Expert plans enable you to create unlimited popups for your business and use all features to design them.
Wisepops
Wisepops allows you to turn your site visitors into clients. The platform's contextual pop-ups help you interact with users at the right moment and provide them with personalized messages. Since notifications are non-intrusive, they won't make visitors leave your site. On the contrary, they will be able to learn more about your brand and explore topics that interest them.
With Wisepops' no code builder, you don't need any skills or knowledge in coding. You can design a professional popup by applying a ready-to-use template, dragging and dropping the necessary elements, and crafting the message based on your client's behavior. Targeting features enable you to split your prospects into segments and reach them at the perfect time. Once you finish creating your popup and placing it on your website, you can use one-click A/B testing. This feature helps you see the effectiveness of your campaign and make improvements on the go.
Before creating a popup in Wisepops, you need to select your key goal first.
Once you decide on a goal, you should choose the way to attain this goal.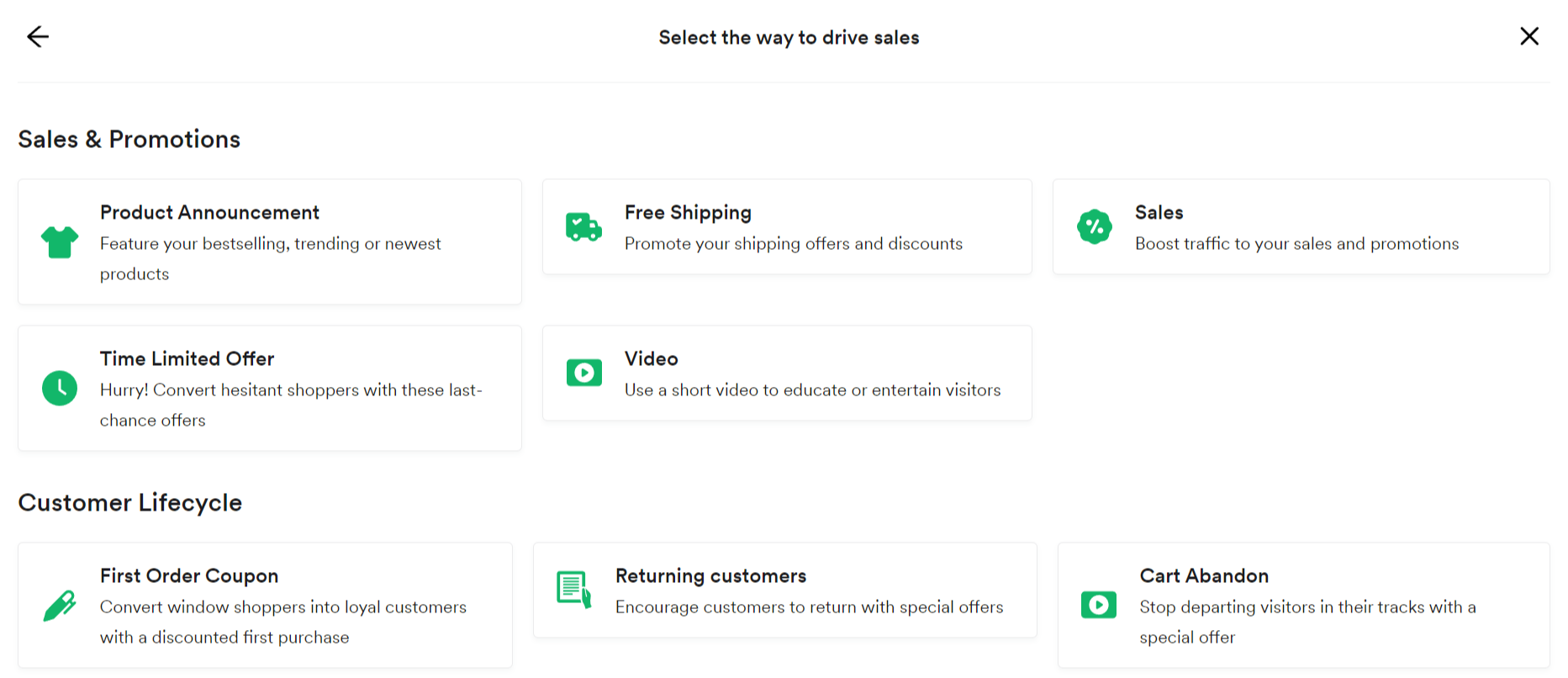 Afterward, you can start the process of development by choosing the template. During the design stage, you can drag and drop the necessary blocks, change the time of the display, select the most suitable style, set triggers, and schedule your campaign.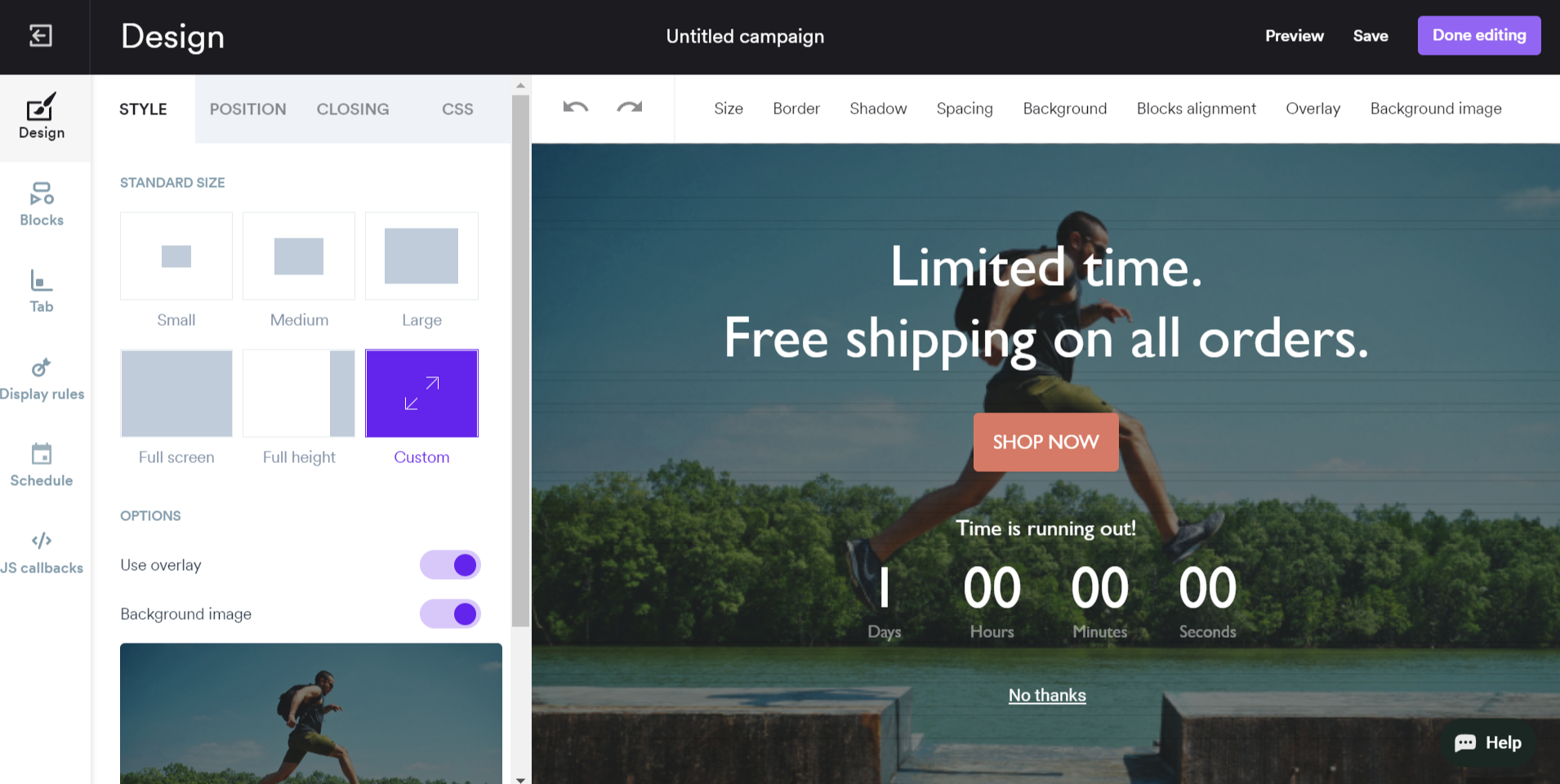 The platform allows you to try the service for free and purchase a paid plan. A paid plan costs $99 and covers 60+ ready-to-go templates, unlimited campaigns and users, advanced Shopify integration, gamification and exit intent popups, personalization, and more.
Congrats, now you know what a popup builder is and why it's essential. Consider using one of the listed platforms to attract more customers while spending minimum resources on lead generation.
References:
This article defines the term.
In this article, you'll find the best popup builders for your business.
Last Updated: 12.09.2023