Social media management is a process that involves creating content, scheduling its publishment, developing a strategy, interacting with users, growing reach, and monitoring the performance of a company's accounts on social media. It enables you to build relationships with subscribers, and publish relevant posts.
In this article, we'll unveil why social media management is vital and what it includes. We'll also tell you how to get started and how much the strategy costs. Finally, we'll uncover the top 3 best tools.
Why is social media management important?
According to Statista, there are more than 3.6 billion social media users around the world. They spend around 2.5 hours daily on popular platforms. They communicate via messengers, explore trends, and post photos and videos in their Stories.
Managing social media properly is essential to drive users' attention to your brand. That's why you need to have a social media manager. This person will analyze engagement data, develop digital campaigns, and track customer interaction trends. Once the manager succeeds in completing these tasks, your company will be visible on social media and will manage to build a community online. Social media presence is a must for every brand nowadays. It helps connect with prospects and communicate messages through different channels: ads, sponsored posts, influencer marketing, etc.
Now that you know why social media management is important, it's time to figure out what it covers.
What does social media management include?
Since the definition of social media management is a vast concept, you might wonder what tasks it covers. In general, social media manager is responsible for
creating and tailoring your brand's social media strategy;
identifying your target audience and researching their preferences, interests, and needs;
selecting the social media networks to present your company;
working out the schedule for content publishing;
interacting with leads and customers via social media platforms;
increasing social media reach;
tracking and evaluating the performance of your social media accounts.
Now that you know the tasks a social media manager should perform, let's explore the topic deeper and unveil how to manage social media properly. This short guide will come in handy both for starters and brands with established accounts.
How to get started with social media management?
We've prepared a step-by-step guide for those who want to promote their brands on social media yet don't know how to get started. Follow our instructions to figure it out.
Research your target audience. The first thing you should do to develop an effective social media strategy is to determine your target audience. Identify the core characteristics of your ideal customer: occupation, interests, pain points, age, gender, and location. It will help you understand customers better and tailor a strategy that addresses their needs and solves problems. Consider creating a buyer persona, and you'll have all these points covered in one file.
Select social media networks. At this stage, determine the most effective social networks to implement the strategy and reach your target audience. Focus on socials your customers use most often. Consider developing profiles on the most popular platforms like Facebook with 2.9 billion active users, YouTube with 2.2 billion, WhatsApp, and Instagram with 2 billion users each. Then, prioritize the platforms your target audience prefers. To identify these social networks, review your demographic data. With a social media audit, you'll be able to evaluate engagement on different platforms and find the top-performing.
Develop social media strategy. Your social media manager should pay attention to each platform to develop a strategy for each of them. To create a comprehensive strategy, you'll need to include your target audience, goals you want to accomplish, values, industry information, and brand voice.
Design profiles. Make sure that your social accounts comply with your brand voice, personality, and visual assets. Customers should recognize your brand at a glance. Publish professional images and videos to make a great impression and encourage them to follow your account. Pay attention to social media design. It's crucial to create an appealing header and recognizable background on Twitter, a catchy profile picture on Instagram, and a brand header and profile picture on Facebook.
Create a publishing schedule. Have your content calendar ready for each of your accounts on social media. It's a great idea to leverage helpful tools like Hootsuite, Zoho, Sprout Social, or Loomly because they cover this function and help you with publishing time. In a content calendar, you can schedule the date and time of your publishing. Plan your posts, and they will be shared with your audience automatically. Some platforms even recommend the best time to publish your content to maximize engagement and relevance.
Interact with users. To earn users' love and trust, make day-to-day communication with customers your main priority. Interact with followers through your content and reply to their comments. Communication directly affects your brand reputation, brand awareness, and customer loyalty. Consider using social management software to track users' impressions and messages on multiple networks from a single software. Reply as fast as possible either by using a special service or manually.
Increase your reach. You can consider different options to increase the number of subscribers: run ads, share content with high engagement trends, or cooperate with influencers. After implementing these marketing methods, your brand will gain exposure and attract new followers. Influencers will promote your product and recommend it. After, people will be aware of your product and consider a purchase.
Track content performance. Finally, monitor the performance of your marketing efforts on social media. Look through the top-performing content, see the analytics of your ads, and the effectiveness of campaigns. Analyze your efforts to figure out your strengths and weaknesses. Audit your content and strategy to eliminate problems.
Now that you know how to get started, it's time to talk about associated costs.
How much does social media management cost?
The size of your business directly influences your future expenditures. If you plan to run a startup, you'll need to consider the most important aspects your business relies on. So, to ensure proper work of your networks, you should allocate a budget to pay a salary to your team, including a social media manager. To monitor your performance on social media, you'll also need to pay for various tools. The software is essential for monitoring social networks, using analytics to evaluate user engagement, scheduling, and content creation.
Besides salaries and tools, you'll need money to create quality and appealing content. You'll need to pay for motion graphics, video, graphic design, copywriting, etc. To promote your content on platforms like Instagram and Facebook, you'll have to create ads for these networks and pay a certain amount of money to make them work.
Now that you know how to calculate the budget, so it's time to find out how much it will cost to implement a special tool.
Top 3 Best Social Media Management Tools
Hootsuite
Sprout Social
MeetEdgar
We've explored the most prominent companies to provide you with the 3 top-performing services. One of these platforms will help you manage your social media efficiently.
Hootsuite
Hootsuite helps you maintain a strong social presence. The platform offers you to integrate your account with Facebook, Instagram, YouTube, LinkedIn, WhatsApp Business API, Live Chat, Pinterest, Twitter, etc. Hootsuite gives you access to a calendar view where you can see all your scheduled and published posts. Its calendar enables you to map out all your campaigns and suspend them once your business faces unexpected circumstances. The platform's Composer helps you create high-performing content. With its help, you can edit your images and access asset libraries. When you publish a video, the system will automatically adjust it to match your and the network's quality expectations.
The Bulk Composer empowers you to boost engagement by choosing the best times for publishing. The service will give you a hint on when it's better to schedule multiple posts at once. When the post is ready, you'll see the recommended time, tailored to the chosen network.
Hootsuite enables you to monitor trends on social media and users' comments on different social media in a single view. With its help, you can address customer inquiries by assigning tasks to appropriate team members. You can track the performance of your campaigns through multi-channel analytics.
The platform invites users to have a 30-day trial before purchasing a paid plan. However, you'll need to specify your credit card details to get this opportunity. The service offers four paid plans. The cheapest will cost you $49 monthly for one user. For this price, you'll be able to manage ten social accounts, schedule multiple unlimited posts in advance, and access messages in one inbox.
Below you can see Hootsuite's dashboard with all user's tweets and reactions in one place. You can reply to readers' comments when necessary.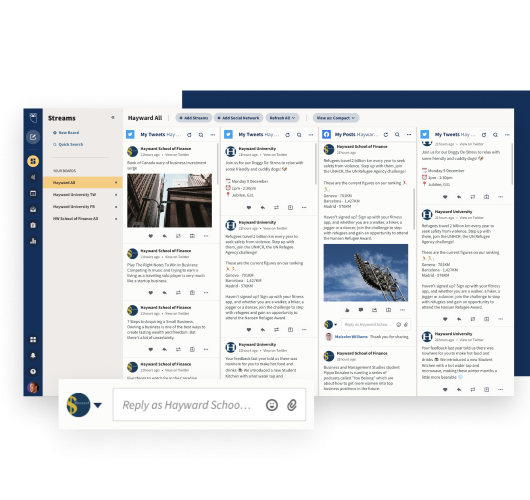 Free plan: 30-day trial.
Paid plan: From $49 per month for one user.
Sprout Social
Sprout Social comes in handy when you need to drive engagement. The easy-to-use software opens access to a smart inbox. It allows you to consolidate all networks and monitor them from a single platform. Sprout Social can't leave users without your attention. Every time you have an increase in message volume, you'll be notified. The platform also cares about your brand reputation. It enables you to manage reviews on networks like Facebook, Google My Business, and TripAdvisor. With Bot Builder, you'll be able to create chatbots and reduce the response time to incoming messages and customer issues.
Task Assignment feature takes control of your teams and tasks. You'll be able to delegate tasks to certain team members to manage customers' problems. After, the service will evaluate the efficiency based on completed tasks. You can tag the received messages and sort them based on your workflow, goal, or marketing strategy. Better yet, you have the chance to make use of Social CRM to access conversation history and contact details to give relevant answers.
Unlike Hootsuite, Sprout Social provides users with a 30-day trial without asking for user's card details. Besides a free trial, the platform has three paid plans: Standard, Professional, and Advanced. The Standard requires you to pay $99 per month. This plan covers five social profiles, an all-in-one inbox, content calendar, CRM tools, paid promotion tools, and more.
Below you can see the publishing calendar in Sprout Social. You can add new posts and schedule their publishing time and date.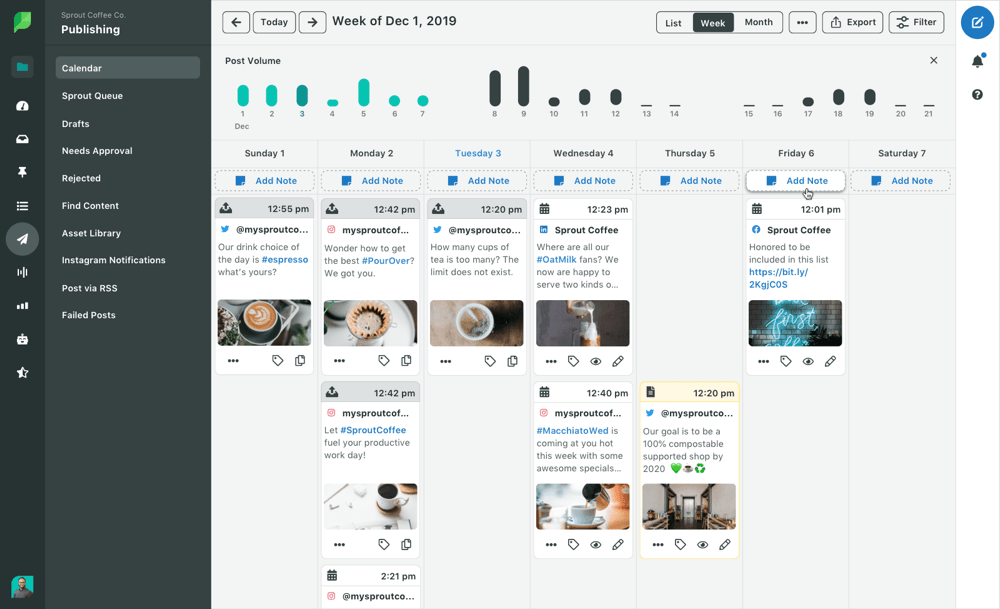 Free plan: 30-day trial.
Paid plan: From $99 per month for one user.
MeetEdgar
MeetEdgar is a social media tool designed to save time handling your business accounts on social media. The software has an ultra-organized library. It means that your posts will be sorted and organized into an easy-to-search library so that you can save your posts automatically and manage them later. With MeetEdgar, you'll be able to consistently share relevant content with your audience. Its weekly automation schedule allows you to plan an unlimited number of posts and publish them at a specified date and time.
The platform ensures that you publish the right content. MeetEdgar schedules social posts by category so that you share the right updates at an appropriate moment. Besides, you'll have access to the presets to improve your posts. The software builds a library of evergreen content and re-shares old posts with users when you have nothing new to publish. Once you create a post, the service provides you with auto-generated variations and you can choose the best among the available options. MeetEdgar also enables you to track statistics of the performance of your campaigns. Better yet, this tool ensures live support.
Unlike Hootsuite and Sprout Social, the company provides users with only a 7-day trial of its software. Those who are satisfied with the service and want to use it every day can purchase a paid plan. The company offers two plans, the price of which starts at $29.99 monthly. This plan includes five accounts, unlimited posts, four content categories, and more.
Below you can see MeetEdgar's dashboard with different categories. You can manage your content categories and add new.
Free plan: 7-day trial.
Paid plan: From $29.99 per month for one user.
Congrats, now you are aware of the best tools you can consider for your business. Use our guide to get started with handling social accounts and see visible results in communication with your target audience.
References:
This article defines the term and covers the task of a social media manager.
In this article, you'll find how to choose the right platforms for your social media management.
Last Updated: 12.09.2023