Word-of-mouth marketing is a strategy that relies on customers' experiences with certain brands and recommendations they share with their friends and family. It's a form of free advertising triggered by the impressions, feelings, and thoughts of buyers.
In this video, Neil Patel reveals how to leverage word-of-mouth marketing.
When the Internet is overwhelmed with various marketing techniques, it can be hard to find organically promoted brands. However, the easiest way to achieve it is to treat customers well, ensure the quality of your products or services, and keep doing what you do best.
In this article, we'll discuss the importance and pros of word-of-mouth marketing, find out how to use it, and explore several examples.
Why is word-of-mouth marketing important?
Today, every brand strives to be visible on social media and rank higher on Google. However, organic promotion is more important. If a brand cares about its customers and creates a great product, its consumers can promote it. They can easily share their positive experience and bring in new buyers. Such companies won't need too many marketing techniques that don't always bring tangible results.
Nielsen informs that 83% of customers who participated in its survey trust companies their family and friends recommended. Experiences of other people with a specific brand often become sources of information for many consumers since they are more relatable and trustworthy.
Any customer can become a part of word-of-mouth promotion in a variety of ways. It can be an unpacking video on Instagram Stories, a review on a website, a hashtag, or a tag. As a result, people can see this content and think about interacting with a particular company too. This way, brands can reach new consumers and drive conversions. A good product plus a positive experience with a brand can help attract more loyal customers. This, in its turn, allows companies to obtain good profit.
Let's uncover the advantages of this strategy and learn more about it.
Benefits of Word-of-Mouth Marketing
A brand doesn't necessarily need pre-roll ads, site optimization, paid advertising, and other marketing tools to attract new customers. Consumers satisfied with a product can easily popularize a company and help it gain more profit. First of all, the strategy doesn't always require additional costs and helps reach out to new clients who will be loyal to your company. Secondly, recommendations from friends and family always drive interest and trust in a certain brand. This is a chance to build your image as a credible, reliable, and trustworthy brand.
Companies that apply word-of-mouth promotion obtain increased conversions, higher sales, and wider reach. All these factors create a great incentive for higher profits. The more people learn about your brand, whether from their friends' posts or direct recommendations, the higher your brand awareness and the possibility of brand engagement will be.
Now that you know the advantages, let's proceed to the next section to learn how to leverage word-of-mouth marketing.
How to Use Word-of-Mouth Marketing
Consider influencer marketing
Create hashtags
Obtain reviews
Offer freebies
Conduct giveaways and contests
Prepare referral programs
Be ready to provide your clients with an excellent experience to make them discuss your brand and bring in their friends. Read on for our list of best practices for word-of-mouth promotion.
Consider influencer marketing
With influencer marketing, brands can show the benefits of their products on famous people's social media pages. Opinion leaders can help you promote your product, reach a bigger audience, and encourage their followers to purchase.
This type of marketing is a perfect choice because statistics say that 49% of customers trust influencer recommendations. Nowadays, this type of marketing is one of the most effective due to the level of trust that opinion leaders have built up with their following.
The partnership between Reese Witherspoon, an actress and influencer, and Biossance, a skincare brand, is an excellent example.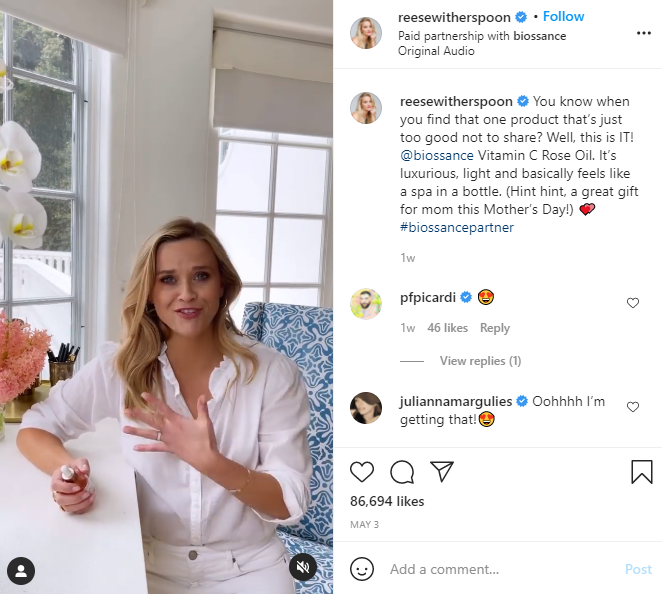 Create hashtags
Social network updates encourage brands to rely not only on popular hashtags but also to explore emerging trends of this modern marketing tool. They enable your company to make your product visible and improve your brand recognition and customer engagement. Some brands even make changes to their hashtag strategy to increase their reach. You can use community, branded, campaign, and event hashtags to reach a wider audience and see customers tagging your brand and promoting it organically.
You can see a branded hashtag of Sephora, a French retailer of beauty products. The company's customers often use the brand's hashtag to share their experiences and recommend Sephora.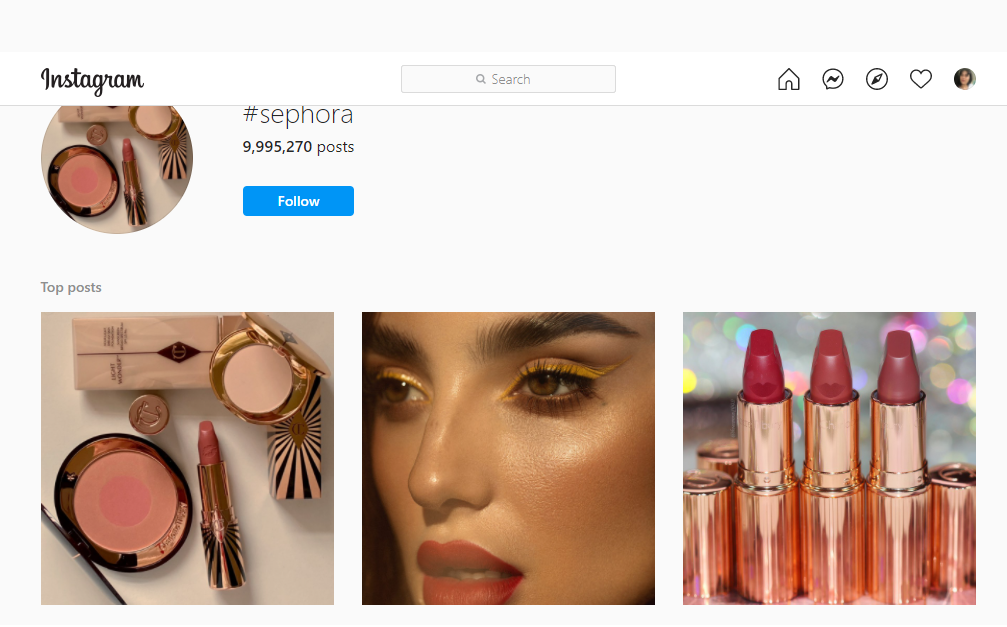 Obtain reviews
Now, when all customers have social media accounts and access to the Internet, it's not difficult to find necessary information about a brand or its product when considering a purchase. One of the most important things consumers pay attention to is reviews. They are social proof of a brand's quality. Good reviews are helpful since they increase conversions and make your brand look trustworthy.
As of 2020, nine out of ten customers read reviews before buying something. Thus, a brand should have a good reputation and satisfied clients. Hence, let your customers be influenced by good reviews, not bad ones. Consider adding reviews on landing pages of your products' features or under your product cards to ensure that visitors will see them.
You can see an example of how to implement that on the DirectEats site.
Offer freebies
People like to get something for free, and brands often give them such an opportunity. You can often encounter various freebies on social media platforms of different businesses. This is how companies try to attract and engage new customers who probably already use the products or services of other brands. The successful freebies can bring repeat sales and customer loyalty to your company.
For example, Sephora offers customers to choose a gift for their birthdays.
Conduct giveaways and contests
The size of your brand is not essential when it comes to giveaways that can bring some exposure to your company. Opening a giveaway will not only enable you to reach your target audience but increase your customer base as well. Your clients will share the news about your giveaway with their friends and family and encourage them to participate. This, in its turn, will enable your followers to show their activity and spread information about your brand.
Let's take Kopari, for example. The company that offers coconut beauty products decided to conduct a giveaway for its followers.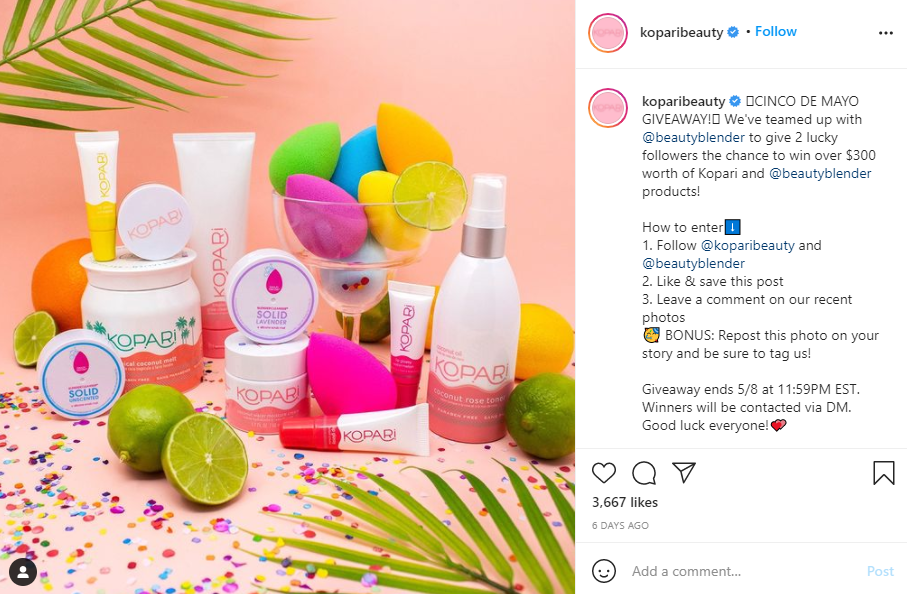 Prepare referral programs
If you aim to achieve success in your word-of-mouth promotion, consider implementing a referral program. Offer some perks to your customers to drive interest and promote your company effectively. You can provide your regular customers with a financial reward or a free product as an appreciation for referring a friend.
For example, some Spotify users got prizes for referring their friends. The company offered one month of using the service for free for existing users and one month of premium for new users.
We hope that you'll make use of the strategies above, and now we'll walk you through several examples.
Examples of Word-of-Mouth Marketing
Many business owners are ready to implement word-of-mouth marketing strategies to drive sales and generate buzz around their brands. Several examples from big companies will demonstrate how the approach works in real life.
Coca-Cola and the "Share a Coke" campaign
Coca-Cola, known for its soft drinks, decided to create a special "Share a Coke" campaign. This step allowed the brand to attract new customers and encourage them to buy the famous drink. Coca-Cola aimed to make people share a drink with their friends to have a wider reach.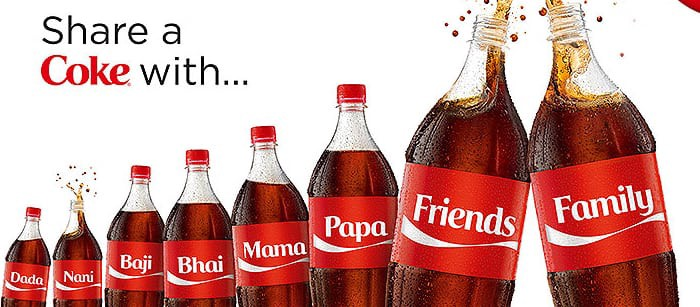 Dropbox and free space
When it was first launched, Dropbox used a referral program to spread its message and make more and more people use its services. Everyone can be enticed by free products. The file-hosting service leveraged this fact by offering 500 MB of bonus space for referred customers.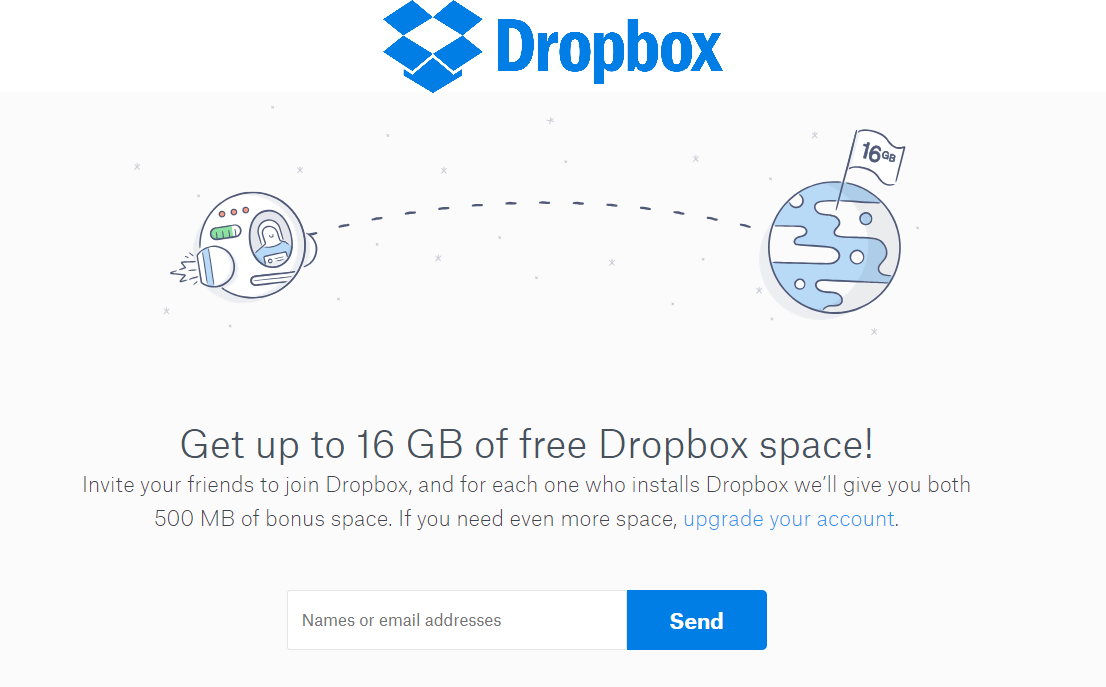 Netflix and an army of opinion leaders
Netflix succeeded in obtaining a vast number of subscribers by using influencer marketing. The popular streaming service noticed that many consumers trust influencer recommendations. The power of opinion leaders made Netflix stand out and grow exponentially.
Your audience is the best way to promote your brand organically without a huge number of modern tools and approaches. However, you can't turn your consumers into raving fans at once. To win their love and attention, you'll need to do your best at creating a good product and providing consumers with excellent customer service and experience.
Resources:
Last Updated: 23.03.2023