Have you ever wondered why some coaches have an extremely engaged and loyal audience on social media while others barely get any attention, even if they publish content just as regularly? Tricky algorithms and paid advertising aside, this has a lot to do with the way the latter position themselves. Not everyone recognizes their value at a glance.
Users are getting skeptical and wary of pseudo-experts and superficial, salesy content — just 6% of consumers say that they trust people they follow on social media to give an honest product or service recommendation. But you can combat this fatigue by building real trust with your audience and showing that you, in fact, can walk the walk.
If you prove that your content is backed by many years of practical experience and your knowledge already helped dozens, if not hundreds, of people improve their life, you'll boost your chances to turn your followers into clients. Let's talk about how to position yourself as an expert — we'll give you practical tips and real-world examples to draw inspiration from.
What is expert positioning?
Being an expert isn't always self-evident. You need to fight for your audience's trust and show your expertise in action for them to listen to you. Expert positioning means exactly that — it's the process of solidifying your expert status. Or, in other words, it's that aura of genuine respect and accomplishment attached to your name, it's your reputation.
Learn how to develop and maintain a positive online reputation from our blog!
Positioning yourself as an expert is the best way to show your potential clients that you're excellent at what you do and that they can learn something useful from you. Expert positioning doesn't necessarily mean being all serious and formal and mentioning your credentials in every second post — you just need to stay true to your mission.

Let us give you an example. Here's a blog of a pediatrician who does a fantastic job both as a doctor and as an influencer. Her content actually influences hundreds of thousands of overwhelming parents seeking science-backed, realistic advice, and that's what helped her establish her expert status on social media.
Dr. Cathryn also promotes her Baby School, a weekly newsletter containing clear and solid parenting insights.
In the following sections, we're going to be focusing on expert positioning for personal brands, but fear not, our tips and examples are just as relevant to companies wishing to improve their brand positioning and tone of voice.
Who can benefit from positioning themselves as an expert?
Anyone who's selling their services or products online can benefit from building an expert image for themselves on social media and other platforms.
It's always worth it to strive to become the go-to expert in your niche, especially if yours is a competitive one and you fully rely on the Internet to find new clients:
coaching;
financial advice;
counseling;
content creation;
marketing;
design;
web development;
craftsmanship;
art;
beauty and fashion;
teaching;
psychotherapy;
public speaking;
entertainment;
health;
sports;
nutrition.
The list goes on — any type of solopreneurship or freelance requires a strong personal brand, and, therefore, an expert status. Thankfully, it's never too late to start investing time, money, and effort in your expert positioning because it has a cumulative effect.
5 tips on how to position yourself as an expert
We've collected a few ideas that can help you get started or diversify your existing expert positioning strategy.

Tip #1 Share value
Instead of directly showing off your credentials, you can demonstrate your expertise more in a more subtle way. Turn your knowledge into actionable pieces of advice, reveal some of the industry secrets, debunk myths, or offer a glimpse behind the curtain.
If you are into fashion history, sewing, or something in between, you'd come across Bernadette Banner, a dress historian and filmmaker. Even though her expertise is seemingly super niche, her YouTube channel has amassed 1.3 million subscribers — because she packages her knowledge into incredibly educational, inspiring, and entertaining long-form videos.
She also teaches hand sewing on Skillshare and has recently published a book on the same topic, and it's her unique expert status and eloquence that attract genuine attention to those products.
Tip #2 Carve out your own niche
Another way to highlight your expertise is by developing a one-of-a-kind brand voice that fully reflects who you are as a professional and what you stand for.
Let's take Christos Nikas's Instagram blog as an example. His posts are very recognizable because they contain none of the usual glossy Instagram aesthetics or any other social media cliches, and his language is very direct. It's not everyone's cup of tea, but exactly that unapologetic approach brought him 162K of active and loyal followers who see him as a true content expert.
He himself recognizes that his approach to social media marketing is quite unique and shaped this way on purpose.
The moral of the story is to stay true to yourself and not spend too much time trying to appeal to everyone — just focus on the people whose values resonate with yours, and they'll quickly recognize your personal brand authority and thought leadership.
Tip #3 Create a community
If you're convinced that your message is valuable and can help many people become better versions of themselves, go ahead and build a community around that message — it will help you achieve multiple goals.
Firstly, you'll encourage your audience to communicate with one another and exchange opinions and experiences, which will inevitably boost their trust. Secondly, you'll get to create unique offers and exclusive features for your community to show your appreciation. Finally, you'll get an opportunity to deepen customer relationships and turn them into your brand advocates.
That's what Dr. Nicole LePera does. She is a psychologist with more than 5 million Instagram followers, and the number of people wanting to join her SelfHealers Circle, a private community, is so high that there's a waiting list.
This is a beautiful example of successful demand generation and expert positioning. The influencer offers not just bite-sized self-help advice but also in-depth content such as podcasts, books, live Q&A sessions, workshops, tools, guides, and so on.
Tip #4 Don't take yourself too seriously
Expert positioning doesn't have to be boring — there are many ways to demonstrate that you know what you're talking about. You can be as humorous or playful as you want as long as your content hits the spot.
You might have come across viral videos by Knowledge Suave — he's often sharing clever tips for aspiring entrepreneurs, but he's also creating more down-to-earth content about boring office jobs, relationships, and other trivial stuff. Surprisingly, it's these funny videos that help him position himself as an expert.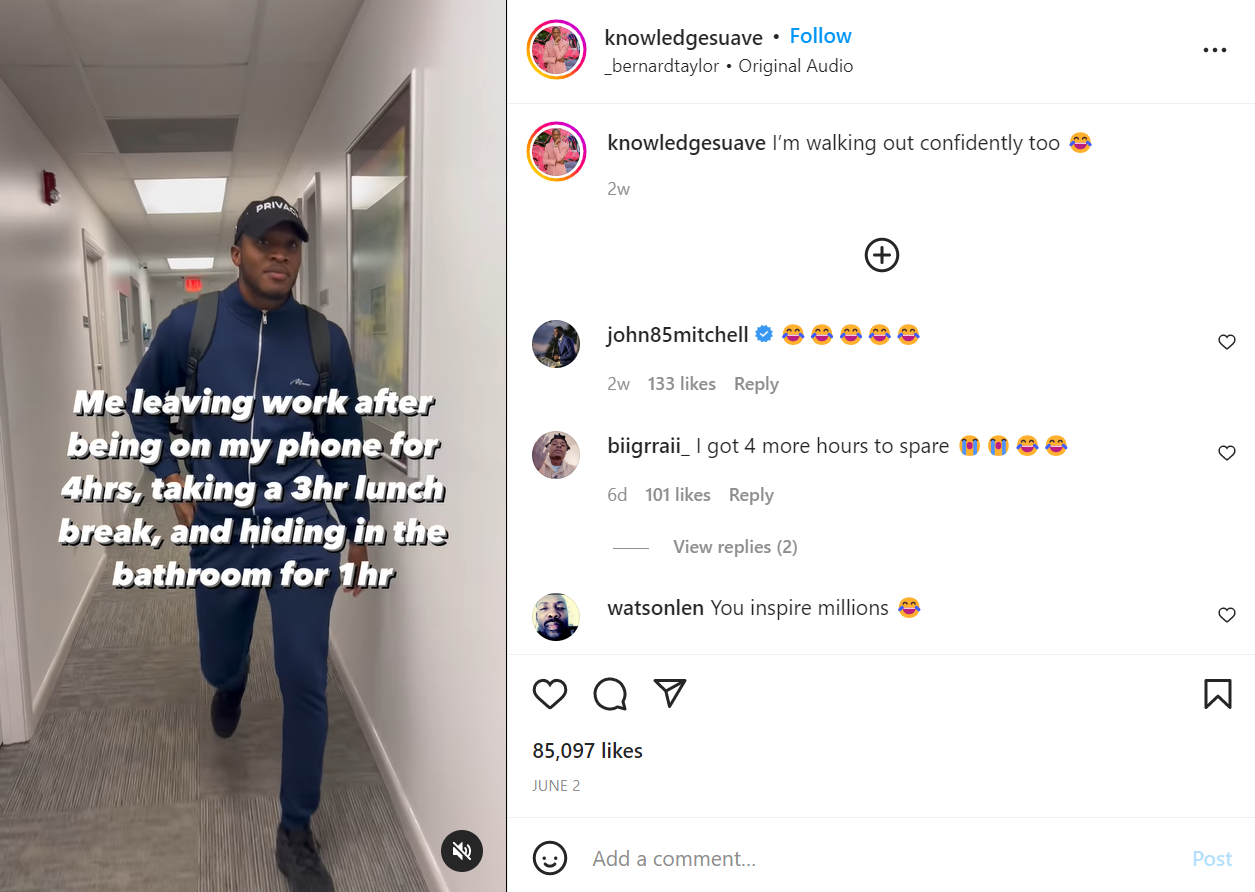 Once you click on the link in his bio, you'll find out that he's actually an in-demand speaker, entrepreneur, and investor. He's also hosting webinars, selling books, and teaching courses on how to monetize one's passion and earn passive income.
The fact that he's making hilarious and relatable content about the 9-5 routine brings us to the conclusion that he definitely knows what he's talking about and that he's been there himself and managed to get out of a rut.
Create a converting link page for Instagram bio in minutes to get more customers from social media!
He effectively distinguishes himself from other financial coaches who show off their wealth and status without realizing how unattainable and irrelevant their content is to an average person trying to make a living while pursuing their dreams.
Tip #5 Use social proof
Never underestimate the power of customer testimonials, especially if you're just working on establishing your expert status. Tell your clients' success stories and how your products or services helped them achieve their goals — your audience will see that you're offering real value and expertise.
Let's take a look at Tyler Archer's Instagram account. He's a sales coach helping coaches and solopreneurs win more clients, and he's regularly sharing valuable insights and ideas to solidify his expert status and grow his audience.
It's not just killer content but also positive word-of-mouth that drives potential clients to him. He's openly sharing his clients' successes and mentions their names and job titles whenever possible to prove that his testimonials are absolutely legit.
Anyone can easily track down these people to make sure that they're in fact successful solopreneurs who have just boosted their sales skills, so sharing feedback is a great expert positioning move.
5 ways to showcase your expertise through content
Double down on creating in-depth content that will allow your skills and knowledge to shine through:
Create a newsletter where you'll share expert tips and opinions with your most devoted and interested audience.
Organize and participate in interviews and collaborations to connect with other industry experts and reach their audience as well.
Start making expert videos to create a more personal connection with your audience.
Start a podcast and invite other opinion leaders for insightful conversations.
Publish an eBook and use it as a lead magnet to build your mailing list.
These are the most powerful content formats, but you can also throw a few other formats into the mix, like case studies, success stories, or Q&As.
Strengthen your expert positioning with SendPulse
You're one step away from creating an effective email campaign that can turn your subscribers into loyal fans. Try SendPulse for automating all your customer communications — we offer an intuitive email builder, audience segmentation, A/B testing, campaign analytics, a built-in CRM, seamless integrations, and more.
We can also help you keep track of sales, too. Create a free account or sign in to see how easy it is to use all our marketing and sales automation tools from one place. We also have an extensive Knowledge Base and 24/7 support to help you with onboarding.