The rise of the internet has left a striking imprint on the way users connect with businesses. With in-person communication having been at the marketing forefront for years, the arrival of chatbots has a bunch of new features to upgrade your business.
SendPulse has recently updated its Facebook chatbot, so in this entry, we'll introduce the chatbot marketing strategy and top everything up with some Facebook chatbot examples for various verticals. But first, let's clear up what a chatbot is.

What is a chatbot?
A chatbot is a program developed to simulate human conversations through the internet. Communication through a chatbot resembles instant messaging as the bot can reply or perform an action based on predefined scripts and machine learning apps. When a user types in a message, a chatbot sends back an answer.
Using chatbots in your messaging routine has many opportunities to automate and upgrade your communication with customers. According to State of Chatbots Report, 37% of participants answered they would potentially use a chatbot to receive a quick answer in an emergency, while 35% of respondents would turn to a chatbot for a detailed answer or to resolve a problem.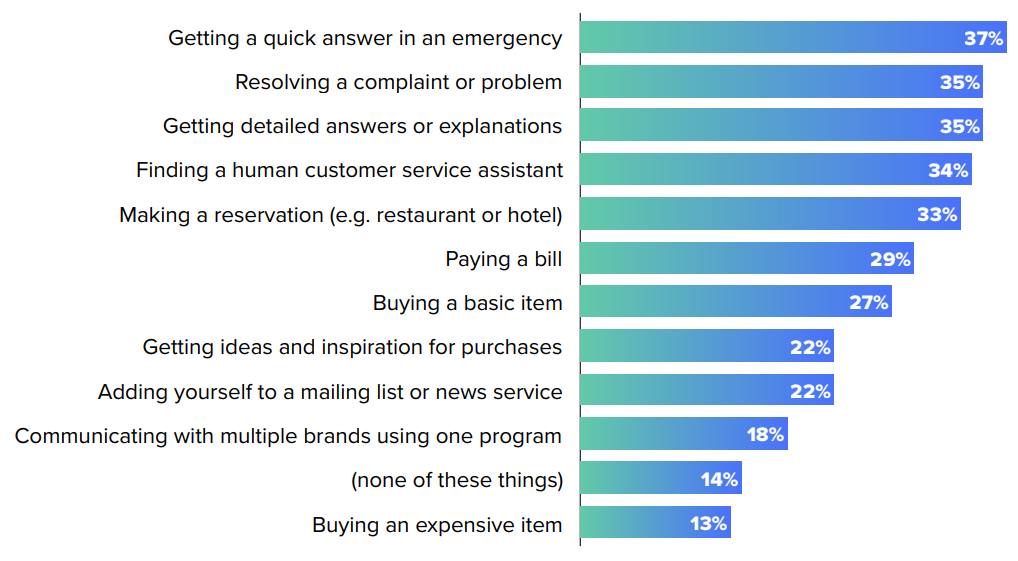 Benefits of Facebook chatbot marketing for your business
Since over 1 billion people reportedly use Facebook Messenger, integrating a Facebook chatbot in your marketing routine might bring you the following benefits:
24-hour availability
Gone are the days when you had to wait on the phone to get through to the available customer care agent. Chatbots can always be accessed and keep operating on any day and at any time of the day or night. That's quite an option if a user from another time zone is trying to reach you with their emergency while you're not active.
Workflow automation
Since chatbots operate on the data they received earlier, they can dig through it and automatically provide consistent and appropriate answers, offer related products or services based on the category a user chooses, keyword, or request they have typed in.
Improved customer satisfaction
Chatbots are programmed to repeatedly communicate in the same way without getting tired or losing their temper. This way, resolving a problem or a complaint in a prompt manner can increase subscribers' loyalty to your brand.
Saved time and money
By automating conversations that would otherwise require a member of the customer care to answer, organizations save both time and money. For example, a chatbot can answer some FAQs and pass other complicated queries to your support team. On top of that, smart use of a chatbot can help you turn prospects into customers, eventually improving your revenue.
How to implement a Facebook chatbot marketing strategy
Like any digital integration, a chatbot has to be carefully thought through. In case you don't know where to start, we've prepared a list of steps for you to take into account.
Define your goals and use cases
There are two main types of chatbots: informational and utility ones. The first type is programmed to provide the audience with information, while the second one helps to resolve a problem or provides instructions, for instance, how to complete a form and so on.
Evaluate your audience, considering typical conversations and the pain points they have with your company; then come up with the right resolutions based on the chatbot type. Clarify the overall purpose of setting up a chatbot to ensure the right direction for further conversation.
Bring in human conversation
Although a chatbot is just a robot, it still needs to respond naturally and reflect your company's tone of voice. So try to make your chatbot more personal and remember to customize typical chatbot default responses and notifications.
Provide guidance
Help users who visit your page to find the necessary information with qualifying questions. Greet first-time visitors with a welcome message to map and explain the purpose of your chatbot, its functionality, and options.
While planning the questions your chatbot will ask, keep in mind which problems you are trying to solve, the goals you've set, your location, and the peculiarities of your industry. This way you'll be able to create a scenario of a meaningful conversation that will lead a user to the acceptable solution. In case your autoreplies are not enough for the user, make sure you provide an option to connect with a representative through email.
Make it easy to unsubscribe
You never know the reason a user might want to quit your chatbot. However, you should provide them with an option to unsubscribe anytime they decide. Gym Bot, for example, enables users to click the corresponding field in the chat to stop receiving messages from the chatbot.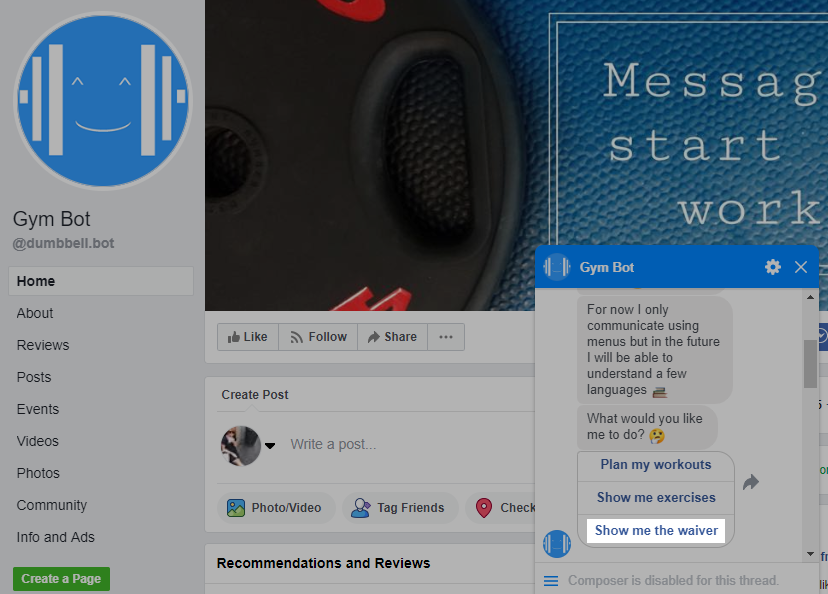 However, elaborating the Facebook chatbot marketing strategy is only half of the battle; you also need to craft a chatbot the way it helps both your business and your audience. Let's have a look at some Facebook chatbot examples to have a clearer view of what they are used for in various industries.
Facebook chatbot example for health industry
You can automate a bunch of processes in the health and wellness industry such as medical appointments, services overview, or doctors' schedule. You can also provide users with recommendations on preventive treatment, useful videos, or articles.
For example, Florence bot is a universal medical chatbot that can provide information about taking medications, checking symptoms, provide you with useful topic-related content, or even find a doctor in your location.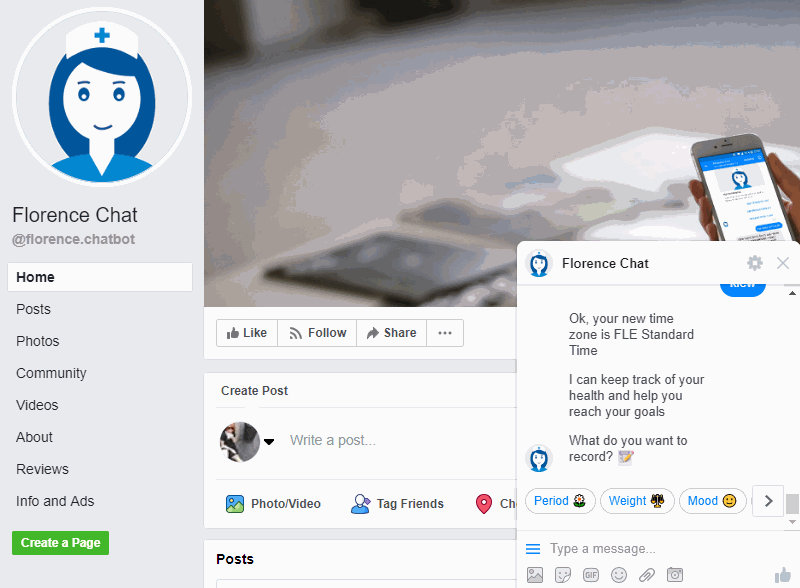 Facebook chatbot example for tourism
Use a chatbot for your travel-related vertical to help users plan their vacation. Offer the destination options, come up with sightseeing suggestions, help users book hotels or tickets without having to connect with the manager. You can also use a chatbot to send useful content such as travel guides, discounts, or special offers.
Hipmunk, for example, provides users with various options for the location a user indicates — plane tickets, hotel search, and some travel advice.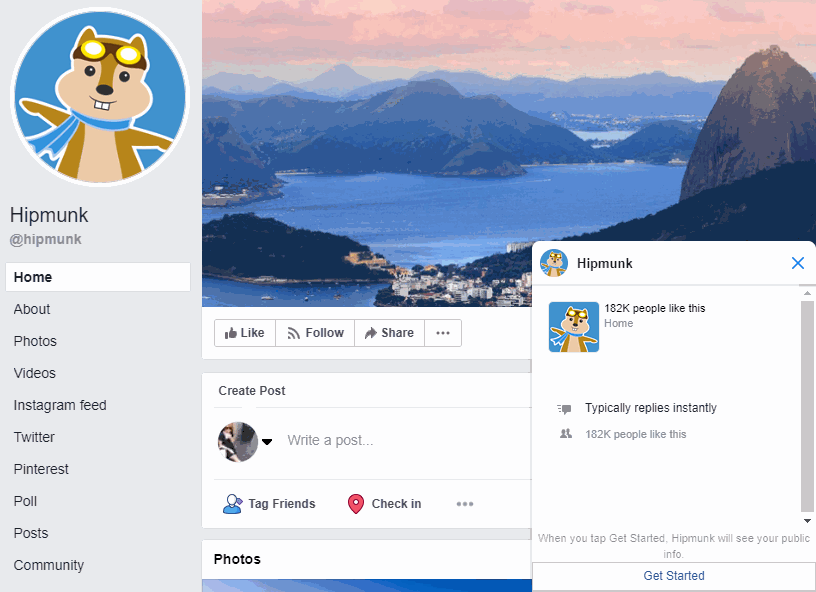 Facebook chatbot example for news services
News-related chatbots can provide users with news about their specific preferences, topics, location, or requests. Since 45% of Americans get news on Facebook, users would probably travel to your news chatbot if you had such.
CNN chatbot allows users to set their own preferences — type in a request or choose from the available options — further sending them the corresponding news.
Facebook chatbot example for online stores
Setting up a chatbot is a real lifesaver for retailers as they can automate the process of consulting potential customers, whereby they would come up with relevant offers based on the answers the users would give. For example, LEGO's chatbot requests the user's location, age, and the budget available before suggesting the products. The company's chatbot also informs subscribers about new products and shares creative ideas on how to use their toys.
Facebook chatbot example for restaurants
If you are running a restaurant business, a chatbot can come in handy each time you process customers' orders and set up the delivery. You can also use a Facebook chatbot to inform users about daily specials or invite them to your events.
This is what Wingstop use their Facebook chatbot for. Chatbot subscribers can create an order, find the nearest restaurant, and connect with the manager.
To sum up
Facebook chatbot isn't just another trendy trick to bundle into your business and engage a larger audience. A well-thought chatbot can automate the support processes, generate personalized offers for prospects and customers, and improve your revenue.
Remember the following tips while creating your Facebook chatbot marketing strategy:
Think of your company's goals and the corresponding type of a chatbot.
Study the most common communication scenarios in your industry.
Personalize questions and answers of your chatbot to ensure effortless communication.
Use SendPulse Facebook chatbot to complement your email marketing and communicate with your customers outside their inbox!