In digital marketing, Search Engine Optimization is marketers' basic tool to attract customers to their business through online platforms. In this article, we'll look into the key aspects of a winning SEO strategy, which will fuel up your digital marketing plan.

What is SEO strategy?
SEO strategy is a process of arranging the content in a way that allows the search engines to read your website and index your content. However, if you aim at building a fruitful SEO strategy, you need to understand the main types of SEO and the ways of using all of them together to show up in search.
So the basic SEO types include
On-page SEO — it presupposes keyword research, creating content based on the hot keywords, and keyword optimization by using popular keywords in the right places on your website.
Technical SEO — these are strategies to improve the non-content elements of your website like its readability, site speed, mobile responsiveness, site architecture, indexing, data structure, etc.
Off-site SEO — these are the backlinks which point to your site from other sources. Creating a high-quality backlink means having your website recommended by relevant and authoritative sources.
According to the research by Goodfirms, SEO is an irreplaceable tool inbound marketers use while promoting their content on the internet.
Top inbound marketing priority for businesses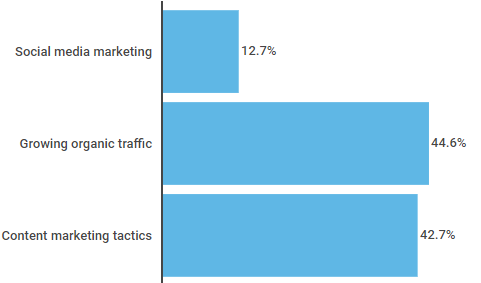 Since growing organic traffic is a part of an SEO routine, let's cut to the chase and unravel the main principles of a proper SEO strategy.
The main principles of a proper SEO strategy
Make a list of topics
We can bet the first thing you were planning to do while elaborating your SEO strategy was to look for relevant keywords. However, while keywords are a paramount part of your SEO, you should start with making a list of topics to cover.
Start off by making a list of the terms which are connected with your vertical and figure out their search volume. Then pick about 15 most relevant keywords your audience looks for and arrange them in the order of their importance for your business. Include the chosen keywords into the relevant topics to create a content plan for your blog.
Develop your blog
Setting up a blog is a key way to use keywords and drive visitors to your website as it allows you to create another webpage, fill it with the content that will rank in search engines and bring traffic to your website. While deciding on your blog strategy, think of the following things:
Choose the right keywords — create relevant content based on relevant keywords. Don't overdo the number of keywords and use long-tail keywords — like "buy red casual dress" — no more than three or four times throughout your page.
Link to a proper landing page — make sure the articles link to the promotional page of your website that will relate to the topic of your article.
Update your blog regularly — schedule your posts and update your blog at least once or twice a week to increase your page authority.
Think of link-building
Unlike two previous on-site SEO tactics, link-building is off-page and it means a process of getting external sites to link back to your website. Link-building helps to drive referral traffic to your website and thus elevate its authority.
Although organic link-building routine is a daunting and time-consuming process, it's a principal step for creating a successful SEO strategy. A proper link-building plan should include the following steps:
Measure your efforts
So how will you see whether your SEO activity is worth the effort? Here are the KPIs you have to track in your SEO activity.
Organic search
Organic search indicates the number of visits through search engine results and not through ads. When you create the content which includes hot keywords, you are more likely to pop in search engine results pages, commonly abbreviated as SERPs.
To check your organic search success, go to your Google Analytics account linked to your website.
Keyword rankings
This metric shows whether your website ranks in SERPs well or poorly for a certain search term. As a rule, pages with low keyword difficulty can elevate your website to the first page in search results.
The example below displays the performance of the top keywords that brought visitors to the website: the number of clicks on the website URLs, the number of times any URL from the website appeared in the search results, the CTR, and the average ranking of the website URL.
Conversion rate from organic search traffic
This KPI shows the number of website visitors who have converted into a buyer or a lead, if you have any conversions at all. A purchase isn't the only goal for your conversion rate — you might want users to register at your website, subscribe to your newsletters, or perform smaller actions on your site called microconversions.
Below you can see a report which shows the organic traffic along with conversions coming from it for a particular website.
However, if taking the above-mentioned SEO steps seems not so easy, do not hesitate to use the following tools to help you out.
Useful SEO tools
Check out four tools to use for your SEO routine, considering their features and pricing, and the ways how you can benefit from them.
Pricing: $99 for Lite plan, $179 for Standard plan, $399 for Advanced plan, $999 for Agency plan.
Features: With Ahrefs, you can analyze and improve your SEO and marketing activity. Use this platform to look for relevant content for your pages by finding the top keywords your competitors use. You can explore how your competitors create their link-building strategies. Also you can study the keyword ranking and find out the difficulty of a particular keyword. This way, you'll see how many websites use it and whether you'll be able to rank high in search engines by using it.
The example below shows that the keyword "email marketing", along with the high search volume, has an extremely high difficulty, which makes it hard to rank successfully in search engines.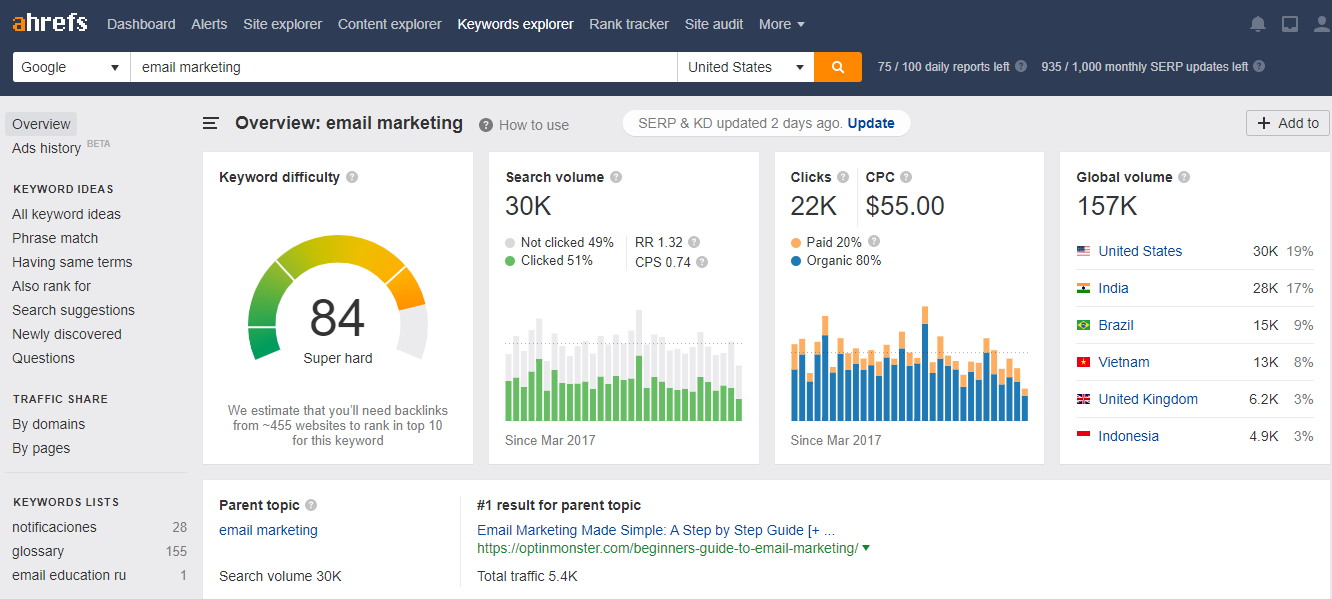 Pricing: completely free.
Features: Google Data Studio allows you to access any data sources you are using and transform this data into reports. For example, you can integrate Google Analytics and YouTube Analytics into one visual report. The service provides a visual editor and the visualisation library, so you can edit and organise your data easily.
Moreover, there's a range of reusable templates and custom design options to create your own design of the work panel. You can also choose from a number of dynamic date options and find a report within "Last 7 Days", "This Month", or choose the date manually.
Below you can see a report on the search traffic based on the data of Google Search Console.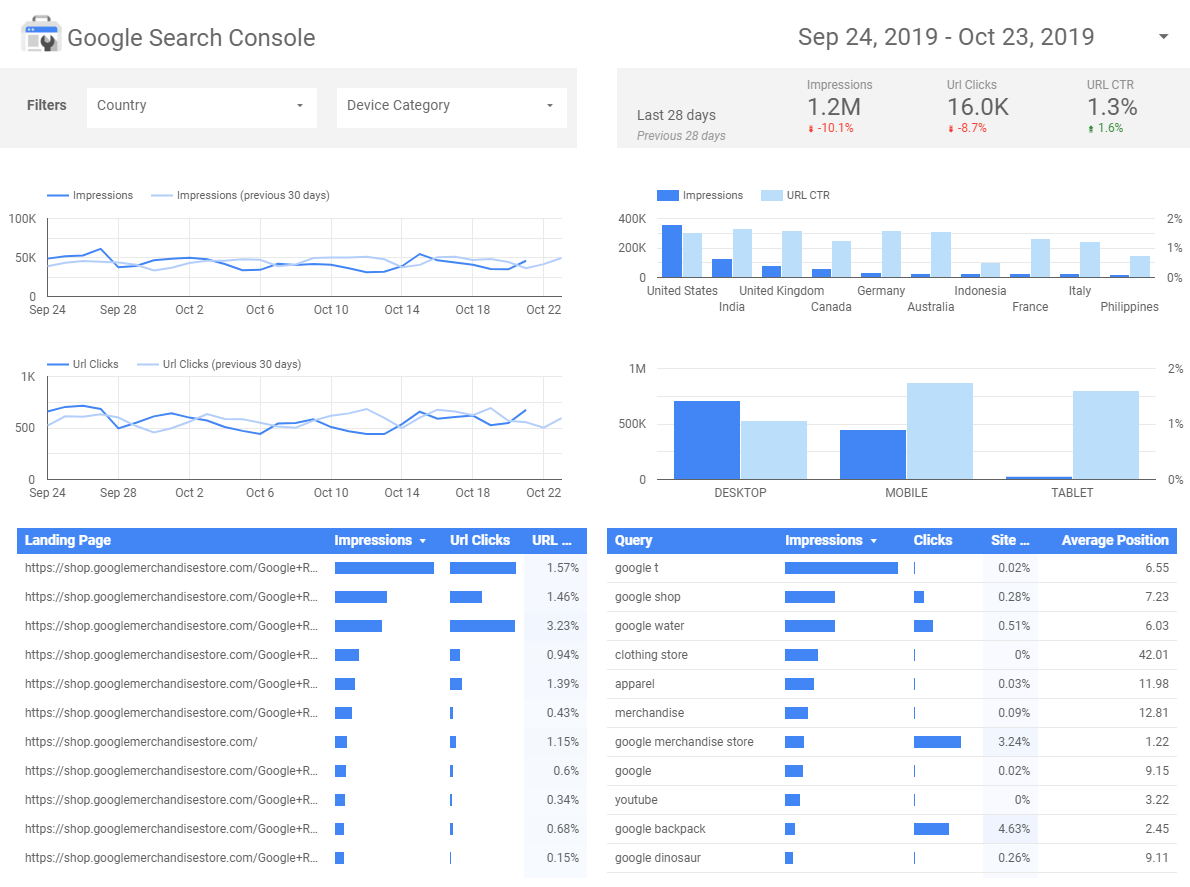 Pricing: completely free.
Features: Google Analytics provides a wide range of reports like the number of people who visit your website, their location, the pages they visit, the period of their stay at your website, and actually the keywords which bring visitors to your website. You can also use Google Analytics to see which other websites referred to yours and have sent traffic to you.
Among all, Google Analytics allows you to create custom dashboards with the most important analytics data and download it in the PDF and CSV formats.
The following report, for example, shows how many users are on the website at a particular time and which source they came from.

Pricing: completely free.
Features: Google Search Console is a web service which allows website owners to check their indexing status in search engines and improve the visibility of their websites. With this tool you can get a list of both internal and external pages that connect to your website, check your sitemap for errors, set and track your crawl rate or set a preferred domain name.
This service also provides reports on the latest and most accurate statistics, individual page count, image click count, and others.
For instance, here's a report from Google Search Console showing general website performance for a period of one year.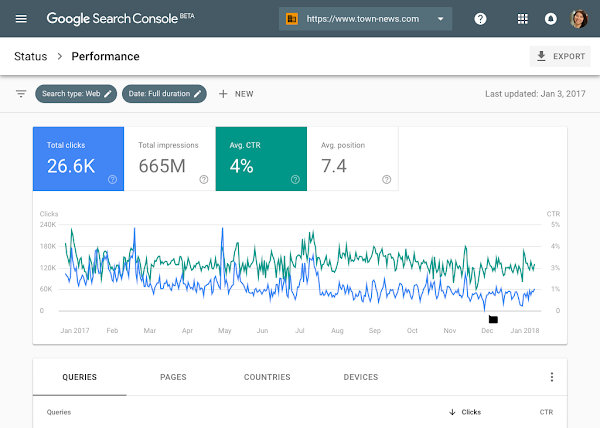 Wrapping up
Let's sum up the main steps to take while elaborating your SEO strategy:
Make a list of topics — determine key topics connected with your business;
Develop your blog — run a blog to create more pages to drive traffic to your website;
Think of link-building — create backlinks that point to your website to promote your brand and create shareable content;
Track your SEO efforts — spot the most important SEO metrics to see whether your SEO activity is successful;
Choose relevant SEO tools — find tools to help you with your SEO activity.
We hope these tips will become the backbone for your more advanced SEO plan. And while you are preparing your SEO strategy, remember to send relevant messages to your leads using all possible channels: email, SMS, chatbots, web push. In SendPulse, all of these channels are combined on one platform!