An average person comes in contact with hundreds, if not thousands, of brand messages over the course of a day. Branding is what helps consumers navigate the variety of choices and develop preferences towards companies and products that resonate with their lifestyle, views, and values.
To be recognized and differentiated in the market, you need to create a unique psychological experience for your customers every time they come across anything related to your brand. Branding isn't just a name and a logo — it's also the mixture of emotions your brand triggers.
It includes managing your brand reputation, your audience's perception, and their sentiment towards your brand. You want to touch your audience's hearts and minds, and make them recognize your brand with their eyes closed.
Let's talk about different types of branding strategies and discuss some real-life examples! This post will help you understand which direction you need to look when developing a branding strategy for your business.

Product branding
Giving your product a distinct look, tone of voice, and even personality is crucial for its commercial success. This applies to physical and digital products of all kinds — you want them to stand out on the shelf and in search results. Therefore, you need to brand your product before you let it hit the market. This includes creating product landing pages, working on your social media presence, and more.

This type of
branding
goes well beyond popping packaging. Have you ever wondered why the Monster Energy logo became so iconic? It's a pretty affordable energy drink, not so different from any other on the market, yet its shining logo has turned into a symbol of power waiting to be unleashed. Somehow, you see top athletes and pro racers wearing that very symbol on their gear — it must mean something!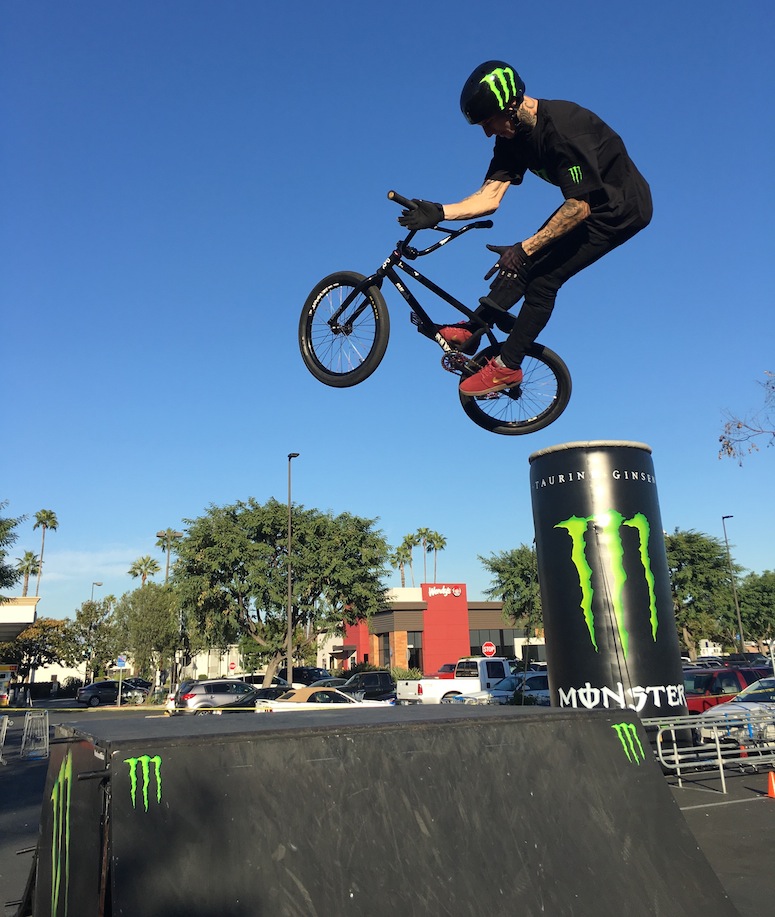 Monster Energy's secret is their smart branding strategy that turned an ordinary drink into a representation of a free, risky, sometimes aggressive, but always extraordinary lifestyle. They choose the most hardcore professional riders and extreme sports influencers to distinguish themselves from Red Bull and other competitors who play it safer. Every single element of Monster Energy's branding is thought through and supports their positioning.
This brand includes only a handful of products, but its influence is enormous. Thousands of consumers across the globe are proud to have branded shirts, jerseys, and even tattoos featuring their favorite empowering drink. It's also an example of experiential, dynamic product branding — because the company is constantly conquering new territories and turning its brand into a way of life.
Service branding
When selling services online or offline, you need to establish trust before making a sales pitch. You want to show your expertise in a relatable and engaging way to attract a genuinely interested audience and deliver the maximum value to them. This type of branding is usually value-based and aimed to build long-lasting relationships with customers.
Here is how Bumble, an app for finding friends and partners, brands itself. Bumble's team understands how many stereotypes, fears, and expectations surround the whole concept of meeting new people online, so they choose a witty and friendly tone and elegantly dismantle myths about online dating.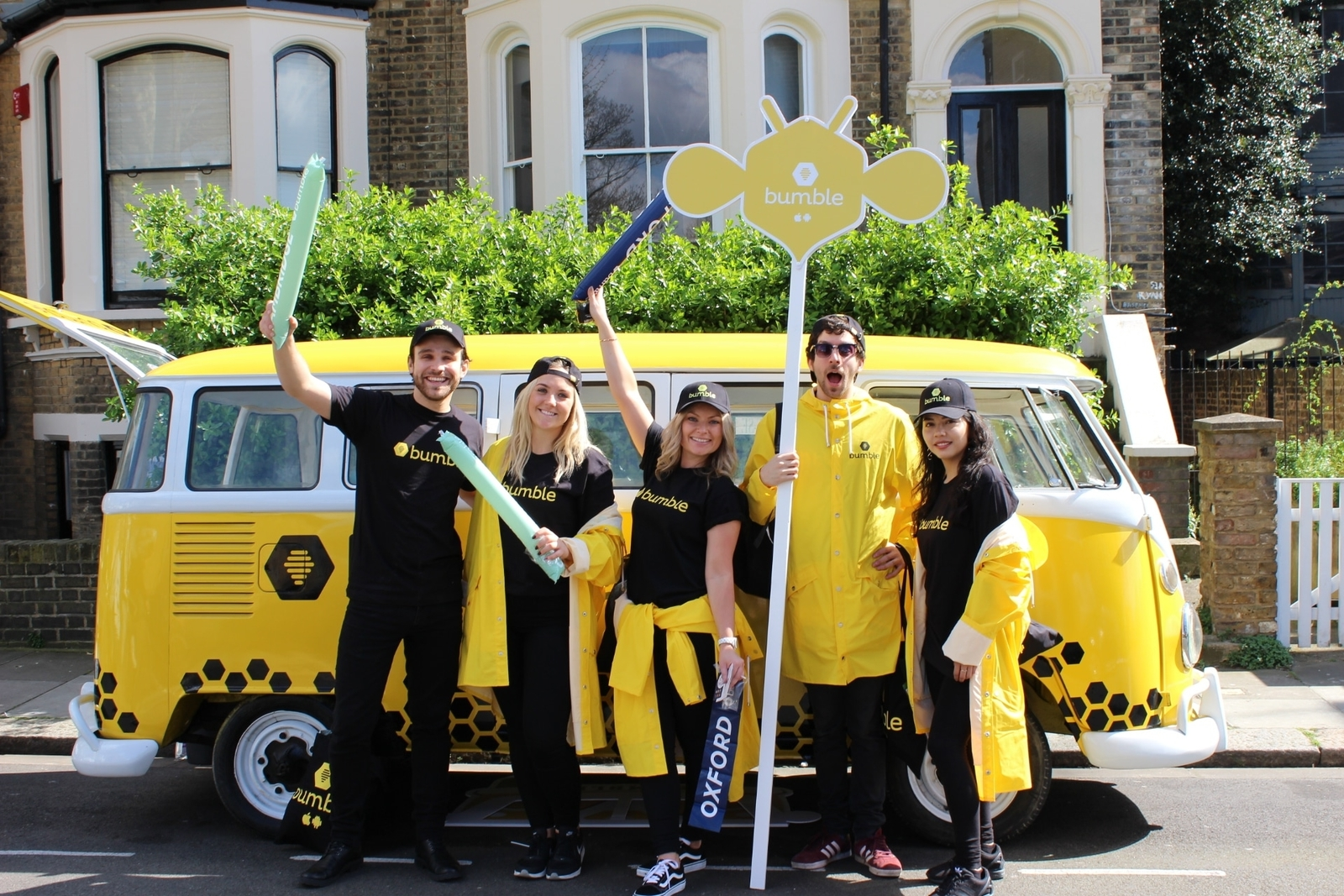 Bumble's branding is instantly recognizable because of its optimistic color palette, upbeat communication style, and empowering value proposition. It's easy to distinguish the app from its competitors, who are focusing on the more superficial side of dating. All of the elements of Bumble's branding come together and encourage its audience to connect with each other in a new, safe, and respectful way. There is also an educational component to it — that makes the app stand out.
Bumble collaborates with strong and inspiring women such as Helena Bonham Carter to reflect its brand values.
The company also sells branded merchandise with funny and cheeky dating-related slogans. Bumble proves that it stands behind its core beliefs by creating real-life experiences for its users as well. You can find their buzzy brand activations at various summer festivals in the US.
This mission-driven dating app is a great example of how you can brand your service and make it memorable without reinventing the wheel. Start by defining your mission and values and build upon that. This way, your branding will truly reflect what you do and resonate with the right audience.
Learn the
basics of branding
: what it is, how it impacts a business, and how to build a powerful branding strategy.
Personal branding
You need to develop your personal brand if you want to work as a solopreneur or freelancer and thrive — there is no way out of it. But, you can also work on your personal branding if you have a team behind you. In many cases, it's more beneficial to brand yourself rather than cultivate a "faceless" agency brand.
Your personal brand will help you establish deeper contact with your audience early on. These days, consumers are looking for authenticity and are more willing to develop trust towards thought leaders than towards companies.
Having a personal brand is a must if you deal with highly sensitive matters and want to deliver personalized experiences. It could be one of these spheres:
psychotherapy;
coaching;
consulting;
mentoring;
education;
financial advisory;
nutrition;
sports;
healthcare;
personal care.
There is another sphere where personal branding can also play an important role. If you sell hand-made or sustainably produced items, you need to show who's standing behind the product to make your brand story more compelling.
Here is an inspiring example of personal branding. You've probably heard about Brené Brown, a renowned professor, lecturer, and author who studies courage, vulnerability, shame, and empathy. She's developed her personal brand and inspired thousands of people across the globe through her books, lectures, and podcasts.
Here is just a glimpse of her most popular public lectures.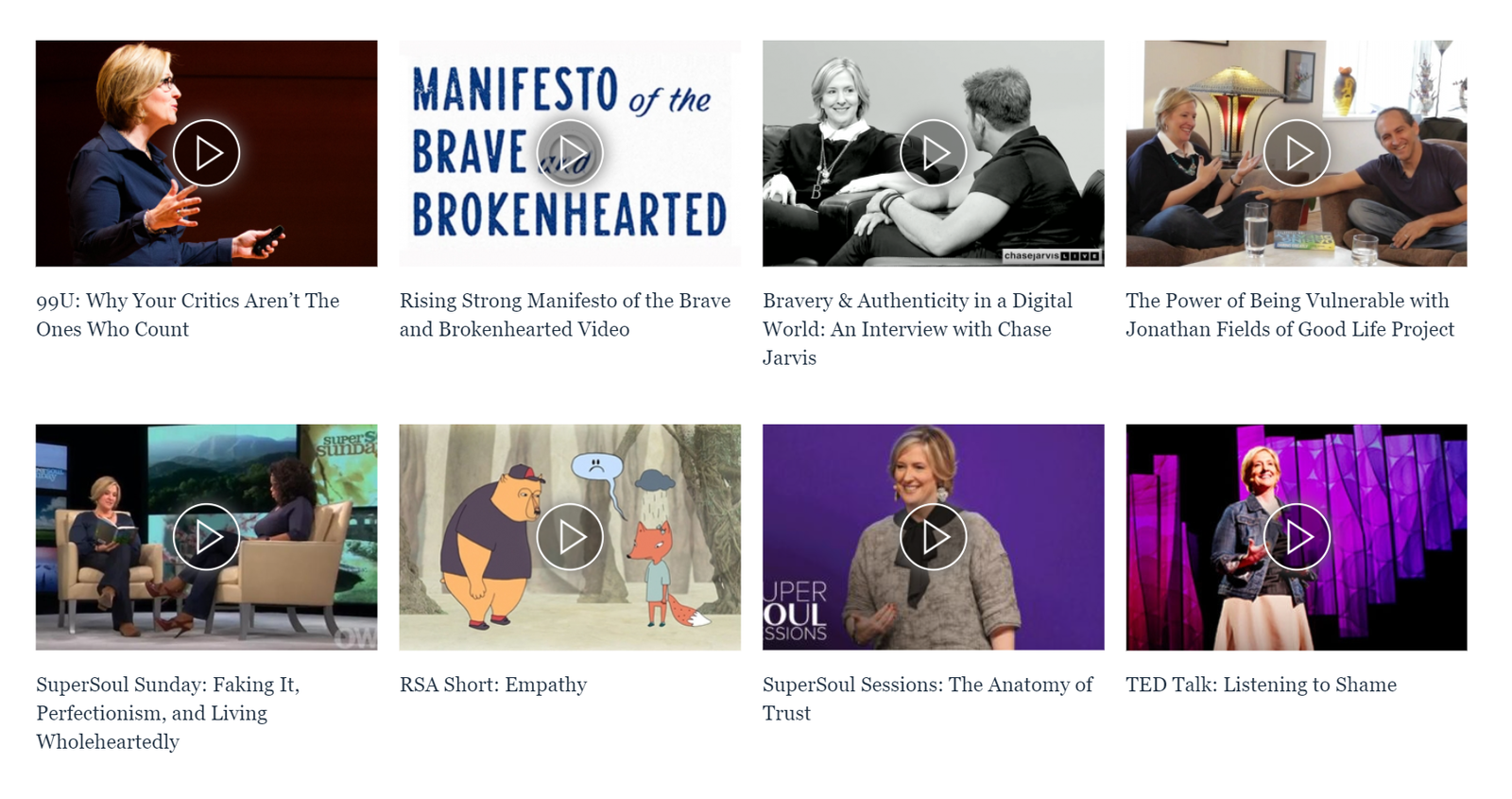 Her unique style and field of research helped her shape her personal brand and distinguish herself from thousands of other self-help coaches. Now, Brené Brown is a rock star in the world of popular psychology. Success on such a scale would have been unimaginable, if she hadn't started working on her personal branding.
Another point of this story is that you need to stay true to yourself and your professional interests to build a successful, powerful personal brand that can stand the test of time.
Corporate branding
This type of branding is the most complex. It requires creating a whole ecosystem with frameworks and guidelines that will ensure the consistency of the experience the company creates for its clients. Here, the risks are also high. If a company fails to deliver on its brand promise just once, it may face long-term repercussions and even lose customer trust completely.
Corporate branding creates a sense of belonging not only for the customers but also for the employees of that company. The most devoted buyers and employees may even turn into brand advocates and evangelists to spread the word about the company on social media and through their networks.
In the tech world, IBM can be taken as an example of elegant and distinctive corporate branding with an impressive history. Its iconic logo was designed in 1972 and hasn't lost relevance since. And the legendary bee came from a design rebus suggested by Paul Rand in 1988.
The brand personality of this company encapsulates their belief in progress. The corporation strives to apply intelligence, reason, and the scientific method to improve business, society, and the human condition — and we can clearly see it in their brand communication.
IBM says that they prioritize individuality and innovation in their brand statement. The fact that the corporation maintains years-long relationships with its core customer base and other tech giants, tells us a lot about its integrity and values. All in all, it's an inspiring example of corporate branding.
Retail branding
Branding is always a story, and there are different ways to tell it. For retail, tangible and visual experiences matter the most — you can't go wrong with retail branding that creates a "wow" moment. But, as with any other type of branding, consistency is the key. Your audience will expect the same level of customer service and satisfaction wherever they come in contact with your brand.
It seems like DJI really strikes the balance with its fantastic retail stores all over the world. Their flagship stores epitomize the company's approach to retail branding. Each and every store has a mind-blowing interior design with futuristic constructions and installations. And, its staff provide in-depth customer service and offer a hands-on flying experience to every visitor.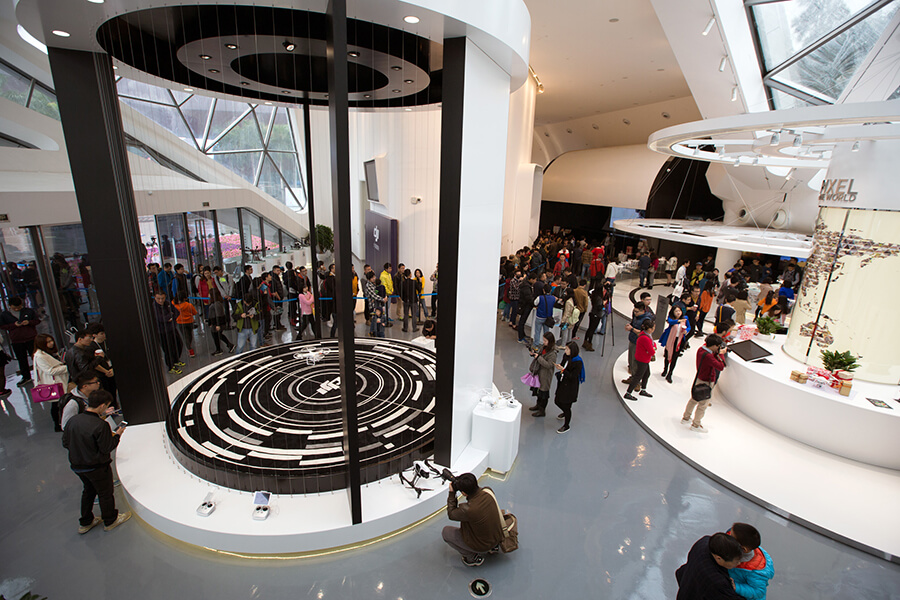 This way, no matter where you go, you can be sure that you can learn everything you need before you buy any DJI products. Their retail stores provide a unified, immersive experience and help people get acquainted with cutting-edge technology in an instant.
Cultural branding
This type of branding is focused on a specific set of traditions or region rather than a company or a personality. Cultural branding usually revolves around certain unique features that represent a culture or a region to an audience unfamiliar with them, such as tourists.
You can use cultural or geographical branding for themed venues, hotels, or restaurants. Let your customers experience a little cultural dive — it'll help them gain positive impressions, scratch the travel itch, and develop positive associations with your brand.
The following example embodies that very idea of offering a "getaway" while also providing impeccable customer service.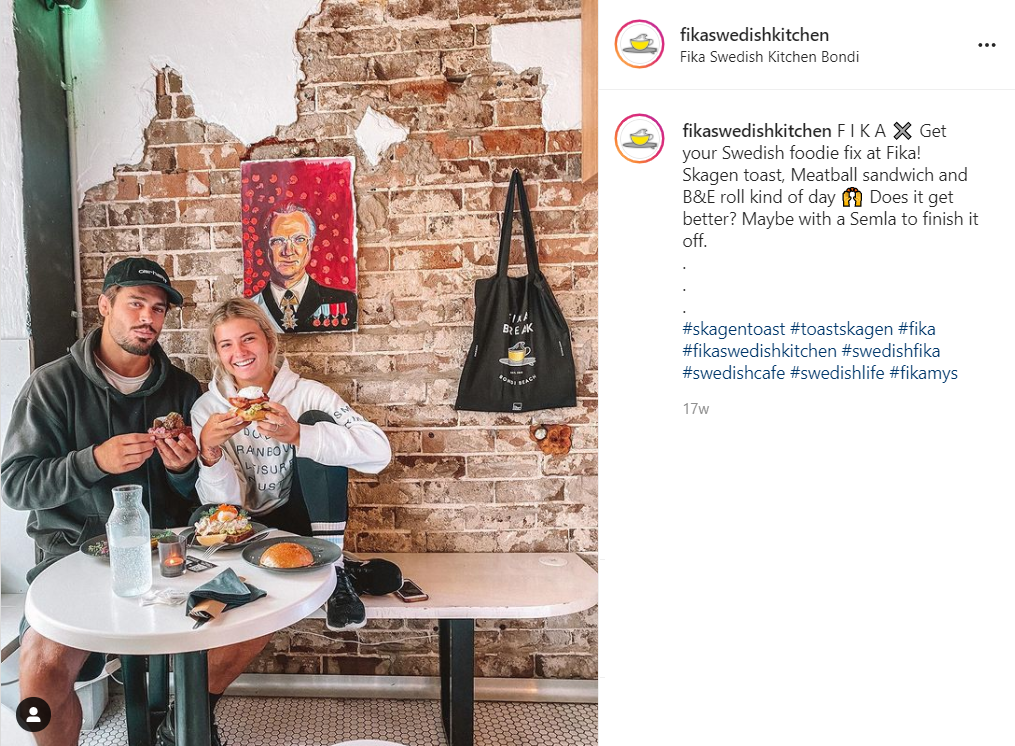 It's an Australian cafe focused on Swedish traditions, specifically fika — a Nordic-style coffee break. This cafe presents a new, relatively exotic cuisine to locals, and helps them learn more about Swedish culinary rituals and celebrations without having to travel overseas.
We've chosen this example because its cultural branding is far from superficial. The cafe's team does a great job bringing the Scandinavian spirit to Australia and making it fully authentic. Everything, from naming to the products they use, is Swedish through and through — and their customers adore it.
Seasonal branding
This one isn't a total branding makeover but rather a short-term adaptation. Embracing seasonality and holiday traditions is a nice way to demonstrate that your brand doesn't exist in a vacuum. The change of seasons means a change of pace, different shopping habits, and new preferences. By paying attention to those changes, you win extra points of customer appreciation.
With seasonal branding, it can be pricey to redesign your retail store or website all the time. But it's not always necessary. You can find a middle ground by adding some flourishes to your packaging, installing new decorations in your stores, or giving your ads a new seasonal spin.
Even big brands sometimes go small when celebrating certain holidays — and their campaigns remain just as effective. Oreo, for example, created limited-edition Valentine's Day red-velvet cookies to help their customers share their feelings with their loved ones without words. The campaign also included promotional videos and related brand messaging on social media.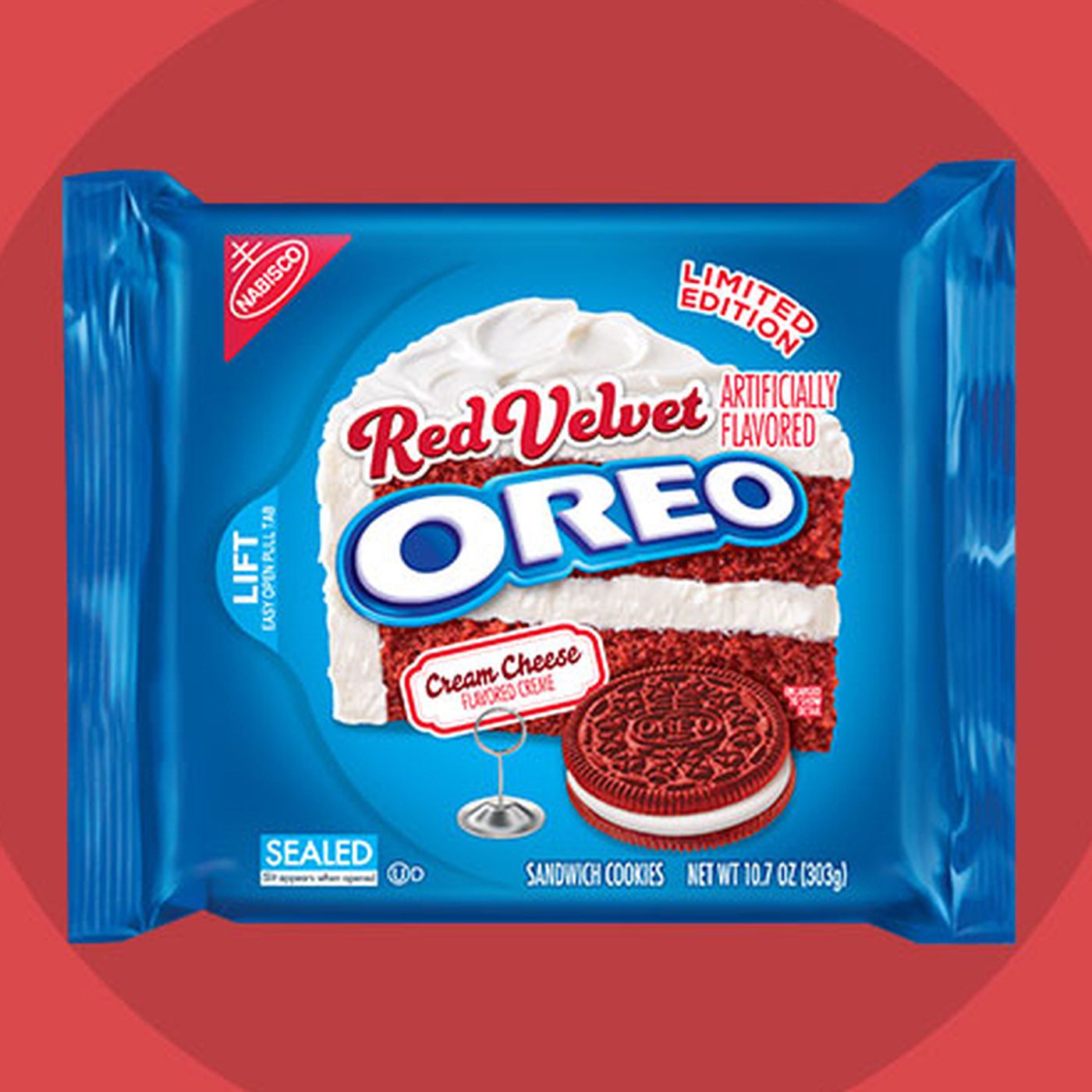 So, seasonal branding isn't about pouring tons of money into your branding and trying to develop it anew. Instead, it's about giving it a new flavor (sometimes, literally). You can experiment with your physical merchandise or focus on your brand messaging on social media and try something new there.
Online branding
For companies selling their products or services online, branding is the main key to success, provided that the quality is stable. Consumers build strong relationships with brands that understand their needs and challenges and are ready to go the extra mile to deliver on their promises. Relevant online branding can help you boost customer trust and attract new audiences.
There is no scarcity of online learning platforms, yet Lingoda has managed to stand out and get ahead of the competition. Lingoda's online branding is built on the idea of accelerated and flexible learning. The platform offers intensive language sprints instead of typical low-frequency lessons and gives 50% cashback if the user attends all of the classes.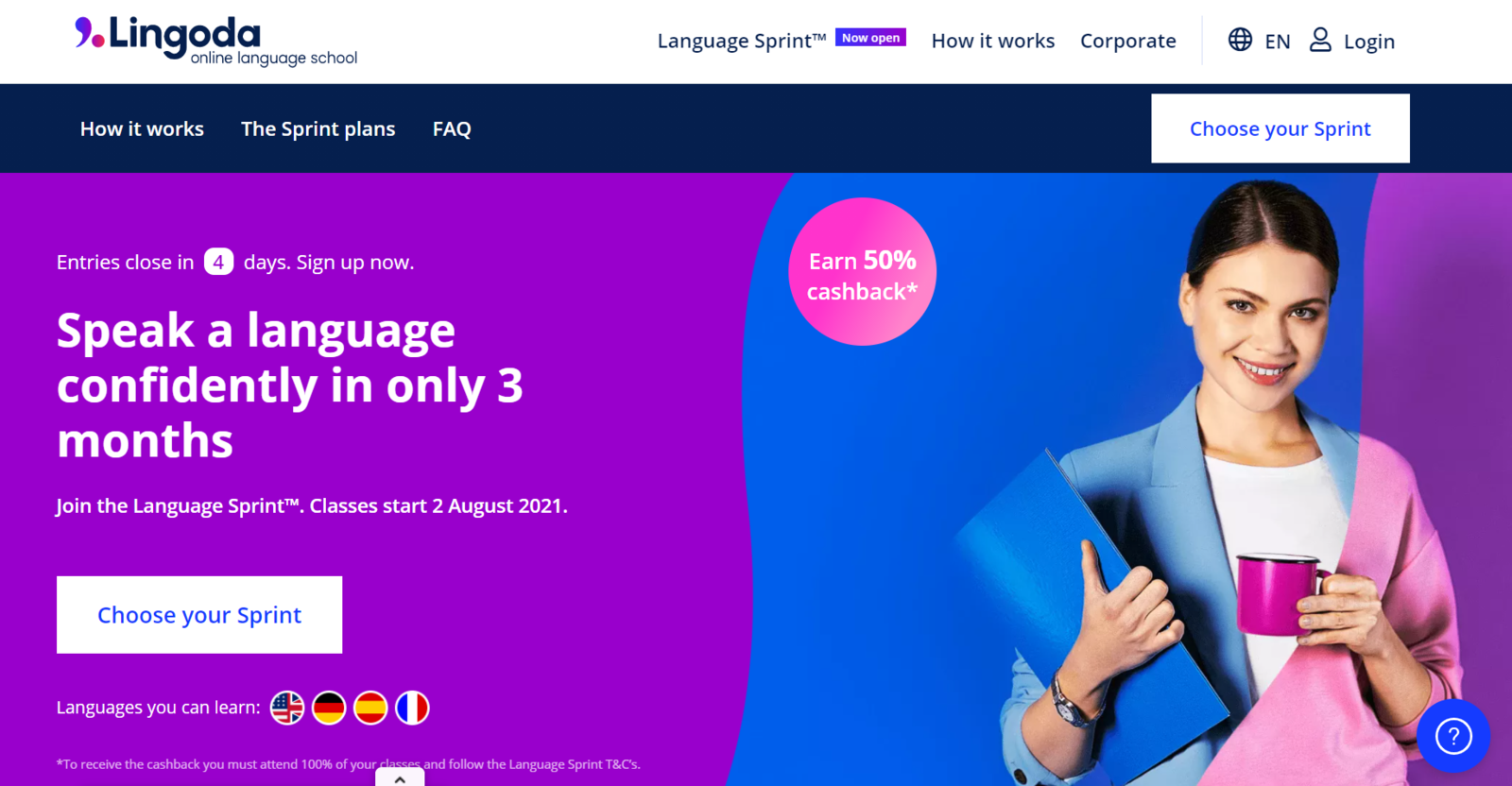 These ambitious promises are backed with an impressive score of 4.5 on Trustpilot showing that the company provides an exceptional learning experience. Lingoda's absolutely unique value proposition attracts attention to the platform — the language sprints invite the most tenacious and dedicated students who then spread the word about this revolutionary method.
Offline branding
Offline branding is similar to retail branding — consistency is what brings customers back and sparks their affinity. If you provide your audience with a memorable visual experience and complement it with state-of-art customer service, your brand will win their hearts and minds.
Let's take a look at Generator, an accommodation brand with design-led hostels located in the big cities of Europe. The chain exists in its own category of affordable premium and offers way more than any hostel has ever delivered. Their guests enjoy fantastic views, take group tours, hang out in the hostel bar, enjoy extraordinary food and beverages, and participate in locally-inspired events.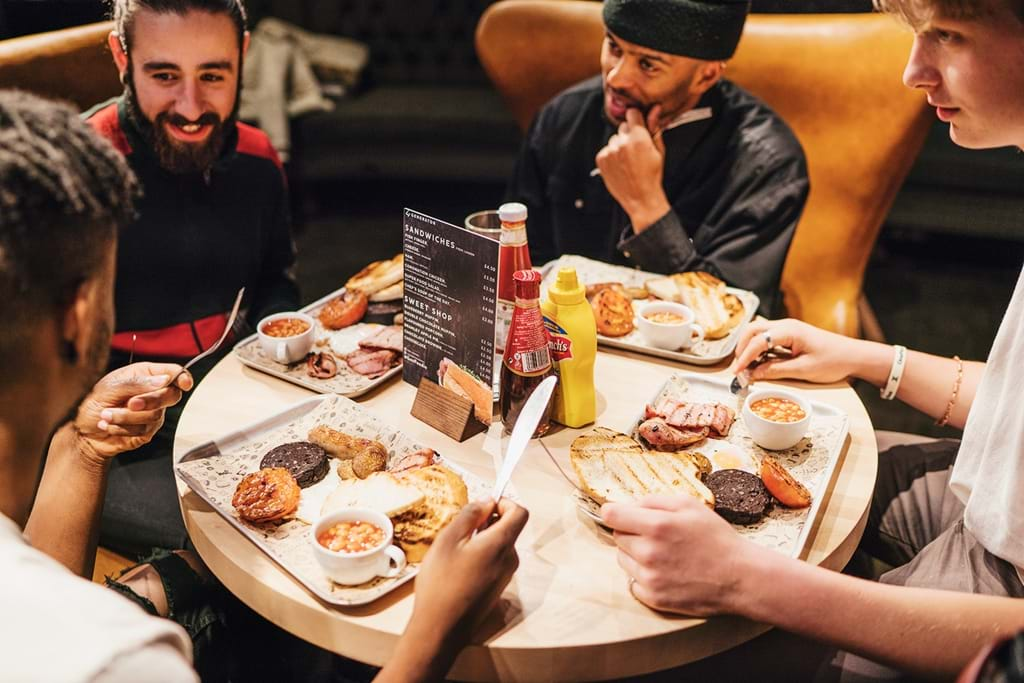 What makes Generator's offline branding so unique? Firstly, the fact that it speaks for itself. They create a new dimension of social and safe travel accommodation while keeping their rates affordable. Any young traveler can stay there without going broke, so the brand certainly does what it says it does.
Secondly, Generator invented a hybrid between hostels and hotels. Now they are trying to make their approach recognized on a global scale. This brand's mission is what makes it special. Many hospitality industry players position themselves as innovative, but Generator truly innovates while also bringing value and creating a community.
Whichever Generator hostel travelers choose to stay in, they'll always feel at home because consistent customer service is one of the brand's core values. It's an awe-inspiring type of branding to learn from.
Summing up
Different types of branding serve different purposes, and it's up to you to decide which approach to take. No matter what you choose, you need to aim to create a long-lasting impression on your customers, tell them an engaging brand story they won't hear elsewhere.
The devil is in the details. Every employee of your company and every post on your social media channels affect the way your customers perceive your brand. If you want your audience to develop brand affection, you need to create brand guidelines to keep your messaging consistent and to the point.
All of your marketing efforts should stem from a clear, coherent branding strategy — you can't promote what you can't define. When your branding is well thought out, your customers always know where they are and who they are communicating with. You achieve an almost visceral reaction, and immediate recognition.
When you're ready to get practical, make sure to check out SendPulse. We have a whole set of useful automation tools for entrepreneurs, marketers, and other professionals involved in eCommerce and content marketing. You can get started for free today — there is almost no learning curve!