There's no doubt video formats are booming these days, videos are sneaking into every platform and screen. And it's not only about the social buzz around TikTok, live streams, and AR, but also about brands that use video to tell their stories and connect with people.
What are the perks of video marketing and how can you adopt it without spending a fortune? In this article, we'll dive into video marketing strategies and tactics, so you can make the best of video content for your company or brand.

What is video marketing?
Basically, video marketing is promoting products and services by using video. A video marketing strategy gives you a bird's-eye view of the goals you plan to achieve and down-to-earth tactics for specific formats, platforms, and distribution channels.
Why use video marketing?
Fresh stats from Wyzowl claim that 85% of businesses use video as a marketing tool. Overall, the percentage of brands using video marketing has increased from 61% to 85% in the last four years.

What is important, 88% of brands who have a video marketing strategy say it provides a good return on investment.
This correlates to what consumers say and do. According to Hubspot, people spend a third of their time watching online video content and two-thirds say they prefer to watch a short video about a product rather than read or listen about it. Video is winning people's attention, outperforming even high-ranking news articles.
As you can see, video as a medium is trending now and shows no signs of slowing down in the future.

This drives us to an important conclusion: if you don't use video, you will significantly lag behind.
The greatest part about video marketing is that there are practically no businesses that cannot use it. Even if you sell cat food or gardening tools, give it a try — perhaps you can achieve a competitive advantage and reach some new prospects.
As video proves to be the best tool to build understanding and engage with people, you should definitely go for it if:
you have a new business in the go-to-market stage;
your service or product has a long sales cycle;
you are a B2B company;
you have a SaaS, eСommerce, or travel and hospitality-related business;
you are targeting luxury segments.
However, you shouldn't put all of your eggs in one basket. Consider video as one tool in your marketing mix that needs to be evaluated and is not devoid of some disadvantages.
Still willing to try? Let's take a deep dive into the subject and draw up some strategies and tactics to give you the most return on your investment in video marketing campaigns.
Six steps for an efficient video content marketing strategy
What if we make some videos and explode YouTube?! This sounds like a good attitude but a bad plan. Though YouTube is quite mighty, 90% of your success depends exclusively on the content you produce.
To create your strategy and pick the right content, keep your marketing funnel in mind. A marketing funnel is a set of stages in your customer's journey, starting from realizing their needs to interacting with your product and fulfilling them. There are three main stages and three goals you can achieve by addressing them: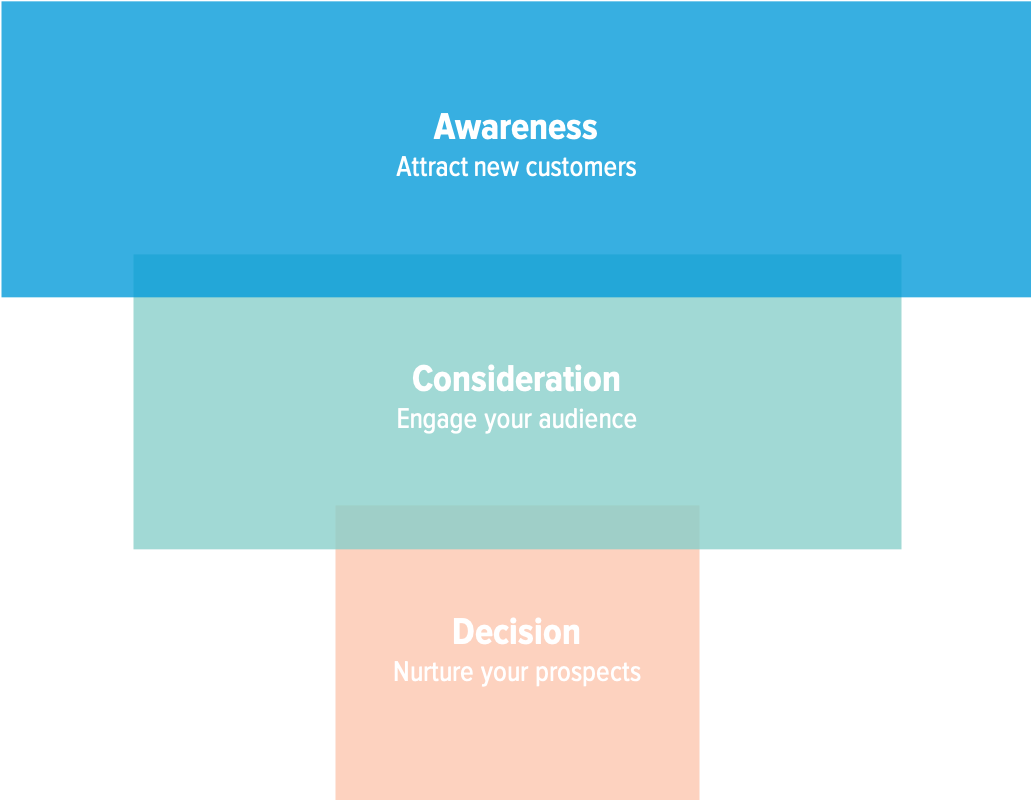 Now that you have mapped out your customer's journey, there are some essential steps to follow.
Step 1. Set your video marketing strategy goals and key metrics
Review your marketing funnel and look for bottlenecks. Which business goals are you planning to achieve, which metrics can you leverage? Below are some video marketing strategy KPIs for each funnel stage:
| | | |
| --- | --- | --- |
| Awareness | Consideration | Decision |
| Views | View-through rate | Clicks |
| Impressions | Watch time | Calls |
| Unique users | Consideration increase | Sign-ups |
| Awareness lift | Brand interest lift | Sales |
| Ad recall lift | Favorability lift | Purchase intent lift |
Step 2. Study your consumers and their shopping habits
Understanding your consumer is key. It will help you to pick the right format, tone of voice, platform, and distribution channels. For instance, if you are targeting millennials or Gen Z shoppers, you should stick to brief formats on platforms like Snapchat, Instagram, or TikTok. Due to a shorter attention span, young adults are used to perceiving information in small bits, so cut your content into little entertaining pieces. Younger audiences typically prefer videos to be unique, so follow trends, add some emotion and make your message no longer than 20 seconds.
If you are selling to B2B customers, Facebook and LinkedIn videos in your video marketing strategy are the best choice. According to social media demographics by Sprout, these platforms are mostly used by adults and economically independent people. Videos can be longer than 20 seconds, as decision-makers usually search for as many answers to their questions as possible. The best length for promo videos is around two minutes unless it's a live stream or webinar.
Step 3. Pick the right video format
There's a bunch of video formats to help at each stage of your marketing funnel:
Funnel stage
Type of video
Awareness
Explainers

How-tos or educational videos

Promo

Brand video

Consideration
Testimonials or case studies

Product or FAQ videos

Decision
Demo videos
1. Use explainers, how-tos, promo, and brand videos to drive awareness.
Explainer videos educate customers about your product and illustrate different use cases. Usually, they are quite high-level because the goal is to show how your product solves a customer's problem. That's why infographics and animated videos are very common. For instance, this is how Miro explains how to set up remote work using their free online whiteboard:
How-tos or step-by-step tutorials are well-ranked by search engines and are likely to drive traffic. Think about using this type of video to answer your consumers frequently asked questions and address concerns. This is how Babylon Health explains how to properly wash your hands:
If explainer videos feature your customers' needs and pains, promo videos are more about your product and its features. Emotional and highly engaging, videos can create a need and inspire customers to think about products they hadn't considered before. For instance, this stunning Web Summit video looks like a fascinating film trailer:
Brand videos are used to communicate your vision and values. They don't sell a product, but tell stories to connect and build trust. One of the best examples is Dove's "Real Beauty" campaign:
2. Use testimonials and product videos to help your customers during the consideration stage.
Widely used in B2B, testimonials deliver social proof and demonstrate how your product fits into any business or industry. That's what Google did by asking five students to talk about its internships in its employer branding campaign:
Product videos or FAQ videos answer as many remaining questions about your product as possible. They allay the concerns and encourage leads to move down the funnel. So, be friendly and honest to create a positive impression. This is how Beam, an electric scooter company, addresses customers' concerns about its energy levels and gives tips on how to maximize battery life:
3. Use demos to help customers make a decision.
Demo videos are your cherry on top. They address the end of the funnel, showing the customer what to expect after closing the deal. Famous unboxing videos belong to this very category and are widely used in eCommerce. This is how Unbox Therapy demonstrates a Huawei smartphone, generating more than 3000 reactions in the comments:
Step 4. Allocate some budget
If you already know what types of video formats you need, it will be easier to evaluate the costs. If you need to make a promotional video, post it on your landing page or send it to your potential customers via email, you'd better outsource it. Same, if you are a luxury brand — anything you do should meet the highest standard.

In other cases, it is a matter of budgeting time. The more you do yourself, the less you pay. But what's the price of your personal input? So, if your budget allows you to invest, check out some freelance offers on Upwork or Fiver or search for agencies to create videos on your behalf.
Step 5. Plan your distribution channels
You should have as many distribution channels as possible in order to gain maximum reach and engagement.
Start with the media you own:
Launch some outbound marketing activities. SendPulse allows you to create curated email campaigns: you can embed video content, play with subject lines, and track your efficiency with detailed statistics. There are also segmentation options that help tailor your messages to people's interests and demographics.
When it comes to social media, remember your target audience: which platforms do they use? As Wyzowl found, YouTube is the most widely used. 83% of video marketers that have used YouTube said it was successful for them. Next comes Facebook, LinkedIn, Instagram, Twitter, and live formats like Facebook live or IGTV.
Be creative, video fits into any online communication channel you have. For instance, with SendPulse, you can set up a Facebook Messenger chatbot and add FAQ videos into the chatbot flow. Built-in statistics will show whether this format works better for the customers or not.

Step 6. Be ready to evaluate yourself
There are some video performance metrics you can track to understand if your video marketing strategy is working well:
number of views;
number of unique views;
drop-off rate;
click-through rate.
These metrics are built-in and easily evaluated directly on video platforms.
Video performance metrics should logically contribute to lead generation or other business goals you are targeting. So the next level of evaluation should be:
clicks
leads;
calls;
signups;
sales.
Round-up: setting up a video content marketing strategy
Video marketing is a powerful tool to enhance your marketing performance at each stage. It gives almost limitless opportunities to share your message, engage with, and inspire your potential and existing customers.
Some takeaways before you start creating your video marketing strategy:
Set your goals. Look at your marketing funnel and decide what you want to leverage in the first place. Set some clear metrics and KPIs.
Study your consumers and their shopping habits. This will shed lots of light on what kind of video content you need and which distribution channels to use.
Pick the right video formats. Remember that customers are usually not seeking high-end quality video, they just need answers to their questions and concerns.
Allocate some budget. Decide if you can spend time making videos yourself or if your marketing budget allows you to hire a professional creator.
Plan your distribution channels that make sense for your target audience. Your video marketing strategy should take into account your business segment, customers' demographics, habits, and interests.
Evaluate constantly. Only tracking metrics and analyzing stats can help you understand whether it's worth it or not.
And while you are preparing your video marketing strategy, remember to send relevant messages to your leads using all possible channels: email, SMS, chatbots, and web push. With SendPulse, all of these channels are combined on one easy to use platform.