A website is an important asset for any business, no matter whether you own an eCommerce company or a law firm. But no website is useful without visitors. That's why the greatest ambition of every marketer is not only to design a mesmerizing web page but also to drive traffic that will convert.
Are you planning to bank on paid ads or devote your time to SEO? There are numerous ways to get visitors, and each has some pros and cons. In this blog post, we'll learn how to leverage your traffic sources and blend a winning marketing mix.

What are traffic sources?
Simply put, traffic sources are the ways that people choose to come to your website. The origin from which people found your product or brand advertisement and clicked through. This can be via a banner ad, search result, email, or directly typing in your URL.
There is no official classification or typology of the traffic sources for websites; their names are not strictly determined. But don't you worry, we'll help you figure out what is what.
From a bird's-eye view, there are five main website channels and eight traffic sources:
| | | | | |
| --- | --- | --- | --- | --- |
| Direct | Search | Social | Referral | Email |
| Direct type-in | Organic search or SEO | Social media posts | Backlinks from other websites, blogs, and catalogs | Triggered or direct email campaigns |
| | Paid search or PPC/CPC | Social media ads | Native advertising | |
The traffic sources marked in blue are unpaid, but this doesn't mean they don't have hidden costs. They demand lots of effort and free hands to execute effectively. So, there is nothing free unless you are lucky enough to be featured by a famous blogger. But this is an exception.
Another point to consider is that every traffic source has a different potential for generating new leads. For example, email campaigns usually target people who have already visited the website, they nurture leads or upsell existing consumers.
Let's take a closer look at channels and website traffic sources, so you can choose the ones that will work for you.
Free traffic sources: direct
ROI: unpredictable.
Pros: people come to your website on purpose and are potentially ready to buy.
Cons: this source cannot be measured; you can only guess where all these people came from.
When people type www.yourwebsitename.com into the browser and hit "Enter," they are considered a direct traffic source. But how did they know the name of the site? Here are the most probable ways:
They saw your ads on TV, radio, or outdoor advertising.
They came from offline events or via sales representatives.
They visit your website regularly and have added the address to their bookmarks.
They actually belong to another traffic source, but due to attribution limitations were labeled as direct traffic.
The last point is hardly manageable. The only thing to do here is to accept that web analytics is not perfect; there may be some small gaps in your statistics. The first three points suggest that you should make the most of your offline marketing activities: host events, use print advertising like coupons and brochures, launch radio or TV commercials. These tactics will drive brand awareness and lead to direct traffic growth in the long run.
Quick tip: Use QR codes to digitize your offline traffic. They can be printed on your packaging, business cards, leaflets, and coupons, or shown on outdoor ad screens.
Marketers don't usually consider direct as one of the potential traffic sources that they can optimize because it is hard to predict and segment. But if you perform well in the rest of the website channels and your brand becomes well-known, you'll immediately see growth in the direct channel too. It's a good indicator to track and compare with your competitors.
Free traffic sources: organic search or SEO
ROI: The first results come in half a year.
Pros: SEO brings visitors who are motivated to buy and will keep bringing traffic for a long time.
Cons: Hard to launch, maintain, and forecast.
SEO stands for search engine optimization and defines the process of attracting free traffic from search engines like Google, Yahoo, or Bing. This is one of the best free traffic sources because people who make a search already have a need or a task to complete and are ready to purchase a product or service to achieve their goal.
Ideally, SEO works like this. Let's say you have an online pet food store and your website is well-optimized for search engines. Your potential consumer makes an inquiry, searching for a specific brand or "dog food Lisbon," and tada! Your website appears on the first page of the search results.
The best part about this source is that search engines will feature your website for free if it proves to be relevant i.e. gives visitors the information they are looking for and has good search karma.
This is not a random process that happens by chance, you will have to map out some SEO strategies. All websites get evaluated and scored against a long list of requirements. The best-ranking websites go to the top results and attract most of the traffic.
For instance, the best-ranking website for "dog food lisbon" is Naturea. This brand even outperforms aggregators and how-to articles which is no small feat.
If you plan to dominate SEO as one of the best website traffic sources and get to the top, you should optimize your website by doing the following:
get a list of requirements for each search engine;
start implementing the technical recommendations;
work on your website content.
Google has an SEO Starter Guide to support you in your SEO endeavors. You may also need the help of your website's developers to implement some of the technical improvements.
Keep in mind that your SEO rank grows slowly because the positive changes aren't recognized by search engines right away. So be patient and make SEO a routine: you will get the first results in half a year, but they will last for quite a long time.
Here are some additional SEO tips to take advantage of in 2021.
Focus on intent but not keywords
In 2019, Google introduced a new ranking algorithm that helps the engine deliver the most relevant search results. If the first versions of such algorithms worked only on keywords matching, they now analyze the behavior of site visitors and rank the most helpful websites higher.
That's why rather than stuffing your website with keywords, reassess your user's access points to search and align your content with that. The most valuable piece of advice here is: stand up from the chair to talk to your customers and deliver content that matches their needs and concerns.
Frédéric Dubut,
Senior Program Manager, Bing

There's no sign of [natural language processing] NLP and deep learning research slowing down anytime soon, and you can expect search engines to shift even further from keywords to intent in 2020. Both practitioners and tooling providers will need to shift their efforts towards 'intent research' and fulfilling user needs.
If you want to get to the top of the search in 2021, here are some key steps to take:
study how your customers search;
identify the intent behind the questions they ask;
give them answers via relevant quality content;
apply these steps to every stage of their journey;
iterate, because people's intents change.
Apart from that, you should mind your reputation and customer service issues. Don't use fake news or clickbait in any of your traffic sources, but especially in SEO. Only trustworthy and credible companies are likely to get organic visibility.
Make your website eligible for special features in search results
If you have an offline outlet or office, you can get featured in the local business block at the top of the search results page.
Usually, people search for places, goods, and services nearby. That's why Google downgrades text links results and brings local business suggestions to the top of the list.
In our example with the "dog food in Lisbon" search, the text links are downgraded not only by the paid ads but also by a list of local stores shown in Google maps.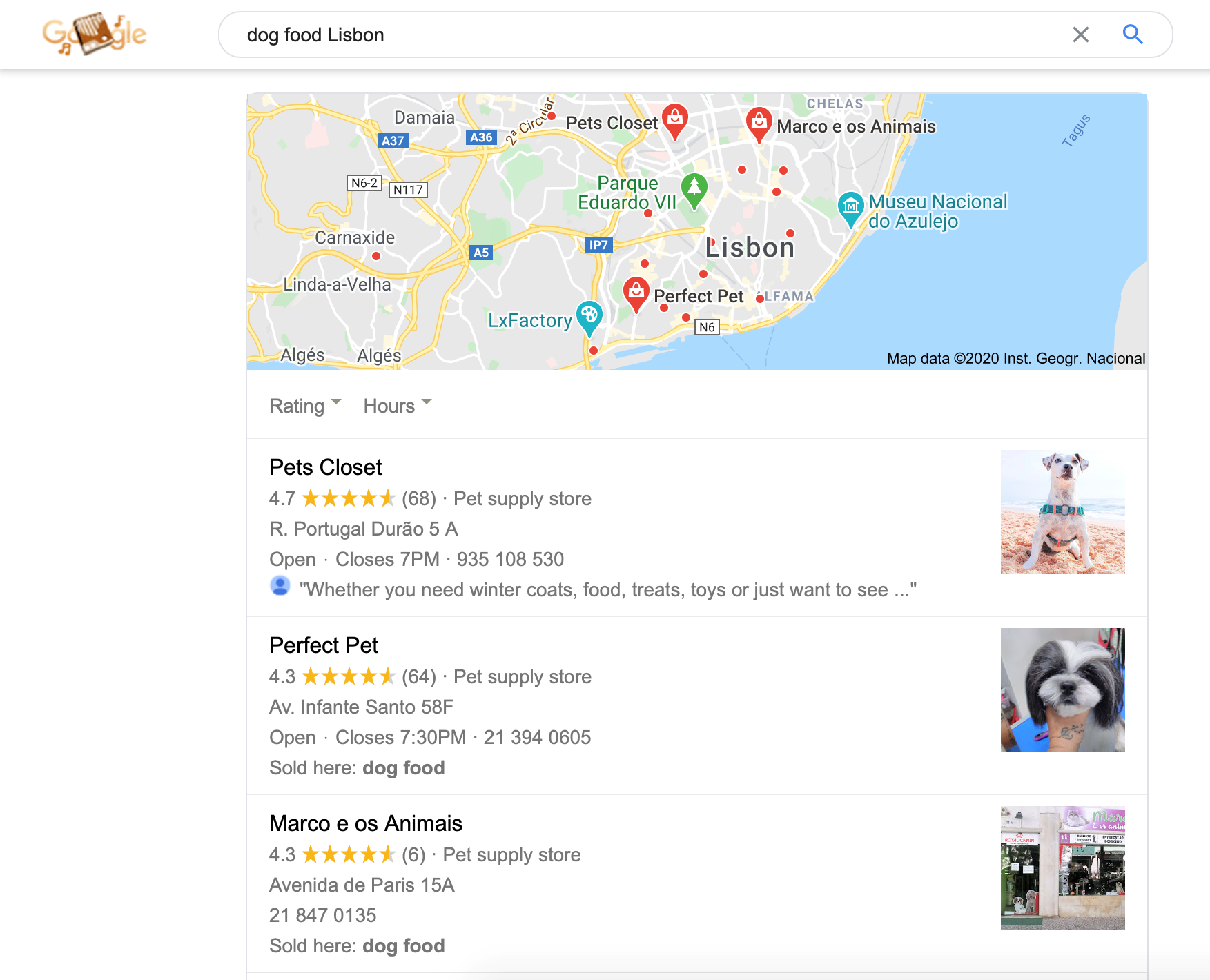 You can get featured in this local promotion section for free. Just go to Google My Business and follow these steps:
Enter your physical address, phone number, category, and product attributes.
Verify your location — it will appear in the search results and on Google Maps.
Enter and update your business hours.
Respond to customers' reviews.
Add photos for your products or services.
If you own an online business, a media, or software product without an offline outlet, don't worry, there are some ways to make a difference too. You can be featured in the search gallery and appear in richer features.
For example, your website can be featured in an event or book list, a carousel, or an FAQ extension. All the possible formats are listed by Google by website category.
Here you can see an example of a carousel book display.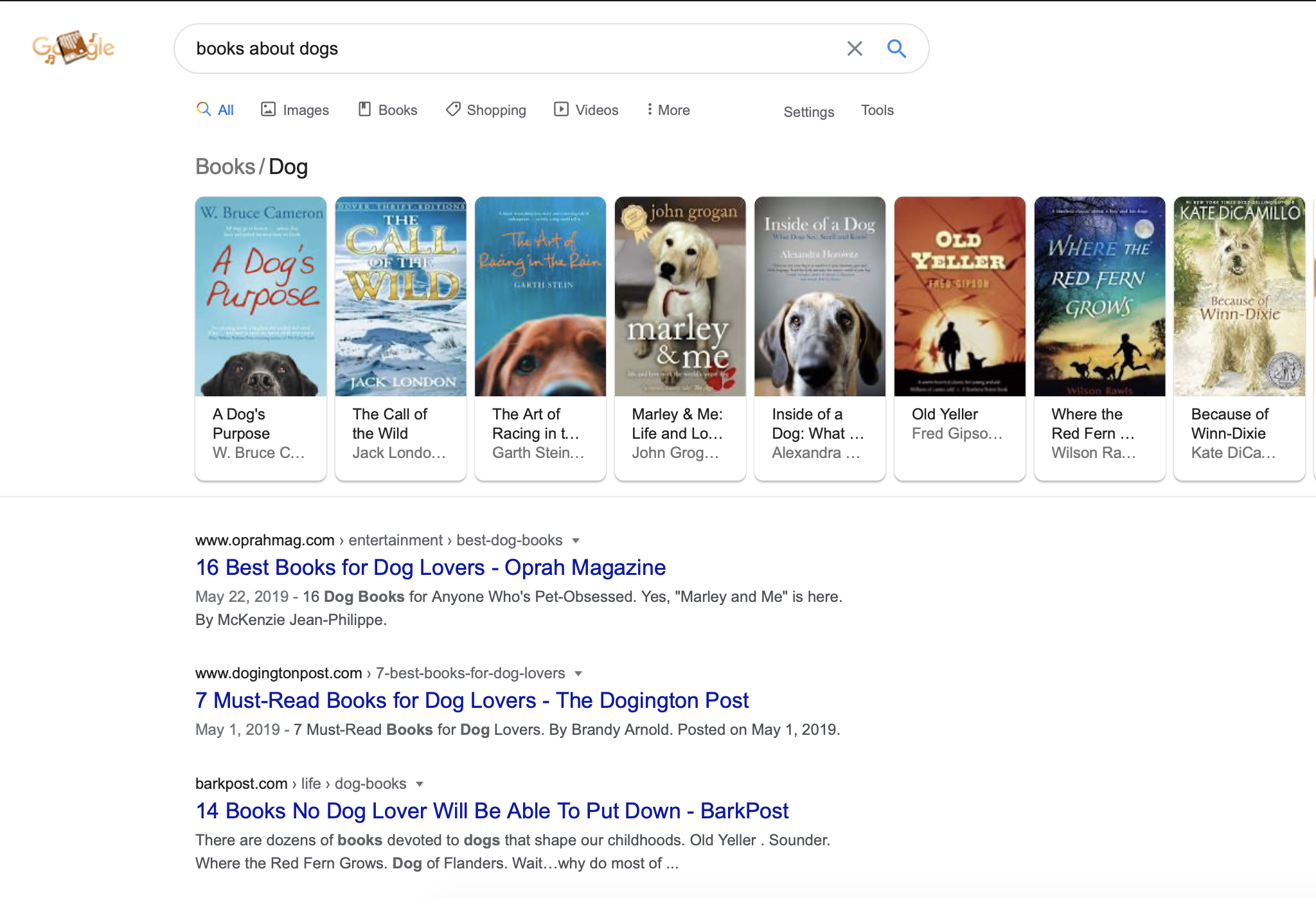 Special features in search results are developed using structured data and markups. This will help Google understand the content on the page and show it to visitors in the best possible way.
Paid traffic sources: pay per click or paid search
ROI: The results come right away.
Pros: Quick to launch and get results.
Cons: Very easy to blow money on; the price is volatile and depends on how competitors bid.
To get faster results or not invest your time into tiresome SEO, you can generate traffic using paid ads. They are also called PPC or pay per click ads. This is one of the best performing paid traffic sources, as it has a lot of targeting and display options.
There are three main types of PPC ads according to their placement and format:
search ads;
shopping ads;
display ads.
Here are some tips on how to use each of them.
Get to the top of the list with search ads
Search ads are the ones we typically see when searching on Google, Yahoo, or Bing. They usually appear at the top and the bottom of the page and are marked with "ad" tags.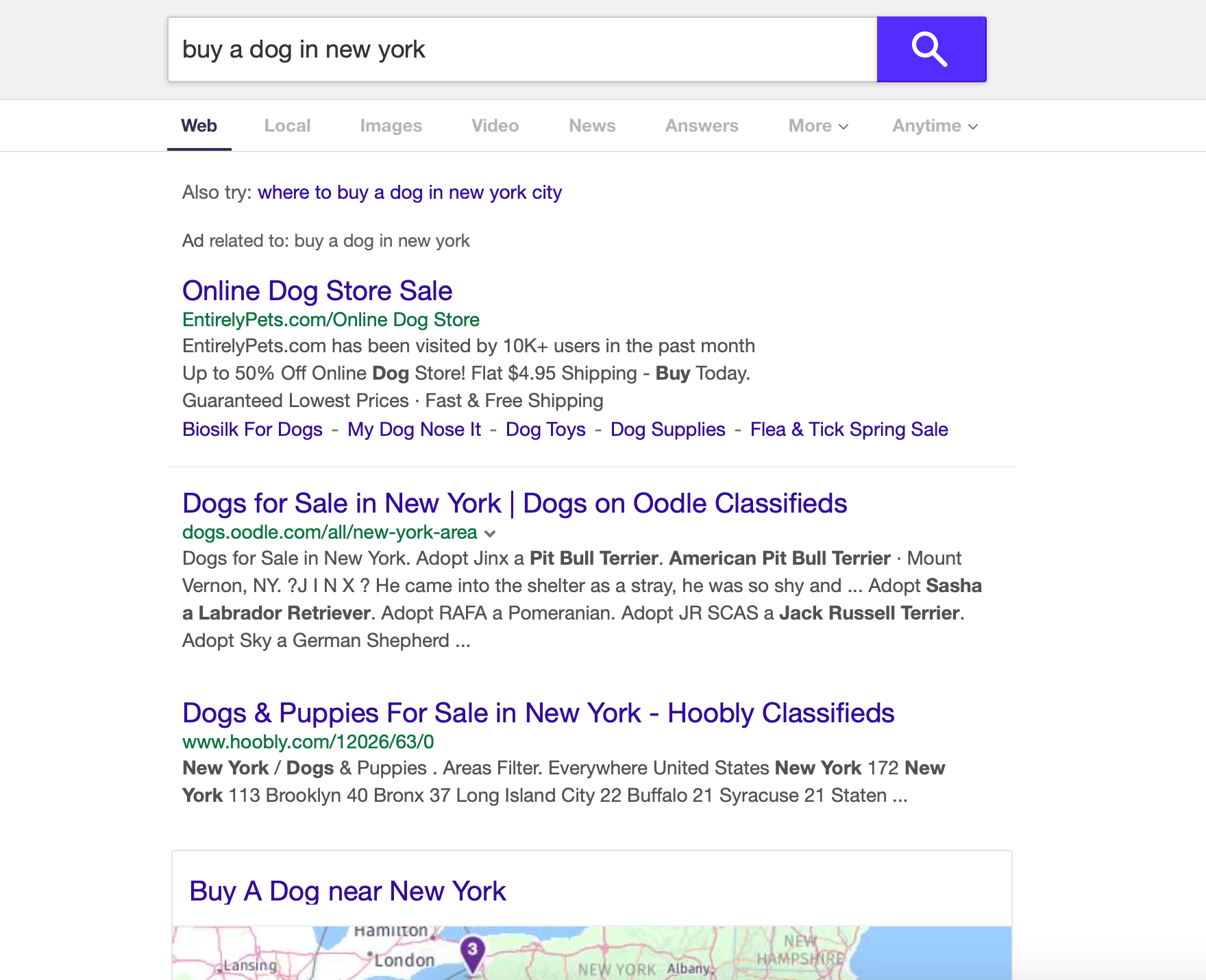 To launch search ads, you need to access the search engine's advertising systems: Google Ads, Yahoo Ads, or Bing Ads. We will focus on Google, as according to the latest stats, it is the most visited search tool worldwide.
Google Ads is also called Google Adwords. Here you can set up campaigns and bid on certain keywords to appear in search results. It works like any auction: the higher the position, the more companies want to get it, the more the winner pays to secure the spot.
Boost retail performance with shopping ads
Google offers smart shopping campaigns for eCommerce, which are called Google Shopping ads. They showcase product information so your potential customers can make a better-informed purchase decision.
Coming back to our "dog food Lisbon" search, Google Shopping ads are the first thing we see on the results page. They contain an image of a product, its weight, price, and user ratings.
Apart from offering a good visual display, these ads are smarter in performance: instead of keywords, they use product attributes that you define.
To launch a Google Shopping campaign, you have to submit details about the products you sell. Google uses these details to match users' searches and ads.
There are three types of shopping ads:
product shopping ads or single product ads created from data you submit;
showcase shopping ads or a group of related product ads;
local catalog ads that are based on geographical location and are featured on a Google-hosted page.
The first type is charged using cost-per-click, so you pay for clicks to your website; the last two types are charged by cost-per-engagement, so you pay for people who somehow interacted with your ad.
Use targeted display ads
Display ads can help you reach people while they are browsing their favorite websites, YouTube videos, or mobile apps. The ad format used here is an image or a video banner; that's why display ads are good for the product discovery stage, helping consumers to get familiar with your brand.
Over-exploited in the past, when static and animated web banners were used without targeting or taking any UX concerns into account, display ads still have controversial fame. One of the most efficient ways to use them today is to use precise targeting and machine learning.
Here is an example of a targeted Google display ad on BuzzFeed.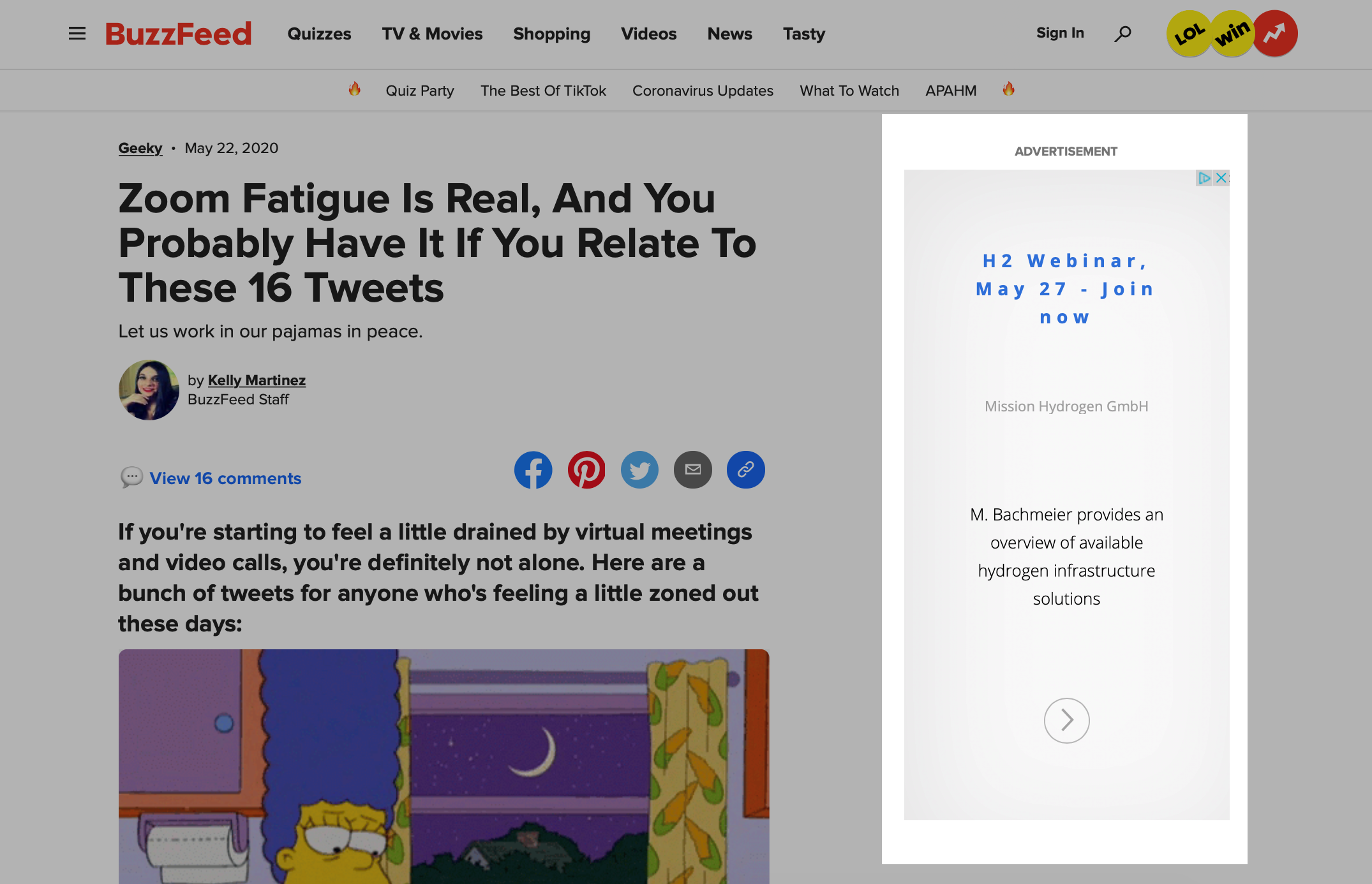 If you click on the "play" icon on the top right corner, you can report the ad or see why it was shown to you. This free webinar ad by Mission Hydrogen was shown based on the following factors:
information on the website visited;
time of day or user's general location like country or city;
demographic similarity to groups of people that the advertiser is trying to reach.
You can also launch a retargeting campaign and re-engage your visitors. For example, a banner can feature a personalized offer or the abandoned-cart product and stimulate a person to finish their purchase.
Quick tip: If you use Google's Display Network, you can get featured on all Google platforms and sites, including YouTube, Gmail, and mobile apps. This is a chance to get a phenomenal reach and raise brand awareness.
Free traffic sources: social media posts
ROI: Unpredictable, the first results take time.
Pros: Very quick and easy to set up.
Cons: Difficult to create engaging content, organic posts are downgraded by social platforms.
People can come to your website from social media profiles, pages, and groups. Social media can potentially become one of your best free traffic sources, but don't think that if you launch a business page on Facebook, it will bring you lots of traffic.
As people visit social media mainly for entertaining or helpful content, a direct "buy it or die" approach will not work here.
Quick tip: Look at what big publishers or news outlets are doing. Organic traffic from social media to their websites is vital for their performance, so they are the ones to know what works and what doesn't.
Another thing to consider is that social media platforms, just like search engines, apply algorithms to show their users the most relevant information.
For instance, if you own a business page on Facebook and have some fans, just a few of them will see your new post. This is what their timeline might look like:
posts from their friends and family;
posts with high engagement rates;
relevant paid ads;
posts from business pages ← you are here.
It looks like social media platforms have gradually transformed into branding and engagement tools and cannot be seen as a source of traffic and revenue. But that's not the end of the story.
Focus on groups, not business pages
Posts from business pages are downgraded, but that is not a reason to ignore creating one. People still tend to follow brands and communicate with them when they need customer support. So your business page can be a good tool to maintain your online reputation.
If your purpose is to get organic reach, you'd better invest in social media groups. You can create one or several groups on Facebook and LinkedIn. If the group is well managed and active, people will share and comment on each other's posts and boost your engagement rates. This way, you are likely to get featured higher in the timeline and get more organic reach.
For instance, HBO created an official group for their "Big Little Lies" series to boost engagement and traffic to their online and offline channels.
Opt for quality instead of quantity
Depressing social media algorithms may suggest that you post as much as possible to squeeze into the timeline no matter what. But this is sure to waste lots of time and disappoint your audience.
Remember that Facebook features posts with the highest engagement rates, so that's the goal you should aim for: fewer better posts.
Quick tip: To get valuable insights, make the algorithms your close friends, and study them. For instance, the Facebook algorithm is based on such elements as inventory, signals, predictions, and relevancy. The part you can influence here are signals: shares, comments, and reactions. The more of them the post has, the more people will see it.
Paid traffic sources: social media ads
ROI: You will get the results right away.
Pros: Easy and quick to launch, usually cheaper than paid search ads.
Cons: People are less motivated and you can only sell certain types of products.
Social media ads are one of the best paid traffic sources because the targeting options they offer to advertisers are limitless. Here you easily reach specific audiences and leverage a variety of engaging ad formats.
To start advertising on social media, decide on the audience you want to reach and choose platforms accordingly. For example, if you own a B2B company offering complicated software products, LinkedIn and Facebook may seem a better choice. And if you sell beauty products, you better opt for Instagram, YouTube, or TikTok.
Quick tip: Facebook and Instagram are the top two social media platforms in terms of the number of active users. Besides, together they cover almost all the age groups and share a common advertising interface. You should definitely make use of these two especially if you have a B2C business.
Master Facebook ads
Facebook with 2.5 billion users per month is the most visited social platform and the number of visitors is growing gradually over time. It is one of the best free and paid traffic sources for any business.
If you choose Facebook, make use of three types of audiences they offer:
core audiences defined by demographics or interests;
custom audiences who already visited your website;
lookalike audiences who have the same interests and behaviors as your best customers.
The formats of ads to use are photos, video, stories, messenger, carousel, slideshow, collections, and playables. Facebook gives lots of advice on how to leverage them in your campaigns.
Here is an example of a photo ad in a Facebook news feed and a display ad on Facebook in the right column. If you click on the "play" icon in the corner of the banner, you will see the reasons you were shown it.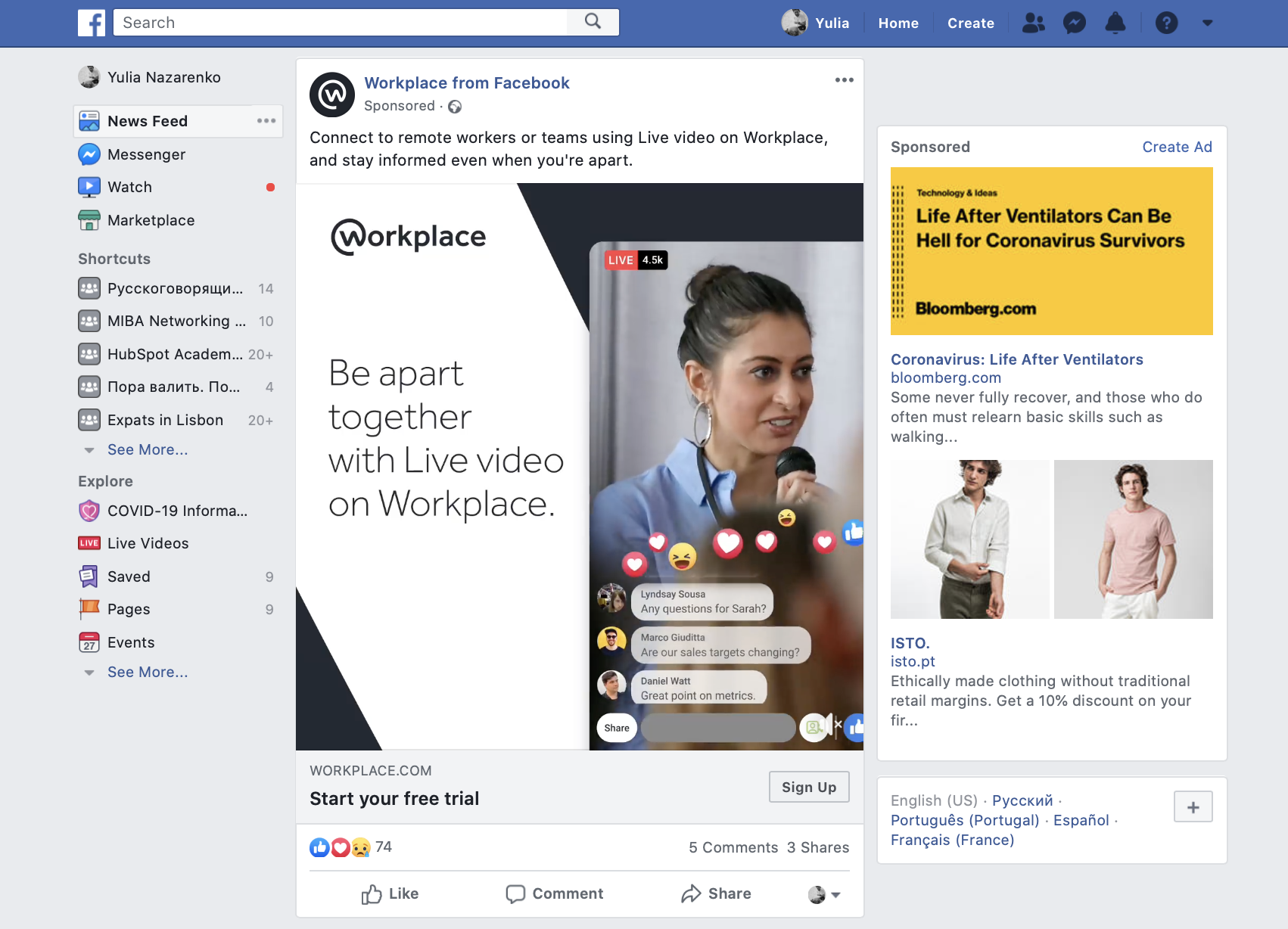 Use Facebook Messenger as one more traffic source. You can advertise in the Messenger chat feed, stories, or even use a chatbot to engage your prospects before you lead them to your website. For instance, you can use a "talk to us" CTA in your ads and initiate a chat, clarifying your audiences' needs and navigating them to a specific page for purchase.

Make the most of Instagram
The number two social platform with 1 billion users per month is Instagram; the majority of visitors here are between 18 and 34 years old.
Apart from posting photos, videos, and story ads, Instagram has Shopping ads for eCommerce businesses to help facilitate a purchase.
Here is an example of how to use shopping tags to mark products on photos and direct a consumer to specific product information.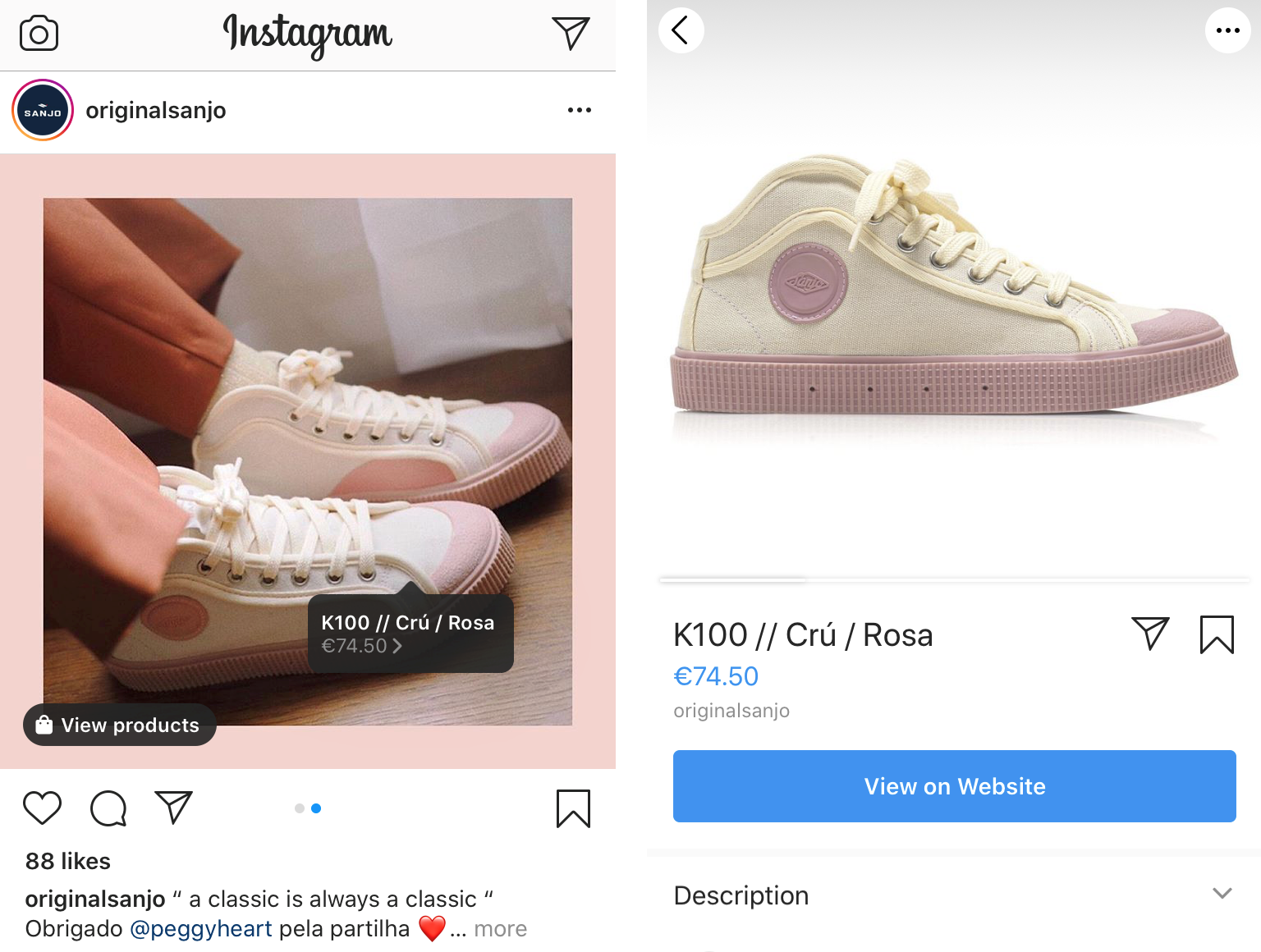 Free traffic sources: referrals from other websites
ROI: The results will come slowly.
Pros: Inbound links from websites with a good reputation are good for SEO.
Cons: You can't predict the outcomes.
You can gain visitors through links from other websites or third-party domains. This traffic will be attributed to the referral that is one of the free traffic sources to tap into.
Social media traffic falls under the definition of referral traffic too, but due to its specifics, it is usually evaluated separately.
To get referral traffic, you can create authentic and high-value content that other websites will cite in the related articles. This can be:
an industry report or market stats;
a trends review;
an in-depth expert opinion;
a case study;
an image, video, or infographic on a popular topic.
For example, this is how SendPulse cites research from Wyzowl.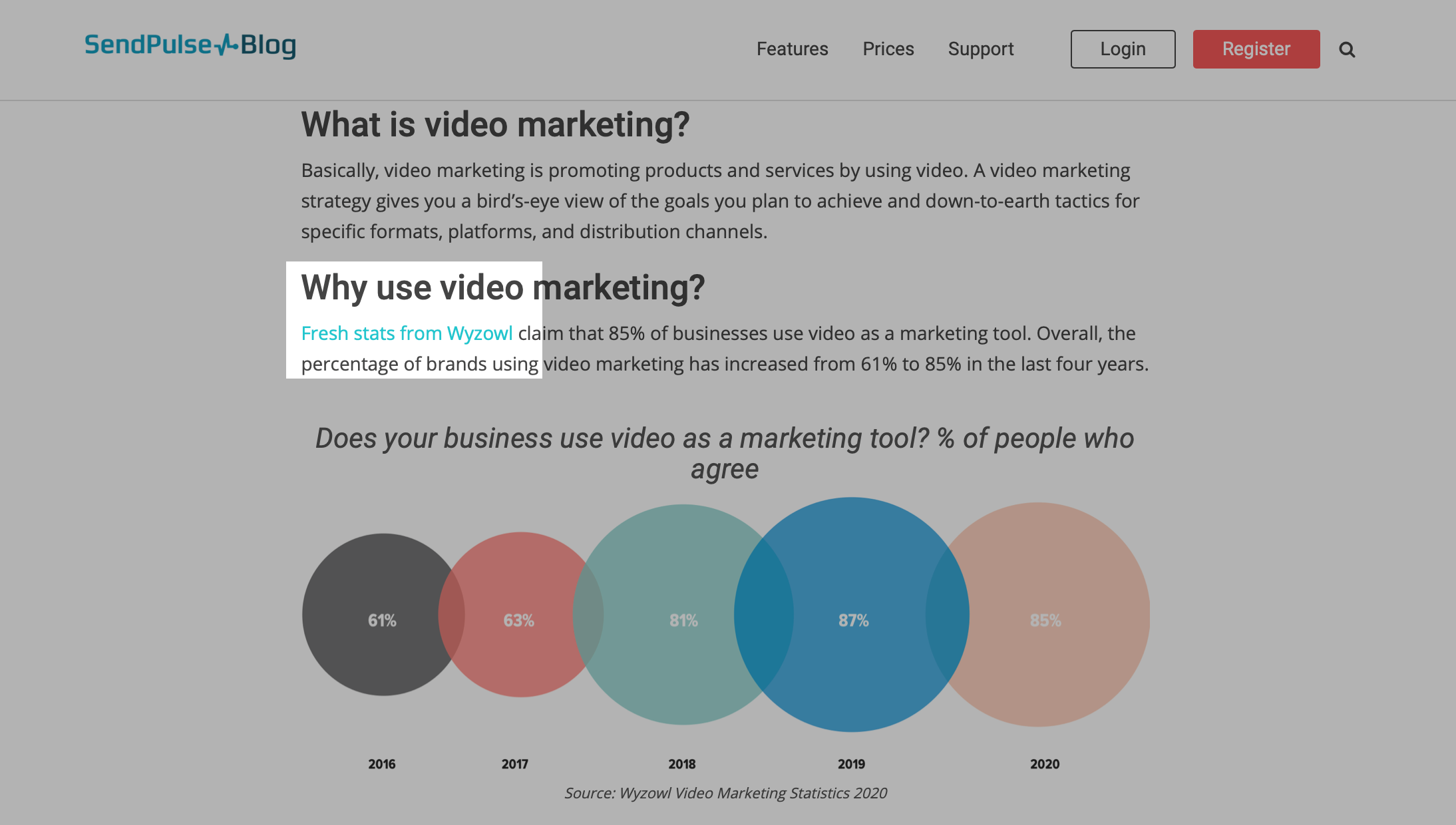 Sometimes cool content goes viral and attracts links on its own. But in most cases, you will have to push it through: pitch it to related online newsmakers, publishers, or influencers, post it to social media and run cross channel promotional campaigns.
Quick tip: When pitching to influencers, consider providing them with free samples of your products so that they can make a review and show it to their audiences. When pitching to news publishers, show the money. For example, if you have a press release on your company's financial success in 2019, show all the related figures and details.
Other ways to get referral links are:
guest-posting; there are quite a lot of publishers and blogs that offer this option, but you will have to prove your expertise;
participating on Q&A sites and forums like Quora;
leaving comments on related blogs;
exchanging links with another website with the same weight and search karma;
getting featured in catalogs and aggregators.
Paid traffic sources: native advertising
ROI: You'll have to wait to evaluate the results.
Pros: Inbound links from websites with a good reputation are good for SEO.
Cons: The outcomes are hard to predict.
Publishers like Mashable, BuzzFeed, or The Dodo try to earn their living not only by placing advertisements, but also offering in-article advertising options to brands. These articles should not be too salesy or disruptive, as the audience is very sensitive and brands are at risk of losing their following.
That's why these in-article ads are camouflaged into sponsored projects, special projects, fun quizzes, or reviews. They look quite natural to the overall publisher's feed, that's why these ads are called native.
In order to launch native ads, you should:
choose a publisher with the most relevant audience profile;
craft content that looks and sounds at home on the publisher's feed;
pay the publisher for distributing this sponsored content through their website and other channels.
In this process, you are leveraging their editorial experience and audience reach to tell captivating stories and get brand awareness.
In the example below, the New York Times, together with the footwear company allbirds, created a captivating story on why our future depends on the health of birds. The post is marked as paid, but sounds native and looks absolutely stunning.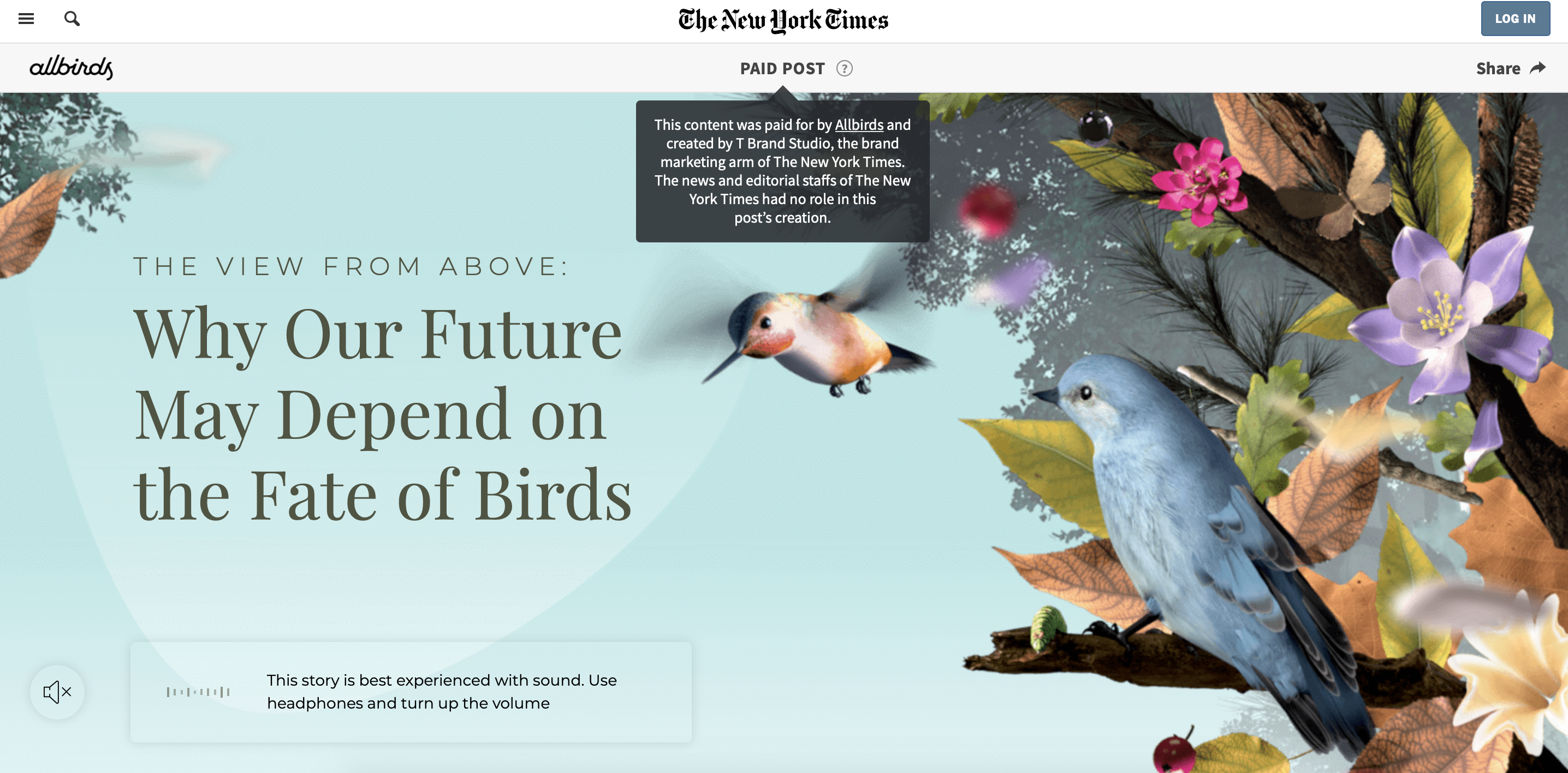 Paid traffic sources: email marketing
ROI: The results will come right away.
Pros: Easy to launch.
Cons: It's hard to collect and maintain a high-quality subscription database.
Though it costs money, email marketing is one of the best traffic sources that doesn't only bring people to a website but also converts better than any other ad. But keep in mind: email marketing is best used to re-engage current audiences, nurture leads, upsell, or notify subscribers about events or service updates.
There are different types of email campaigns to benefit from, especially when it comes to B2C email marketing. But the ones you should definitely try are:
personalized emails;
dedicated emails;
newsletters;
milestone emails;
lead nurturing emails.
These types of emails have higher conversion rates and are likely to get more traffic.
One of the most popular email formats to bring traffic to websites is newsletters. They usually cover several topics and have a number of links, all leading to the website.
In this example, Product Hunt makes a big promo for Facebook Shops and other apps featured on their website, encouraging IT-lovers to visit the links and upvote those that they like.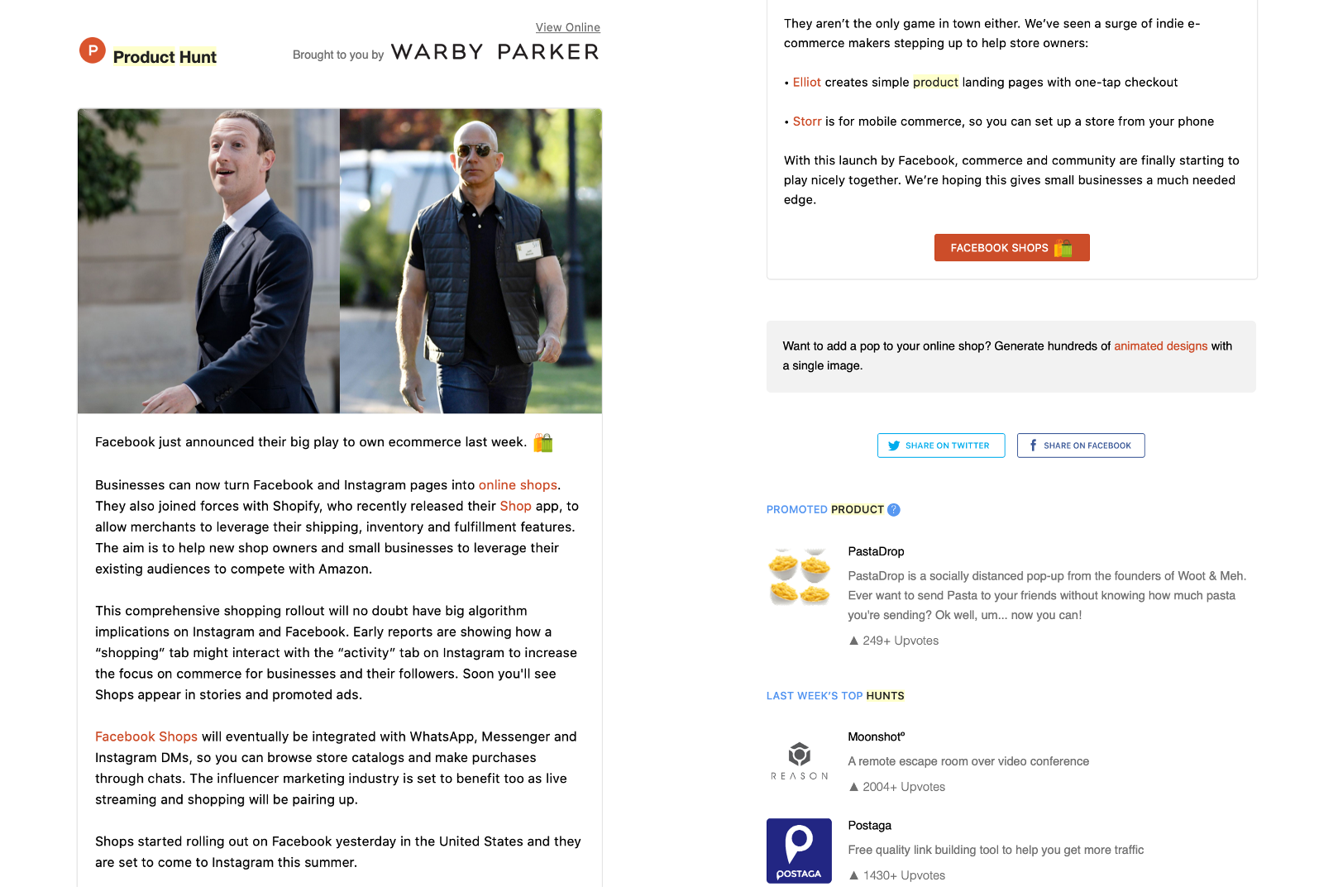 With SendPulse, you can set up any email marketing campaign and track its results. Sign up and enjoy our convenient email editor, personalization tools, and over 100 ready-made templates.
How to analyze the efficiency of website traffic sources
Don't walk in blindfolded and invest your efforts and money into traffic sources that don't really work, use web analytics services like Google Analytics to see what works best for your brand. Using analytics services you can:
evaluate the overall traffic to your website, look at your visitors demographics, and analyze their interests;
evaluate the traffic by channel;
evaluate every marketing campaign you launched;
set conversion goals and evaluate ROI.
To make your analytics accurate, always add UTM parameters to your links. These are pieces of code that help Google Analytics identify the right channel, source, and campaign that you want information on. To help their users Google even created a special web page for building UTM links.
If you use UTM parameters, most of the traffic will be bucketed under the right channel and traffic source. To see the split, access the reports section of the Analytics, choose Acquisition, All traffic, and Channels tab.
This report shows your traffic split by channels, number of users acquired, bounce rate, pages per session, and average session duration. You can also set up conversion goals and see how many people have clicked the call to action button in absolute numbers and percentages.
If you choose a specific channel here, you will see the details. For example, in the Referral channel, you will see all the referring domains. Under organic search, you will find all the keywords used. The Source and Medium report will show the winning traffic channels and sources. To go deeper and see even more details on paid ads, look at the stand-alone Google Adwords and Social reports. The details about each paid and free marketing campaign are stored in the Campaigns tab.
These are the Google Analytics basics but they will help you get the overall picture, and offer details if you are interested. You'll be able to compare different channels, sources, and campaigns and understand which of them are worth investing.
And if you are more of a visual learner, head to our YouTube channel to find out more ways to drive traffic to your website.
To sum it up
There are numerous traffic sources to fuel your website. All of them have specifics, should be tracked, and evaluated.
Use paid search and social ads to get a quick result and return on investment.
Invest in SEO to constantly gain traffic in the long term.
Make use of social posts and groups to get higher engagement rates and get to the top of the news feeds.
Attract referral links to get better SEO rankings and engage with relevant audiences.
Use web analytics tools like Google Analytics to evaluate your channels, sources, and campaigns.
Got some traffic? Sign up for SendPulse to nurture leads and upsell consumers!