No matter what your niche is, there are many ways to tell your brand story and present it to the public. It's all about finding the right website type and format for promoting your products, services, or projects.
The right website type is the one that resonates with your target audience and allows you to monetize your expertise or attract attention to your work in the most efficient way. But how do you find it if you're, like many other entrepreneurs or creators, wearing many hats and doing all sorts of things?
In this post, we'll discuss the most common website types, what they should contain, and who can benefit from using them. We'll give you useful design and content tips as well as inspiring website examples.
Company website
Even if you conduct your business offline and use word-of-mouth to find new customers, your company still needs an online presence, and creating a website is the best way to go about it.
Any commercial or nonprofit organization can benefit from having an online resource where they describe their mission, present their team, demonstrate their credentials, and invite users to visit or join them.
So, how do you make your company website more attractive and interesting for your target audience? Here are a few tips:
Start by telling them about your mission and values to instantly attract those who're on the same wavelength.
Use a relatable, emotive call to action and connect to the reader instead of talking about yourself.
Share your most exciting achievements with your visitors to motivate them to learn about your company more.
You can also use this type of website to explain what you do differently and why you're a better choice.
Almost all commercial website types call for some sort of social proof, and this one is no exception. Collect and add customer testimonials to your company website to make it look more legit and trustworthy. If you're just starting out, ask your partners or peers for a review, but don't leave out this section completely.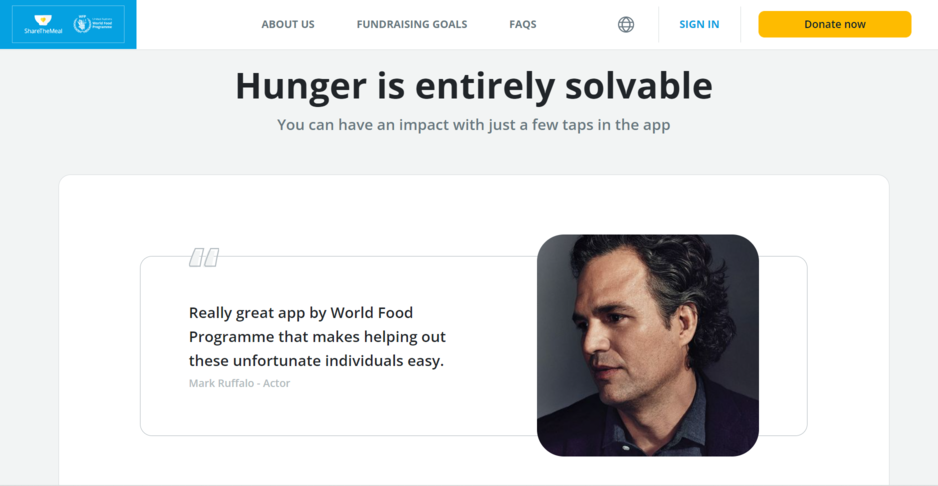 The "About Us" section is where you tell your whole story. Use it to describe your company vision, share your milestones, and present your team members.
All in all, your company website can serve multiple purposes — from attracting new talent, customers, and partnerships to sharing your vision with the world.

Personal website
If you are a team of one and you're working on establishing your personal brand, a personal website is a good place to start as it allows you to present yourself, showcase your work, and talk about your experience.
There are many schools of thought on how to design a personal website. You can turn it into your portfolio, CV, or gallery, depending on your professional profile. There's no need to go over the top — a clean, minimalistic website is always a safe bet.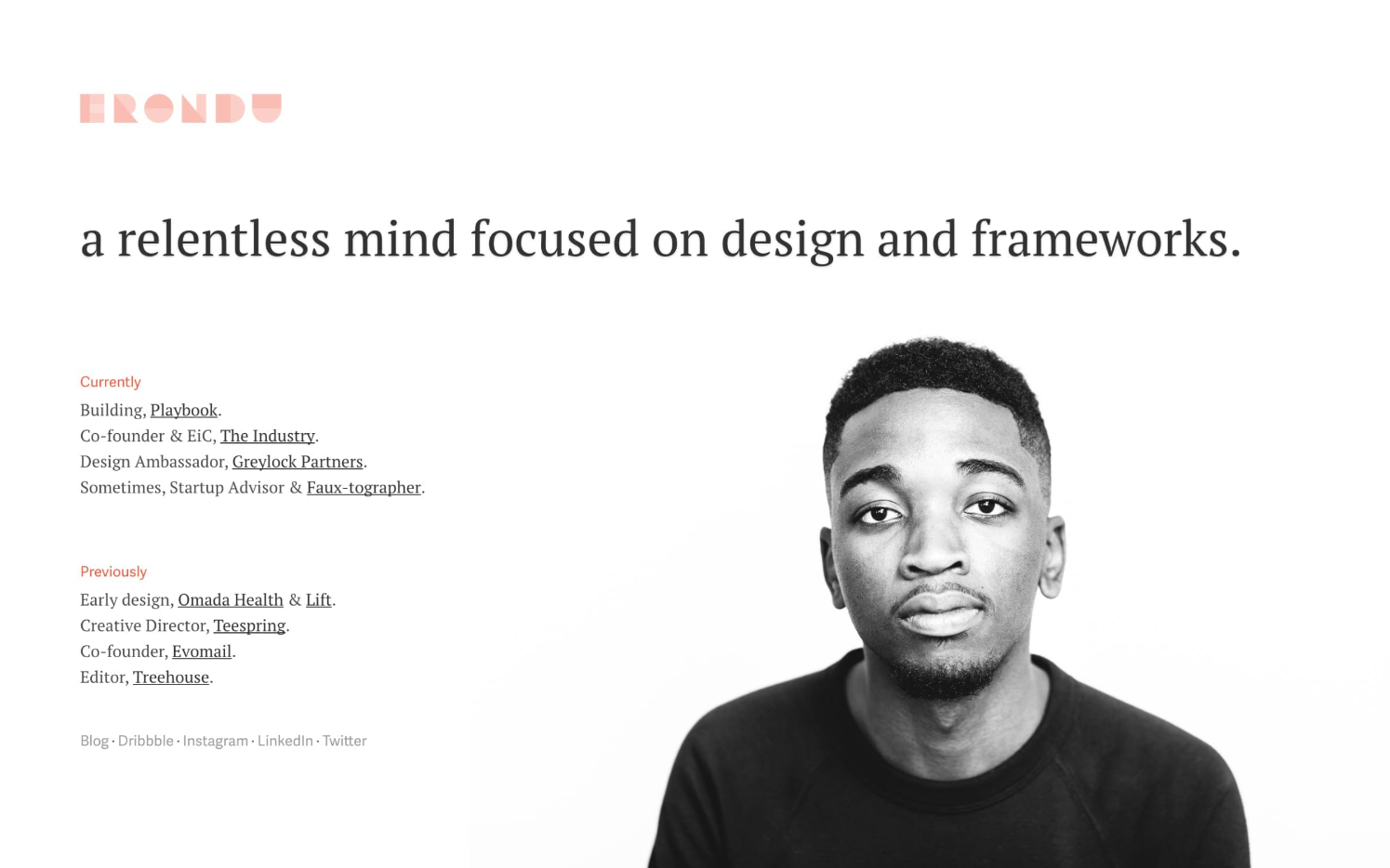 This professional, elegant, and unpretentious website example proves that you don't really need to stuff your personal page with special effects to impress your potential clients. The most important thing is to stay true to who you are and reflect your personality through your website's tone of voice and visuals.

eCommerce website
If you want to sell products online, you absolutely need an eCommerce website. Unlike other website categories, this one allows you to put your offer front and center and focus on monetizing it. With an eCommerce website, you can smoothly manage product availability, collect orders, and receive payments.
There are a few things that can help your online store stand out:
360-degree product photos or videos;
endorsements from customers and influencers;
intuitive hierarchy and search;
featured bestsellers.
This eCommerce website example contains all the abovelisted elements. It has a unique aesthetic that stands out but doesn't overpower the offer itself.
Even if you land on this website for the first time, it'll take you just a few seconds to figure out what's so special about this product and how to use it.
That being said, your eCommerce website doesn't have to be strictly commercial. You can also use it to promote your community, attract attention to your blog, and share in-depth content to help your customers make a conscious choice and fall in love with your brand.
Service website
Selling services online is anything but easy — you need to build trust with your audience, justify your price tag, and convince your potential clients that you're, in fact, delivering on your promises. This task becomes less challenging once you create a service website.
A service website is a great way to tell the world what it is that you do and how your service changes your customers' lives for the better.
It doesn't matter what services you provide — you will always benefit from having a website where you can present and sell them like a pro. Your resource is also a place where you can describe yourself or your team, demonstrate your credentials, and outline your work process to make a great first impression.
Follow these tips for making your service website more engaging and converting:
When writing copy, focus on the value of your offer and the potential outcomes your services bring.
No matter how complex your process is, try to put it in simpler terms to make sure your visitors don't feel intimidated or confused.
Actively use social proof to show the legitimacy of your services and turn customer stories into exciting long-form content or videos.
If it's an online tool or a platform, give your visitors a glimpse of how your service actually works.
It also makes sense to give your website visitors an idea of your price range.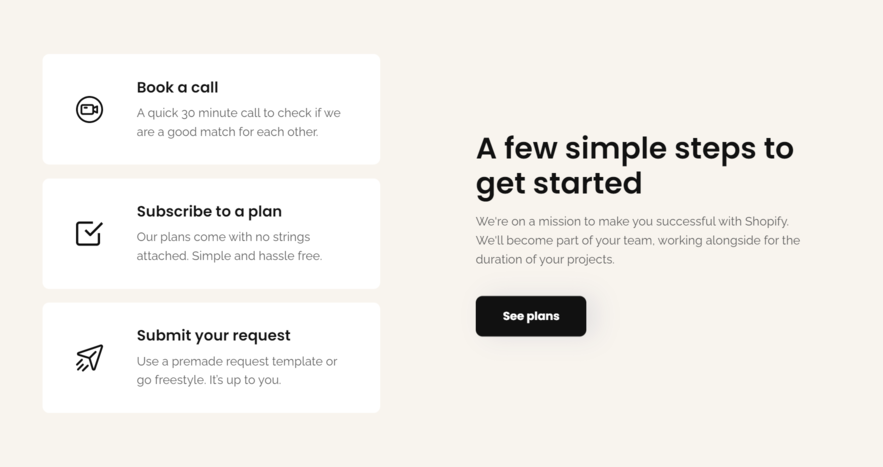 You can also address the most common questions to help your potential customers understand your services better and get rid of unnecessary concerns.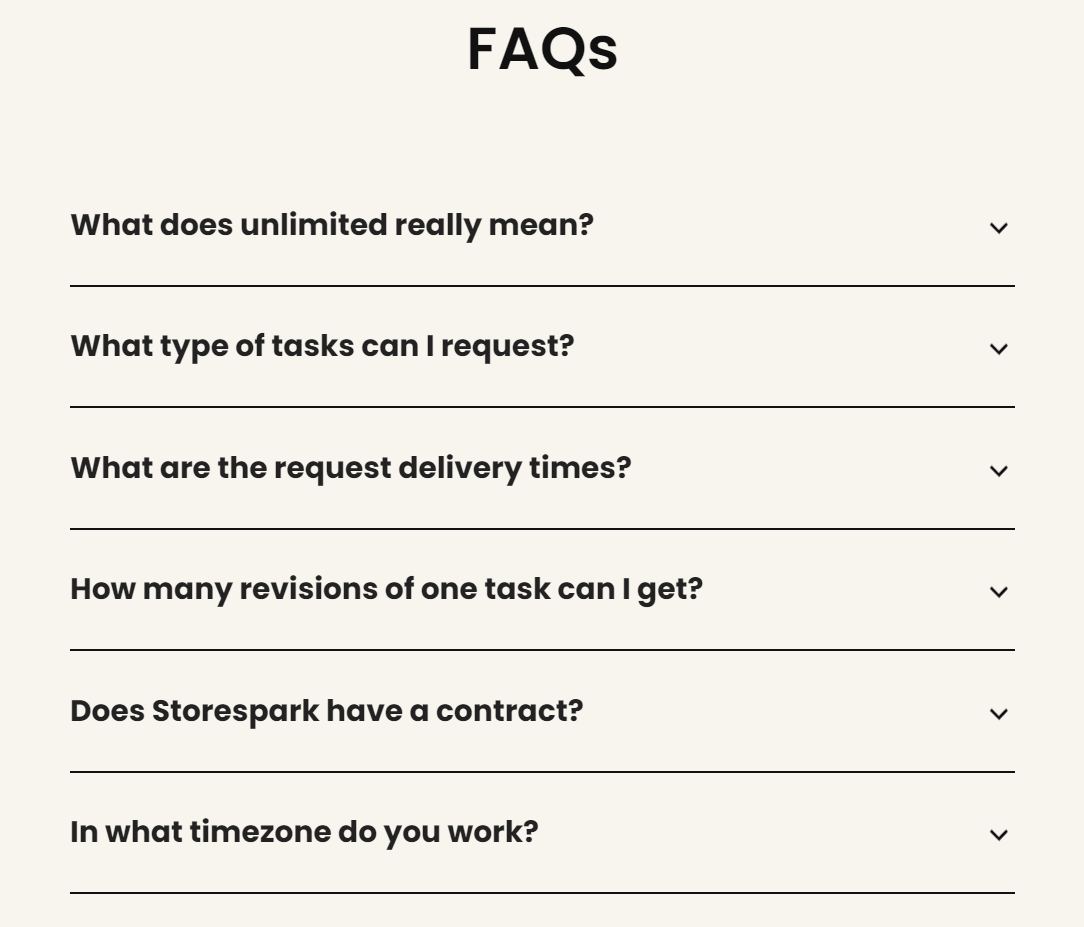 Almost all types of websites require a contact form, but a service website is the one that needs it the most. Give your visitors an opportunity to jump on a call with you or chat with your team to resolve the remaining doubts and sign up for or purchase your services with confidence.
Event website
There are many reasons for creating an event website instead of presenting it on a page of an existing resource. Firstly, an event website creates a more complete, immersive experience and allows you to paint the whole picture. Secondly, it gives you more freedom in terms of content and design. Finally, when you run ads, you can send users to a dedicated resource with fewer distractions.
An event website can be used for:
selling tickets;
sharing information about the event program, hosts, speakers, and special guests;
creating the right atmosphere and warming up the attendees;
sharing instructions on how to prepare for and get to the event;
featuring user-generated content.
You can send more traffic to your event website by promoting it on your social media channels and on your main website.
Community website
Community building is a long process, but it's always worth it to aim high. Give your community the platform it deserves by creating a dedicated website where your members can learn, support each other, exchange ideas, and purchase your exclusive products or services.
A community website can be a logical extension of your online school, blog, or YouTube channel. You can use it to educate your audience, nurture them, and bring them closer to each other.
Just like in this example, you can split your community website into three sections, enabling your members to access educational materials, communicate with each other, and attend your live events. If you aren't there yet, start by creating a dedicated space for communication and gradually let it grow into an online academy or a professional network.

Informational website
If you want to turn the spotlight on your recent project, research, initiative, or report, create a stand-alone website for them. Having an informational website allows you to draw attention to your work and eliminate distractions for your visitors. Instead of making your audience download a bulky PDF, why not lay out all the important data right in front of them?
With this website type, you can let your creativity run wild — use it as a chance to show your brand identity from a whole new perspective. This example proves that even a company report can be presented in a playful, digestible yet memorable way.
By creating an informational website, you increase transparency in your organization and allow your partners, stakeholders, employees, and clients to access your important data and insights in an instant. Also, it helps you keep your documents neatly structured and up-to-date.
Don't forget to link to your main website to help your audience seamlessly travel between your resources. Also, if it's an important document, your colleagues or partners may want to have it printed or posted elsewhere, so make sure to add a "Download" option and a "Share" button.
Entertaining website
If you intend to build long-term relationships with your customers, you need to diversify your communications with them and alternate commercial content with educational materials and entertainment. One of the ways to gamify customer experience is by creating an on-brand entertaining website for them.
The best thing about building entertaining websites is that there is no right or wrong. You can try out different ideas, from quizzes and tests to AR games and storytelling. The whole point of creating this type of website is that your customers start to associate your brand with fun and organically share your resource with their closest ones.
Create different types of websites with SendPulse
Did you know that we have an intuitive, no-code website builder? You can use it to create professionally-designed sites or pages for your personal or commercial brand in minutes. Pick a customizable template from our collection or create your own from scratch — you have all the tools you need to design a stunning responsive site or page and share it with your subscribers.
Once you've published your page, you can track its activity to understand what can be improved. In addition, you can use a multi-channel subscription widget to let your visitors instantly start communicating with your brand. Create your free SendPulse account today and give it a try!