Business automation is using technology to streamline repetitive processes and tasks. It allows companies to increase efficiency, improve service quality and free up employees for more important tasks.
In this video, Anna, a SendPulse marketer, shares valuable tips for automating your business routine.
In the article, we explain the importance of business automation, describe its benefits, and give examples of the processes you may automate. We also provide 5 effective business automation tools to optimize tasks in your company.
Why is it important to leverage automation in your business?
According to Invesp, 80% of companies that use marketing automation see an increased number of leads, and 77% see increased conversions. We explain why it is so and how business automation can improve your business processes.
Firstly, using technology to streamline repetitive tasks allows companies to focus on more critical issues and global aims. When employees do not need to spend most of their time doing monotonous work, they can be creative and take the initiative to improve sales processes. This leads to better staff satisfaction, more effective customer service, and reduced cases of emotional burnout.
Secondly, automation allows you to save money by optimizing business processes. It helps avoid mistakes during a workflow, standardize product development, avoid overspending on raw materials and let companies manufacture more output in the same amount of time. Also, business automation allows you to save money on salaries because you will reduce the number of employees that do repetitive tasks.
Now you understand why using technologies nowadays is necessary to keep up with the ever-changing market. Continue reading to discover more about the advantages of business automation.
Benefits of Business Automation
The research by SmartSheet states that 86% of workers believe that automation will help them improve their productivity and work better. Their hopes are quite logical because business automation is one of the keys to continuous company growth and development in today's market. Read more about its benefits below.
It helps streamline and speed up business processes. Leveraging business automation reduces the time needed for routine activities. It allows companies to eliminate the influence of human factors and avoid waste of time. Optimization helps identify unnecessary tasks and skip them. Additionally, business automation lets companies find and fix recurring mistakes in their business processes.
It allows brands to regulate operations and gain more control over them. Automation is a great way to set production standards and optimize the costs needed for manufacturing. Also, using AI means transparency of all spending and outcomes. Continuous process monitoring and analyzing this information will make you feel more confident in your decisions. Moreover, you will be able to position your company as reliable to clients and investors.
It helps reduce the number of human mistakes and save costs. Technology can do recurring tasks faster and more accurately. At the same time, employees are able to work on building a strong company's reputation and responding to consumer needs. Also, you can save money on office rent because business automation often includes the use of cloud-based tools. It is no longer necessary to stay in one workspace because your staff can access the data from anywhere just by linking to the database.
It allows companies to improve customer satisfaction. If most processes are automated and employees are motivated, the quality of the service will increase significantly. Consumers will meet high standards every time they make a purchase increasing their loyalty and reducing the cases of brand switching. Additionally, using AI can help you better understand your clients' behavior, predict their future actions and find new ways to attract more leads to the brand.
These benefits motivate many business owners to digitize their companies. In the next section, we provide some processes and scenarios you may optimize by using business automation.
How can automation help your business?
There are many tasks you may use automation for, and some of them are more common, and some are more specific. Below we provide the list of scenarios you may streamline with business automation.
onboarding of new employees;
answering FAQ in messengers;
tracking the number of raw materials;
control over the availability of the products;
sending bulk email and SMS campaigns;
analyzing data about consumer behavior;
data management;
searching for trends in the industry;
tracking the employees' attendance;
reporting;
lead nurturing.
This is only a small number of tasks you can automate using different platforms. Let's go further and discover 5 tools to optimize business processes and make them more effective.
Small Business Automation Tools
SendPulse
Hootsuite
Zapier
WordStream
Asana
There are many tools and platforms that can help you automate your business processes. In this section, we provide the most convenient and effective ones for you to streamline the tasks in the company.
SendPulse
This is an effective service for launching email, SMS, and web push campaigns. It offers a built-in CRM for your business automation. Also, you can use a handy chatbot builder to answer FAQs faster and optimize communication with clients. SendPulse provides a wide range of products and allows consumers to integrate them to make processes even more effective. There are ways to automate your business with this platform below.
An easy-to-use CRM system allows you to create deals, assign them and track their success automatically based on pre-set conditions. You can keep all the data about your clients and stay in touch with them right through the database.
You can set up auto-replies with SendPulse chatbot builder for Instagram, Facebook Messenger, Telegram, and WhatsApp. It helps your company be in touch 24/7. You can personalize offers, build sales pipelines, and accept payments within the chatbot.
The platform lets you launch pre-scheduled email, SMS, and web push campaigns. They will be sent automatically on a particular date or after meeting certain conditions. You can personalize sendings, use segmentation or increase the efficiency with A/B testing.
SendPulse offers a user-friendly mobile app to let you check the success of your campaigns from any location.
Pricing:
Email campaigns. There is a free plan for up to 500 subscribers. Paid plans start from 6.4$/month.
SMS campaigns. The price per SMS depends on the country.
Web push campaigns. There is a free plan for up to 10,000 subscribers. Paid plans start from 15.2$/month.
Chatbot builder. There is a free plan for up to 1,000 subscribers. Paid plans start from 9.6$/month.
CRM system. You can use it for free for up to 5 users in your account. If you want to invite more users or use advanced features, upgrade to the Basic plan, which costs $37 per month.
Look at the example of a chatbot flow for a travel agency. It can help a company consult consumers right from the bot and suggest different variants of trips. Users will be able to choose what they like and purchase directly from the message.
Hootsuite
This platform allows you to automate your marketing campaigns on social media. You can use Hootsuite to share content, analyze market tendencies, manage paid advertising and track the results. Additionally, this platform integrates with many tools like Google Drive, Dropbox, or Talkwalker, which lets you work more effectively and gain insights into your campaigns' success. Read about Hootsuites' features to automate your business.
You can schedule posts for all social media on one platform, boost posts, analyze them, and create reports right into the dashboard.
Hootsuite auto-adjusts the bitrate, height, and width of the videos according to each social media's requirements, so you do not need to optimize the content manually.
You can use chatbots to answer FAQs, or start replying to messages on your own anytime you need. Create saved replies to speed up message responses. There is also Hootsuite's AI that can suggest the most suitable answers.
You can analyze the efficiency of your marketing by capturing the reviews from over 85 sites automatically. Also, Hootsuite allows you to calculate the ROI of your social media investments based on a number of metrics collected in their database.
Pricing:
Professional plan — €99/month. It is only for 1 user and up to 10 social accounts. There is a free 30-day trial.
Team plan —

€249

/month. It is for 3 users and up to 20 social accounts. There is also a free 30-day trial.
Enterprise plan — you should contact for pricing. There can be 5+ users and 50+social accounts.
Here you can see an example of a posting planner in Hootsuite. You can add posts for any social media, change accounts and organize all processes in one tool.
Zapier
This is a tool for multitasking built on the if/then logic. You can set up certain conditions and the action that will happen after these conditions are met. For example, Zapier may save media from your messengers on Google Drive, send emails to the leads visiting your website or notify you about new trends after updating Twitter. The tool supports more than 400 apps, so you will certainly find what you need. Below we provide the features that can help you automate your business process.
You can use if/then logic to automate any process that requires a trigger. One such link may include up to 100 actions, so you just need to build the integration and make the flow work.
Zapier also allows you to create new if/then connections based on a trigger or a schedule in their editor. Optimize processes and move huge amounts of information with only one tool.
Pricing:
Free plan — it allows users to automate up to 100 tasks/month.
Starter plan — $29.99/month. You will be able to automate up to 750 tasks/month.
Professional plan — $73,50/month. It allows users to automate up to 2000 tasks/month.
Team plan — $103,50/month. You will be able to automate up to 50 000 tasks/month.
Company plan — contact Sales.
Look at the example of creating a workflow in Zapier. Connect different apps and tools, choose the actions you need to link, and create your own if/then logic.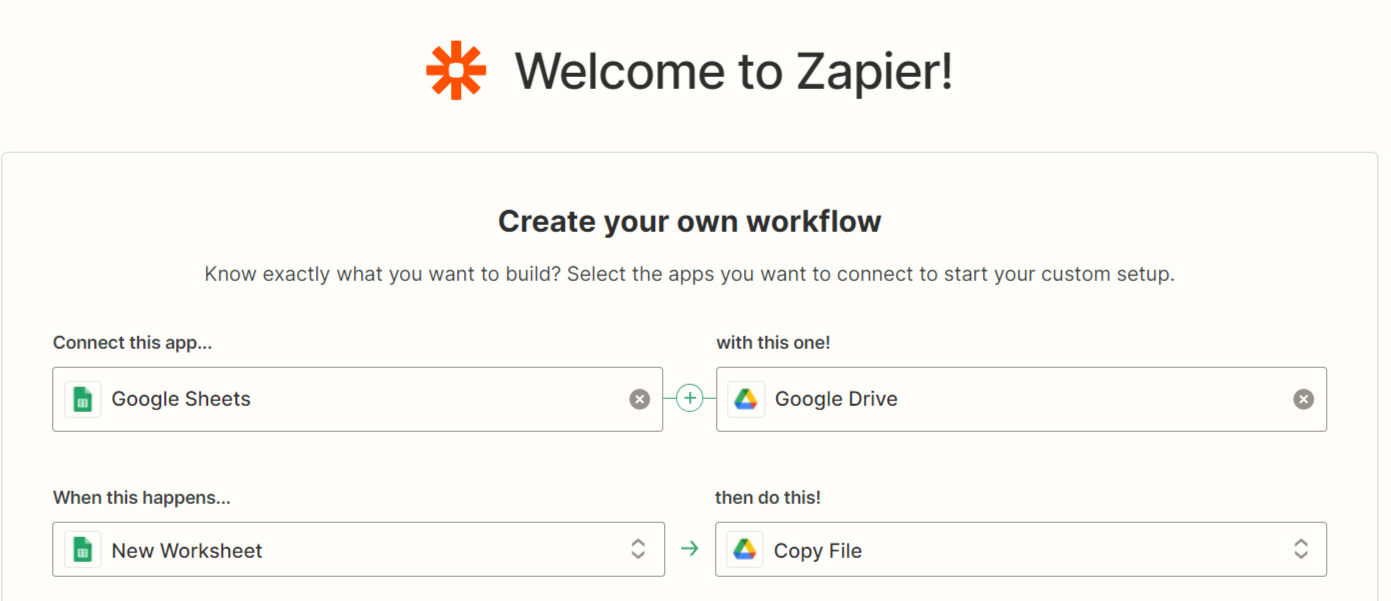 WordStream
This platform helps measure the success of your digital marketing campaigns and improve them. WordStream provides Ads Performance Grader to evaluate the effectiveness of your advertisements and gain useful insights on how to make them more effective. Smart Ads Creator allows you to develop highly powerful promotions in a few clicks. We describe the features of WordStream to automate your business below.
You can connect your account with WordStream and analyze the success of your advertisements on Facebook and Google. The service rates promotions based on 17 key stats, gives the total grade, highlights weak points, and provides tips on making ads more effective. It will save a lot of your marketers' time on data analysis.
WordStream also lets you create designs for your ads using AI. You need to give the link to your website, and the service scans it to identify the most effective visuals and texts. Then Smart Ads Creator builds banner ads for your goals based on the AI analysis. It allows you to save your designers' time and develop advertisements automatically.
Pricing: WordStream is completely free.
There is an example Google Ads grade in WordStream.Here we can see a Quality score, the distribution of active keywords, and get some tips on how to improve your advertisement.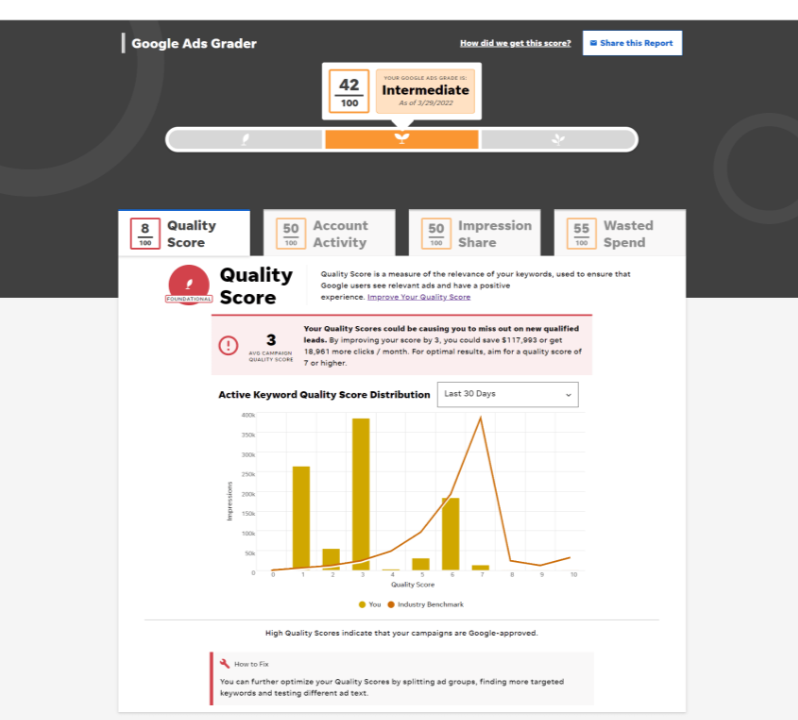 Asana
This is a popular tool that allows employees to work in a common space and manage tasks just in a few clicks. You can increase the effectiveness of the workflow by using kanban boards, group work calendars, forms, and statuses. Asana lets you track the workload of your staff and the success of your projects in real-time and manage them if there are any difficulties. Below we provide Asana's features that can help you automate your business processes.
This tool is beneficial to project managers because working in a common space lets the staff share information faster and get a holistic image of their projects'. You can assign tasks automatically based on employees' statuses or track the success of your project by setting due dates.
Asana allows you to turn the best workflows into templates and save them inside the platform. These already optimized processes will be useful while working with recurring projects because you will be able to manage tasks faster.
Asana provides a handy application to manage the workflow from anywhere. The tool synchronizes with many platforms like Google Drive or Slack which is one more advantage.
Pricing:
Free plan — it allows users to work with unlimited tasks, but there can be only 15 colleagues in your team.
Premium plan — €10.99/month. It offers collaboration with 500 teammates, 250 automations per month, chronology, and workflow builder.
Business plan — €24.99/month.

 It provides 

collaboration with 500 teammates,

 25,000 automations per month.
Here you can see an example of a project plan in Asana. Add tasks, change statuses and share the data with your teammates. You can also switch between tabs and check kanban boards, a calendar, messages, and an overview of the project.
Congrats, now you understand what business automation is and why it is important, know its benefits, and how it can help you optimize your processes. You can also choose the best tools to automate your business and increase the effectiveness of your company.
Last Updated: 04.12.2023