Instagram eCommerce is a combination of marketing and selling products using this social network as a platform. Brands create their business profiles on Instagram, grow their follower bases, and promote products using various content and ad types.
In this video, a SendPulse marketer shares tips on promoting your products on Instagram.
In 2012, Instagram was acquired by Facebook for $1 billion. Since then, it has become a massive communication, marketing, and advertising platform. There were 25 million active business accounts active on Instagram by 2017.
In 2020, Instagram launched a wide range of features designed specifically for eCommerce. These features are collectively called "Instagram Shopping," and, in short, they allow you to do the following:
create a customizable business page with online store functionality;
add product tags with a name and price that will make your Instagram content shoppable;
complete the entire ordering process without making users leave the app;
sell your products directly from influencers' posts;
make live presentations of your products and convert customers in real time.
We'll review Instagram Shopping features later in this guide. Now, let's check out some statistics and find out how useful Instagram is for running a business.
Is Instagram good for eCommerce?
We've collected nine facts to prove that Instagram is an efficient platform for your eCommerce brand. Check them out:
Nowadays, people expect their favorite brands to be present on social media. This is the main reason you should consider joining over 25 million businesses on Instagram. If you don't know where to start, read on.
Instagram's hidden e-commerce gems await your discovery
How to Start Instagram eCommerce
Get Approved for Shopping on Instagram
Setup Your Business Instagram Account
Upload Your Product Catalog
Complete Your Account Review
Turn on Shopping
Start Adding Tags
Take these six steps to open your shop on Instagram and gain access to Instagram Shopping features.
Step 1: Get Approved for Shopping on Instagram
Follow these requirements to use Facebook Commerce features, including Instagram Shopping.
Comply with Facebook policies. Follow Instagram's Terms of Use and Community Guidelines. You also need to comply with Merchant Agreement, Commerce Policies, Ads Policies and Pages, Groups, and Events Policies.
Run your business from your verified domain. Instagram may require you to undergo domain verification to ensure your Instagram business account is associated with your domain.
Be located in a supported market. Operate your business from a country where Instagram Shopping features are available. You can find the list of these countries here.
Demonstrate trustworthiness. Your Instagram business account must demonstrate an authentic, established presence and maintain a sufficient follower base.
Provide accurate information. Only provide correct details about your product pricing and availability. Make your refund and return policies easy to access from your website or Instagram profile.
If you fail to comply with any of these policies at any time, you may lose access to Facebook Commerce features (including Instagram Shopping), and even your account.
Step 2: Setup Your Business Instagram Account
Turn your existing Instagram profile into a Business account. It takes three steps:
Switch to a Business Account. Go to your Settings, tap "Switch to a Business," and tap "Continue."
Connect to your Facebook Page. Tap "Log in with Facebook," choose the page you are an admin of, and tap "Next."
Setup your Business Profile. Enter your business email address, phone number, and physical address so that users can easily find and get in touch with your brand.
Step 3: Upload Your Product Catalog
Connect a product catalog with your Instagram Business Account in one of two ways:
Use Catalog Manager. Facebook's Catalog Manager can contain and hold information about all the items you plan to advertise or sell on Instagram and Facebook. Use this guide to create one.
Use Instagram eCommerce platform partners. You can use eCommerce platforms like Shopify, Wix, and BigCommerce to create your product catalog.
Step 4: Complete Your Account Review
Once you've connected your catalog to your Instagram profile and added products to it, submit your account for review. Here's how to complete your account review:
Go to your Settings.
Sign up for shopping.
Submit your account for review.
Check your status in the "Shopping" tab in your Settings at any time.
Account review typically takes a few days, but Instagram may require additional information to prove that you own your website domain. If you receive such a notification, you need to verify your domain.
Step 5: Turn on Shopping
If you don't see "Shopping" in your account settings, then your account is still under review. When your account is approved, turn on Shopping features with the following steps.
Go to your Settings.
Tap "Business" and then tap "Shopping."
Choose a product catalog to connect to your account.
Step 6: Start Adding Tags
This is necessary to make your Instagram content shoppable. Here's how to tag a product in your image post:
Tap "Add photo."
Add a caption.
Tap on "Tag products."
Tap on a product in your photo.
Choose a product from your Catalog.
Tap "Done," and then tap "Share."
And here's how to add a shopping sticker to your Stories post:
Find the sticker icon in the top right-hand corner.
Select the product sticker from the sticker tray.
Choose the product from your catalog.
Move the product sticker so that it looks excellent in your story.
Customize the text color of the product sticker by tapping it.
Share your story.
Now you've enabled Instagram Shopping features. Your next step is to collect a considerable follower base. Let's find out how to do that.
Instagram Shopping Features for eCommerce
Open Your Shop
Get Discovered on Instagram Shop
Make Your Posts Shoppable with Shopping Tags
Design Product Detail Pages
Combine Product Pages into Collections
Leverage Ads with Product Tags
Enable Ordering via Checkout on Instagram
Cooperate with Influencers and Creators
Build Anticipation with Product Launches
Present Your Products with Live Shopping
eCommerce on Instagram heavily relies on Shopping features, which are basically an upgrade of Instagram's regular features. Instagram Shopping helps brands make image and video posts, Stories, IGTV, and advertising shoppable.
Before going further, we have to inform you that Instagram Shopping features currently only work in some countries. If your country is listed below, you can use Instagram Shopping to your advantage.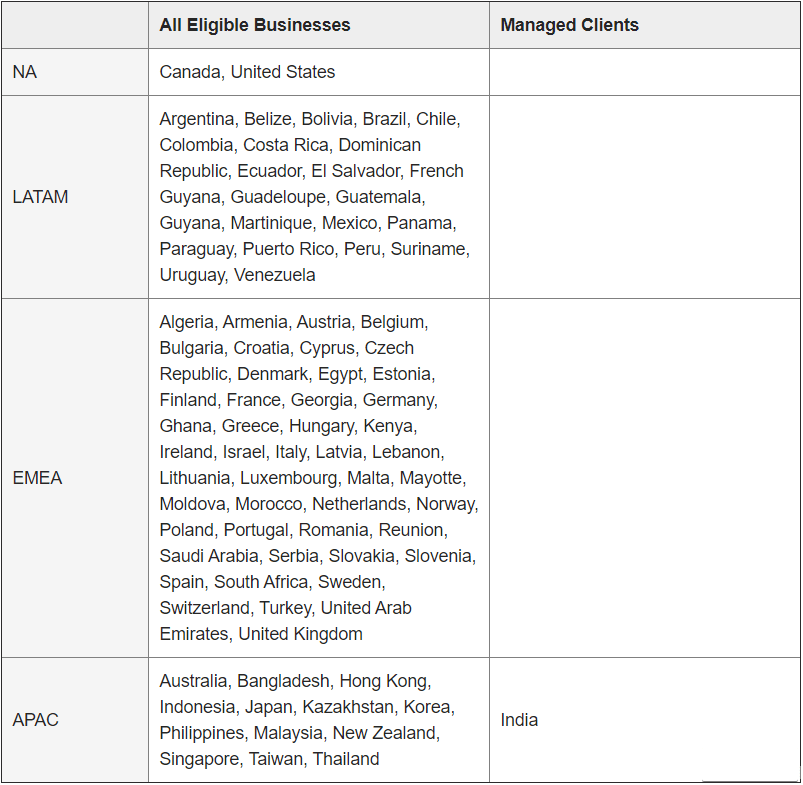 Let's see what options Instagram Shopping offers to your eCommerce brand.
Step 1: Open Your Shop
The "Shop" feature allows you to turn your business page into a customizable online storefront. By using it, you enable consumers to shop right on your Instagram business page.
@spearmintbaby shows two collections above the fold: expensive children's clothes, and gown and hat sets with a "Shop" CTA on each one. Scrolling down, users can sort and filter the products in a convenient order.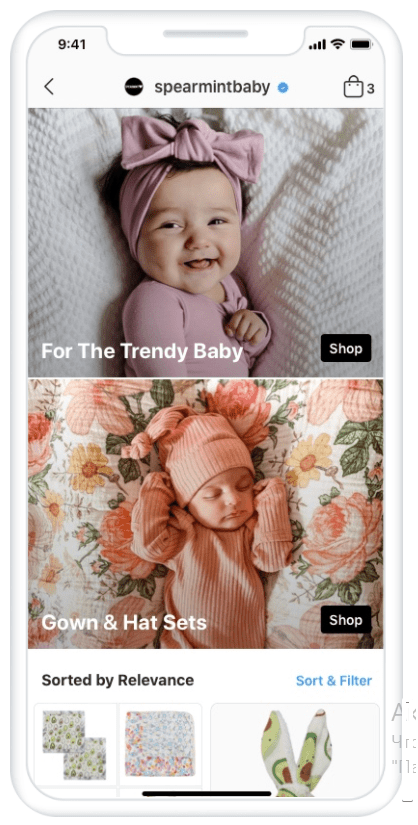 Step 2: Get Discovered on Instagram Shop
It's an in-app shopping destination, where customers can discover products from all Instagram businesses — a kind of virtual mall. Don't confuse Instagram Shop with the Shop feature.
Instagram Shop is presented as a list of "Collections," "Brands," and product recommendations personalized based on user interest. To navigate there, people tap on the "Shop" tag in the "Explore" section.
Step 3: Make Your Posts Shoppable with Shopping Tags
Shopping tags allow you to connect products from your Product Catalog with your Instagram content and advertisements, making them shoppable. US brands that use Instagram's Сheckout feature can also show their products in captions and bios with product mentions.
Shopping Tags appear in the bottom left-hand corner of the post. This small icon allows users to quickly identify a piece of content as shoppable. Once people tap on a post, it highlights the item name and price and a "View Products" button, which leads to other products in the Catalog.
Step 4: Design Product Detail Pages
Such pages include a gallery of product photos, the sizes available, pricing, a product description, shipping, return details, and related product recommendations. When users tag your product in their posts, this content will display on a product detail page, providing your shoppers with additional visual information and social proof.
Burberry's product detail page displays men's swimming shorts, seven sizes, a CTA that leads to checkout, and offers items to match this product.
Step 5: Combine Product Pages into Collections
These are customizable pages on your Shop to curate your products into themes. Customers can filter and sort items in your collections for better navigation.
Every collection has a large image with title text to represent the entire collection, a short description of the collection, and a gallery of similar products for shoppers' consideration. Each of these products in a gallery has a photo, item name, and price.
Step 6: Leverage Ads with Product Tags
You can boost your shoppable posts as ads or create ads from scratch using Facebook's Ad Manager. These ads drive customers to checkout on your website or to checkout on Instagram.
Maxwell Shoe's shoppable ad has a "sponsored" mark below the username. When users tap on the photo in the post, they can see the product name and pricing, and proceed to a product detail page to find more information and make an order.
Step 7: Enable Ordering via Checkout on Instagram
This feature is currently only available for US-based creators and businesses that comply with Instagram policies. It allows you to sell products directly on Instagram so that shoppers can seamlessly buy products without leaving the app. Companies that can't use Instagram Checkout can still use Facebook's integration with Shopify, Wix, BigCommerce, and complete orders outside Instagram.
A tap on the shoppable post redirects to the product detail page and then to Checkout with Facebook Pay. To make a purchase, users only need to choose item specifications, fill in the delivery details, and add their credit card data.
Step 8: Cooperate with Influencers and Creators
Shopping from Creators allows people to shop directly from creators via Instagram Checkout. Companies can collaborate with Instagram creators and influencers, who earn a commission for promoting products to their followers.
Camila Coelho, an Instagram Creator, created this post to promote a smartwatch in "paid partnership with" Michael Kors. Her followers need to tap on the image, then tap on a shopping tag with an item name and pricing, and proceed to checkout to purchase this product.
Step 9: Build Anticipation with Product Launches
This feature helps you announce upcoming product launches and enable Instagram users to set a reminder and purchase products as soon as they're available. Instagram product launches are also only available for businesses that use the Checkout feature.
Adidas announced a product launch in Stories and added a timer to create anticipation. When the time is up, interested consumers will tap the timer and proceed to a product detail page.
Step 10: Present Your Products with Live Shopping
With this new feature, creators, who use Instagram Checkout, can make inspiring Instagram Live presentations of their products and convert viewers into customers in real-time.
Live Shopping is a regular Instagram Live stream upgraded with a tappable product section, leading to Checkout. The marketer from Ubeauty presents an $88 resurfacing compound while the public engages in the comments section.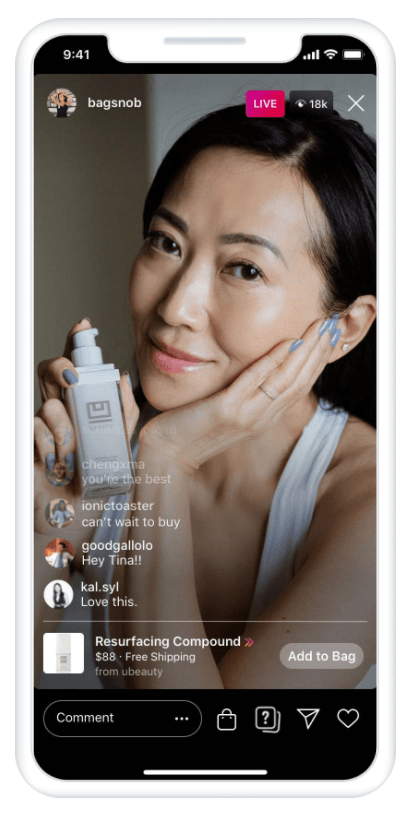 It's time to explore what ad types you can utilize for your Instagram eCommerce strategy in addition to the ads with product tags we've already mentioned.
6 Instagram Ad Types for eCommerce
Image Ad
Video Ad
Ad in Stories
Carousel Ad
Gallery Ad
Instagram Explore Ad
Instagram ads help you boost your brand's page, specific products, and services. Let's quickly review the types of ads available for your ecommerce on Instagram.
Type 1: Image Ad
It looks like a regular image post but has a "Sponsored" mark at the top right-hand corner and the CTA "Shop now" at the bottom of the post. You can create such ads from scratch or promote existing posts to boost engagement around specific topics.
This ad tells us that the brand deals with fresh fruit delivery. The page name, @thepeachtruck, informs potential clients that the company delivers in bulk.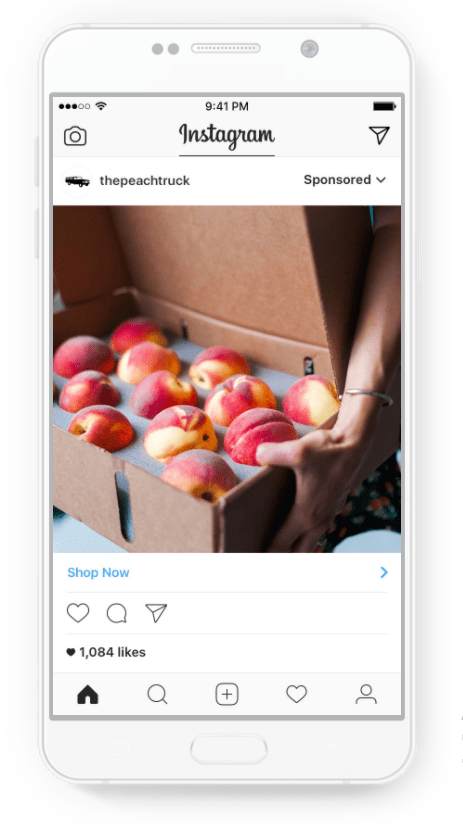 Type 2: Video Ad
It looks like a regular video post but also has a "Sponsored" mark and a CTA. Videos are best at engaging users, and they allow you to share more information in a shorter time.
The video ad below promotes an autopilot function in a new Volvo. The short video delivers a lot of information: the autopilot activates with the driver's touch and recognizes pedestrians, traffic, and difficult road junctions.
Type 3: Ad in Stories
This ad type appears in Instagram Stories. They have a "Sponsored" mark under the page name and a CTA at the bottom. Ads in Stories can consist of a few parts and redirect users to specific website pages.
The ad in Stories below has three slides, each shows a different set of bed clothing. Once a user swipes up, they are redirected to the specific product page.
Type 4: Carousel Ad
This ad type allows you to highlight up to 10 product photos in one post. Users can swipe around, choose their favorite item, and proceed to shop with a CTA at the bottom of the post.
The carousel ad from @fizzygoblet offers seven pairs of women's shoes. The CTA automatically adjusts to the dominant color of the photo. With the last picture in the carousel, the CTA changes from "Learn more" to "Shop now."
Type 5: Gallery Ad
This ad type is similar to an image ad, but a catalog of relevant products with names and prices pops up when users tap it. Gallery ads tend to speed up shopping and redirect users to checkout fast.
With this ad, users can browse through pieces of furniture in the @ashleyhomestore catalog. Once users tap the ad, it redirects them to the specific product page.
Type 6: Instagram Explore Ad
This advertisement appears in the Explore panel, where Instagram shows a gallery of images and videos based on users' interests and behavior.
Once the user taps on one of the Explore section images, Instagram shows a personalized feed consisting of pages within a similar topic — confectionary brands. Users can browse through these pages and follow or message every page they are up to.
Learn to create highly effective Instagram advertisements with Facebook's course. Now, as you've learned more about Instagram Shopping features and ads, let's find out how to attract followers to your brand.
How to Find Followers on Instagram for eCommerce
Avoid Collecting Fake Followers
Verify Your Business Page
Use Different Content Types
Use Trends
Use Hashtags
Create a Beautiful Feed
Run Giveaways
It's not that you need to find followers; instead, you need to make your brand discoverable and likable so that people willingly join your Instagram community. It goes without saying that you need to consistently create excellent content to collect interested followers, so we've compiled seven tips to help you out.
Tip 1: Avoid Collecting Fake Followers
Although you can use tools to drive thousands of bots to your page, this is a dead end because it will only waste your money and ruin your credibility. Real users will immediately notice the gap between the number of followers and engagement around your content, and refuse to follow your page.
Tip 2: Verify Your Business Page
Verifying your Business Page will add more credibility to your profile. Businesses verified on Instagram have a tiny blue spot with a checkmark next to their business names, like Adidas below.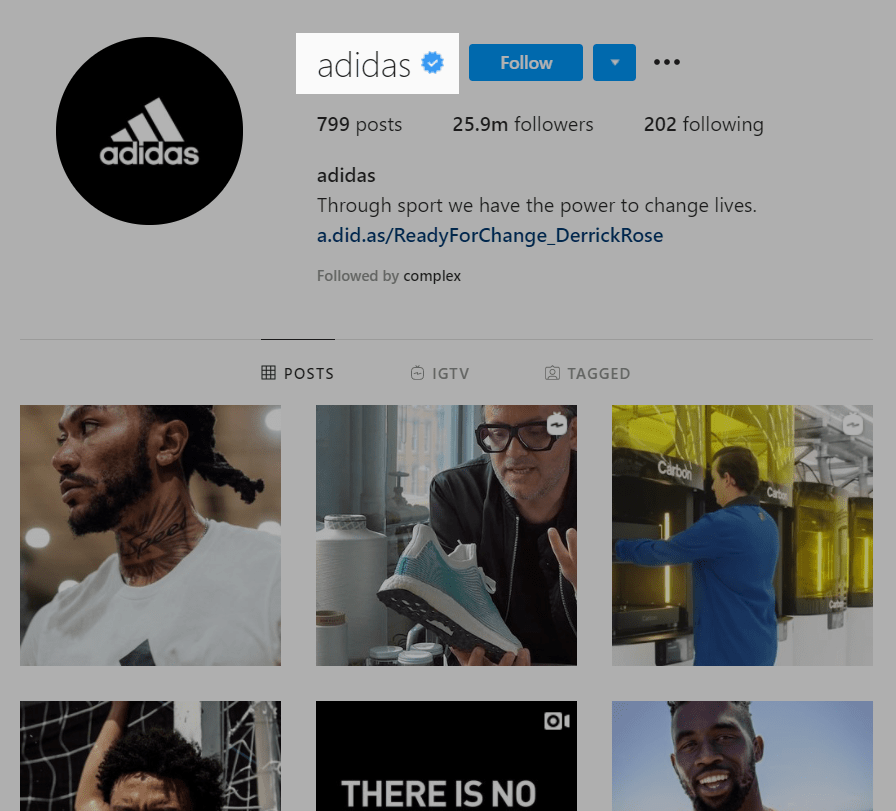 To have your business page verified, go to your Settings, tap "Account," and then tap "Request Verification." Fill out the form, tap "Send," and Instagram moderators will review your request.
Tip 3: Use Different Content Types
Not all your content on Instagram must be shoppable. Regular content also allows you to engage with your audiences in different ways. According to SproutSocial, images, videos, text-based posts, and stories are the content types that users are most likely to engage with.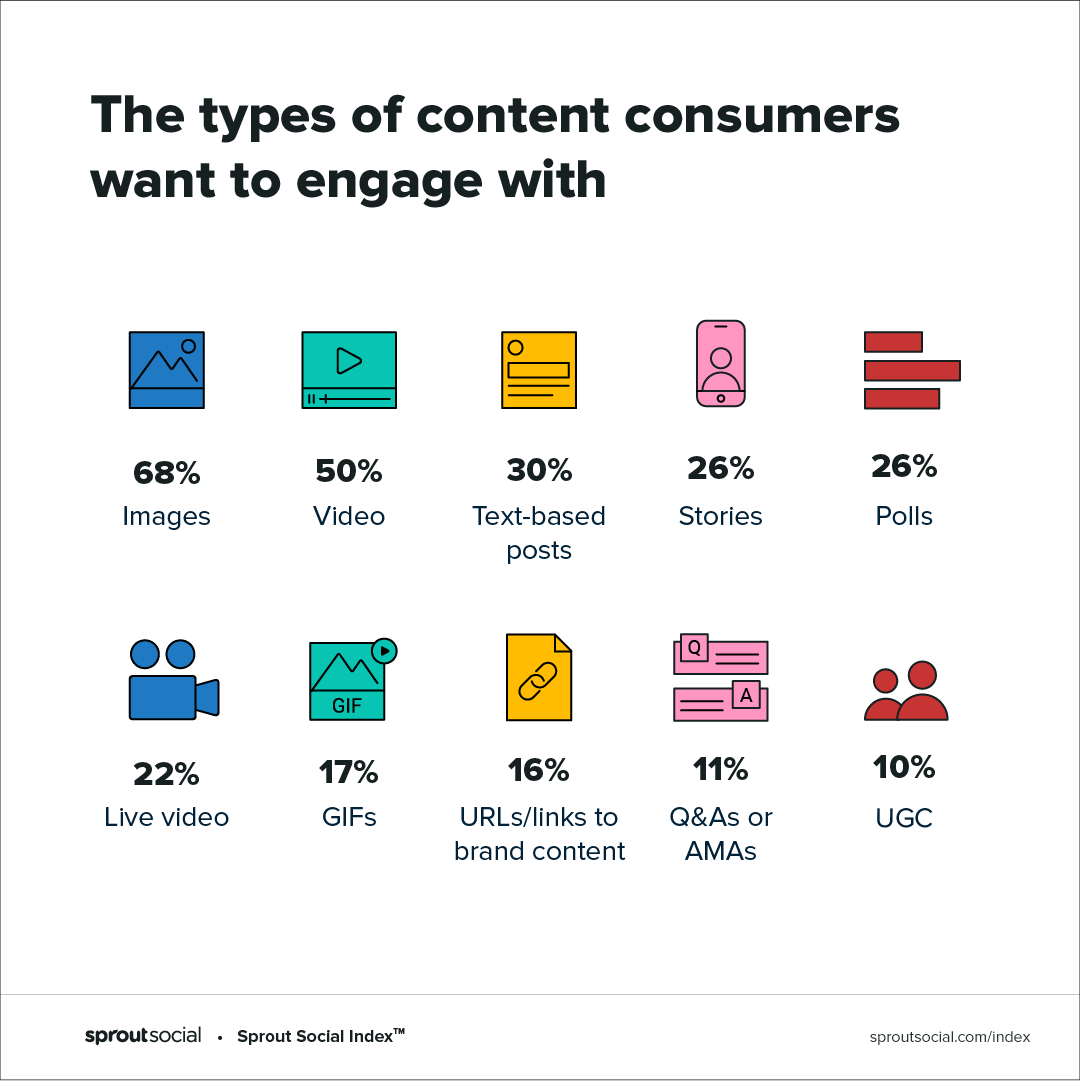 Tip 4: Use Trends
Conceptualize your posts around trends relevant to your audience to gain more credibility. @sheamoisture, like many US businesses, actively encourages people to vote. This may seem too political, but many people expect this type of attitude from their favorite brands.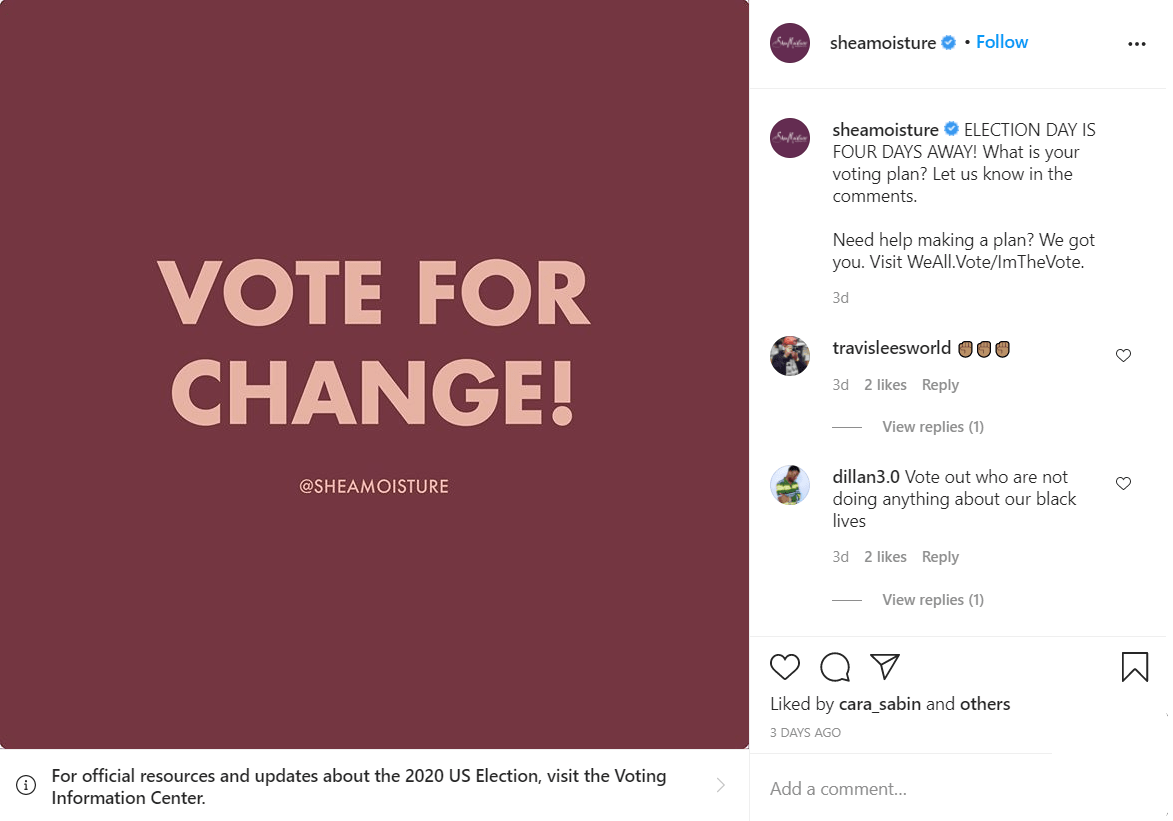 Tip 5: Use Hashtags
Relevant hashtags make your posts, including shoppable ones, more discoverable. Using the right hashtags, you have better chances of reaching the Explore section, where many people may notice you, follow your brand, and make a purchase.
@onetonecolor specializes in hair dye, so they use relevant hashtags, like #haircare, #colorcare, #hairideas, #veganhaircare, etc. It's best to start by researching popular hashtags of your industry competitors, avoid adding more than ten hashtags (though thirty is allowed), and always double-check their meanings.
Geolocation tags make your business page and content better discoverable for audiences from specific locations.
Tip 6: Create a Beautiful Feed
By quickly checking your feed, users judge your style and form their first impression of your brand. It's best to build an aesthetic for your Instagram feed by crafting content within a specific color palette and using tools to preview your feed's look, for example, PreviewApp.
@unbirthday.co designs its feed focusing on pink, mint, and brown — combining their product images with user-generated content. Since it looks professional and attractive, people interested in shopping gifts will likely follow this brand.
Tip 7: Run Giveaways
This is a fast way to attract new followers by giving away some products from your brand. Note that giving an iPhone 12 away will bring you the followers, but they will be interested in the gadget, not your business.
Here's a @sassywoof giveaway. They offer dog harnesses, leashes, collars, and other dog ammunition in exchange for following and mentioning their friends in the comment section. Such a giveaway is interesting only for dog owners so that unengaged audiences won't participate.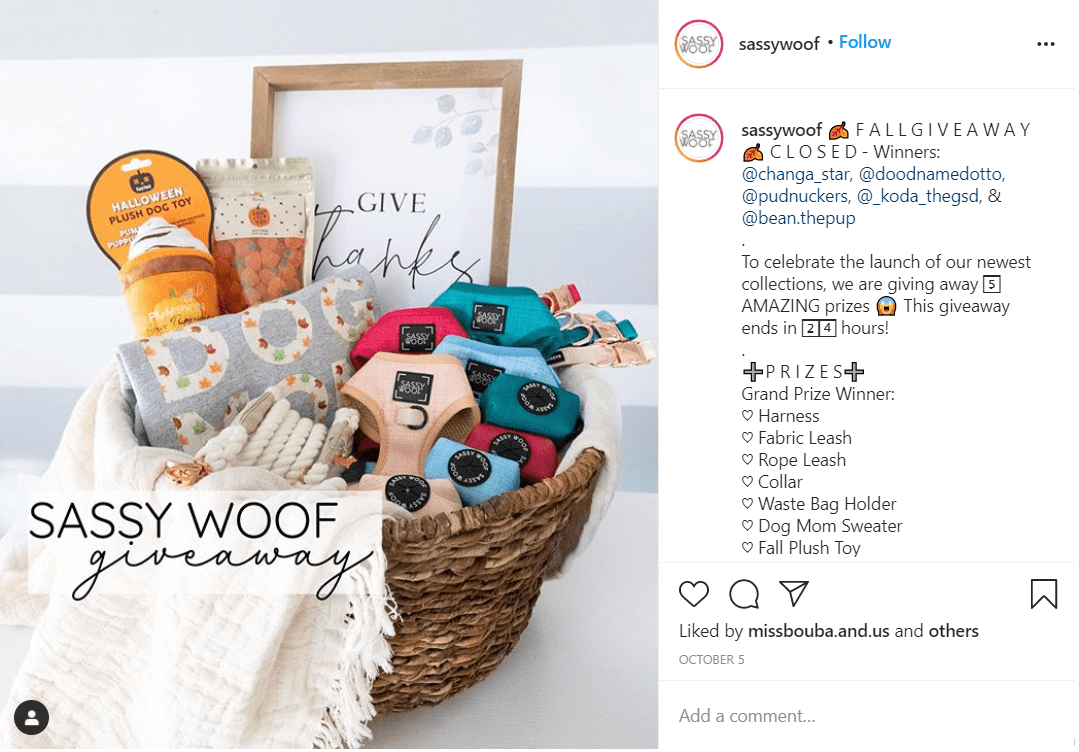 You are doing great and nearly know everything about Instagram eCommerce by now! Before we finish this guide, we decided to share some extra tips to help you effectively build your Instagram eCommerce strategy.
5 Best Practices to Make a Good eCommerce Page on Instagram
Connect with Influencers
Incentivize Shopping
Show Your Products in Action
Leverage User-Generated Content
Use Instagram Insights
Successful eCommerce activity includes wise and active use of content techniques, advertising, and Shopping features, not to mention that you should follow Facebook and Instagram policies to stay legit. We've listed a few more actionable tips that we haven't mentioned earlier to finish this guide. Here they are.
Tip 1: Connect with Influencers
Influencers are usually celebrities or experts in particular fields that can promote your product to their followers on Instagram. Only collaborate with influencers who work in a relevant business field, thus having followers potentially interested in your products.
In this post, popular fitness blogger Jen Selter promotes @vitalproteins' water. She holds the bottle in her hand and writes a few words about.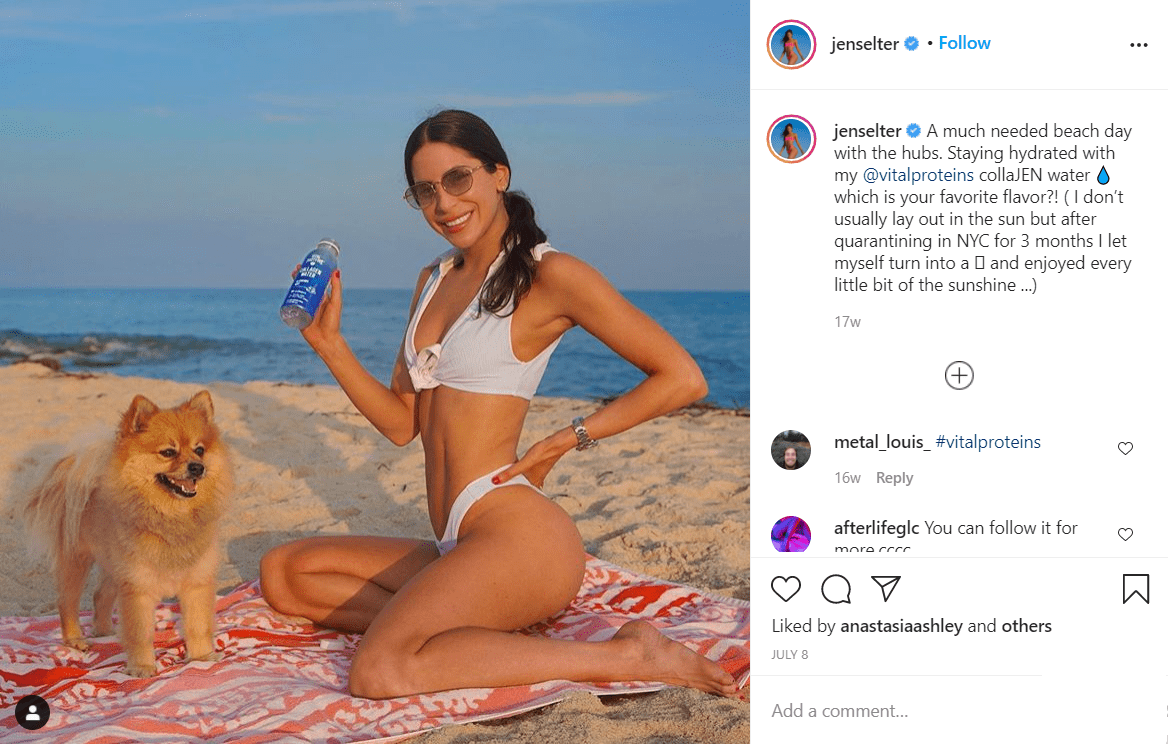 Tip 2: Incentivize Shopping
Add sales or promo code details to your posts to provide more incentive to tap-through. You can include this information right in the image before you upload it to Instagram.
A video announcement from @thiefandbandit gives a promo code and informs the followers of the discount. It's tricky to read this information because images change fast, but the intrigue makes users watch the loop several times.
Tip 3: Show Your Products in Action
Highlight how practical and useful your products are to inspire your customers for shopping. When they see your products in action, they check the product quality and quickly understand if it's a good fit for their needs.
@overtonecolor shares an IGTV video where they show the hair dyeing process with their product and the results it brings in focus. Dyeing is rather a long process, but a shorter presentation would look even more astonishing in a shoppable Live video with a shoppable product sticker.
Tip 4: Leverage User-Generated Content
Add user-generated content to your feed and Stories to add social proof from real customers and inspire new shoppers to take action. By tagging your followers, you can make communication even more friendly.
Here is a piece of UGC from @gymshark. Three ladies look confident and beautiful, wearing the brand's sports clothing in the photo.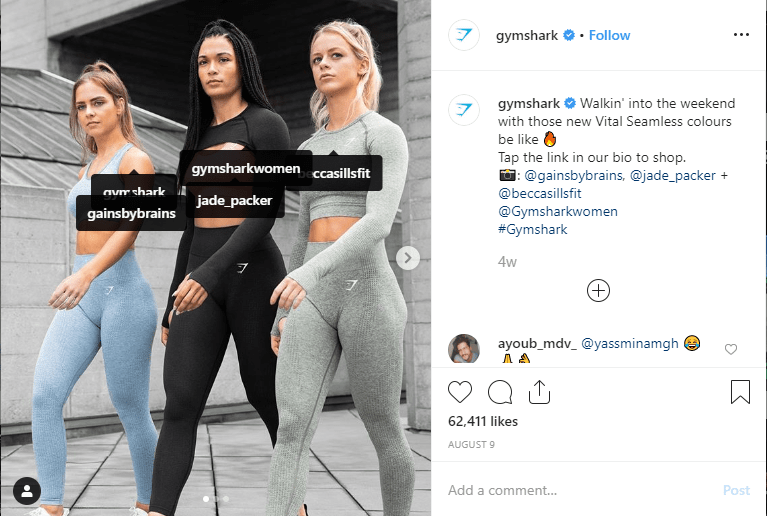 Tip 5: Use Instagram Insights
Instagram Insights is a business tool that helps companies analyze data about their followers. With Instagram Insights, you can determine which types of content work best with your followers and monitor their behavior on your page.
Here are some insights about a specific Story. The tool shows how many people viewed this content and were redirected to a website or business profile.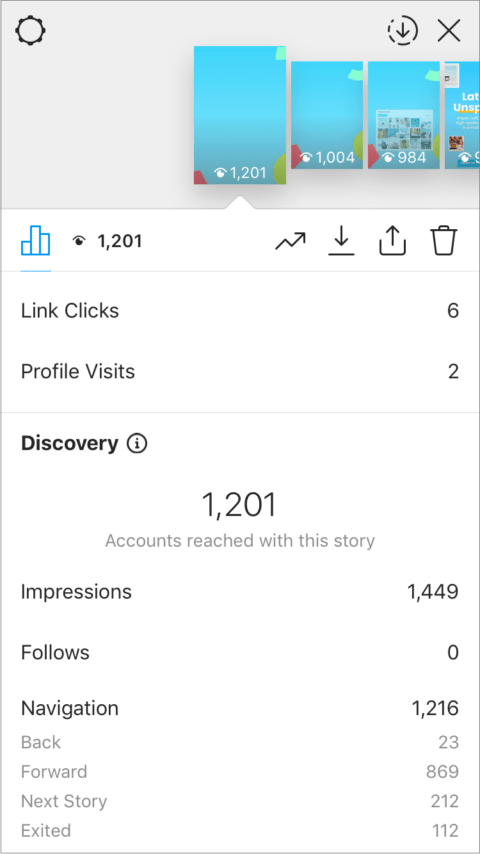 Instagram Insights also allows you to highlight your followers' activity within the last seven days. It shows you the number of engaged people, their demographics, including age and location.
Learn more about Instagram Insights here.
Congratulations, you've learned a lot about eCommerce on Instagram. We hope this guide will help you start and maintain your business activity on this platform.
Last Updated: 06.09.2023