Window shopping as we know it is dying off — Instagram shopping is the new black. The new generation of consumers prefers to look at real, like-minded influencers, not at mannequins. Marketers and business owners can win a lot of market share by harnessing the power of social media, even when it feels like every possible niche has already been occupied.
Instagram is a dynamic, ever-changing platform. New features emerge almost every month, so it's easy to find new ways to present your brand and connect with your audience. We don't want you to get lost trying to figure it all out on your own, so we've compiled this concise guide to help you understand how to sell on Instagram in 2023.

Why do you need to use Instagram for sales?
One billion people actively use Instagram every month. You can't just walk past this enormous audience, right? But, that's not the only fact that makes Instagram so attractive for marketers. Its main advantage is that it's a highly visual platform, and visuals sell better. But, don't take our word for it — there are solid scientific observations to back this up!
Our brains are hardwired to process and rely mostly on visual information, and we don't have very much patience for text or audio. MIT neuroscientists say we can process an image in as little as 13 milliseconds — and an average text paragraph takes a few seconds. We also retain images better than auditory information or pure text.
Here are some more facts to convince you that your brand presence on Instagram is absolutely worth investing in:
54% of consumers say that they have made a purchase either in the moment or after seeing a product or service on Instagram;
130 million people tap to reveal product tags in shoppable posts on Instagram each month;
36% of Instagram users consider shopping one of their hobbies;
70% of avid consumers use Instagram to discover new products and trends.
Don't miss out on this opportunity and start selling products on Instagram. All you need to do is create an Instagram account and a Facebook Business page. Then, go to your Instagram account settings and switch to a business account. If something isn't working, check the official guide. That's it — you are ready to go.

How to sell on Instagram
Once you've created your account, you need to gain some followership and develop your unique communication style. Your tone of voice on Instagram shouldn't significantly differ from the tone your brand takes on other channels — keep it consistent to be recognizable. Now, let's talk about other steps you need to take to kickstart your Instagram sales.
Create a rock-solid content plan and a visually appealing feed
Don't stick to simple, white-background product photos. In fact, we recommend avoiding them altogether and opting for lifestyle videos, eye-grabbing collages, and real-life product shots. To be sure your feed looks beautiful at all times, you need to plan it in advance.
Create a content matrix to understand which type of content serves which purposes. A simple spreadsheet will not only help you organize your thoughts and ideas, but also helps you spot and fix gaps in your strategy. A content plan is a similar but more specific document that resembles a calendar and helps you schedule your day-to-day posts one week or month ahead.
Curate a harmonious grid, schedule your posts, and analyze your performance like a pro with the help of
Instagram tools
!
There are three main types of content you need to create to keep your communication engaging and meaningful:
entertaining — games, tips, behind-the-scenes videos, jokes, how-it's-made videos, before-after collages;
educational — infographics, recommendations, explainers, articles, Q&A sessions, tutorials, interviews;
promotional — product content, reviews, demonstrations, testimonials, influencer content.
Today's Instagram algorithm encourages businesses and creators to publish content daily to stay on their users' radar. However, it's costly and time-consuming to go from nothing to posting top content daily. We recommend developing your own comfortable publishing cadence but avoiding week-long pauses. When you're low on time, you can at least create simple Stories — it's a low-maintenance way to stay visible.
Hootsuite recommends posting on Instagram between 12.00–13.00 and in the evening, between 18.00–20.00, for maximum engagement. You can gradually develop your own publishing strategy after diving into your Instagram Insights and checking when your audience is the most active.
Get more subscribers and convert them into customers
You can't invite new users to subscribe to an empty account — it'll evoke too little trust. But, there is a way to bridge that initial gap. You can get your first followers by sending marketing emails and inviting your existing customers to follow you on Instagram and using unique content to make your offer more enticing. Also, why not share a promo code with your first subscribers?
There are more ways to gain followers on Instagram without using bots and fake accounts:
promote your posts to raise brand awareness;
encourage sharing by producing helpful and digestible content;
connect your Instagram to other social media;
work with niche influencers to attract your target audience;
add an Instagram feed to your website;
come up with brand-related quizzes and polls;
create branded challenges to drive UGC;
organize a "tag a friend" giveaway;
encourage users to DM you and comment on your posts to boost engagement metrics;
place your Instagram QR code in your physical store.
You can also collaborate with other brands and promote each other.
Use the Shopping feature for selling products on Instagram
Setting up your shop on Instagram is a piece of cake with the new features the platform offers. First, check if you are eligible to set up Instagram Shopping. You need to own your website, comply with the platform's commerce policy, and be located in a supported market.
Then, add your hours, business address, and other contacts including the link to your website. After that, you need to upload your product catalog using Facebook Business Manager or a third-party solution provided by one of the certified Instagram partners.
The last step is to get your account reviewed — go to your account settings, tap "Business," and then tap "Shopping." You might need to verify your domain as well. Once you've done that, select the product catalog that you want to connect to your account and start using product tags in your photos and videos across your feed and stories.
Be aware that some of the following features are available only to US businesses:
a customizable storefront;
in-app checkout process;
product mentions in post captions and bios;
curated product collections;
rich product descriptions;
ads with product tags;
product-tagged influencer content;
product launch announcements with tags;
Instagram Live shopping.
You can learn more from the official Instagram Shopping setup guide and check your business's eligibility there. If you are outside of the US, no worries. Although your audience won't be able to proceed to payment without leaving Instagram, you can still create an Instagram catalog and tag your products. Instead of in-app checkout, your users will be sent to your website.
Create a link page for your bio
Your Instagram bio is a valuable asset because you can use it to share additional content and link to other resources. Make good use of that vacant space by placing a short link to your mobile-friendly landing page containing all the necessary information and other links.
A beautiful standalone link page will help your audience learn more about your brand without going the extra mile and researching online.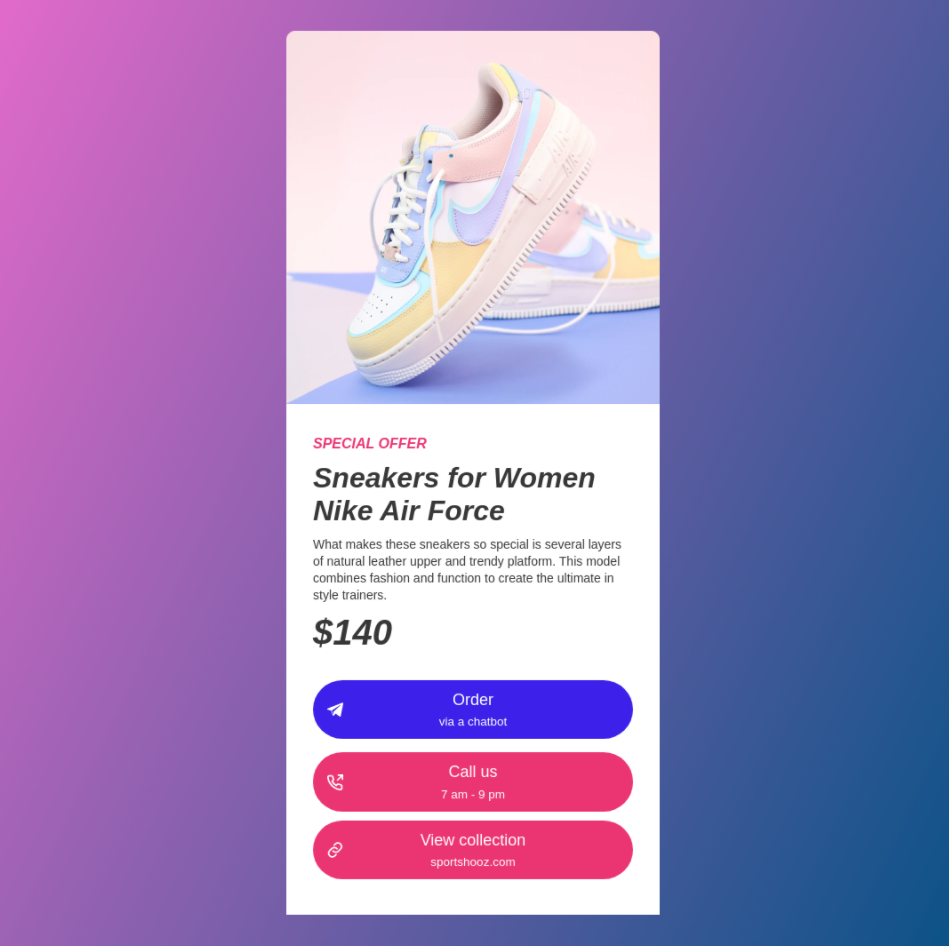 You can create a link page like this one in just 15 minutes using our landing page builder. Our pre-designed and ready-to-go templates can be adjusted to reflect your brand style and serve your purposes. You only need to create or log in to your existing SendPulse account and click on the "Landing pages" tab.
We've made it really simple. Just pick a template that you like and use our drag-and-drop editor to customize it further. You won't have to write a single line of code! Just use your recognizable brand colors and images to give it a unique touch.
Run paid ads and influencer campaigns
In 2021, you can't rely on just organic growth on social media. Your strategy for selling on Instagram should include paid sources of traffic — to date, it's the most reliable way to attract your target audience and actually convert them.
Paid ads, when done skillfully, can actually bring you the most devoted subscribers and not just one-time buyers.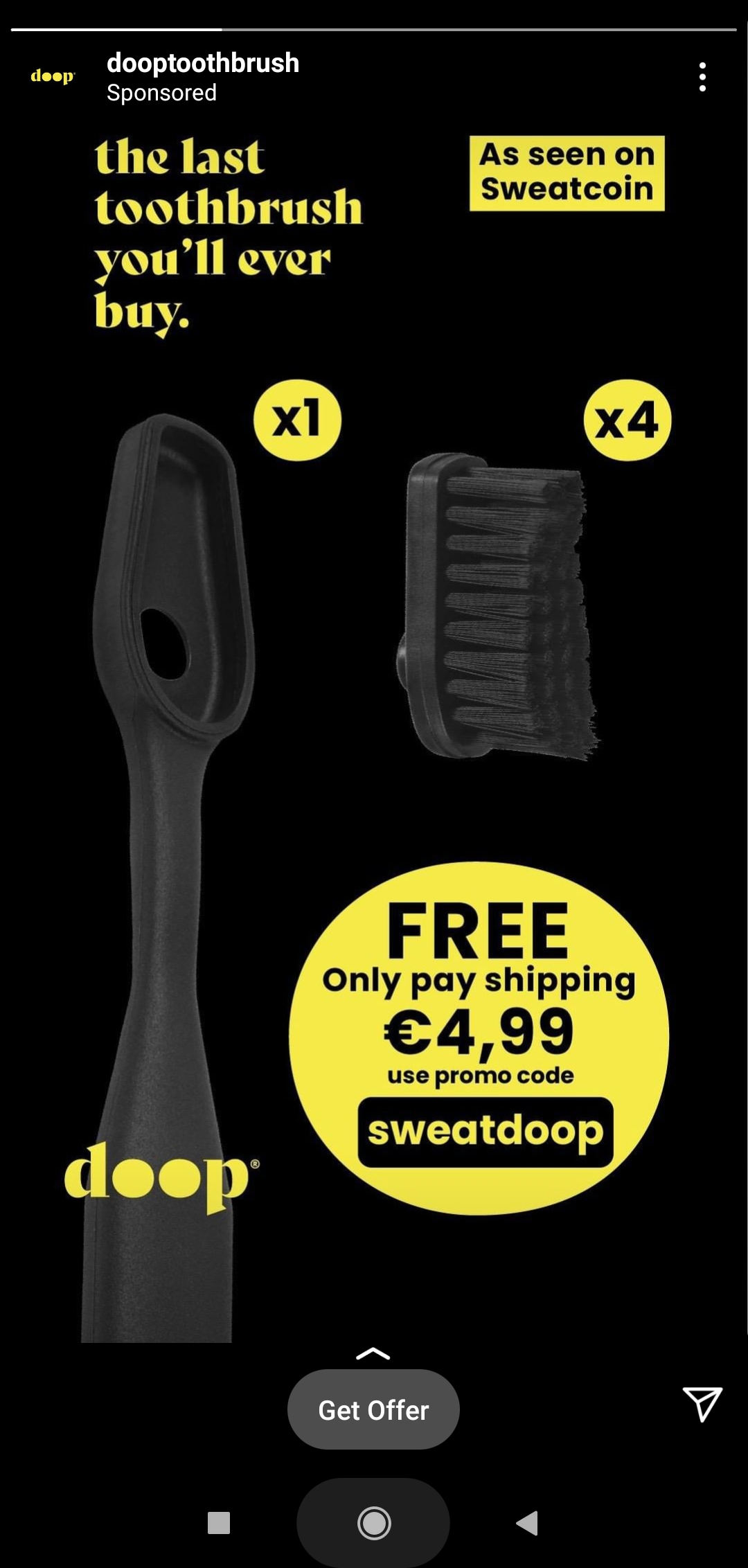 There is no single recipe, ads are very product-specific. However, you always need to use a concise description escorted by a compelling call to action. Videos and carousels will help you better unfold your offer and demonstrate the benefits of your product.
You can set up paid promotions within the app, but you'll need to use Facebook Ads Manager to run complex multichannel campaigns. It might be better to hire a pro to set up your ad campaigns and determine the metrics that are the most relevant to your specific product and niche.
Now, let's see what a paid partnership on Instagram looks like.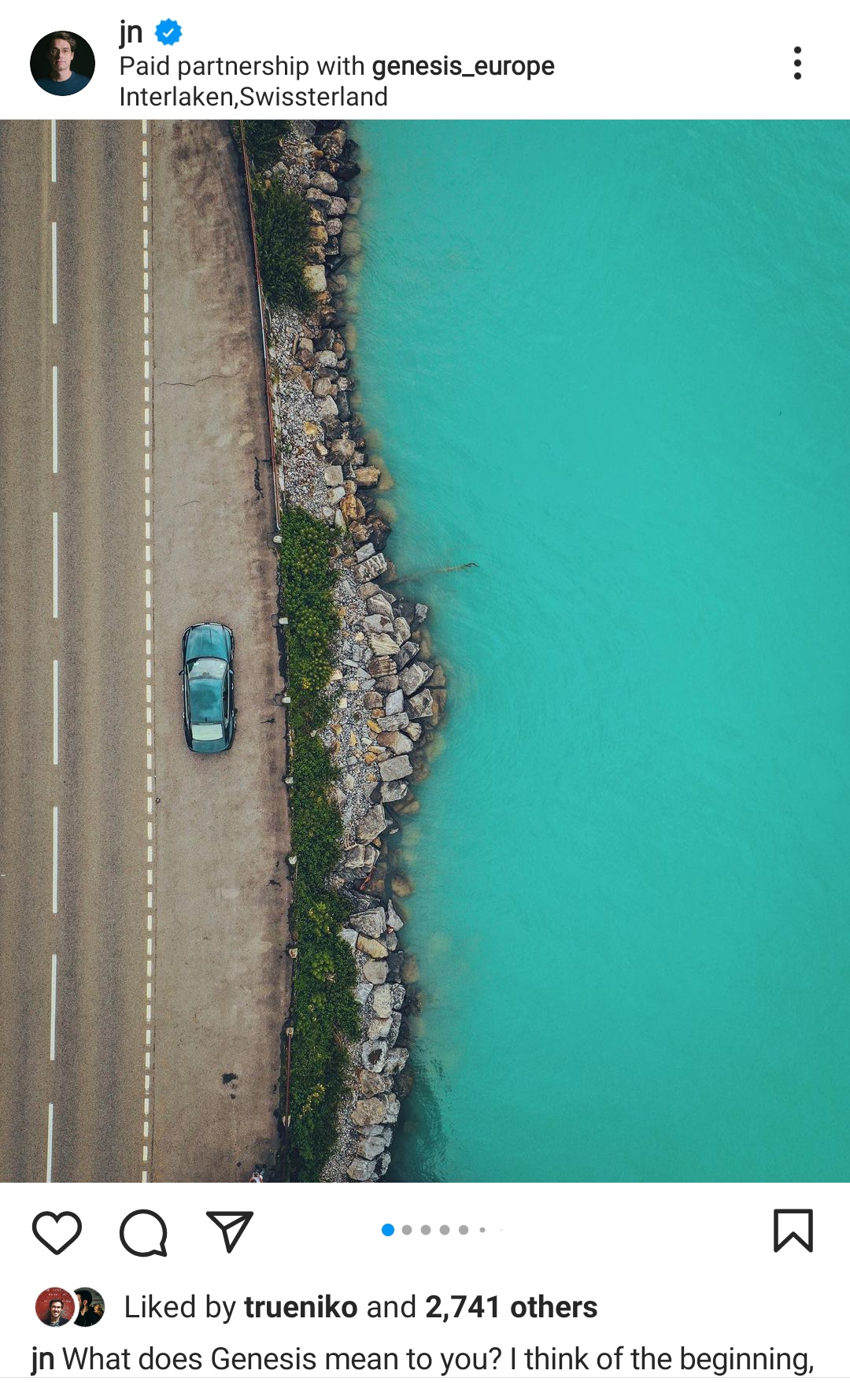 With influencer campaigns, you need to look for prominent opinion leaders in your niche as well as new faces, so-called micro- and nano-influencers. You can find them and check their authenticity using some Instagram tools we describe in our post on niche bloggers. It's important to use the Paid Partnerships feature — it makes your collaboration more transparent and also creates a link that leads directly to your brand's page.
Choose carousels over single-image posts
Carousel posts have overtaken both single image and video posts as the most engaging type of post, according to Hubspot. Carousels give you more freedom for storytelling and sharing useful facts or infographics, so don't miss that chance.
You can even use the carousel format to share a sequence of funny pictures, like in this example.
You can post videos as well — it's everyone's old-time favorite engaging format. The downside is that you need way more time and money to produce high-quality videos, so carousels do make the task a little easier.
Nail your captions
Another interesting Instagram trend is long captions — feel free to practice your brand storytelling using this medium. Instagram users are ready to dive into a lengthy text if it's a compelling story told by their favorite company or influencer. And don't forget to use branded and niche hashtags — they help new users discover your content.
Tagging locations in your posts and Stories is also useful because it increases your business's exposure. You can create a unique location tag for your business and watch other users add it to their posts.
Create engaging Insta Stories
Bright, dynamic, casual, and short-lived videos will help you keep your audience in the loop without investing a fortune. You can save Stories as Highlights and create theme video galleries in your profile. Thankfully, Instagram gives you plenty of tools to customize your Stories and make them fun to watch and engage with.
Use stickers, polls, and product countdowns and ask questions to awaken the interest of your audience and make them participate in the communication. There are also many template-based apps that allow you to curate winning Stories without having any design skills.
Let's get some inspiration from The Ragged Priest, a cheeky alternative fashion brand.
This brand creates almost movie-like stories that completely immerse viewers in that specific lifestyle and make the included products even more desirable. The Ragged Priest's team also uses creative typography and visual effects to draw attention to the brand and support its style.
By the way, we don't recommend just adding your in-feed posts to your Stories — there's a strong belief that it decreases your reach because such reposts aren't visually appealing and interesting to Instagram users. So, use it wisely and create mostly original, real-time content for your Stories.
Publish curated Instagram Guides
This is a relatively new Instagram format, and it's proven effective not only for selling on Instagram but also for educating subscribers. In your Guides, you can share curated product collections, recommendations, posts, or videos dedicated to one specific topic. It's not necessarily a long read — you can make it brief too.
Lime Crime, a makeup brand, uses Guides to help their users find cosmetic products that will help them recreate a specific look.
It's a very convenient way of sharing a series of tappable posts or products. Guides have a professional look and feel to them, especially when supplied with stunning images. They are also shareable — users can post them to their Stories or send them to someone else.
Create engaging Instagram Reels
Here's another feature for sharing 15, 30, or 60-second videos. Reels are usually entertaining and engaging, but no one is stopping you from using this format for more serious content like how-tos or product reviews. Like Stories, Instagram Reels take the entire screen — and, unlike Stories, they don't disappear after 24 hours.
Instagram Reels are very similar to TikTok videos, and sometimes creators and brands use the same content on both platforms to make sure it goes viral.
This format is not very demanding — you can upload any imperfect but authentic videos generated by your users. Use dynamic editing to squeeze the most out of those 60 seconds and pair your Reels with relevant hashtags and music to make sure enough people will watch them to the end.
Record branded IGTVs
These are long-form videos, usually in-depth conversations, explainers, tutorials, interviews, or Q&A sessions. IGTVs must be at least one minute long. The maximum length of your video is 15 minutes if you're uploading it from a smartphone and 60 minutes if you're uploading it from desktop.
It is your own brand TV channel, so you should treat it as such.
If Reels are great for sharing short moments and quick tips, IGTV is your go-to tool for establishing more meaningful contact with your followers. For IGTV, it's better to use high-quality videos because your audience will expect you to put more effort into this type of content.
Use Live Broadcast Instagram videos
To establish true personal contact with your audience, incorporate Instagram Live in your social media strategy. It does require having some public speaking skills and being able to keep your audience engaged for long stretches of time, and finding the right person to represent your brand can be challenging.
Going live is another way to use Instagram for sales — you can present your new products and actually tag them during your broadcast.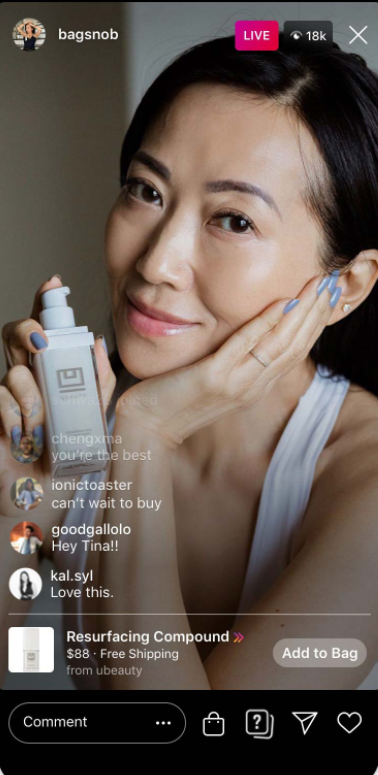 Even if this mind-blowing Shopping feature isn't available in your market yet, give Instagram Live a chance — it's a great format for building trust and communicating with your audience on a deeper level.
Create branded AR effects
Branded AR effects are yet another undiscovered opportunity to attract genuine attention to a specific product. Creating an augmented-reality mask does require some investment, but it's a subtle way to promote your product and spark users' curiosity, so we're adding it to the list.
The most obvious use case is AR makeup effects for the beauty industry.
You can use branded AR filters to let Instagrammers try your product on or interact with it in any other way, depending on your niche. You can also develop a gamified AR effect or an AR quiz. When someone uses your effect, your account name is displayed at the top, so it also works as a clickable ad.
Ready to start using Instagram for sales?
Many things can get in the way of attracting and converting new followers on Instagram — tricky algorithms and updates, decreasing attention span, aggressive competition, you name it. However, the earlier you begin, the more likely you'll succeed in selling your products on Instagram.
If you start learning the ropes now, chances are your brand will have a significant follower base in just a few months. Your brand deserves to have a big digital footprint. You can make it happen with tools such as our landing page builder — give it a try and start conquering new platforms!