Instagram Shopping is a set of features that simplify selling products to potential customers on Instagram. Brands can share featured products through their organic posts, Stories, and ad campaigns. Besides, Instagram Shopping makes products discoverable in Search & Explore and allows users to shop right at the moment of discovery.
Instagram is a social network that focuses on visual content and allows users to communicate via direct messages, comment on posts, stream live videos, and create Stories. Since Facebook acquired it for $1 billion in 2012, Instagram has developed into a massive marketing platform.
Instagram Shopping has propelled social media marketing to a new level. Today brands use Instagram to effectively attract people to their products using all content types, like image and video posts, Stories, and advertisements.
In October 2020, Instagram announced the global expansion of its Shopping features across IGTV. This means that users will be able to watch a video featuring a product and proceed to checkout in just a few taps. Besides, Instagram is going to test Shopping features within its newly-presented feature, Reels, a TikTok rival.
Before we jump into setting up your shop on Instagram, let's find out how effective selling on this platform is.
5 Statistics that Prove Instagram Is an Excellent Marketplace
We've collected five statistics to show you that Instagram is an excellent platform for product selling, shopping, and advertising. Here they are.
These statistics prove that brands that run their business on Instagram can reach success because people love to follow and communicate with their favorite brands. Shopping features only make it easier for customers to buy products right away. Let's take a closer look at the features that motivate people to purchase on Instagram.
Instagram Shopping Features
Shops
Instagram Shop
Shopping Tags
Product Detail Page
Collections
Ads with Product Tags
Checkout on Instagram
Shopping from Creators
Product Launches
Live Shopping
Before going further, we have to inform you that Instagram Shopping features currently only work in some countries. If your country is listed below, you can use Instagram Shopping to your advantage.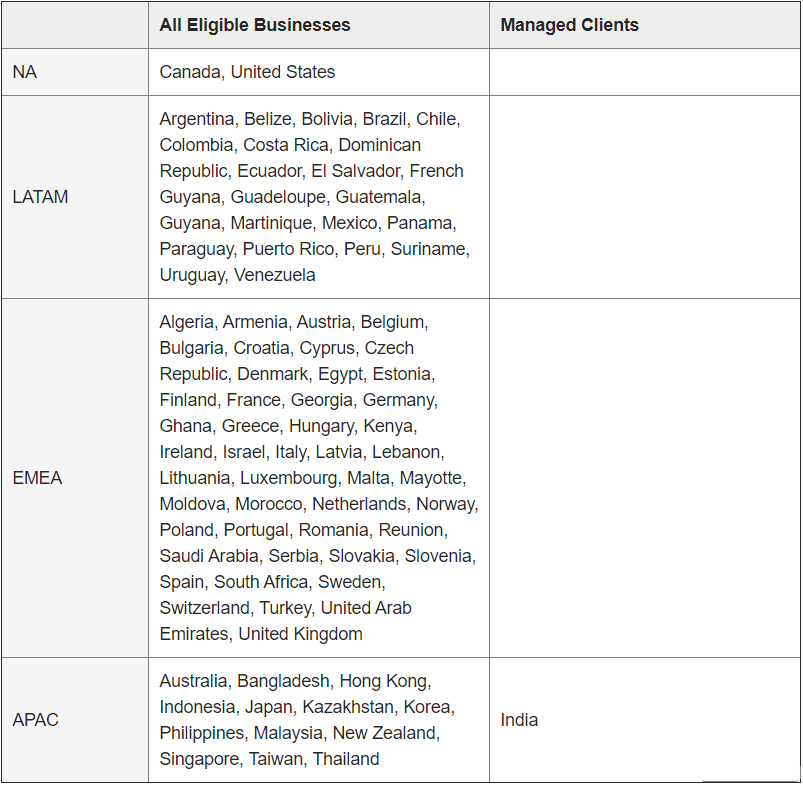 In a nutshell, Shopping features are an upgrade of Instagram's regular features, like image and video posts, Stories, IGTV, and advertising. They allow brands to show item names, product descriptions, and prices in all content types on Instagram. With these features, companies can also share all the necessary product, shipping, and return details without making users leave the app. Let's dive into the ten features provided by Instagram Shopping.
Shops
This feature allows you to organize your business profile as a customizable digital storefront. By using it, you enable consumers to shop right on your Instagram business page.
@spearmintbaby shows two collections above the fold: expensive children's clothes, and gown and hat sets. Scrolling down, users can sort and filter the products in a convenient order.
Instagram Shop
This is an in-app shopping destination, a marketplace that connects all businesses represented on Instagram. It makes it easier for shoppers to discover products and brands. Don't confuse it with the Shop feature we've just reviewed.
To visit Instagram Shop, people tap on the "Shop" tag in the "Explore" section, which redirects them to a list of "Collections," "Brands," and products "Suggested for You." These recommendations are based on user interests and in-app behavior.
Shopping Tags
With Shopping Tags, you can highlight products from your Сatalog in your posts and stories. The U.S brands that use Instagram's Сheckout feature can also show their products in captions and bios with product mentions.
Prospects can see Shopping Tags in the bottom left-hand corner of the post. This allows them to identify a piece of content as a shoppable one. By tapping on it, users can read the item name, price, and see a "View Products" button that leads to other products in the Catalog.
Product Detail Page
This page highlights all the necessary details about a particular item, like a gallery of product photos, sizes available, pricing, product description, shipping, and return information. It also includes listings of related products as recommendations. When Instagram users (influencers, for example) tag a product in their posts, these images or videos are pulled to a product detail page so that prospects can have as much visual information about the item as possible.
Burberry's product detail page shows four product photos of men's swimming shorts, allows customers to choose the size, has a CTA that leads to checkout, and offers more matching items from the summer collection.
Collections
With this feature at hand, businesses can customize their shop with an editorial point-of-view. Use Collections to curate your products into themes to make your shop on Instagram convenient to navigate.
Collections are broken up into two pieces. Above the fold, it has a large image with title text to represent the entire collection. Below, there is a short description of the collection. By swiping up, users discover similar products organized in a specific order. Each of these products in the gallery has a photo, item name, and price.
Ads with Product Tags
Instagram advertisements with product tags increase your reach. You can either boost your shoppable posts as ads or create ads from scratch using Facebook's Ad Manager. These ads can drive customers to checkout on your website or to checkout on Instagram, which is currently only available in the U.S.
This ad with a product tag is based on a Maxwell Shoe shoppable post and has a "sponsored" mark below the username. Users can tap on a high-quality product photo, then tap a pop-up tag with the product name and pricing, and proceed to a product detail page. In turn, a CTA on this page redirects users to a website where they can complete their order.
Checkout on Instagram
The U.S. creators and businesses that comply with Instagram policies can use Checkout to sell their products directly on Instagram. Shoppers can discover and seamlessly buy products without leaving the app by using the Facebook Pay service. Businesses that can't use Instagram Checkout yet can still connect other shopping tools, like Shopify and Wix, so that users can complete the purchase outside Instagram.
Below, a customer taps on the shoppable post and proceeds to the product detail page, which leads them to checkout with Facebook Pay. They need to choose the item specifications, fill in the delivery, and credit card data to complete their order.
Shopping from Creators
This feature allows people to shop looks they love directly from creators, without leaving Instagram. Shopping from creators is currently available for businesses that use the Checkout feature. It enables companies to collaborate with Instagram creators and influencers, who earn commission in exchange for promoting products to their followers.
Shoppable posts from creators have a "paid partnership with" mark under the username. In this case, Camila Coelho is promoting a Michael Kors's watch. Like in all shoppable posts and ads on Instagram, users need to tap on the image, then tap on a shopping tag with an item name and pricing, and proceed to checkout.
Product Launches
Using this feature, brands can announce an upcoming product launch. Instagram users, in turn, can set a reminder to buy it as soon as it's available. This feature is also only available for businesses that use the Checkout feature.
Adidas announced a product launch in Stories. It has a timer to create anticipation. When the time was up, consumers could tap the timer and proceed to a product detail page.
Live Shopping
This new feature allows Instagram creators who use the Checkout feature to sell products right during their Instagram Live stream. With this feature, you can make an inspiring live presentation of your product and convert viewers into customers in real-time.
Live Shopping looks like a regular Instagram Live stream, but it has a tappable product section, which leads to the checkout. The marketer from Ubeauty presents an $88 resurfacing compound, delivering her message to the public that engages with her in the comments section.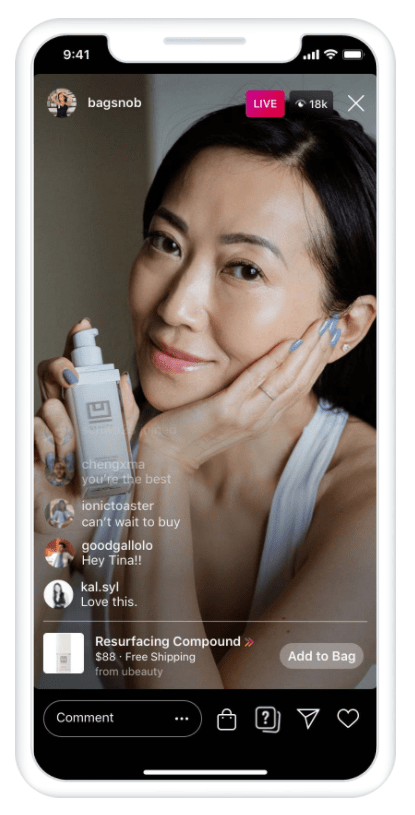 Now that you've gotten acquainted with all functions of Instagram Shopping, let's find out how to enable them for your business page.
How to Setup Instagram Shopping
Get Approved for Shopping on Instagram
Setup Your Business Instagram Account
Upload Your Product Catalog
Complete Your Account Review
Turn on Shopping
Start Adding Tags
Monitor your Shopping Insights
Take these seven steps to open your shop on Instagram and gain access to Instagram Shopping features.
Step 1: Get Approved for Shopping on Instagram
To use Facebook Commerce features, including Instagram Shopping, you need to follow five policies. Here they are.
Comply with Facebook policies. Make sure your Instagram Business profile complies with Instagram's Terms of Use and Community Guidelines. Besides, you need to comply with Merchant Agreement, Commerce Policies, Ads Policies and Pages, Groups, and Events Policies.
Run your business from your verified domain. Your Instagram business account must contain product listings available for direct purchase from your website or Instagram Checkout. If you direct customers from your Instagram shop to a website or any supported market (Facebook partners), you must provide the single, non-shortened, domain from which you sell. Instagram may require you to undergo domain verification to ensure your Instagram business account is associated with your domain.
Be located in a supported market. You should operate your business from one of the countries where Instagram Shopping features are available. We've mentioned these countries earlier in the guide, you can also find this list here.
Demonstrate trustworthiness. Your Instagram business account must demonstrate an authentic, established presence and maintain a sufficient follower base.
Provide accurate information and follow best practices. Ensure that product information listed on Facebook Commerce sites doesn't mislead users in terms of pricing and availability. Display your refund and return policies and make them easy to access from your website or Instagram profile.
Suppose you fail to comply with any of these policies at any time. In this case, you may lose access to Facebook Commerce surfaces, Commerce features (including Instagram Shopping), or your account may be disabled.
Step 2: Setup Your Business Instagram Account
Turn your existing Instagram profile into a Business account. It takes three steps:
Switch to a Business Account. Go to your Settings, tap "Switch to a Business," and tap "Continue."
Connect to your Facebook Page. Tap "Log in with Facebook," choose the page you admin, and tap "Next."
Setup your Business Profile. Type in your business email address, phone number, and physical address to enable users to email, call, and get directions to your business from the buttons and links on your shop.
Step 3: Upload Your Product Catalog
Your product catalog powers Instagram Shopping. Connect a product catalog to your Instagram Business Account in one of two ways:
Use Catalog Manager. This is a Facebook Business Manager feature that allows you to contain and hold information about all the items you plan to advertise or sell on Instagram and Facebook. If you don't have a catalog yet, use this guide to create one.
Use Instagram ecommerce platform partners. You can use Facebook's integration with certified ecommerce platforms like Shopify, Wix, and BigCommerce.
Step 4: Complete Your Account Review
After you connect your catalog and add products to it, submit your account for review, which typically takes a few days. Here's how to complete your account review:
Go to your Settings.
Sign up for shopping.
Submit your account for review.
Check your status in the "Shopping" tab in your Settings at any time.
Note that Instagram may require some additional information to prove ownership of your website domain. If you receive such a notification, you need to verify your domain.
Step 5: Turn on Shopping
If you don't see "Shopping" in your account settings, then your account is still under review.
When your account is approved, turn on Shopping features with the following steps.
Go to your Settings.
Tap "Business" and then tap "Shopping."
Choose a product catalog to connect to your account.
Step 6: Start Adding Tags
This is necessary to make your Instagram content actionable. Thanks to Shopping Tags, users will be able to discover more about your products from the photos and videos they see in their Feed and Stories.
Here's how to tag a product in your Image post:
Tap "Add photo."
Add a caption.
Tap on "Tag products."
Tap on a product on your photo.
Choose a product from your Catalog.
Tap "Done," and then tap "Share."
And here's how to add a shopping sticker into your Stories post:
Find the sticker icon in the top right-hand corner.
Select the product sticker from the sticker tray.
Choose the product from your catalog.
Move the product sticker so that it looks great on your story.
Customize the text color of the product sticker by tapping it.
Share your story.
Step 7: Monitor your Shopping Insights
Find the "Insights" tab in your account to analyze how efficient your shopping posts and stories are. Insights inform you about your customers' interests and behavior, thus allowing you to continually improve your Instagram marketing strategy.
Let's finish this guide with some actionable tips to perfect your Instagram Shopping skills.
4 Tips to Gain Success with Instagram Shopping
Use High-Quality Professional Visuals
Use Hashtags
Incentivize Shopping
Show Your Product in Action
We've collected four best practices to help you succeed in selling your products on Instagram. Here there are.
Tip 1: Use High-Quality Professional Visuals
New business features evolve on Instagram, but the platform has always focused on visual content. To stand out from other businesses and creators, you need to upload quality images and videos to grab users' attention and inspire shopping and sharing. Develop your visual identity so that people will quickly recognize your brand.
The post from @shopbop is a professional photo taken within a specific aesthetic code: pastel tones, a contrast of the summer look with warm-looking knitted bra and jacket, and great accessories that complement the look.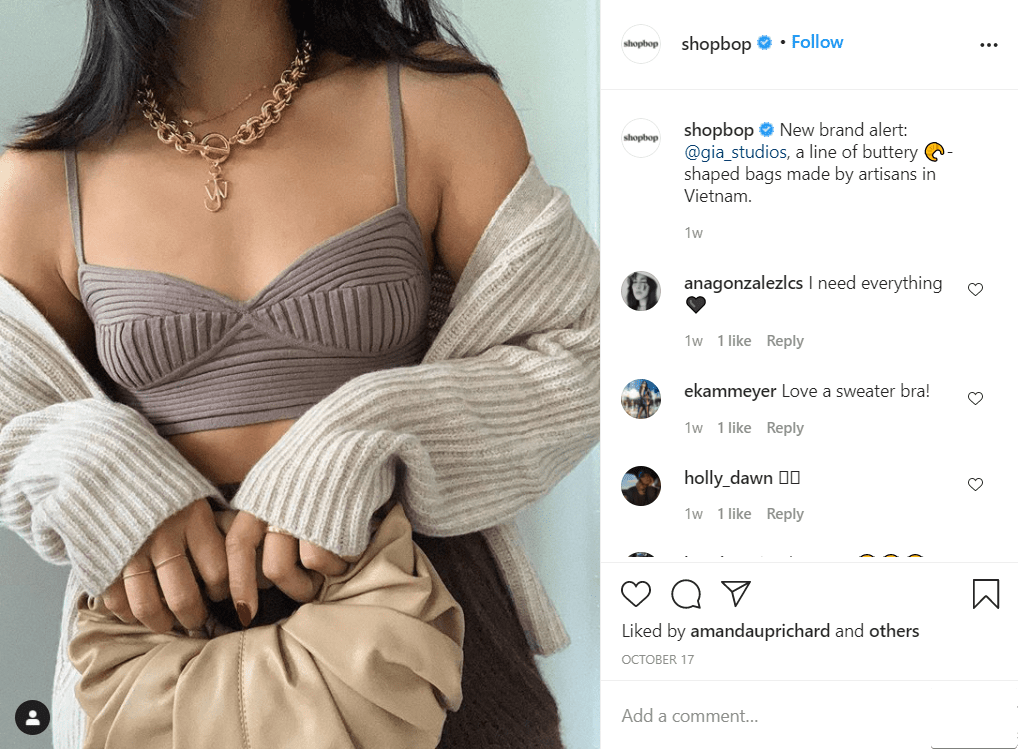 Tip 2: Use Hashtags
Like with any Instagram posts, relevant hashtags will help you make your Shopping posts more discoverable. Using the right hashtags increases your chances of reaching the Explore section, where people may run into your photo or video and follow you or make a purchase.
Here's a post from @onetonecolor, a brand specialized in hair dye, that has many relevant hashtags, like #haircare, #colorcare, #hairideas, #veganhaircare, etc. They both describe the business activity and make it easier for customers to find the brand. It's best to research what hashtags your competitors use and find out which ones are the most popular in your industry. Note that it's best to use around ten hashtags (though thirty is allowed) and double-check their meanings.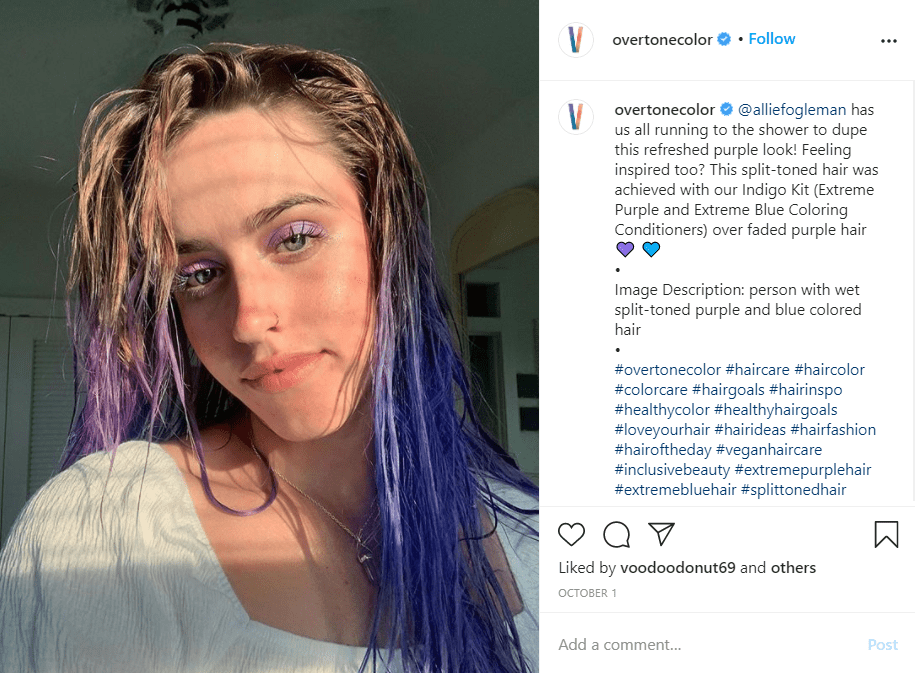 Tip 3: Incentivize Shopping
Adding sales or promo code details to your Shopping post allows you to add more incentive to tap-through. There's no such functionality yet, but you can get creative and include this information in the image before you upload it to Instagram.
Here's a video post where @thiefandbandit announced their Summer sale. It gives a promo code and tells them how big the discount is. It's not easy to read this information because photos change fast, but the intrigue makes users watch a loop several times.
Tip 4: Show Your Product in Action
When you show how effective and useful your products are, it speeds up the decision making process for your customers. That's because they know what to expect from your product, and they can realize if it fits the fast.
Let's return to @overtonecolor. They've uploaded a video where they show how to use their product and the results it brings. They could make a hair dyeing live video and add a product sticker to enable shopping.
Congratulations, you've learned the basics of Instagram Shopping. Now you are good to start using these features to the benefit of your business!
Last Updated: 01.09.2023