An internet marketing plan provides a road map for a company's marketing efforts and is an essential part of the larger business strategy. An internet marketing plan strikes a balance between the company's strengths and its desired market position. Having a solid plan gives you a chance to direct and monitor your marketing resources and strategy, and in turn, reach your business goals.
Why Is Creating an Internet Marketing Plan Important?
People with a plan outperform those without a plan ー the same is true for businesses. Having no specific internet marketing plan for your business means leaving money on the table. Without one, you may forget about an expected return on investment (ROI) and lose opportunities for growth.
A business needs this sort of plan to know its targets and find the right path to hit them. A correctly composed internet marketing plan helps achieve lower marketing costs, measurable outcomes, global reach, competitive advantages, and increased sales. Among the top reasons to formulate one are the following:
most contemporary consumers are online;
it's an opportunity for two-way communication;
it personalizes user experience;
such a plan allows you to drive quality traffic;
it raises market presence and visibility.
Almost all companies operate online even if they have physical offices. Various types of online marketing bring different results. For example, 49% of online users share that they would love to receive promotional emails and offers from their favorite brands every week. This is a win-win for users and brands because increased communication not only builds stronger relationships with clients but increases revenue significantly.
How to Create an Internet Marketing Plan
Set objectives
Detect your target audience
Evaluate your competition
Choose the right channels
Set up proper KPIs
The process of creating an internet marketing plan can be time-consuming if you do it on your own. When it comes to email marketing, you can rely on SendPulse. The service helps you send bulk emails, automate campaigns, and analyze statistics.
With the help of statistics from your email campaigns, you can discover valuable insights and create a killer internet marketing plan. Anyway, here are some steps to consider while developing an internet marketing plan:
Set objectives
To have a clear picture of your path to achieving your goals, make sure to lay out clear and attainable business objectives. Are you launching a new product or entering a new field? Are you pursuing the goal of increasing your audience and brand awareness or focusing on converting existing leads into clients?
Anyway, each of these goals requires reaching some other objectives. To increase your brand awareness, you need to reinforce your SEO strategy, invest more in advertising, start guest blogging, create viral content. Having a clear picture in mind, you'll efficiently do the groundwork that will make your business prosper.
Detect your target audience
Create a buyer persona. To whom do you plan to sell your product or service? Both B2B and B2C companies should define their audiences properly. A buyer persona is a representation of your customer. If properly built, it will help you speak the same language to your clients.
To create a buyer persona, use surveys, polls, quizzes, subscription forms, analyze customer feedback, and ask them to share their personal information with you.
SendPulse free subscription forms are an effective tool to grow your mailing list. You can create a unique form or choose a pre-designed one to save time. There's no need to have any technical skills as you should just drag the necessary elements to your form.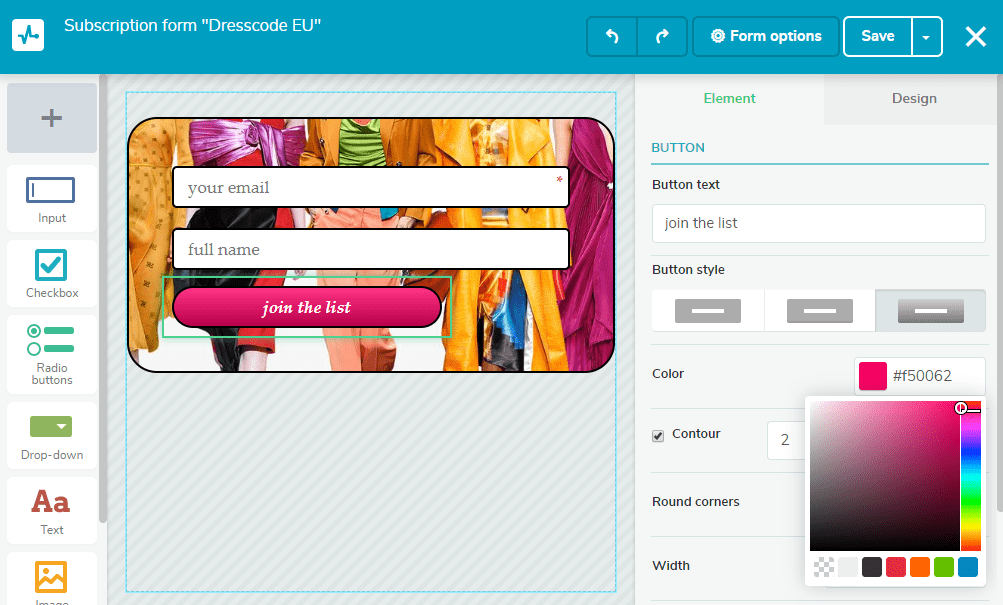 Armed with this data, you'll be able to create highly personalized offers, adapt your products and services to meet the needs of your audience, and get useful insights into the improvements.
With SendPulse, you can create multichannel subscription forms. They will help you collect not only users' email addresses and phone numbers, but let them contact your brand via chatbots in Facebook Messenger and Telegram. All you need is to add links to your chatbots.
Check out such a form below.
Read the article on our blog to get ideas on how to create a customer profile.
Evaluate your competition
Analyzing your competitor's strategy will do the trick for you. You'll manage to learn from other people's mistakes and eliminate failures, discover the most effective tactics and methods.
In particular, start with your SEO strategy. Organic search is the core channel to consider when launching a new product. Study the content that performs well in your field, find relevant keywords, examine how your competitors use them and do it better.
Get to know which type of content brings more conversions and which increases user engagement. Services like Serpstat, BuzzSumo, Moz, Ahrefs will help you cope with this task. Then, do your best to create content that will answer all of your users' questions efficiently.
Choose the right channels
The channels that you use predetermine the success of your strategy. Each channel helps achieve different long and short-term goals. Thus, you'll need to pick up different tactics. It's important for you to know where your audience lives and why they prefer a given channel.
For example, if your plan is to increase brand awareness in the long-term, you can choose organic search, PPC and content marketing. If your purpose is audience growth, go for guest blogging and influencer marketing. If you often lose clients before they make a purchase, try email marketing.
Internet marketing strategies include:
search engine optimization (SEO);
email marketing;
PPC;
content marketing;
remarketing
influencer marketing;
All of these strategies are effective when performed correctly but stay away from trying to cover as many goals as possible via all available channels. Focus on one long-term goal and remember that each channel requires you to hire a specialist in a particular field to ensure that you are using the optimal approach.
Set up proper KPIs
Measuring the success of your strategy paves the way for big improvements. Before putting your plan into practice, make sure that your goals are achievable and the KPIs are measurable, otherwise, you won't be able to assess your efforts.
Create the list of the important KPIs, set the desired metrics for each strategy, and work out a plan if you fail to achieve them.
Most metrics are available to track directly in the service you use to put your plan into action. SendPulse provides reports and campaign analytics after sending your email. So, you may improve your tactics on the go.
That's it! All you have to do after implementing the plan is to keep the track. Watch every step your team takes and measure the effectiveness.
Last Updated: 22.03.2023