Link building is an SEO strategy that aims to acquire links from other websites to yours.
In this article, we'll explain why link building is important, consider several types of links, and share some effective strategies.
Why is link building important?
Link building is helpful for search engines, your business, and online users. Let's consider its benefits in more detail.
Search Engines
PageRank was created by one of Google's finders Larry Page. This system evaluates the quality of all pages on the web and link quality is one of its major factors. Google was the first search engine to use such algorithms, so it was a huge step forward. The idea is the following: if an authoritative site places a link to your page, it means that it can vote for it and its quality. Besides, there's no point for an established company to link to the content of poor quality, since this reference may damage its reputation.
As far as many SEO specialists unveiled Google algorithms, they started to manipulate search engine results. This way, lots of low-quality links were on the top of the search engine results page (SERP). Google took measures to provide online users with high-quality content answering their questions and started to launch regular updates preventing manipulation and overoptimization. Although Google doesn't reveal its full algorithm, we know that links do play a crucial role when crawling and ranking pages.
Your Business
The most important thing to remember when optimizing your site is to avoid getting links just for the sake of building your link profile. If you are about to release a new product on the market or to launch your business, establishing brand awareness and searching your target audience will be your top-priority tasks.
To promote your brand, you can work with influencers and opinion leaders, build partnerships with established brands, create valuable content and share your expertise on relevant resources. Choosing this or that strategy, getting links to your site is inevitable. The more links you get naturally (without asking for them) from trusted websites, the higher Google will rank your page. It's a holy grail for every business.
Online users
Providing users with answers that fit best their search queries is Google's true purpose. The mission of each new algorithm update is to ensure the best experience when searching for the information. Google wants people to find helpful and expert answers as soon as possible and without much hassle. So, the search engine does its best to make the top 10 search engine results the most reliable source of information.
If users tend to leave a site soon after they land on it and go on to the next one from the SERP, Google sees this as a red flag meaning that this page failed to answer their question. As a result, this page gets a high bounce rate and loses its high ranking.
So, search engines do extensive work to provide all the parties with the best experience, and links help them do this job efficiently.
To understand how link building works, you need to know 3 types of links.
3 Types of Links
An effective link-building strategy is not only about acquiring links from other websites to yours but a combination of different types of links. Let's take a closer look at each one.
Backlinks
They are also called inbound links. This type of link provides the most significant impact on ranking your website. Backlinks are links that you get from other websites. The more links you obtain, the higher your reputation and authority. Although, quality prevails the quantity. You'd better have fewer links from high-quality and relevant to your business sites, than a huge amount of links from one low-quality site. Google believes that a well-established site with a good reputation can place links only to relevant pages. Besides, if a site adds a link to yours, it shares its traffic and reputation.
You should thoroughly analyze your backlink profile regularly since it's the most significant ranking factor. If you get to know that a poor-quality site links back to your site, contact its owner and ask to remove the links or disavow these links with the help of Google Search Console. This is the way to tell Google to ignore these links when ranking your site.
We'll share some effective strategies on how to get high-quality backlinks in the next section.
Outbound Links
They are the opposite of inbound links meaning that you place a link on your site leading a user to another website. Site owners often underestimate the power of outbound links considering them a waste of their organic traffic. This type of link can power up your link-building strategy.
Remember writing scientific papers at the university. The last section includes references where you add the links to authoritative resources that inspired you to write this or that section. This part of the paper adds value and authority to your work. Outbound links on your site do quite the same. It's useful not only for your rankings but for your readers as well. You may add a link to the research or a more in-depth guide where they'll get more insights into the topic. So, you'll manage to improve your ranking and provide site visitors with the best user experience.
Internal Links
These are links that lead users to other pages of your website. This type of link also helps both your readers and search engines. They help users navigate your site and perceive information in moderate portions. For example, if you write a blog article and mention a topic you have written about before, it will be wise to put a corresponding link. This way, a user will be able to learn your site content step by step.
Internal links let search engines understand the architecture of your site. Check out your most visited pages regularly and put links to other relevant articles, landing pages, or a homepage. This way the search engine will realize the relations of different pages and the logic behind interlinking.
Now that you know the power of link building, it's time to learn some effective strategies.
5 Link Building Strategies
Start guest blogging
Work with influencers
Make use of broken link building
Look for mentions without links
Search resources
The main thing to remember when using any strategy is the quality. Look at the link from the user's point of view. It should help them understand the topic and bring value. So, to cope with this task follow the efficient strategies below.
Start Guest Blogging
Guest posting is an old but effective way to get valuable links. To make it work, you should find blogs from your industry and offer them to write an article. Take into account the blog's organic traffic and Domain Rate to ensure that this is a high-quality place to mention your brand. First and foremost, your articles should be written by experts, be unique to bring value to the readers. So, learn the blog before offering to write a post for it. Make sure that you can be useful for its target audience.
To find such blogs, you can either contact authoritative websites you know or look for new ones with the help of Google search operators. Using the following query, you can look for sites ready for collaboration.
topic + intitle:"write for us"
For example, you want to speak to the audience interested in creating chatbots for its business goals. Make use of this query.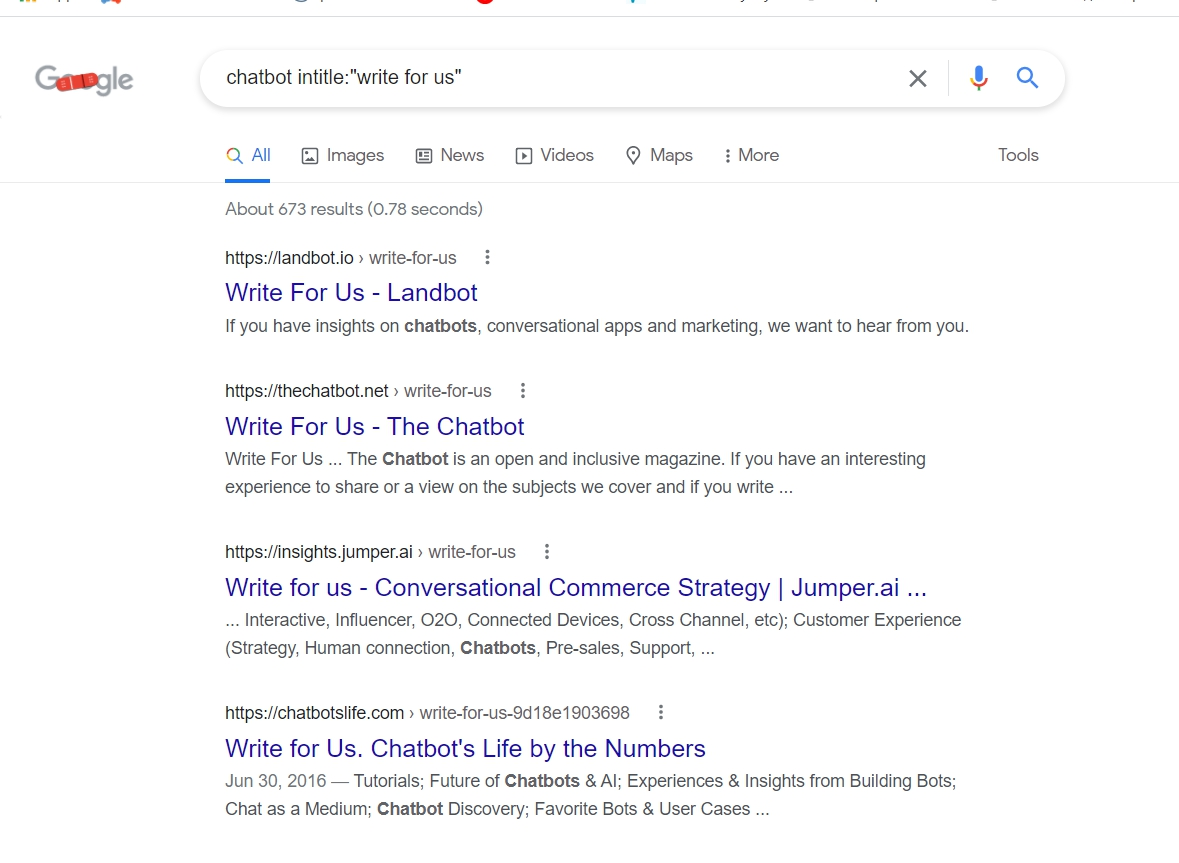 Remember that not every blog speaks openly about the chance to collaborate. The most successful sites receive hundreds of offers daily, and not that relevant. So, you can contact any blog you like. Let the owner know that you have something really valuable to offer.
Work with Influencers
Contact opinion leaders from your industry who share the same values as you do and offer them to try your product. If they like it, they can recommend it to their audience. Alternatively, you can communicate with your loyal customers and micro-influencers who have already bought your products. Offer them to share their reviews and testimonials with their followers on social media or ask them for an interview. The most important thing here is that influencers should be sincere when recommending your brand.
Dog food and cat food supplier "I and love and you" collaborated with popular Instagram puppies to promote their product. This is a great example of influencer marketing since the audience of an influencer is interested in dog food.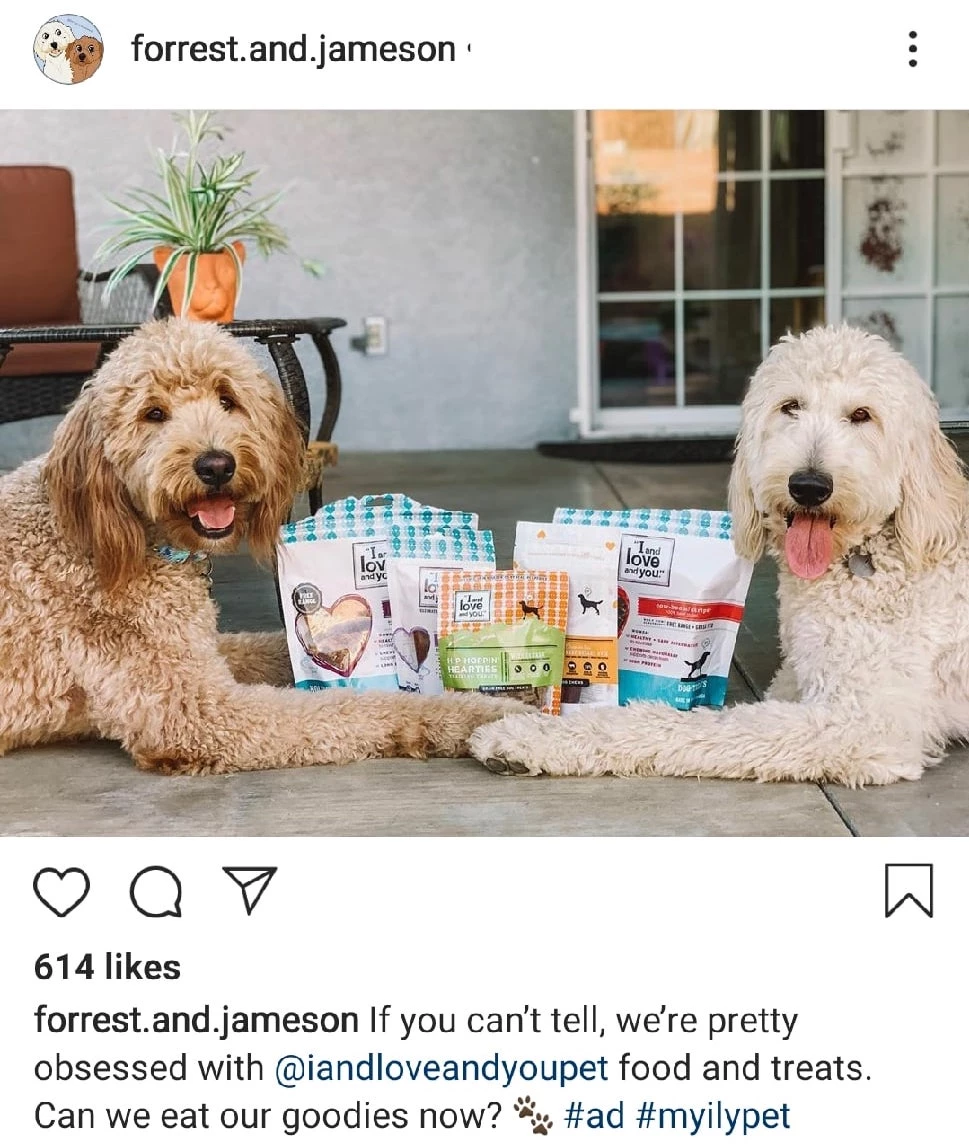 Make Use of Broken Link Building
This technique means that you look for a site with lots of links, find 404 ones and contact the owner or a webmaster to inform them about broken links. Then, you can offer to replace a broken link with a link to your page that might be valuable for the readers. This is a win-win for both parties since you help another website remove broken links and build your backlink profile.
With the help of SEO tools such as Semrush, Backlinko, and the Check My Links extension, you can find the broken links of your competitors and email the publishers immediately to offer them help. Alternatively, if you have come across a broken link, check whether it was used in several articles. This way, you may find some sites linking to the 404 page. It means that all these sites provide you with potential chances for conversion.
Ahrefs provides the option to monitor a backlink profile and broken links to benefit from this strategy.
Look for Mentions without Links
Some websites may mention your brand without linking when providing their readers with effective solutions. The good news is that you can easily find such mentions and email the publisher with the offer to add a link, or even start a partnership.
With Ahrefs, you can reap the benefits of this strategy. Go to the "Content Explorer", type in your brand name, tick "One page per domain" and click "Highlight unlinked domain". You will see a list of all the pages mentioning your business without linking.
Search Resources
This strategy allows you to look for link lists and resources pages to add your link with valuable content to that list. These are pages that offer a list of authoritative resources a reader might visit if they want to get more insights into the topic.
To find such opportunities, use the following Google search operator:
keyword(intitle:"resource" | intitle:"resources" | inurl:"resources")
Check out an example below.
These are link-building strategies tested through practice. There are many more effective techniques that you can use such as the skyscraper technique, reciprocal linking, adding your links to citations and directories, relevant blogs and forums, etc. Consider them but mind Google can find them spammy if you choose one of the methods as your primary one.
So, mix different link-building strategies and make use of special SEO tools like Semrush, Ahrefs, Moz, Backlinko to have access to accurate data.
Last Updated: 22.03.2023