Predictive marketing is a marketing approach that involves a company using audience behavior, historical consumer research, purchasing history, website analytics, and other crucial data to anticipate the results of specific marketing campaigns. It enables marketers to make well-thought-out, smart, and effective marketing decisions.
In this article, we'll uncover the benefits of predictive marketing and discover how it works. We'll also review some examples.
Benefits of Predictive Marketing
The majority of businesses analyze huge amounts of information about their clients. They explore audience behavior, purchasing history, website analytics, and social media impressions to know their customers and understand them better. It helps make the right marketing decisions, meet customers' requirements, and offer relevant products.
By discovering customer data, brands can find connections between behavior and needs which results in more effective marketing strategies. After finding out these points, marketers can segment consumers into groups based on their shopping habits, preferences, pain points, geography, age, occupation, etc. Secondly, companies can anticipate trends earlier than their rivals. After analyzing customer data, marketers can accurately predict industry trends.
Predictive marketing ensures effective quality lead generation. Exploring behavior, historical lead research, purchasing history, and site analytics of prospects enables businesses to identify prospects ready to become customers. Brands instantly recognize the most promising prospective consumers, who are the most likely to convert into customers.
The predictive approach allows businesses to anticipate the outcomes of their upcoming marketing campaigns. A clear understanding of the audience helps launch campaigns that receive a positive response from consumers. Brands make wise business decisions regarding their further marketing steps.
Analyzing customer data empowers businesses to understand customers' needs and personalize their customer experience. Marketers send messages, offers, and products tailored to the wants and problems of their consumers. As a result, customer engagement improves.
Now that you know the advantages, it's time to unveil how predictive marketing works.
How does predictive marketing work?
In this section, we'll review how predictive marketing works in detail so that you know where to start. You'll be able to start incorporating it into your marketing strategy.
First of all, companies collect customer data. They can do it in three ways: by asking consumers for the information they need, tracking customer activity, and appending other sources of customer data. Combining all three will give you the most accurate answers to your questions. Brands' websites use cookies to gather information about customer activity: sites visited, pages opened, search and browser history, on-site behavior, scrolling speed, clicks, and mouse hovering. This information provides companies with insights into their future marketing approaches, campaigns, and messages.
Companies collect information about consumers' past purchases. This data enables businesses to provide personalized recommendations based on their past shopping experience. Moreover, websites track every user's click to identify items they look for and suppliers they purchase from. Personalized offers and messages allow companies to increase engagement and boost sales. Customer satisfaction with a brand improves as well.
Now that you know how predictive marketing works, let's proceed to the next section to uncover the examples. They will inspire you to implement this marketing technique into your business and improve sales.
Examples of Predictive Analytics in Marketing
To implement predictive marketing, you should see how it works in real life. We'll review several examples so that you can grab some inspiration for your business.
Lead scoring
With predictive marketing, you continue nurturing your lead after receiving contact information. You collect and create a list of prospects and customers to reach them with your offer. However, communicating your message to everyone on your list can be a waste of time and resources. This is because there might be people who aren't interested in purchasing with you. Predictive lead scoring enables you to sort out your prospects and identify only qualified ones. These prospective customers are serious about buying your product but need time to explore its features and benefits.
You can use predictive lead scoring tools like HubSpot, Freshsales, and ActiveCampaign to analyze information about potential customers and figure out the level of their willingness to buy. As a result, you'll be able to prioritize prospects and focus on those who can bring you revenue. You avoid spending time and resources on unqualified leads.
Product suggestion
Product suggestion is the most popular form of predictive marketing. People search for specific products and then see suggestions for these items from various brands. You can see these ads everywhere: in your social media feed, in your email inbox, in banners on a website, etc.
Special algorithms help eCommerce companies collect information about website visitors' interests from their purchasing or search history. This data enables companies to identify the items they are most likely to buy next and use them in ads or promotions.
For example, Boost Your English uses targeted sponsored ads on social media feeds. The company reaches people interested in improving English language knowledge and skills. The person who sees the feed has visited websites related to learning English. If this user is still searching for language learning, the company's audiobooks will be helpful.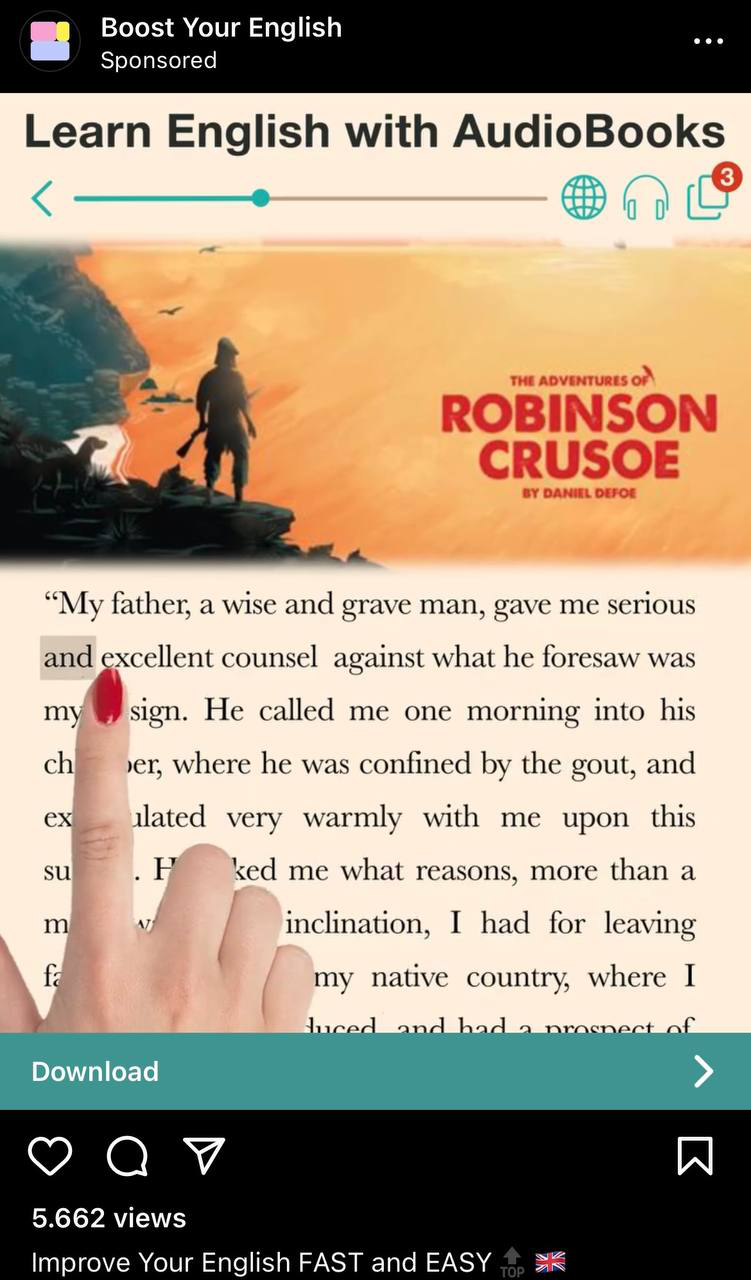 Social media suggestions
Many brands use special social media tools to make the right advertising posts at the right time. They help figure out the best time for a post on the best marketing channel. Moreover, they enable marketers to identify the most eye-grabbing color palette to make prospects pay attention. Social media platforms like Pinterest, Facebook, and Twitter offer predictive tools which you can use to your advantage. These platforms use predictive ad targeting and algorithms to determine customers' interests and needs.
Congrats, now you know what predictive marketing is and how it works. Our examples will help you incorporate this technique into your business.
Last Updated: 22.03.2023