Sales performance management (SPM) is an approach to managing your business processes to sell more products and drive more revenue. It uses real-time insights to create a holistic image of the sales performance and make data-informed decisions.
In the article, we explain what sales performance management is and why it is essential. We also describe the top 5 software to manage your sales performance effectively.
Why is sales performance management important?
According to Korn Ferry, only 53% of sales reps succeed in making or exceeding their quota. These statistics prove that many companies on the market have issues with sales performance. SPM aims to increase the number of successful deals and help businesses drive more revenue. Read more about its importance below.
In today's dynamic market, it is necessary to react to changes quickly and adapt the strategy to the current situation. Sales performance management lets you get an overview of the sales processes and define the leaks in your pipeline. You can build a flexible sales ecosystem based on real-time insights provided by AI. Use machine learning to get alerts about problems with your sales performance and improve them immediately.
Also, SPM helps with sales forecasting. You can predict the success of your future campaigns manually or automatically using analytics collected by the software. Sales performance management services provide different possible scenarios for you to make more informed decisions and understand their consequences.
Finally, SPM helps control and increase the effectiveness of your employees' work. It allows companies to improve their territory management and balanced distribution of quotas and bonuses according to your team's success. You can also use interactive elements and gamification to motivate staff to work better and increase your sales performance.
Now you understand the importance of sales performance management. Continue reading to discover the best software that can help you create action plans, improve your sales and increase profits.
Top 5 Sales Performance Management Software
Effective sales performance management is impossible without powerful software that lets you automate the majority of time-consuming processes. In this section, we describe the top 5 platforms for successful SPM and outline their peculiarities.
Anaplan
This software provides insights into the sales performance in real-time and forecasts future results for you to make data-driven decisions. Anaplan helps plan and incentive sales, track market changes, manage your employees' work and collaborate with different departments to get better results. We describe the main features of this service below.
Sales management. With Anaplan, you can design account segmentation strategies, identify key performance indicators and define quotas and territories to make your team's work more effective. This cloud-based software helps foster real-time collaboration across different departments and, in such a way, increases the efficiency of your staff.
Building a flexible strategy. This service allows companies to predict their revenue, anticipate market changes, evaluate various strategies and prepare for different scenarios beforehand. Anaplan has a single platform for agile sales planning and management that lets employees from different departments align their efforts.
Team management. You can identify the gaps in your workers' skills and get a holistic image of your human resources by studying headcount and key talent metrics. Anaplan also lets you build compensation plans, track the relevant metrics and turn these plans into reality to motivate your representatives to perform better.
Analytics. This software provides a few real-time scenarios to consider while planning your future actions. You can also increase the accuracy of your predictions not only by internally collected metrics but also by AI insights and machine learning suggestions.
Pricing is discussed individually.
Look at the screenshot below. Here is a pricing analysis in Anaplan. You can track volumes, revenue, margin, and trends. It lets companies set up the optimal prices on their products and, in such a way, drive more revenue.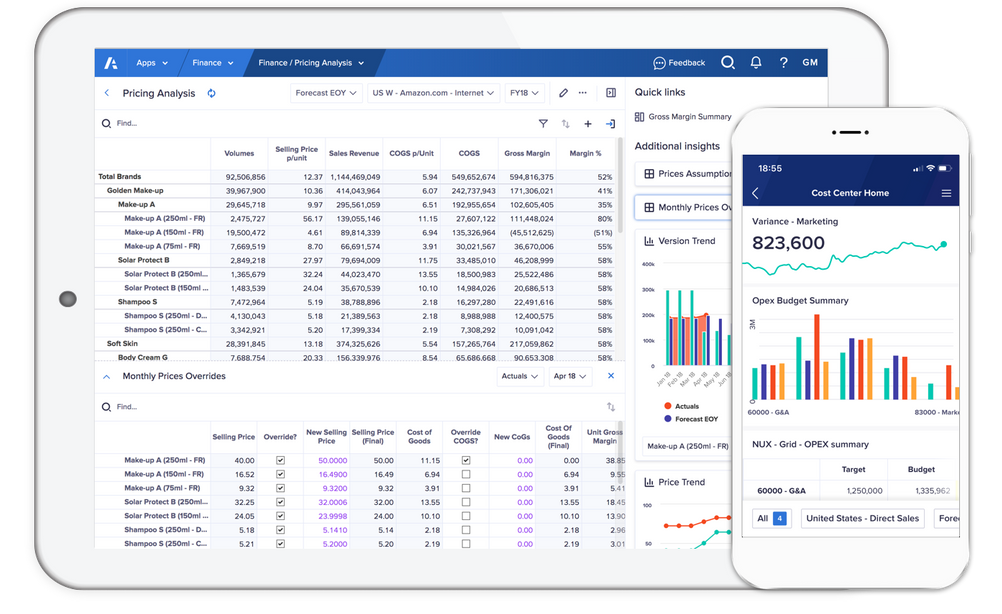 Xactly
This cloud-based software aims to automate manual processes and optimize your operations, providing data-informed insights. Xactly helps with go-to-market planning, pipeline and employee performance management, and process extension. Discover more about its main features below.
Territory, quota, and credit management. This platform lets you control and maintain transparency of quotas according to the company's goals and reduce the administrative burden on your team leaders. You can build a strong strategy, and make it more flexible and less affected by changes in personnel and territory.
Administration of everyday changes. Xactly helps automate routine tasks and scale them easily to save your reps time for more important issues. You can also optimize sales operations with the help of AI to avoid manual mistakes.
Powerful analytics and customizable dashboards. This platform allows companies to gather data on consumer behavior and analyze the pipeline to define ways to improve their sales performance. You can also track the work of your employees and identify problems immediately using customizable dashboards. Moreover, Xactly helps manage compensation programs to motivate employees to improve the results of their work.
Tailored solutions. The service provides customizable solutions to optimize processes and overcome unique operational challenges in different industries. With the help of Xactly, you can improve your rosters, territories, quotas, and credits.
Integrations. Xactly has an open and scalable architecture that allows you to customize processes in the way your company needs. This software can connect seamlessly with your company's existing systems, such as CRM, HCM, ERP, and others to make your work more effective.
Pricing is discussed individually.
Below there is a Home tab in Xactly. You can open analytics dashboards, track year credits by type, discover quarter and period attainment and find out more about accepted payments.
Board
This cloud-based platform has a hybrid in-memory architecture that helps in business planning and analysis. Its flexible data model lets companies unify information to create a single view of their sales and be confident in their data security. You can generate unlimited future scenarios to optimize your strategy and have the best performance. We provide more Board features below.
Data management. This service unifies and organizes information from different sources in data models, where sales reps can change it anytime. Also, Board offers a set of pre-built data connectors, so you can reach the data in a few clicks and enhance it easily.
Sales planning. You can forecast sales, plan quotas, territory, and budget according to a what-if analysis provided by the platform. This service lets you modify data during the forecasting and, in such a way, change the results of your sales predictions in real-time.
Analytics and reports. You can create on-the-fly calculated metrics with Board's formulas and use them immediately to analyze your sales performance. Explore all collected information in detail as the service provides automated possible drill-down paths. Also, you can conduct your analyses using data from different data sources.
Workflow management. This software helps model key business processes based on pre-built rules. You can get alerts and create trigger events if certain conditions are met. Entry data simultaneously with other users and see the changes in all levels of detail.
Building business intelligence applications. Board's HTML5 technology lets companies build and launch applications for your business needs. You can do it without coding and use the apps immediately from any device.
Integrations. You can implement the software on-premise, on-hosting, or on-cloud and change the work model anytime you need. Such flexibility lets the Board create seamless integrations with other tools, applications, and CRM systems to manage activities in a single platform.
Pricing is discussed individually.
Look at the client account in the Board below. Here you can discover more about customer behavior patterns, find out key value drivers, and track buyers' preferences to provide more personalized experiences.
InsightSquared
This software provides machine learning-driven insights, demand generation analytics, and SaaS reporting to help you improve your sales processes. You can discover more about the customer journey and the way to improve it, get pipeline and revenue forecasts, and find out the ways to optimize your sales processes. Discover more about its features below.
Data tracking. This service lets you collect data connected not only with your sales reps but with everyone involved in creating your customer journey and delivering experiences to consumers. All the information from the software and other integrated tools is collected right in your CRM to ensure complete records of all interactions.
Analytics. You can capture and analyze all the data through the sales processes automatically. InsightSquared has real-time dashboards and reports that make every update visible immediately. This software helps visualize the sales funnel, track the effectiveness of your interactions, and provides insights into what influences customers' decisions.
Account management. You can add new reports and dashboards, create your hierarchy, and segment sales forecasts in the way you need to make work more effective. Also, InsightSquared lets users filter the data by any field and track changes in metrics in real-time.
Pipeline management. This software allows companies to manage all their sales processes from one central dashboard and detail the pipeline at any level to understand the current performance better. You can discover the reasons for the changes in sales using reports that InsightSquared can generate at any time.
Team management. The service lets you track the performance of each team member, identify the leaders and discover the weak points of your staff. You can break down the activity of each account over time and gain insights into how certain actions influence your sales.
Pricing is discussed individually.
There is an analytics dashboard in InsightSquared. You can track buyers' activity, find out about the places of interaction and switch the tabs to discover more about the sales opportunities that AI predicts.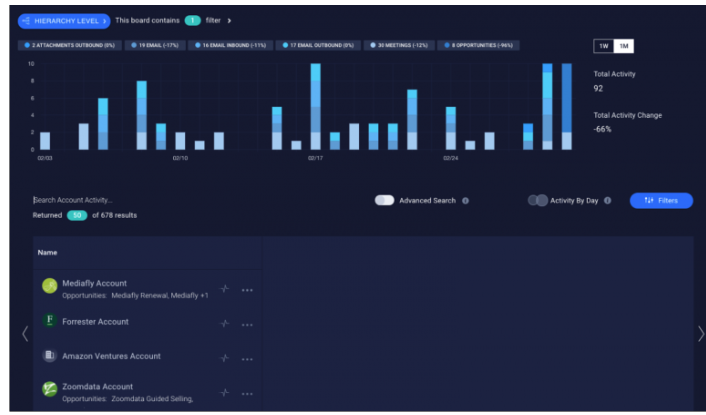 People.ai
This software helps teams manage the data about their sales and revenue. Its main advantage is patented filtering, SOC II-Type 2 certification, and data encryption that help keep your information secure. Discover more about People.ai's features below.
Pipeline management. You can connect all stages from the top funnel buyer engagement to the purchase to create a well-defined sales pipeline. Unify the data about buyers with account and opportunity information to get a holistic image of your sales performance and define the ways for future development.
Integrations. People.ai integrates easily with your existing stack. You can empower your systems with new revenue-related data, such as emails, meetings, calendar events, etc., and get a deeper understanding of your sales processes.
Data and opportunity management. This software automatically captures and analyzes buyers' and sales reps' activity and provides insights into their engagement. People.ai provides AI-powered suggestions on the activities that impact the outcome of a deal and how to improve them.
Pricing is discussed individually.
Below there is an Opportunities tab in People.ai. The software lets you track the cost of each deal, its stages, close dates, and engagement scores. You can also filter the data by any metric.
Congrats, now you understand what SPM is and why it is important. Also, you know the top 5 best sales performance management software and how to use them to improve your business processes.
Last Updated: 10.07.2023