Targeted advertising is a type of Internet advertising that delivers promotional messages to a customer according to their specific traits, interests, and preferences. Brands get this information by tracking consumer profiles and activity on the Internet.
This video by Online Ads Edu explains what targeted advertising is and how it works.
Although there is a discussion to be had about the ethics of collecting and using personal data for promotional purposes, targeted advertising has proved its efficiency as a marketing channel. In this article, we'll learn more about this tool and explore the main tactics and successful examples of targeted advertising campaigns.
Benefits of Targeted Advertising
Hitting the right audience
Advanced personalization
Lower cost
Instant results
Higher ROI
In-depth analytics
Re-engagement
More than half of the global population uses the Internet every day. People look for products and services using search engines, browse social networks, visit online stores, and so on. Brands employ different marketing channels to make the most of these activities. Targeted advertising has a ton of advantages compared to other ways of promoting a business online.
Hitting the right audience. Over 50% of prospective customers turn out to be a mismatch for businesses. Targeted advertising allows brands to interact with prospects who are most interested in their products. It increases the chances of selling to a particular buyer.
Advanced personalization. Personalization is crucial for online marketing, and targeted advertising lets you take it to the next level. Knowing your audience's traits, interests, and behavior, you can offer them the most suitable products or services.
Lower cost. Compared to traditional offline advertising or complex online strategies, such as content marketing, targeted advertising is cheaper. Better yet, using this marketing channel, you never go over budget; as soon as you reach the limit, an advertising platform stops showing your ad.
Instant results. Most online marketing strategies require a long time to reach your goals. For instance, SEO brings desirable outcomes after six months or more. In contrast, targeted advertising is a great way to acquire customers here and now.
Higher ROI. Showing relevant offers to your audience, you get higher conversion rates, improved sales, and boosts revenue. Meanwhile, sophisticated targeting on advertising platforms lets you reduce the price for a click. As a result, you get a better return on investment.
In-depth analytics. Most advertising platforms show your campaign's performance in real-time, provide advanced analytics, and let you make timely changes to achieve better results.
Re-engagement. First-time website visitors or ad viewers rarely convert into buyers. You can set up targeted ads to re-engage these potential customers with your brand over and over again. It helps prospects move down the pipeline towards making their purchase.
These benefits make targeted advertising one of the most popular ways to promote business online. For instance, in 2016, European brands invested over 16 billion euros into targeted ads. Read on for more targeted advertising statistics.
Targeted Advertising Statistics
Statistics is a golden opportunity to spot trends and get useful insights. We have selected some facts to help you better understand targeted advertising.
You may puzzle over the question of how exactly targeted advertising systems gather and use your data and online behavior. We'll explore the mechanics further.
How Does Targeted Advertising Work?
To place a targeted ad online, you need to set up a campaign on an advertisement network. Those networks show ads to users based on their data – demographics, buying history, or digital behavior.
Advertising platforms can collect data from different sources. The most common of them are cookies on the websites you've browsed. Cookies are tiny files that store information about your on-site actions or purchases and transfer them to the CRM or third-party services.
Another source of information about you is search engines. They analyze search queries and users' habits to employ this data for showing them paid ads on the search engine results page.
Finally, advertising platforms get your data from social media profiles. Social networks store information about your age, gender, beliefs, preferences, and so on.
Knowing your main characteristics and online behavior, advertising platforms can show you targeted ads on different websites. For instance, if you often browse makeup products on the Lookfantastic website, you may see ads from other cosmetics retailers on various online platforms.
Brands often use targeted ads to show you the products you've looked through before. This tactic is called retargeting. It helps businesses spark your interest in returning to their websites and purchasing the product.
As you can see, brands use a whole lot of data about you to target their ads. Based on the information used, we can distinguish different types of targeting. Let's delve deeper into them.
Types of Targeted Advertising
As targeted advertising grows, online platforms get more and more data about their users and can offer advertisers different types of targeting. Here are the most popular of them:
Demographic targeting. This type of targeted advertising focuses on the audience's characteristics – age, gender, salary, nationality, and more.
Behavioral targeting. The core of this type is potential customers' on-site and purchasing behavior. Platforms assemble data on the items users browse through and show ads according to it.
Contextual targeting. Contextual targeting implies displaying ads based on a website's content. For instance, a publisher may show toy advertising on a parenting website.
Geographic targeting. This type focuses on the potential buyer's location.
Time targeting. The base for these ads are periods when users show the highest online activity. For example, ads occur from 4 PM to 8 PM, when people typically travel home from work.
Device targeting. Advertisers can target potential customers according to the device they use.
We've unpacked a few common types of targeting. However, advertising platforms offer many more options. Let's move on and find out how to work with ads on Facebook and Instagram.
How to Do Targeted Advertising
How to do targeted advertising on Facebook
How to do targeted advertising on Instagram
Setting up a campaign on most advertising platforms is easy as pie. However, to get sustainable results, you'll need to get in hot water and learn as you go. To help you out, we've prepared tips on Facebook and Instagram targeted advertising.
How to do targeted advertising on Facebook
To make the most of your Facebook advertising, follow our comprehensive guide. It will teach you to create ads and give a few pieces of advice. In this article, we'll sum up the main steps of setting up a Facebook campaign:
Choose an objective. You can opt for a Facebook page promotion, getting more website visitors and leads, or promoting your business locally. You can advertise particular types of content as well.
Create an ad. Facebook allows you to go for a video, single image, carousel, and slideshow. To get more inspiration, follow our guide on creating Facebook ads.
Define your audience. Facebook lets you choose between a great many targeting options, from geographic location to lookalike audiences.
Define the duration and budget. The system will show you the approximate results of the campaign with the selected parameters.
The key to success in targeted advertising is keeping track of your performance and making timely changes. To measure and analyze your campaigns effectively, follow Facebook's guidelines.
Also, you may reinforce your Facebook advertising with other marketing tools. For instance, you can create a chatbot to nurture leads. To set up your bot for Facebook, try SendPulse and send up to 10,000 messages for free.
How to do targeted advertising on Instagram
Instagram is part of the Facebook family, so you need to go to Facebook Ad Manager and follow the steps listed in the previous section. Out of the box, the ad manager will publish your ad on both Facebook and Instagram. You can switch to Instagram only but bear in mind that images posted on Facebook via Instagram drive 23% more engagement.
You can also promote existing Instagram posts and stories out of the mobile app. It's way simpler than setting up a campaign from Facebook Ads Manager. To learn more about boosting your organic publications on this network, follow our guide on Instagram promotion.
To drive desirable outcomes for your targeted advertising campaigns, you have to learn through trial and error. You can speed up the process and exclude some mistakes by following the tips we've picked for you.
Targeted Advertising Tips
Target your existing customers
Show ads to your fans
Split test your audiences
Avoid hyper-targeting
Target the lower stages of the funnel
Benefit from lookalike audiences
Marketers have accumulated a lot of tricks during the years of working with targeted advertising. Let's get into the details of the best practices and adopt some of them.
Target your existing customers
Acquiring new customers is often the primary purpose of launching targeted advertising campaigns. However, this might not be the best strategy as the probability of selling to new buyers is around 5-25%. Meanwhile, loyal customers make purchases in 60-70% of cases!
To drive more sales and boost your ROI, target your advertising at existing customers. You can do this by creating customer lists and feeding them to Facebook, Google, and Twitter. The first one targets your customers with the Custom Audiences tool, the second – with Customer Match, the third – with Tailored Audiences.
Show ads to your fans
This piece of advice resembles the previous one, but it only suits those who have a loyal audience on Facebook. This social network allows you to target your ads at people who have liked your page.
Showing ads to your fans affects your ROI dramatically. One experiment showed that this tactic increased a campaign's return on investments by 35 times. The reason for success here is the same as with targeting loyal customers; this audience already knows you, likes you and trusts you.
Split test your audiences
You probably heard that split testing is essential for achieving your advertising goals. Testing various targeting options, you can find the most effective one. To run split tests on your audiences, create two campaigns, and choose slightly different targeting parameters.
To get crystal clear results, change only one feature at a time. It may be gender, age, interests, devices, and so on. By testing your audiences, you'll finally find your most promising prospects and learn to target them more effectively.
Avoid hyper-targeting
Targeting settings allow you to pick your prospective customers precisely. In fact, it might be harmful as targeting a very narrow and specific audience can drive poor results. Try to avoid overly narrow targeting and embrace a broader clientele instead.
What quantity of audience size is best for particular networks? The only way to figure it out is by testing. However, if you need a cheat sheet, consider LinkedIn recommendations. This social network advises opting for an audience of over 50,000 for Sponsored Content and Text Ads.
Target the lower stages of the funnel
People in the lower stages of the sales funnel have higher chances to convert into customers. Thus, targeting them is a must if you aim at growing sales.
Google and Microsoft's advertising networks allow you to target in-market audiences – those who are searching for a specific product and are probably ready to buy it. To find these people, platforms use data on the sites they have browsed, the proximity and frequency of visits, clicks on similar ads, and conversions.
The good news is that you can use the same mechanics on YouTube; this platform offers Custom Intent Audiences. YouTube uses broad-match related search queries that people looked for on Google.
Benefit from lookalike audiences
Advertising networks on search engines and social media let you expand your audience through lookalike targeting. This feature mirrors your custom audiences and offers you users with the same defining characteristics. This way, you can increase the number of promising prospects that you target.
Applying the tactics listed above, you can improve your targeted advertising results. To learn how to do it more efficiently and creatively, read on – we'll examine examples of stunning targeted campaigns.
Targeted Advertising Examples
When it comes to targeted advertising, you need to not only spot your audience's preferences but also to show creative and attention-grabbing content. To ignite your inventiveness, look at the advertising campaigns we've picked for you.
Amanda Foundation
Amanda Foundation used behavioral and geographical targeting to find homes for animals that were spending their last days at shelters across Los Angeles. To increase the chances for pets, the non-profit showed ads to people who were the most likely to adopt a particular cat or dog.
The ads appeared on websites according to users' demographics and browsing behavior. For instance, if a person was prone to a sedentary lifestyle and interested in small dogs, they saw banners with chihuahuas or toy terriers.
In the picture below, you can see the set of ads for cats and dogs in search of a home. Each message introduces the viewer to a suitable pet. The text highlights the traits that a specific animal and the ad viewer have in common.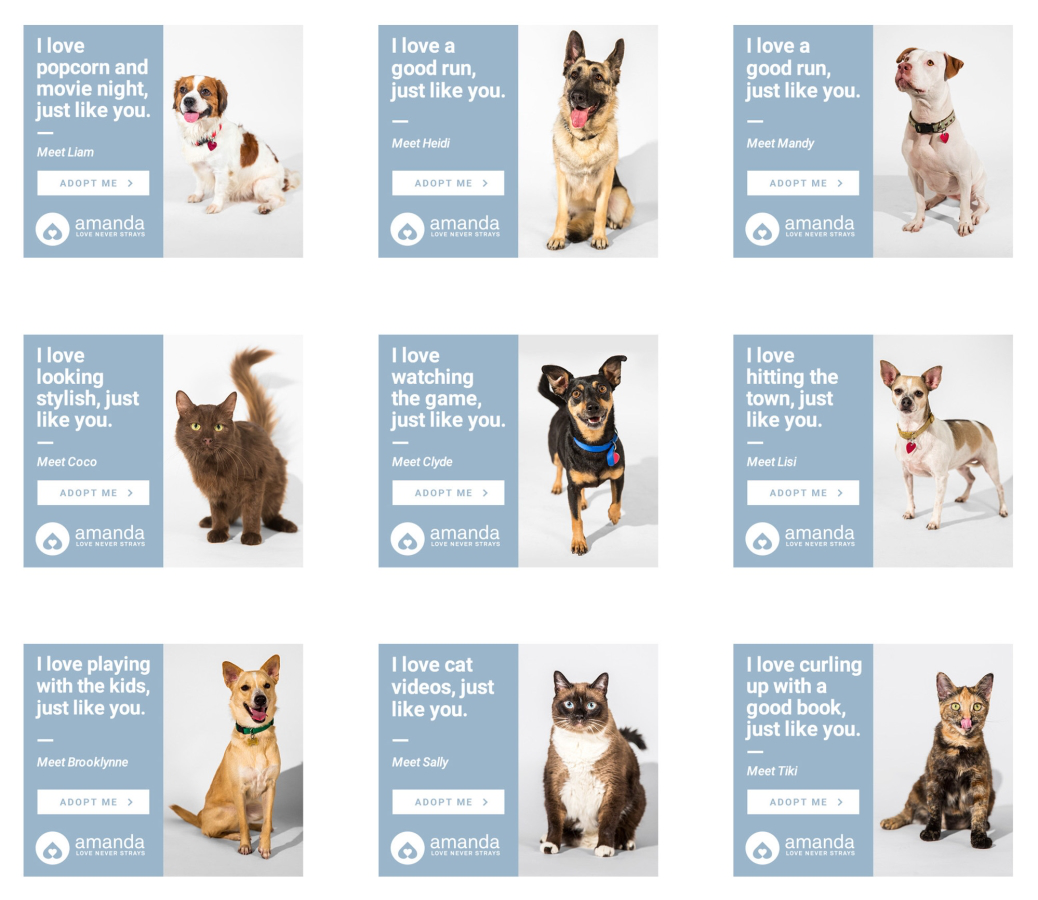 Sephora
The cosmetics retailer, Sephora, launched a Facebook campaign to boost sales during the holiday season. The company targeted people who visited the Sephora website and left without making a purchase. The second segment was Americans interested in beauty, skincare, and makeup.
In its ads, Sephora showed viewers the type of products they would prefer. For instance, if a person had shown previous interest in or intent to buy makeup online, they saw the ad with makeup products.
Each ad started with an engaging video and several product images below it. After tapping the post, a viewer went to the Sephora website. The links led directly to the category presented in the ad. Also, a user could switch to a different group of products and choose a particular item to buy.
Tesco
The retailer, Tesco, chose Facebook for its advertising campaign in Malaysia. The company used geographical targeting to reach people who lived near specific stores.
The brand used discounts to incentivize visits to its supermarkets. Tesco showed three ads that offered prospects to save from 30 to 100 Malaysian Ringgit. Viewers had to save unique codes generated for each ad on Facebook. Later, the social network reminded users to redeem the coupon in the nearest shop.
Each ad was a simple combination of an image, text, and call to action. The promotion showed the amount that customers would save, if they take the chance.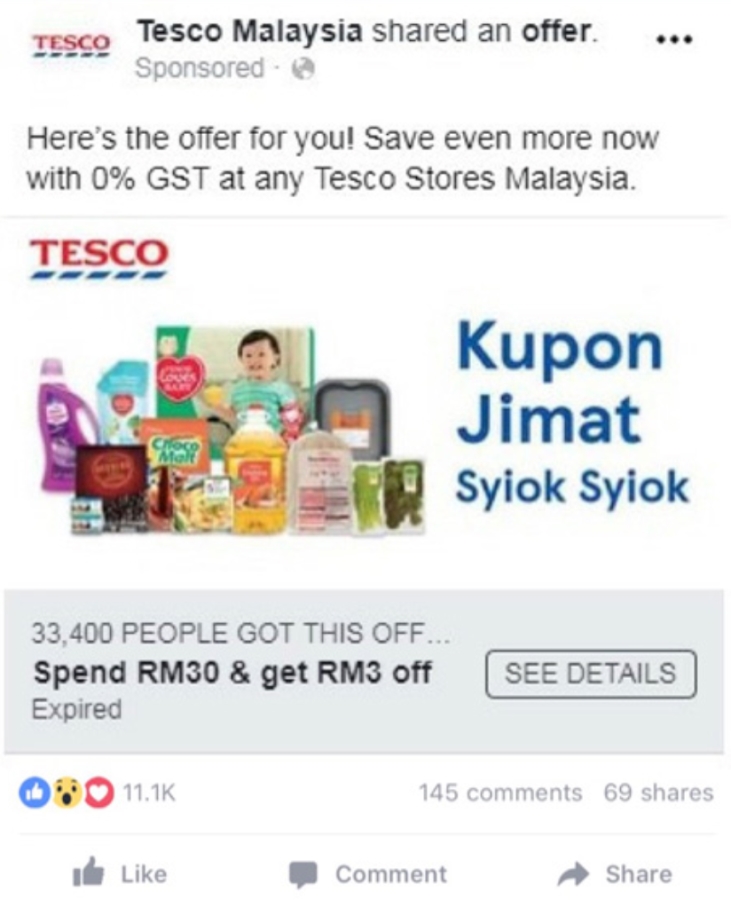 J2O
J2O provides another example of the creative use of Facebook video ads. The company wanted to increase brand awareness before Christmas and boost its seasonal drink sales.
J2O targeted the people in the UK aged 18-44. The campaign consisted of three eye-catching and engaging videos with a brand character – a colorful alpaca, Mojo, which you can see in the picture below. Facebook Ads Manager optimized each display to show the best-performing versions.
Targeted advertising may be the perfect option to acquire new leads, move them down the sales funnel, or re-engage loyal customers. However, do not rely on this channel alone – a complex approach drives the best results. Enrich your marketing strategy with email and SMS campaigns, chatbots, and web push notifications – register with SendPulse.
References
The article "The 8 Coolest Ad Targeting Features in Marketing Right Now" on WordStream provides more information on types of targeting and tricks to employ it on various platforms.
The article "How to Use Targeted Advertising in a Data Paranoid World" explains how targeted advertising works and how you can use it without irking customers concerned about their personal data.
The article "How to Master Facebook Ad Targeting & Zero-In on Your Audience" from SproutSocial is an advanced guide on setting up targeted advertising campaigns on Facebook.
Last Updated: 23.03.2023