Don't get stuck in a rut: just because everyone uses the same software doesn't mean it's the best solution for you and your online events. Some webinar platforms offer better data protection, while others put more advanced options on the table. You just need to find yours.
One size rarely fits all, and webinar software is no exception. Salespeople, for example, focus on winning new clients while creators want to share their knowledge and get paid for it. Different needs call for different solutions.
Trying a new platform can help you up your webinar marketing game! Surprise your attendees with a fresh interface and unexpected features — a sense of novelty will inevitably make them pay more attention to your event and retain it in memory after. Let's take a closer look at the best webinar software offerings in 2022.

What makes a webinar platform the best?
It's hard to choose any software without knowing what the industry's gold standard is. In the case of webinar platforms, many of them are packed full of features that can bring your upcoming event to the next level, and it's helpful to know what they are, especially when you're looking to try something new.
Are you looking for a different way to market your business? Learn how to do it with
webinar marketing
!
Let's list the most prominent features that make your event look, sound, and feel professional:
High quality — host your event in 720p or higher without sacrificing fast loading.
Control — switch between co-hosts, unmute your attendees, and pause/resume your event smoothly.
Capacity — make sure everyone who wants to attend your webinar gets a spot.
Sharing — share your screen, audio, video, and other files with the viewers.
Recording — make your webinar available to latecomers and users from different time zones.
Download-free, browser-based participation — let your attendees join you in one click.
Third-party app integrations — automatically schedule your webinars, collaborate in real-time on Google docs, or seamlessly make YouTube videos part of your webinar.
Custom branding — ditch generic interfaces and let your brand shine through during your whole webinar.
Security — keep your events private and uninterrupted.
Engagement options — let your attendees communicate with you during your webinar through chat, emoji, polls, and other means.
Custom names — personalize every pixel of your webinar and make it recognizable in an instant.
Accessibility features — let everyone attend your events, feel included, and follow along.
Embedded webinars — host webinars directly on your website, like a pro.
Short personalized URLs — add the name of your company to your webinar invitation link.
Mobile accessibility — conduct mobile-friendly online events your audience can watch from anywhere.
Analytics — track key webinar metrics such as registrations, views, average viewing time, activity, and feedback.
The best webinar platforms are ones that allow you to focus purely on your presentation, story, or lesson without worrying about the technical side of things. They also enable you to stay in contact with your audience, receive instant feedback, and answer their questions as you go. Finally, they help your audience concentrate on your event and extract maximum value from it.
You can effortlessly host webinars of almost any type:
live — be fully present in front of your viewers;
pre-recorded — record your webinar in advance and launch it when the timing is right or make it on-demand;
series — tell a cohesive story through a sequence of videos;
hybrid — combine recorded content with live interaction.
You've probably already spent enough time and resources building your expertise and preparing content for your upcoming events. Don't let your efforts fall flat — find the right solution that will allow you to present them properly and get high engagement and conversion rates.

How to choose the best webinar software
Pricing and the platform's popularity shouldn't be your only criteria. Here are the main questions you need to ask yourself before you start comparing webinar platforms:
What are my webinar goals?
How often will I conduct webinars?
Do I plan to launch a webinar series?
How many attendees do I expect?
How many presenters will host my event?
Am I going to use pre-recorded content?
How do I want to communicate with my viewers during and outside of my webinars?
Which engagement options do I want to provide my attendees with — live chat, polls, quizzes, Q&A, or all of the above?
What is my planned webinar duration?
Do I need integrations with other services?
Do I need to provide my attendees with a virtual waiting area?
Do my online events require custom branding?
Will I host paid webinars?
Do I need 24/7 online support and training?
How much time can I invest in learning how to use a new platform?
How many user licenses do I need?
Knowing what you need and what isn't necessary, you can find the platform with ease. For instance, if you don't need an annual subscription, you won't even spend your time considering platforms that only offer long-term commitments. The same with your expected number of attendees — you don't want to pay double for spots that will remain vacant.
Make sure to test the webinar solution you choose and read existing onboarding materials to know how to tackle the most common issues, should they appear during your first event. Always start with a free trial to get a feel for certain features and check whether they're actually helpful.
If you expect your number of attendees to climb over time, look for a platform that offers flexible pricing and allows you to upgrade your plan whenever you need to increase the maximum capacity. Otherwise, you're going to be forced to switch to another platform and start all over again once your attendance numbers hit their highest.
Another tip: if you use browser-based webinar software that lacks accessibility features, you can recommend your attendees use Google Chrome's captioning feature instead. That way, you get to "keep" your favorite software while improving the inclusivity of your event. Also, it can be of great help to viewers who currently can't use their headphones or speakers.

10 best webinar platforms for webinars of all kinds
Webinar attendees usually do not interact with each other — their attention is directed to the speaker. However, your virtual events might be different. That's why we've included a list of platforms that help their users merge the efficiency of webinars with the spontaneity of video calls.
You'll find some free webinar platforms here, too, so don't skip this part even if you have a modest budget. All of the solutions listed below are GDPR-compliant, browser-based, and require no downloads.
Demio
Demio is a surprisingly user-friendly platform for hosting live events, webinar series, and pre-recorded webinars that can be scheduled or made on-demand. When we say user-friendly, we mean it! Its interface looks incredibly clean, intuitive, and inviting.
Demio offers HD streaming and 24/7 support with an average response time of five minutes or less. This software is a great fit for marketers and salespeople since it allows users to apply their branding and logo across all of their webinar materials. You can also host your event on a custom domain to maintain brand consistency.
The platform has some unique features we find extremely useful:
use emoji for more informal and emotional communication;
let your attendees join you from virtually any browser and on any device;
upload your slides or share videos directly from Demio without having to switch between different apps and tabs during your webinar;
create beautiful registration forms and send reminders to your registrants;
share documents and links to other resources during your webinar;
give your participants the stage by letting them contribute to the topic and temporarily become the center of attention.
Demio's simple interface enables you to conduct online events — even for a less tech-savvy audience — everyone will be able to join your webinars and get the most out of them. You, in turn, can also interact with your viewers in various ways:
interactive polls with stats;
downloadable handouts, gifts, and bonuses;
live Q&A sessions;
private and public chats;
mentions and emoji gestures.
The platform has a solid event analytics suite that allows you to track registrations, engagement, drop-offs, poll answers, content downloads, and clicks on your CTAs. Demio encrypts all of the browser data and stores it privately.
There are 50+ tools you can integrate with Demio. In addition, Zapier lets you connect Demio with 4,000+ of the most popular apps, and you can integrate your software with Demio using their public API.
Pricing. We recommend starting with a 14-day free trial. When it's over, you can choose the Starter plan for $49 a month. It is a good fit for small events: a single host, up to 50 attendees, and a 3-hour session limit.
For more options, choose the Growth plan for $99 a month per host. It allows you to have up to 150 attendees and up to 5 hosts. This plan includes an 8-hour session limit, customer branding, registration source tracking, and other features.
If you want to go big, pick the Premium plan with custom pricing. You'll be able to invite up to 1,000 attendees, conduct 10-hour sessions, have a dedicated account manager, try premium integrations, and more. Choose annual billing to save 30% on any plan.
WebinarGeek
WebinarGeek is a webinar platform that lets you run webinars of all kinds: live, on-demand, automated, hybrid, and replay. It supports the most popular browsers and devices.
It's a multi-purpose webinar platform, and can be used to generate sales, interact with customers and coworkers, conduct internal training, organize interactive classrooms, or give lectures. You can also use hybrid webinars for educating your leads since it's a go-to format for product demos with a Q&A session.
WebinarGeek is a perfect fit for SaaS companies, entrepreneurs, healthcare professionals, HR, sales, coaches, and many other professionals sharing their expertise online. You'll find a lot of industry-specific use cases on their website.
WebinarGeek has a long list of features that are capable of turning webinars into conversion monsters. Let's break it down:
apply your branding to your webinars, registration forms, and webinar emails;
fully integrate the platform with your own website, email tool, or CRM system;
run paid webinars;
share a webcam or an external camera to show your studio and other speakers;
show your presentation slides during your webinar;
invite moderators and co-hosts to your event;
use quizzes, polls, live chats, and information boxes to engage with your audience and keep them informed;
ask for feedback after each event with evaluation forms;
present your offer on a dedicated sales page;
add clickable CTAs allowing your viewers to schedule a meeting or sign up for your next webinar in one click.
You can analyze your webinar metrics and export that data to a CSV file. WebinarGeek also gives you the option of creating your company channel: you get an embeddable branded page with an overview of all your events, including upcoming and on-demand webinars.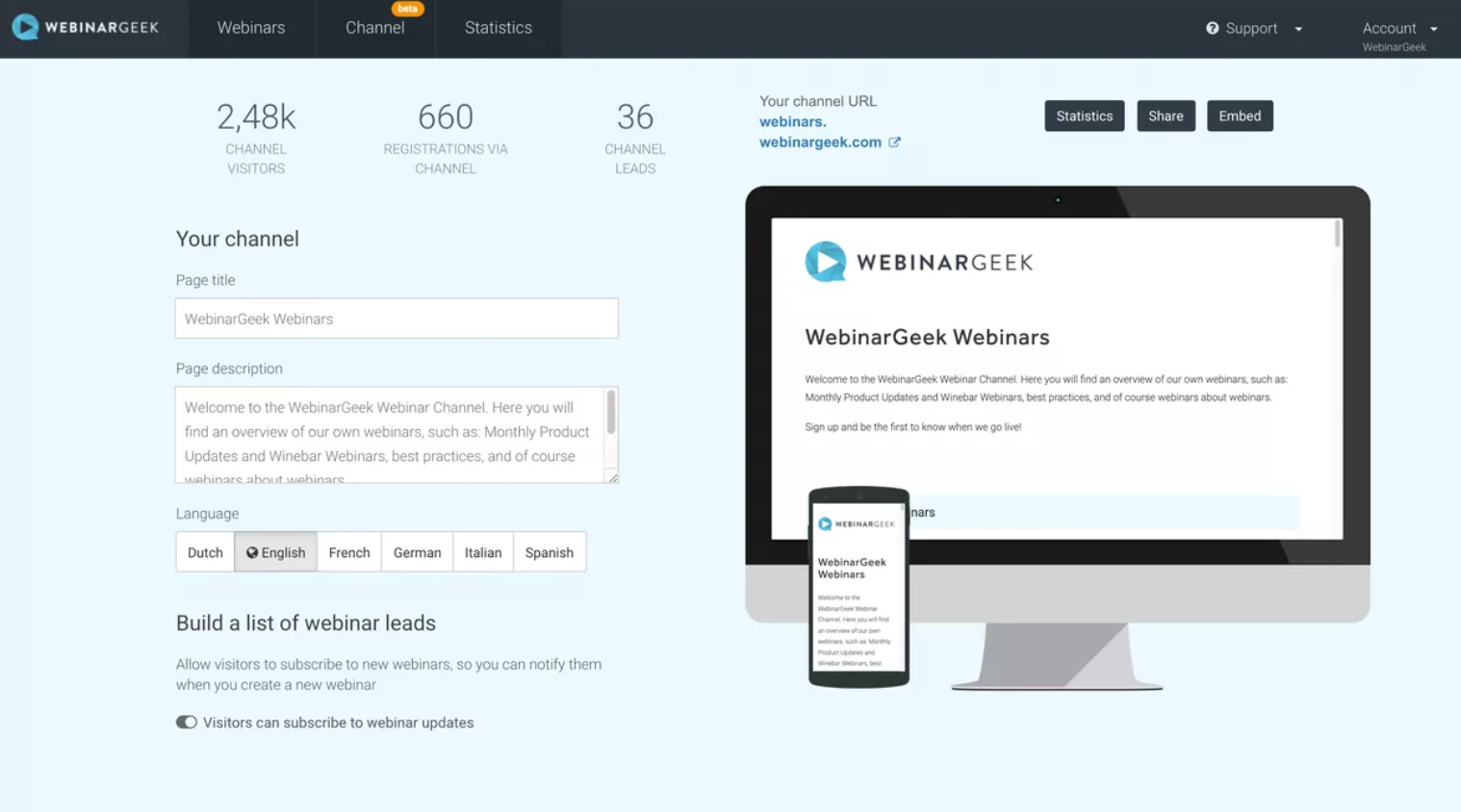 Seamlessly connect WebinarGeek with 3,000+ tools for segmenting your contacts, synchronizing data across your tools, and creating automations based on that. WebinarGeek has an API for your own integrations as well.
Pricing. The platform offers a free 14-day trial. The cheapest plan costs $22 a month. You get 25 live viewers, 4 hours of streaming per webinar, and 2 presenters on stage. The premium plan costs $57 a month but is way more generous: 100-2,000 live viewers, up to 8 hours streaming per webinar, up to 4 presenters and 4 moderators. You can save 25% with an annual subscription.
Whereby
Whereby is software that makes video calls easy and productive. You can organize virtual events by embedding Whereby in your app, website, or anywhere else — it will ensure smooth, interruption-free communication with your attendees. They won't ever have to leave your platform to take part in your video experience.
It might sound complicated, but it will only take a few minutes to set up — you'll just need to copy and paste a few lines of code.
Here are the main advantages of Whereby:
download-free and installation-free video experiences;
custom branding and live emoji reactions;
integrations with Miro, Google Docs, YouTube, and other services;
full video setup customization;
servers across the world;
encryption for meetings.
You can, of course, use Whereby for meetings and send your attendees a link to your meeting room instead of inviting them to your website. Whereby's functionality is more than enough to successfully organize interactive online classes, events, and workshops. Your participants can join you from any device.
It only takes one click to get started.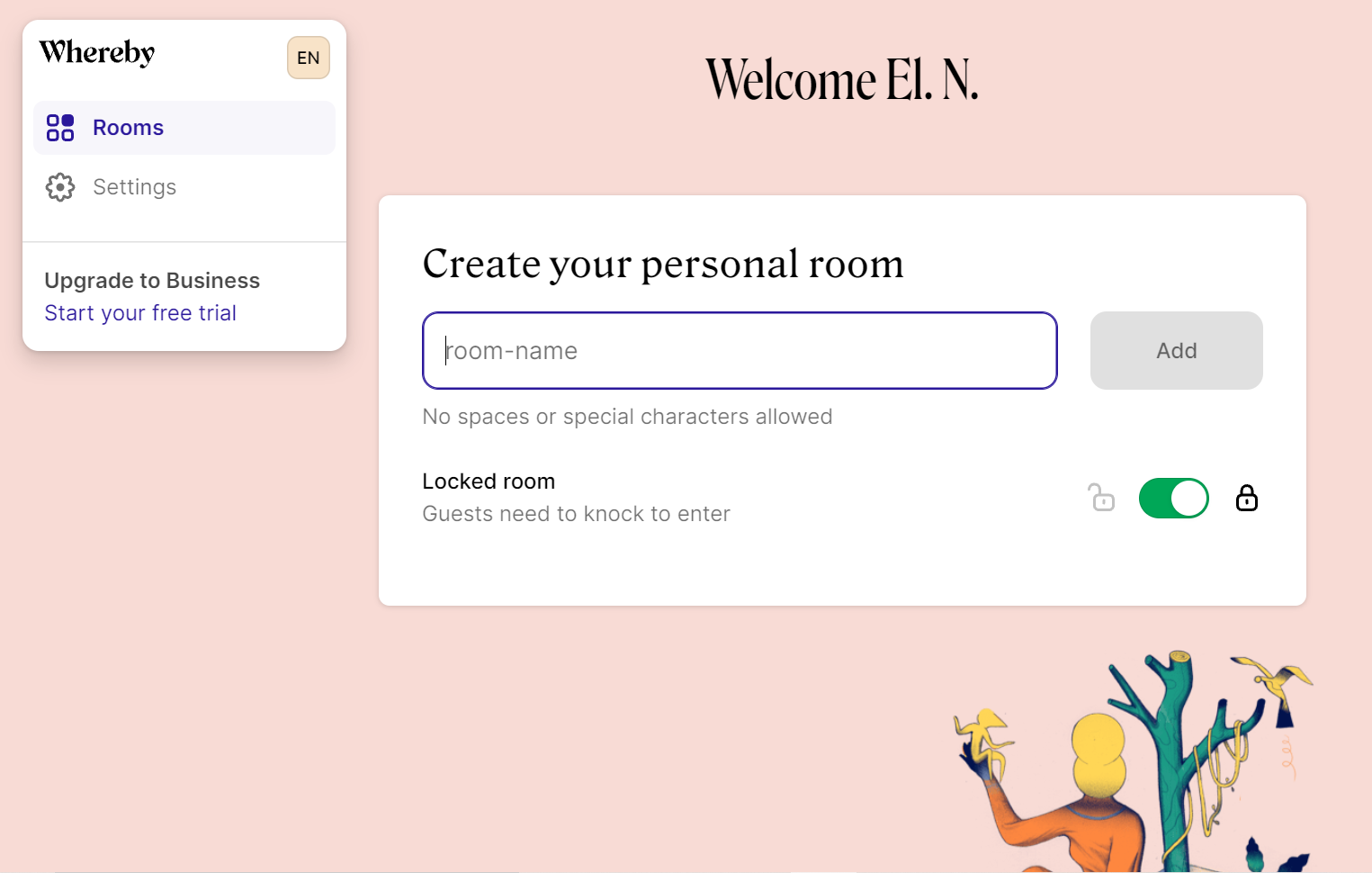 The beauty of Whereby Embedded, however, is that the flexible API can be scaled at any time. You can plan and generate unlimited virtual events with up to 100 live participants in just a few clicks. Keep in mind that it's a video call platform, so it doesn't support pre-recorded webinars or hybrid events.
Pricing. Get to know Whereby during a 14-day free trial. Then, you'll need to choose the Meeting or the Embedded version of the platform. The latter has bespoke pricing plans. You'll pay $0.004 per minute for each participant in your call, but you can save up to 80% with an annual plan.
If you just need browser-based video meetings, Whereby could be your ideal free webinar software. With a free plan, you can host up to 100 participants for up to 45 minutes, but you can't record your events.
For unlimited group meetings, unlimited recording, and up to 9 licenses, you'll need to pay $6.99 per license per month. For $9.99 per license per month, you can get 10+ unlimited licenses. It's possible to save 17% by paying annually. Notice that you can't host more than 100 attendees and there are no engagement analytics.
GoTo
GoTo has a bunch of solutions for video meetings, and GoToWebinar is one of them. It's feature-rich software for creating professional webinars on a large scale — up to 1,000 participants can join a standard event. The platform guarantees HD video and crystal-clear audio.
With GoTo, you can fully customize each of your online events and set up automations in a matter of minutes.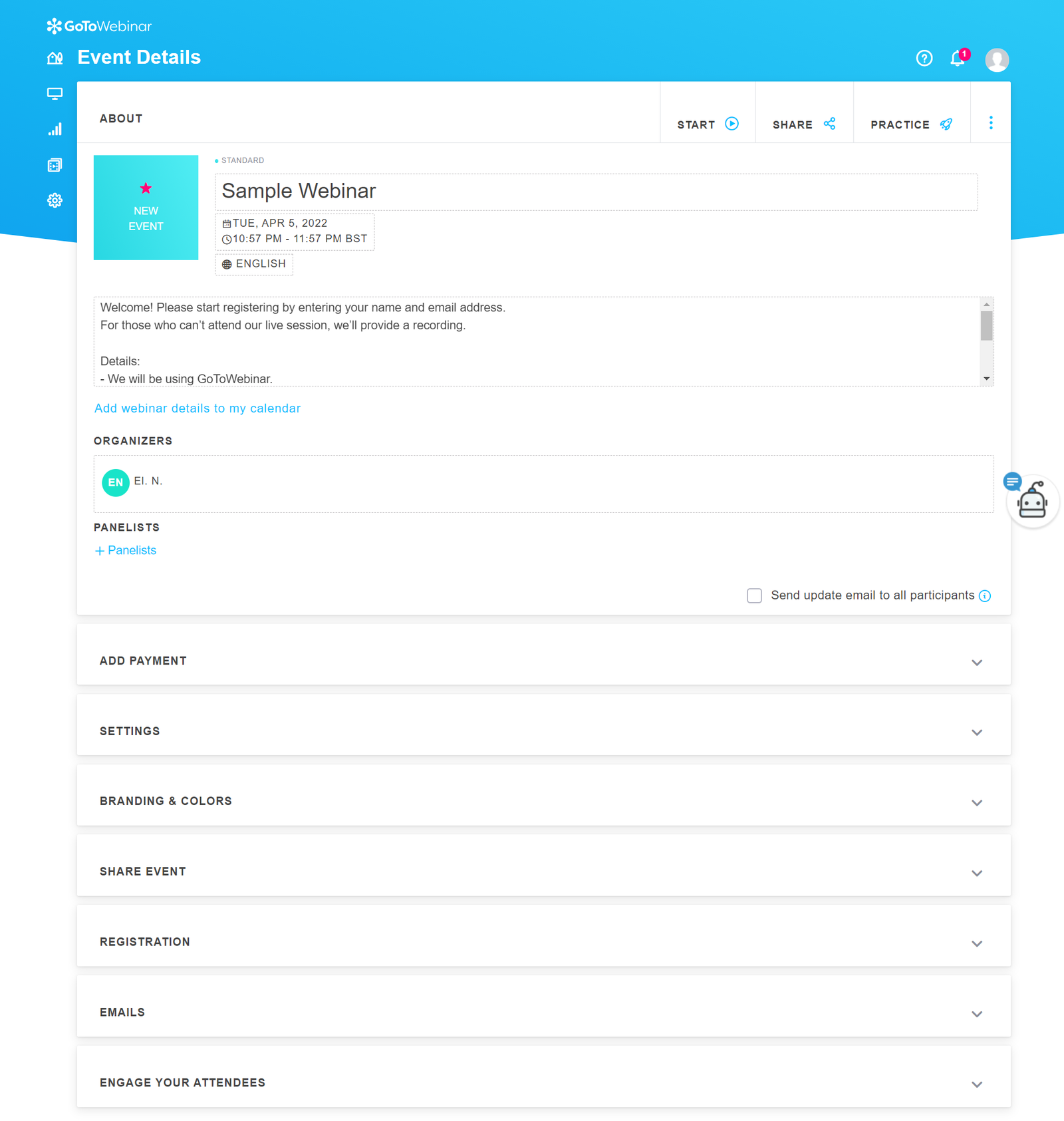 GoToWebinar enables you to:
host interactive live recordings, webcasts, or pre-recorded webinars;
share your camera, create polls, surveys, live Q&A sessions, and draw right on the screen;
accept payments for your webinars through Stripe;
bring your webinar organization to the next level with flexible scheduling and webinar templates;
personalize registration forms and emails by adding your branding;
share handouts beforehand or during your webinar;
send invites, reminders, follow-ups, and record transcriptions automatically;
track engagement and webinar performance;
integrate the platform with your CRM;
grant your attendees a certificate of completion to boost your credibility.
Pricing. Since it's an enterprise-level solution, the cheapest plan costs $89 a month, billed annually. You can invite 100 participants with this plan. To be able to invite up to 500 viewers, choose the Pro plan for $199 a month, billed annually.
Livestorm
Livestorm is a leading webinar platform helping organizations host on-demand, live, or pre-recorded online events. Live events, product demos, onboarding, internal communication, education, training — in any case, you'll provide your viewers with a first-class video experience. If something goes wrong, you can get your questions answered by real support agents.
This software gives you tons of options for promoting your event, starting with embeddable widgets and branded registration forms and ending with built-in social sharing and automated emails.
You can register and create your first webinar right away — onboarding messages will pop up and guide you through the process.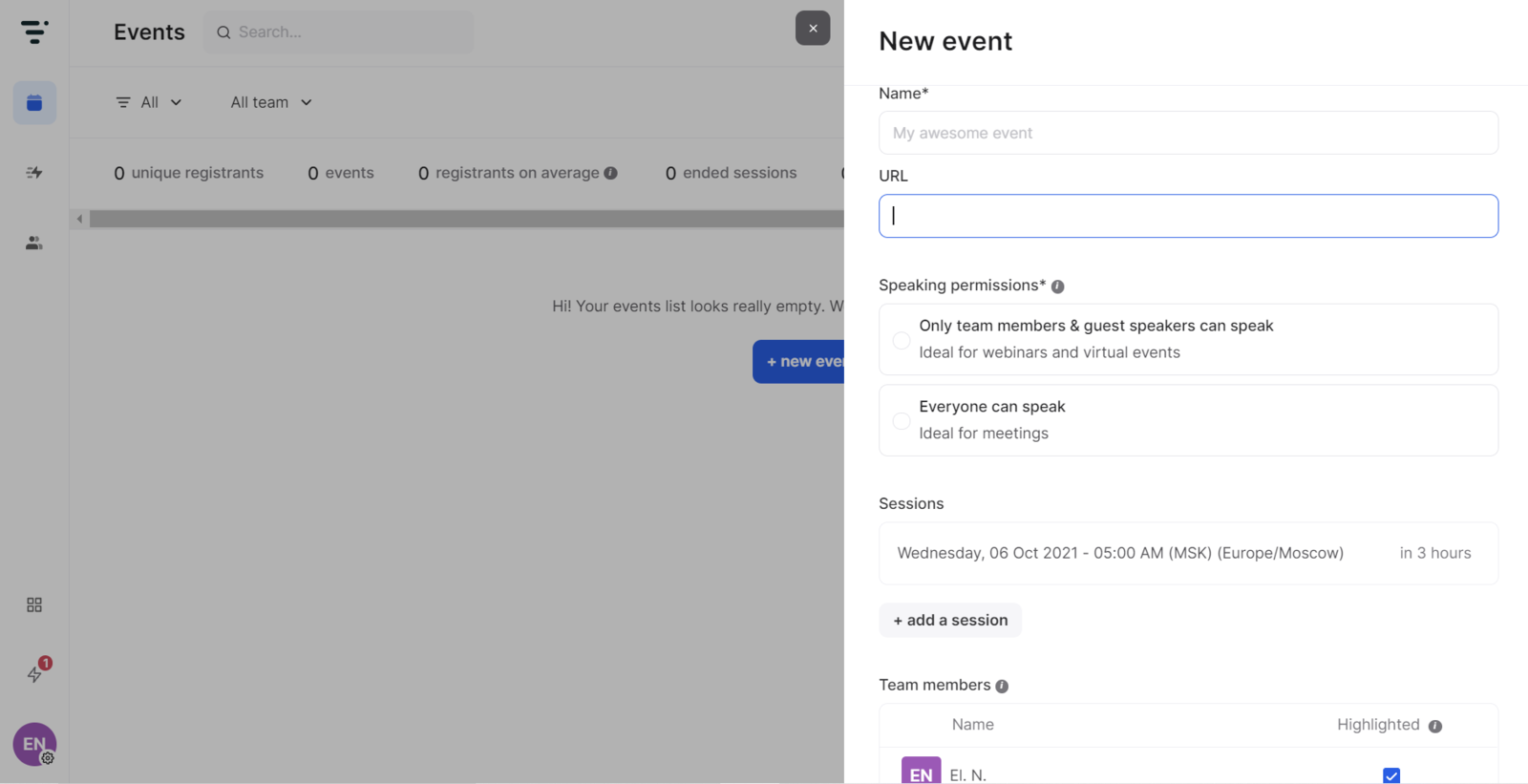 With Livestorm, you can manage your webinars and engage with your attendees in exactly the way you want — the options are almost limitless:
use polls, CTAs, integrated videos, and chats to enrich your events;
assign roles within your team-wide account;
set up automated live actions;
moderate registrations;
create recurring events;
accept payments for your webinars via Zapier;
invite up to 1,000 participants;
control the visibility of your event;
jump on an instant meeting to chat with your team members in a separate meeting room;
invite your guests to the stage;
follow the conversation by phone if your internet is down;
track where your attendees come from and how active they are.
Integrations with HubSpot, Intercom, Slack, and other 1,000+ apps can be created in one click. The iframe mode allows you to integrate a YouTube live, Twitch, Livestream, or any other live video stream into your event room.
Pricing. With a free plan, you can only invite 10 attendees and have 20-minute events. For $109 a month, you can invite 100 live attendees and host 4-hour webinars. Choose to pay yearly to save 10%.
Canapii
Canapii is a powerful online event platform for conferences, webinars, workshops, board meetings, corporate events, briefings, eLearning, training, product launches, symposiums, and even podcasts. The best thing about this software is its flexibility: you can host small events or go big and invite thousands to your presentation. Also, it has some of the most innovative features on the market.
Canapii allows you to organize high-quality live, on-demand, and hybrid events as well as webinar series. Its list of features is astonishing: you can create a full-blown virtual conference with different attendee paths, real event tickets, a waiting area, breakout rooms, live translation, gamification, sponsor activities, and networking opportunities.
Canapii gives you quick guides on how to build and manage your events, so you won't be overwhelmed by tons of settings. Its interface is anything but cluttered.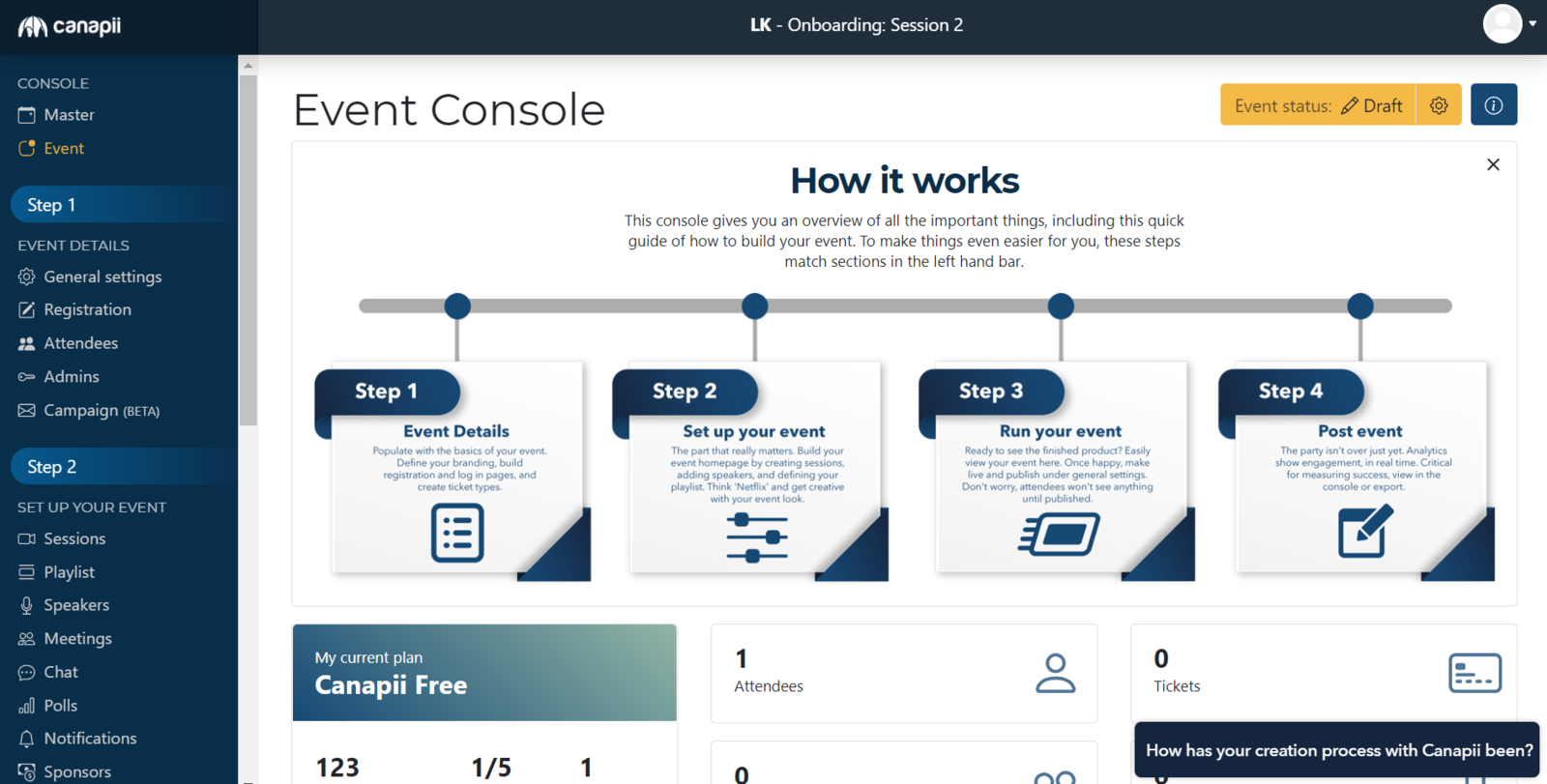 Let's see what else makes it an award-winning online event platform:
dedicated console for event managers and full control over features;
custom branding;
integrated registration and ticketing system;
unlimited number of sessions;
personal and group chats, live Q&A sessions, polls, and points for engagement;
AI translation into 70 languages and auto-captions;
CRM dashboard;
quick face-to-face meetings;
agenda builder;
event gallery for sharing attendee experiences;
built-in survey tools;
light and dark modes;
multi-factor authentication;
free training sessions hosted by Canapii experts;
24/7 support;
in-depth analytics with a real-time engagement overview.
Pricing. You can host up to 125 people, have 5 admin places, and use Canapii's basic features for free. If you want to unlock more features and be able to host up to 250 attendees, be ready to pay $149 a month, but your events can last up to 4 days! Enterprise-level plans cost $599+ a month.
SpotMe
SpotMe is a B2B event marketing platform for hosting live and hybrid events. It's a solid solution for growing and large businesses striving to deliver pixel-perfect, unforgettable experiences to their audience. With SpotMe, you can create your own branded mobile event app and have it published in the App Store or Google Play Store.
SpotMe is your one-stop solution if you're looking to personalize every attendee's journey within your webinar app. You can create a curated event from one of the SpotMe templates, add your brand identity to it, and build different paths within the app based on the attendee's interests.
The platform truly stands out from the competition, thanks to its unique set of professional features:
live moderated chats, anonymous questions, polls, and applause reactions;
custom registration pages, automated reminders, and notifications;
live interpretation in various languages;
team-wide access to webinars;
up to 10,000 viewers;
chatbots for ultimate user engagement;
badges and certificates for attendees;
community management tools;
networking tools;
gamification;
on-demand content libraries;
green room and speaker lounge;
custom background and branding;
up to 2 standby screen shares;
enterprise-grade data security and encryption;
integration marketplace and developer API;
24/7 support and training;
regional data hosting;
real-time analytics, behavioral insights, UTM tracking, and data export.
Pricing. You can get a free trial by contacting the SpotMe team. With the cheapest plan, it's possible to conduct an unlimited number of webinars, up to 30 minutes each, and have up to 50 attendees. It costs $299 a month, billed annually. Other plans are customizable.
BigMarker
BigMarker is intuitive, flexible webinar software that provides just enough tools to successfully organize and market any event. The customization options are plentiful — you can be sure that your webinar channel won't look like anyone else's.
Choose your type of webinar based on your goals.
Choose one of the professionally designed webinar landing page templates BigMarker offers and start promoting it across your channels using push notifications, emails, and embeddable widgets. If you choose BigMarker's White Label solution, you'll be able to create a fully custom-branded webinar with custom rooms and integrations, host it at your own domain, and share bespoke landing pages and emails instead of standardized ones.
You can capture registrations, develop flexible check-in flows, and sell tickets for your virtual events. If you plan to host large events, you can even include a virtual sponsor expo hall in your setup.
The BigMarker functionality guarantees you'll be able to engage with your viewers in the most natural way:
share downloadable handouts in one click;
use polls, Q&As, and Twitter chat for productive and easy exchanges with your attendees;
invite any of your participants to speak and share their opinion with others;
create a virtual lobby with 2D and 3D options for your event attendees;
help attendees make connections via AI-driven networking recommendations;
use gamification to award points to your most active participants;
make recordings available to anyone who has missed your event;
stay connected with your audience after your webinar is over.
BigMarker offers rich integration options, for example, with Salesforce, Hubspot, YouTube, or any CRM of your choice.
Pricing. BigMarker offers a full-featured 7-day free trial. BigMarker webinar software costs $99 a month for 100 attendees, 1 host license, and all essential features. Save around 20% by paying annually. Virtual Event, Enterprise & White Label solutions have custom pricing.
WebinarNinja
WebinarNinja is software created for online teaching, coaching, and sharing expertise in any other way. Unlike other webinar platforms, WebinarNinja encourages its users to have authentic and intimate conversations with their audience. This mobile-friendly platform is a great choice for creators, entrepreneurs, coaches, and teachers of all kinds.
WebinarNinja offers everything a proper webinar platform does:
live, pre-recorded, recurring, and hybrid events;
built-in email tools, automated notifications, and landing pages;
engagement options for attendees such as polls, chats;
multilingual customization;
audience presenters;
up to 1,000 attendees;
offers that can be embedded in presentations;
integrations with any CRM or email software you're using;
webinar finder and customer stories for inspiration;
24/7 support.
But there is more to it. You can get paid for your webinars without having to use any third-party solution. WebinarNinja takes care of all things tech while helping teachers, coaches, and creators earn money by doing what they do best.
Pricing. WebinarNinja has a free 14-day trial. The cheapest plan costs $49 a month: 100 live webinar attendees, 2 additional presenters, and 2 hour-long sessions. For $95 a month, you get 300 live webinar attendees, 4 additional presenters, and 4 hour-long sessions. Choose one of the premium plans to host up to 500 or 1,000 attendees. You can save 20% by paying annually.
ClickMeeting
ClickMeeting is webinar software for video meetings and conferences. You can conduct one-on-one meetings or run events with thousands of attendees. The choice is yours: ClickMeeting gives you the proper tools to do both. This software is created specifically for online teaching, product demos, internal training, business meetings, and professional online events.
You can fully customize your webinar page in a few minutes.
ClickMeeting supports live and on-demand events as well as webinar series. You can record your session, share your screen with attendees, invite them to speak, and more:
personalize your webinar room, waiting room, and automated reminders;
create unlimited webinar landing pages;
live stream on YouTube and Facebook;
collect data with live surveys;
share video and files during your event;
add a custom CTA with a logo and URL of choice to your webinar;
use a predefined, unique token generated for each of your registrants or lock your webinar room to ensure privacy;
make money on your webinars with PayPal Integration;
use up to eight streams during your event;
get detailed info about your online events.
These are just a handful of features — WebinarNinja has way more to offer, including different modes, integrations, and add-ons.
Pricing. WebinarNinja's plans are flexible and depend on how many participants you expect to have. It's free webinar software if you invite up to 25 users — but this free period only lasts 30 days. It costs $79 a month to have 100 participants. To access all of the features and invite 1,000 viewers, you'll need to pay $359 a month. With an annual subscription, you'll save 20%.
Ready, set, go
As you see, hosting webinars is easier than it looks! Advanced webinar platforms can take care of the technical side allowing you to concentrate on the event itself. Try to choose a platform that feels the most intuitive to you and your co-hosts as well as your viewers, especially if your webinars are live.
And here is a little secret — you'll become an even more confident host if you use the same software for your work-related one-on-one video calls. You'll know the functions of the platform perfectly, and it'll reduce the chance of mishaps.
You can also reduce no-show rates by sending webinar emails that really work. Start using our email automation platform — it's a user-friendly solution for sending personalized template-based emails that look good on any device. Just go ahead and register to try it for free.