In marketing, you have to plan and brainstorm a lot to resolve all kinds of problems. To generate new ideas or fix and organize all the ideas that are already floating around in your head, try using mind maps. It's an effective way to make your ideas comprehensible and memorable.
In this blog post, you'll find detailed information on what mind maps are, how they can be used in marketing, and for personal purposes, as well as some tips on effective mind mapping. There is also a bonus: a short survey of some free mind mapping tools.

What are mind maps?
A mind map is a chart that shows different ideas associated with a concept. This concept is usually called a central concept and is placed in the middle of the chart. Other ideas radiate from this central point; each idea can branch out with sub-ideas. The ideas are usually expressed in words or images.
For example, this is how we organized ideas for our blog post "20+ Killer Tips to Promote Your Online Store."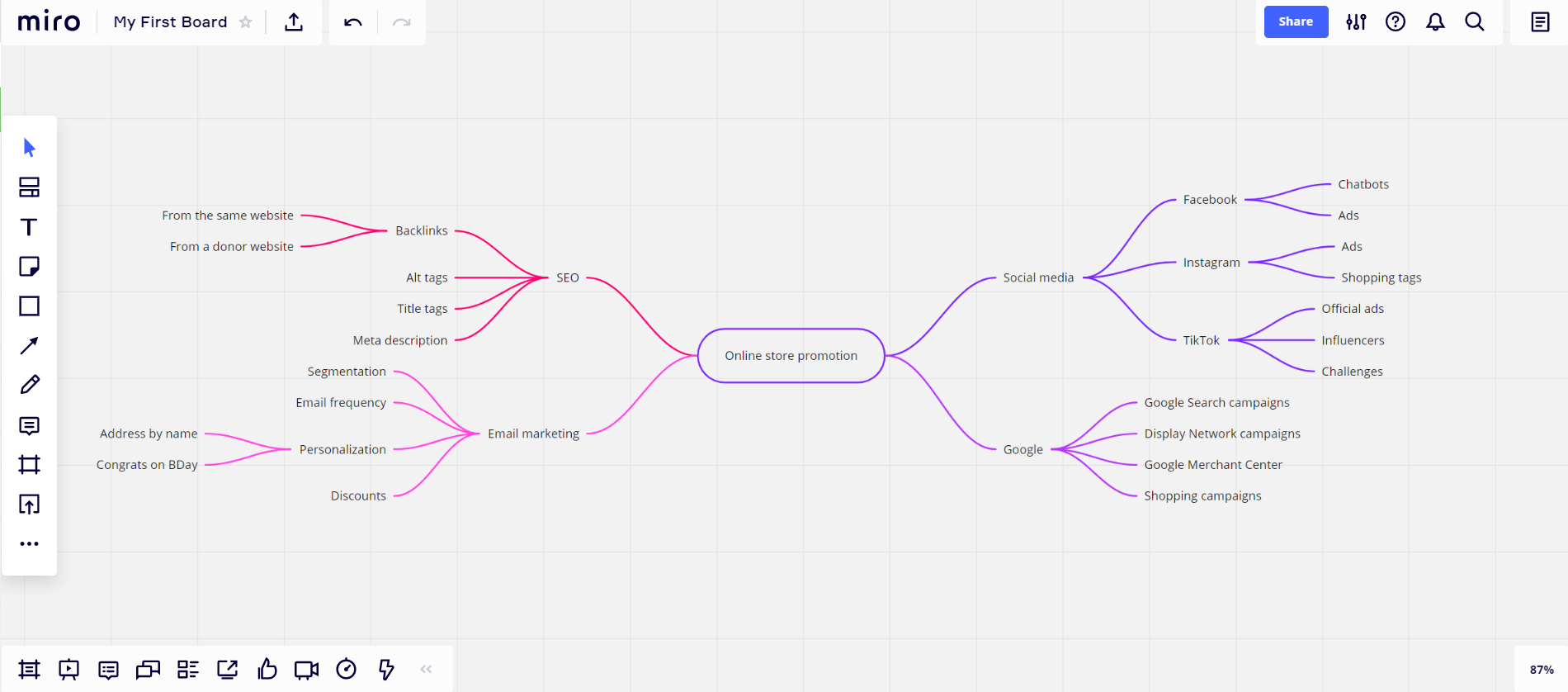 What are the advantages of mind mapping?
Mind maps simplify the process of working with lots of information and help you unify all of your ideas and goals. At the same time, it's not about building borders — on the contrary, mind maps stimulate thinking out of the box.
Basically, mind maps:
declutter your thoughts and ideas;
help you memorize and recall information with less effort;
break complex problems into manageable pieces;
help you solve problems — see a situation from a new angle, evaluate, and strengthen the ideas to develop them into solutions;
see the situation in general;
help you present information in a visually attractive and comprehensible way;
prioritize plans and actions;
make the learning process more engaging and stimulate meaningful learning;
boost creativity;
increase productivity.
When can you use mind maps?
Whenever you have to deal with a huge amount of information, mind maps come in handy. Basically, you need mind maps to organize ideas when planning, memorizing, or solving problems.
Mind maps for education
When studying, you have to deal with loads of new information, which needs to be structured and memorized. Mind maps can help you see connections between different ideas more precisely.
Mind mapping can be used for taking notes during lessons: it will help you highlight the main ideas and build logical ties between them. It works the same way for exam preparation: capturing key concepts and recalling connections leads to a deeper understanding of the subject. Mind maps are more efficient than learning by rote memorization. Mind maps can also be used to organize ideas for an essay.
Mind maps for generating ideas
Mind maps stimulate visual learning and abstract thinking. Moreover, they allow you to fix ideas fast and, at the same time, leave space for developing new and existing ideas. It makes mind maps the perfect tool for brainstorming sessions or creative work of any kind.
If you are a content writer, mind maps will help you overcome the writer's block and your fear of the blank screen. Instead of getting stuck on a common "introduction — body — conclusion" structure, which feels rather frustrating, a mind map lets your ideas flow freely.
Mind maps for planning and project management
Mind maps can help you organize the work of a whole team and each particular teammate. Mind maps come in handy if you have to create a schedule or divide responsibilities and resources. Using mind maps, you can take all the issues of your project into account, and won't miss any minor details.
Generally speaking, not only can you use mind maps in any sphere that requires creativity and thinking out of the box but also for proper organization. And marketing works exactly in the same way. Let's take a closer look at particular marketing issues where mind maps can help.
Mind mapping for marketers
Mind maps can be used in every stage of creating and performing your marketing strategy: from generic brainstorming to visualizing your strategy, task assignments, and tracking progress. What's especially nice is that today, mind mapping software can be integrated with other services, so you can add all the necessary resources — documents, images, links — right on your mapping board.
Creating a marketing strategy
When creating a marketing strategy, you can use mind maps to help you deal with the following issues:
setting and specifying your goals;
defining the main directions of your marketing efforts;
planning activities.
For example, here is a marketing strategy mind map template from MindMeister's free library.
You can specify it further — branch out or create new separate mind maps for your:
Mind maps will also help you visualize the strategy and make it more comprehensible, maintaining its relevance.
Creating a customer journey map
Mind maps can help you reconstruct a customer's journey.
In marketing, a customer journey is the sum of experiences that a customer goes through when interacting with your brand or product via various channels, both online and offline. These channels include email, paid advertising, your website, offline stores, events, and other touchpoints. Mind maps will help you fix all these points and organize them in a coherent flow, learn the problems and barriers your customer face at each stage, and find possible solutions to improve their experience.
Creating customer profiles
Mind maps will help you get a better understanding of your audience by creating customer personas.
Put the persona in the center of your mind map — you can add a picture and a name for advanced personification — and create branches reflecting different sides of your user's personality. You can add demographic characteristics — age, gender, education level, occupation — outline fears, challenges, goals, and pain points of your user.
Actually, some mind mapping software, such as MindMeister, already provides users with templates you can use for creating customer profiles.

Creating message flows
Mind maps will help you work out the logic of your communication with prospects and customers, and create flows for email, chatbot messages, web push notifications, SMS, and more.
When creating a mind map, you should think about the characteristics of your potential users — what they may neglect, their hesitations, and their behavioral tendencies. As soon as the mind map is ready, you can show it to your colleagues to check if there are weak points in your scenario — nowadays, even free mind map software provides great opportunities for collaboration.
Depending on your goals and current state of affairs, you can think of the types of emails that will best suit you, add drafts, or brainstorm future email topics.

Tips on effective mind mapping
Mind mapping is a relatively simple process that doesn't require any special skills. But there are some little tricks that can help you make mind mapping far more effective.
To create a basic mind map, you should follow these steps:
Define the problem, project, or idea to be explored.
Place it in the center of your mind map.
Think of concepts associated with the central concept.
Draw lines radiating from the central concept, connecting it with the associated concepts.
Branch off from the associations in the same way.
Here are some tips to make your mind mapping more effective:
Use colors for advanced visualization. Colors can help unite interconnected concepts or mark the most important ones to define priorities.
Use images instead of boxes or just words, whenever possible. Images will help you visualize the information more effectively.
Use curved lines instead of straight ones: they will guide your eyes smoothly from one concept to the next.
Use keywords instead of whole sentences or parts of sentences. It will make your ideas will be more precise and your mind map neater.
Do not overload your mind map with associations. A mind can perceive and retain only about 4-7 concepts at a time. If you branch out from your concepts too much, you risk getting distracted instead of improving your concentration.
Testing free mind map software
You can draw mind maps by hand. But if you want them to look neat and be easy to understand, you can use mind mapping software. Popular mind mapping tools provide you with opportunities to share your maps easily and collaborate with colleagues.
We've run a test drive of the six best mind mapping tools that can be used for free. Below, you can check out our findings.
Mind mapping tool #1. Weje
Weje is an online collaboration tool that allows you to manage any kind of information with ease. It can be used for private, educational, or corporate purposes. Weje allows you to work on any projects — either individually or in teams, on private or shared boards.
Availability. Weje offers a web and mobile versions.
Pricing. This mind mapping software has a freemium version and two paid plans starting at $4/month.
A Free plan is the perfect option for individuals, small teams, students, and educators. It includes up to three boards, two users, and has a 100 MB file storage limit.
A Personal plan costs $4/month for one user if paid annually. This option allows users to create unlimited boards and work with four collaborators in total. The file storage limit is larger compared to the Free plan — you can upload up to 1 GB of files to each board.
For extended use, you can purchase a Business plan for $7/month per user. Almost every option on this plan is unlimited — the number of boards you can create, collaborators and team members you invite, and files you upload. Moreover, Business plan users can assign roles to their teammates, use voice chat, named cursors, and comments that allow tracking changes and version history.
What's inside. You can sign up with your Google account or fill in a form. Right after signing up, you can create private or shared, simple, and more complex mind maps and invite collaborators to join.
To create your mind map, you can attach or drag and drop whatever is necessary to your workspace — documents, videos, images, spreadsheets, PDF files, external links, and other content. You can also add pre-designed widgets, like checklists, To-Do lists, and collapsible cards.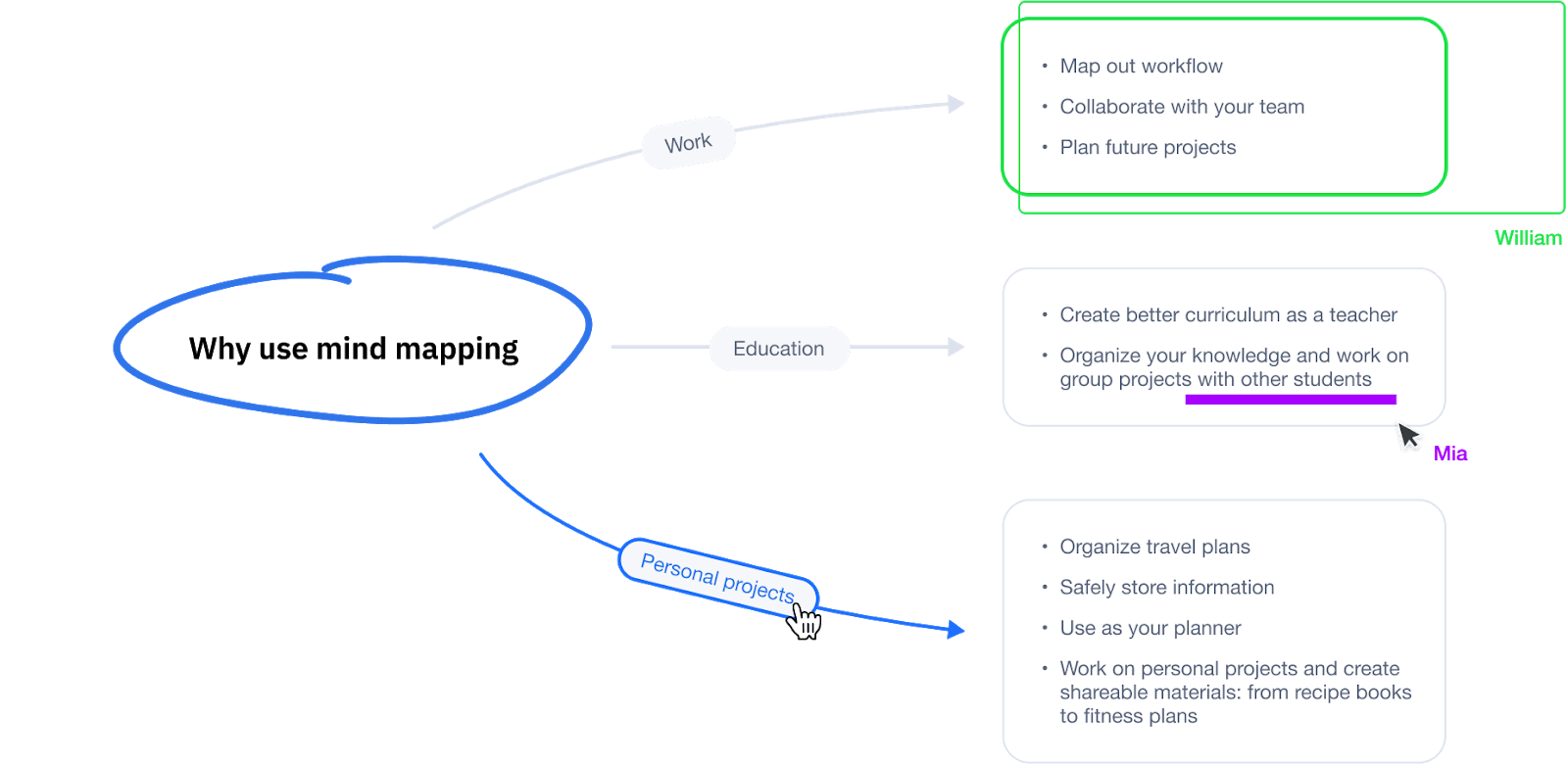 After the mind map is ready, you can download it in various formats or share links with in-house team members and external parties.
Mind mapping tool #2. Miro
Miro is referred to as a "visual collaboration platform for cross-functional teamwork." Apart from mind mapping, Miro is used for planning, product management, research, design, and creating agile workflows.
Availability. Miro offers a web version, desktop apps for Mac and Windows, and mobile apps for iOS, Android, and Microsoft. There is also a Miro version for Surface Hub — an interactive whiteboard from Microsoft.
Pricing. There are five plans including one for those who work with customers in Miro: freelancers, agencies, and consultants.

On a Free plan, you get three editable boards, templates, and core integrations — Slack, Microsoft Teams, Trello, Google Drive, and more. The number of team members is unlimited. Moreover, you can create a public link to a board so that it is visible for viewers without signing in.
A Team plan starts at $8/month for one member. In addition to all of the free plan features, you get high-resolution exports, custom templates, more integrations, and an unlimited number of editable boards. You can add commenters and editors to the board without the necessity for them to sign in.
On a Business plan, starting at $8/month for one member, you have access to all of the Team plan features and extras. For example, you can use a Single Sign-On feature which allows you to access Miro through ADFS, Azure, Okta, Onelogin, or other identity providers. There are also Day Passes for part-time collaborators.
The plan for enterprises includes all of the Business plan features plus advanced security options, permissions, and account administration. There is also a developer platform and API access.
Those on a Consultant plan get all of the Team plan features, a private and secure workspace for every client, full access control, and the possibility to involve occasional collaborators when working on a project.
What's inside. You can sign up with your Google, Facebook, Office 365, or Slack account. You start by setting up your team — for example, invite your contacts from Slack or Google.
As soon as the team is set up you can create your first mind map — choose one of the templates provided or start with a blank sheet, add frames, shapes, connection lines, and more. To leave some information for colleagues, you can use sticky notes.
You can also try a remote meeting toolkit that is designated to make teamwork more effective. It includes a built-in video chat, a countdown timer, and voting. The feature is fully available on a Team plan and up; on a Free plan, you have a 14-day test drive.
You can make your board more vivid and visual by uploading some elements from your device, Google Drive, Dropbox, and more without leaving Miro. When your mind map is ready, you can save it as an image, PDF, export it to a CSV, embed it, or attach it to Jira.
Mind mapping tool #3. MindMeister
MindMeister is an online mind mapping tool with a friendly design, a grand library of free mind map templates, and integrations with basic Google, Microsoft, and Atlassian tools.
Availability. MindMeister offers a web version, apps for iOS 10+, and Android 5+.
Pricing. MindMeister has various plans, a free Basic plan is among them. The Basic plan allows you to create up to three mind maps, import them, and collaborate with colleagues.
As for paid plans, there are regular plans and education plans — for students, educators, and schools.
Regular plans are Personal, Pro, and Business.
A Personal plan costs $4.99/month and includes unlimited mind maps, file and image attachments, the possibility to save a mind map as an image to export it into a PDF file. The Pro plan costs $8.25/month, includes all the possibilities of a Personal plan plus G Suite for domains sign-on, an admin account, and more export formats. You can also customize your map's styles and boundaries with a Pro plan. The Business plan, which costs $12.49/month, includes everything in the Pro plus the possibility to create groups with your team, multiple team administrators, and gives you priority support.
Educational plans are Edu Personal, Edu Pro, and Edu Campus.
Education plans have lower fees for the same features. For example, Edu Personal provides a user with the same possibilities as Personal, but for only $2.50/month. Edu Pro has the same features as Pro but at a cost of $4.13/month. Edu Campus has all the features of a Business plan. Edu Campus plan is designated for team accounts with multiple users. The fee is $0.99/month for one user but you have to pay for at least 20 users.
What's inside. You can sign up via your Google or Facebook account or fill the form. MindMeister has straightforward onboarding. It lets you choose from templates based on your goals and what you need to do.
For example, a To-Dos template allows you to create a simple kanban workflow: add tasks and move them, add statuses, priorities, emoji, comments, and progress marks, choose colors, and more.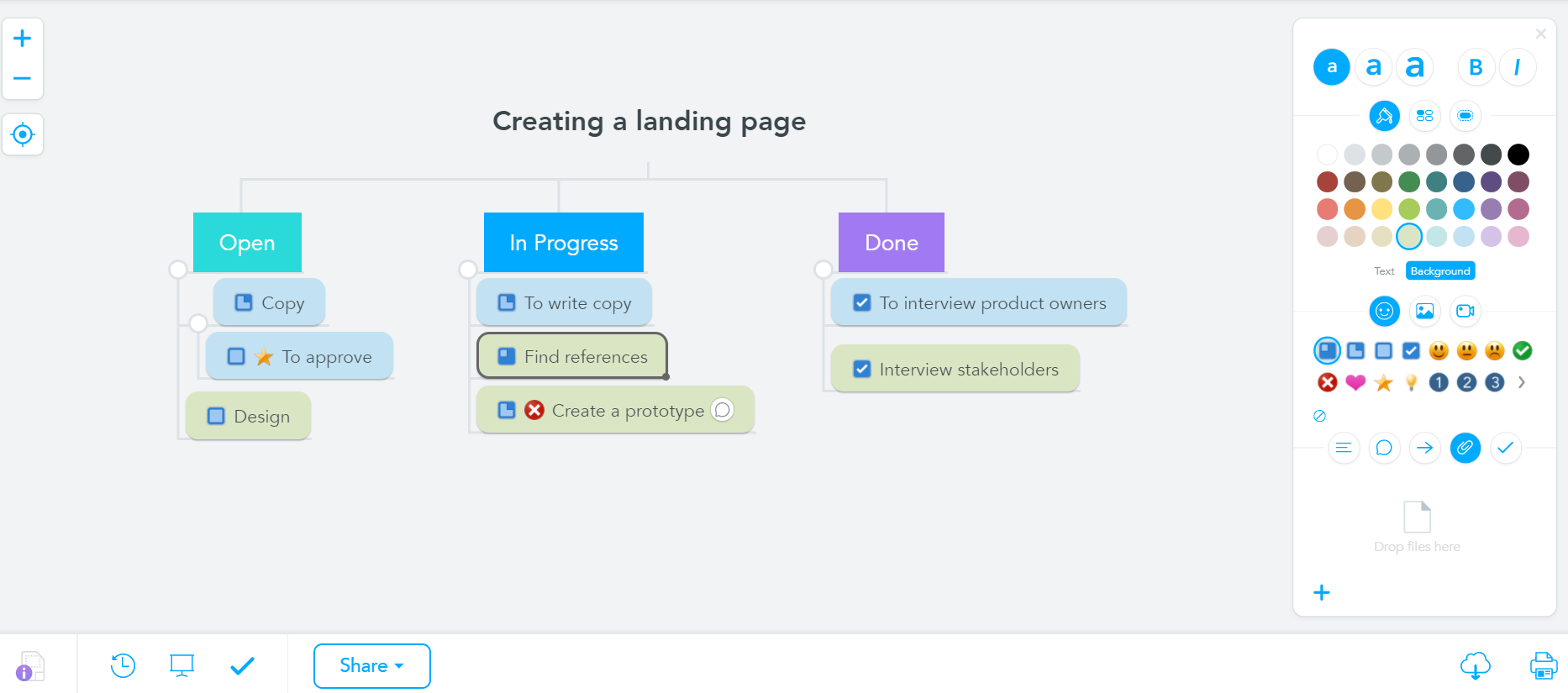 You can invite other people to work with you: send an email invitation or share a link. You can also share your mind map on Facebook, Twitter, or Pinterest.
To export your mind map as a PDF file, a Microsoft Word document, or a PowerPoint presentation, you need at least a Personal plan.
MindMeister has a free mind map library to explore and inspire. There you can find ready-to-use templates of mind maps for marketing, design, education, and business.
Mind mapping tool #4. Lucidchart
Lucidchart is more a business-oriented mind mapping tool, which is especially suitable for IT — UI design especially — engineering, product design, and development. Lucidchart will also come in handy in sales and education.
Availability: Lucidchart offers a web version and apps for iOS and Android.
Pricing. Lucidchart has four plans: Free, Individual, Team, and Enterprise.
The Free plan includes three editable documents, 100 templates, integrations with Google and Microsoft apps, unlimited anonymous viewers, and the ability to share and download documents.
The Individual plan starts at $7.95/month and provides users with all the features from a Free plan plus unlimited documents, more than 1,000 templates, and importing data from Excel, Google Sheets, or a CSV file.
The Team plan starts at $9/month per user with a minimum of three users. It has all the features of an Individual plan and, in addition, admin controls and integrations with Jira, Slack, Confluence, and other tools.
As for the Enterprise plan, you can get a price quote by contacting sales. It has all the features of a Team plan with extended administration settings and advanced data management, such as automatic diagrams generated from the data you added.
What's inside. You can sign up with Google or create an account right in Lucidchart, filling in the form. After you have signed up, you can start with a template or create a blank document.
Lucidchart provides users with dozens of ready-to-use templates. You can find mind maps, Venn diagrams, tree diagrams, flowcharts, Gantt charts, and more.
You can add different lines, flowcharts, and shapes to your diagram, import images, and SVG files. To change colors and shape styles, you can choose from premade themes. When adding text, you can choose from several dozens of fonts, change the color, size, and more.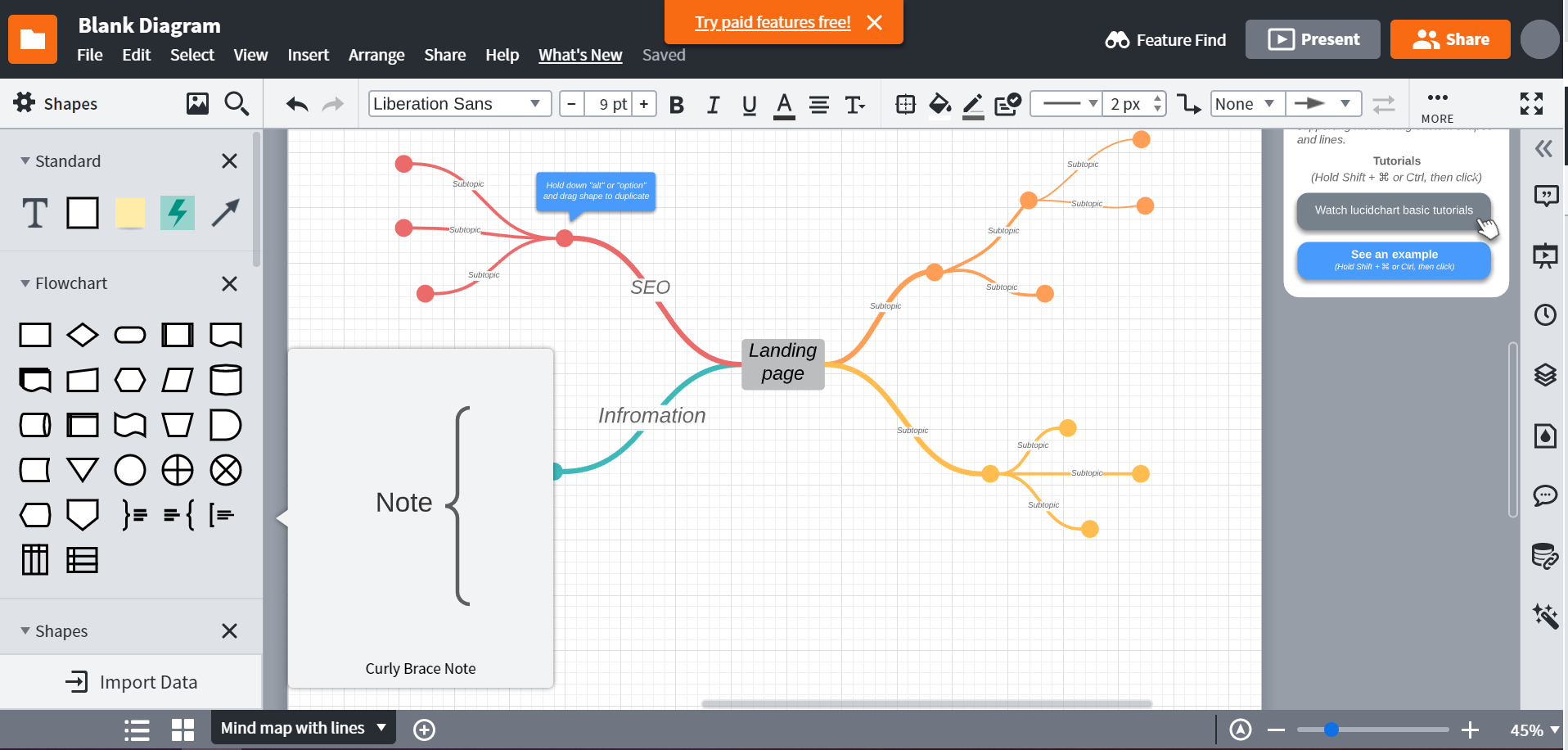 Paid plans provide users with better collaboration opportunities. For instance, they can leave comments and use a chat.
Mind mapping tool #5. Ayoa
Ayoa is a tool that claims to boost creativity and productivity. Along with mind mapping, it can be used for task and project management. Ayoa has basic integrations with Google apps, Dropbox, and Evernote.
Availability: Ayoa offers a web version, desktop apps for Mac OS and Windows, and mobile apps for iOS and Android.
Pricing. Ayoa has four plans: Basic, Pro, Ultimate, and Enterprise.
A Basic plan is free and includes up to five boards, a personal planner, and a chat. You can also share your board with unlimited editors — on condition that they themselves edit no more than five boards — and viewers.
A Pro plan costs $10/month if paid annually. It has all the features of a Basic plan plus file storage, Gantt timeline view, task assignment, tags, and filters. The number of boards is unlimited.
An Ultimate plan starts at $13/month and includes all the features of a Pro plan, with extended file storage, Google Calendar integration, live sharing, and creating groups of users. Ayoa has also announced a Zoom integration for their Ultimate plan.
There is also an Enterprise plan which is designated to meet your individual conditions.
What's inside. You can sign up using your Google or Facebook account or fill in the form.
When starting your work, the app lets you choose what you want to create: a mind map or a task board. When creating a mind map on a paid plan, you can choose from dozens of templates — from PEST analysis and product roadmaps to a family tree.
If you're on a Basic plan, you have to start with a blank sheet. Ayoa provides you with opportunities for customization. You can change the background color, and choose from nice-looking shapes and stickers. When adding a text, you can set the color, size, and formatting, and vivify the text with emojis. You can also add comments and notes on the boxes, or enable voting.
Mind mapping tool #6. MindMup
MindMup is a mind mapping tool with free and immediate access via the web. For basic features and non-private maps, no signing up is required.
Availability. MindMup offers only a web version.
Pricing. There is a free plan and Gold plans: Personal Gold, Team Gold, and Organizational Gold.
Users on a Free plan can create only public mind maps and can't share them. Their mind maps are kept on the MindMup cloud for six months. The maximum size of the attached files or map to export is 100 KB.
All Gold members can create private maps. The maximum size of the files you can attach to a map is 100 MB. The maximum size of a map to export is 100 MB as well. It's also possible to share the map and track published maps using Google Analytics.
A Personal Gold plan costs $25/year or $2.99/month. With this plan, you're allowed to have only one account or email. The cost of the Team Gold plan depends on the number of people in the team and starts at $50/year. The Team plan includes up to 200 accounts or emails and provides better management inside MindMup. The Organizational plan costs $100/year and allows you to connect not just several emails, but an entire Google Apps or Office365 domain. There is also the possibility to integrate the account with the user's single sign-on system.
What's inside. Signing up is not obligatory to start using MindMup: you can create a mind map immediately after tapping the "Create a free map" button on the main page.
An intuitive minimalistic toolbar helps you create a simple mind map. You can change the text and background colors, fonts, and text size. It's also possible to add stickers and notes.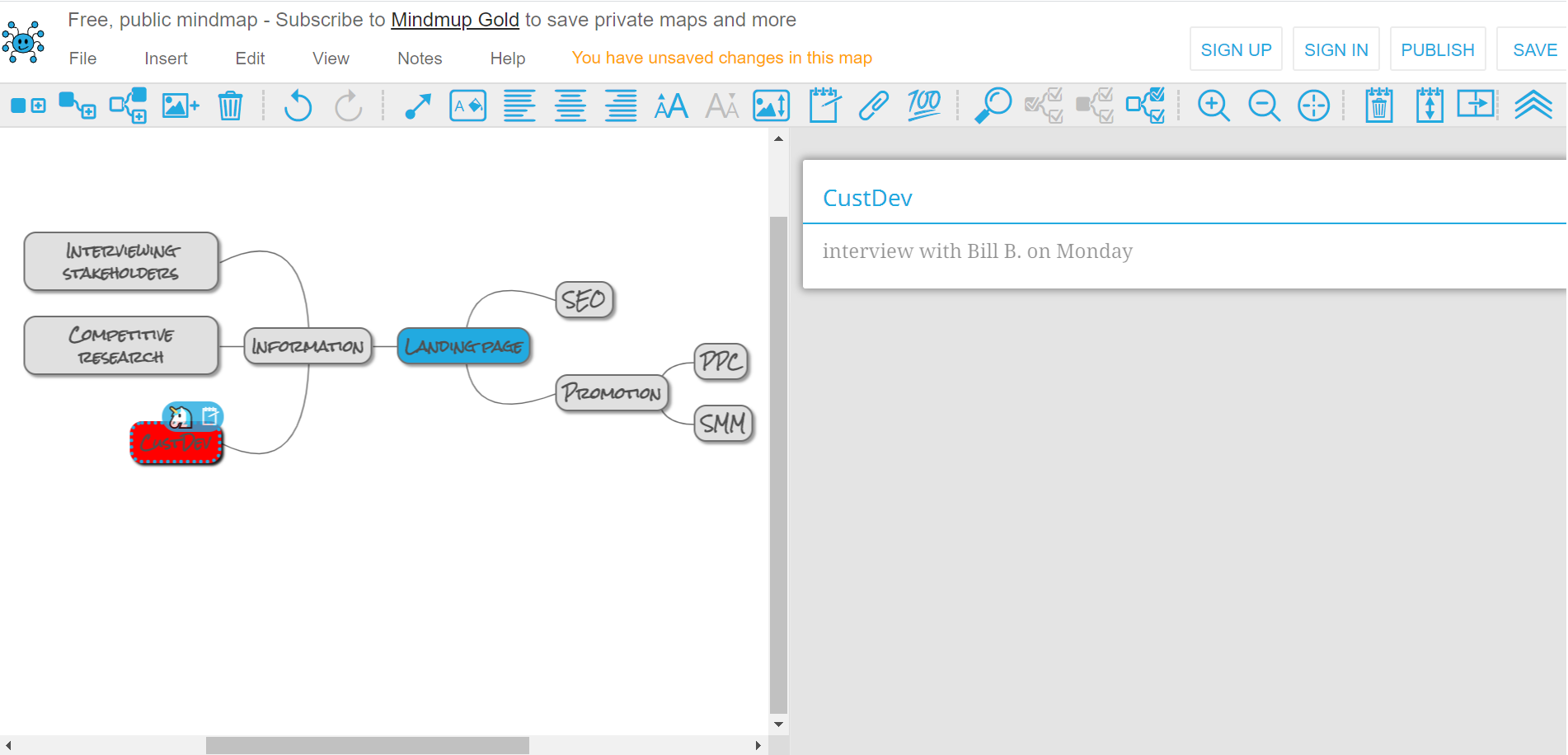 Summing up mind mapping
Mind maps are a powerful tool to organize and visualize information, memorize or recall something, boost creativity, and increase productivity. Mind maps can be used in business, education, and for all kinds of personal purposes.
In marketing, you can use mind maps to prepare research, create a customer profile, build an email or a chatbot flow, or work on a marketing strategy on the whole.
To create an effective mind map, use images, colors, curved lines instead of straight ones, keywords instead of whole sentences, and do not overload your mind map with associations.
You can draw a mind map by hand, but it's better to use specially designated mind mapping tools: they provide you with abilities for collaboration, presenting, and sharing the information.
Brainstorm, solve problems, find new ways for development, and organize your marketing plans — and SendPulse will help you bring your ideas to reality!