Your customers all shop differently. So the one-email-fits-all marketing won't work if you want to keep an engaged and responsive audience. In fact, 53% of users hit the unsubscribe button due to getting too many irrelevant offers from brands. The surefire way to escape the same fate is by using a smart targeted strategy. Read on to find what targeted email marketing is and how to take advantage of it.
What is a targeted email?
A targeted email is a personalized message sent to a particular segment of your mailing list. Such emails are highly customized; they deliver relevant offers which bring value to subscribers.
Targeted email marketing typically rubs shoulders with mailing list segmentation — an approach that divides your subscribers according to their gender, age, geography, occupation, preferences or so. With this information in mind, you'll be able to target the right audience with the right content, stay a top-of-mind brand, and boost your sales.
Gartner L2 analyzed the subject lines and content of email campaigns from nine big brands. According to their report, the open rates of targeted emails from the examined brands outperformed generic emails by 42%.

Benefits of targeted email marketing
Apart from having high open rates, targeted email marketing has the following benefits for your business:
Relevancy. Since targeted email campaigns bring content that resonates with the preferences and interests of a particular segment, recipients tend to remember your brand as a source of relevant and useful information.
Response. When users get relevant offers from you, they are more likely to respond to them — by opening your emails, clicking your CTAs, and traveling to your website.
Revenue. Targeted emails generate 36% of all revenue, so promoting your sales events or special offers to users who are prone to purchases is a bulletproof way to boost your income.
Bond. Addressing your subscribers with targeted email marketing campaigns will show that you care about them and your every offer is carefully tailored right for their needs. This is a nice way to shape a thankful and loyal audience that will come back to buy more and spread a word about your brand within their social circle.
Retention. According to statistics, your current customers are 50% more likely to try your new products compared to newcomers. On top of that, you already have the preferences of your subscribers' list, so targeted emails are an easy way to maintain a strong company-customer bond going.
Now let's take a look at four most common types of targeted email campaigns based on the subscribers' gender, location, preferences, and lifecycle stage.
Gender targeted email marketing
Split your audience according to people's gender. Say, if you sell clothes, you should market men and women differently. Nike, for example, sends an email campaign with a selection of sports bras which would appeal to the company's female segment.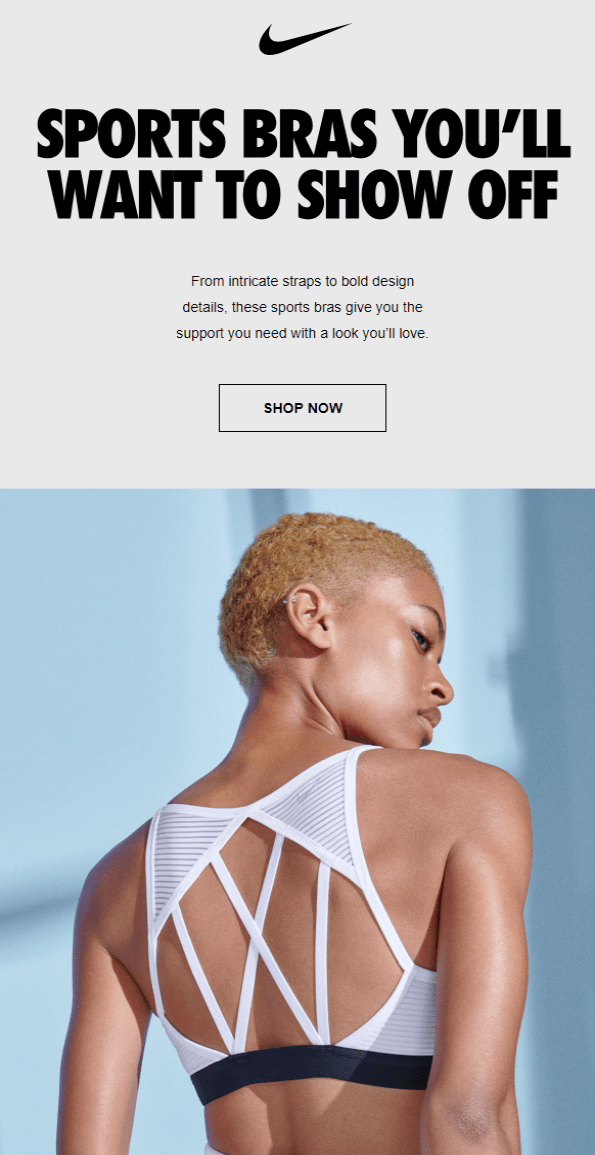 Geo targeted email marketing
Use subscribers' zip-codes, their location, purchase history from a particular store to send personalized emails and reach your regional audience with more relevant offers. Send an email with a link to the preference center and inform users about the nearby events.
Ace Hotel, a chain of hotels, provides the users with an option to choose preferable locations. This way, the company informs subscribers about the upcoming events in the indicated area, as in the example below — in Los Angeles.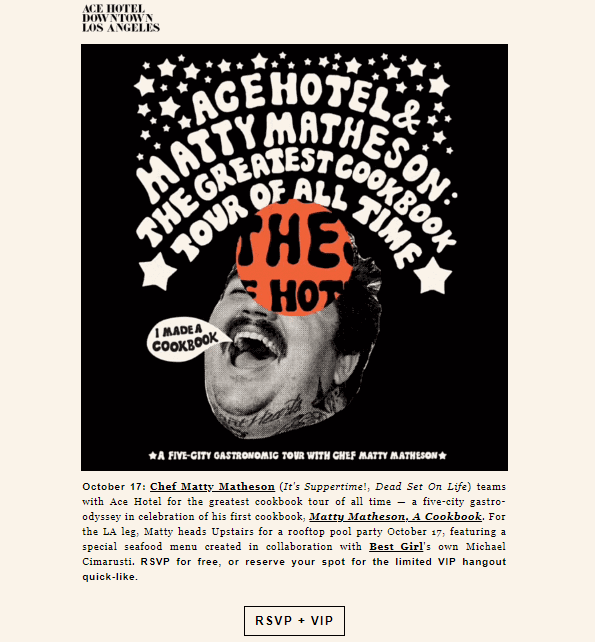 Preference targeted email marketing
Consider users' hobbies and appealing topics to target them with relevant emails. Place a link to the preference center so that your subscribers can choose what interests them. This is what National Geographic does in their emails. The company asks subscribers to pick the inspiring topics to adjust their future content to audience's preferences.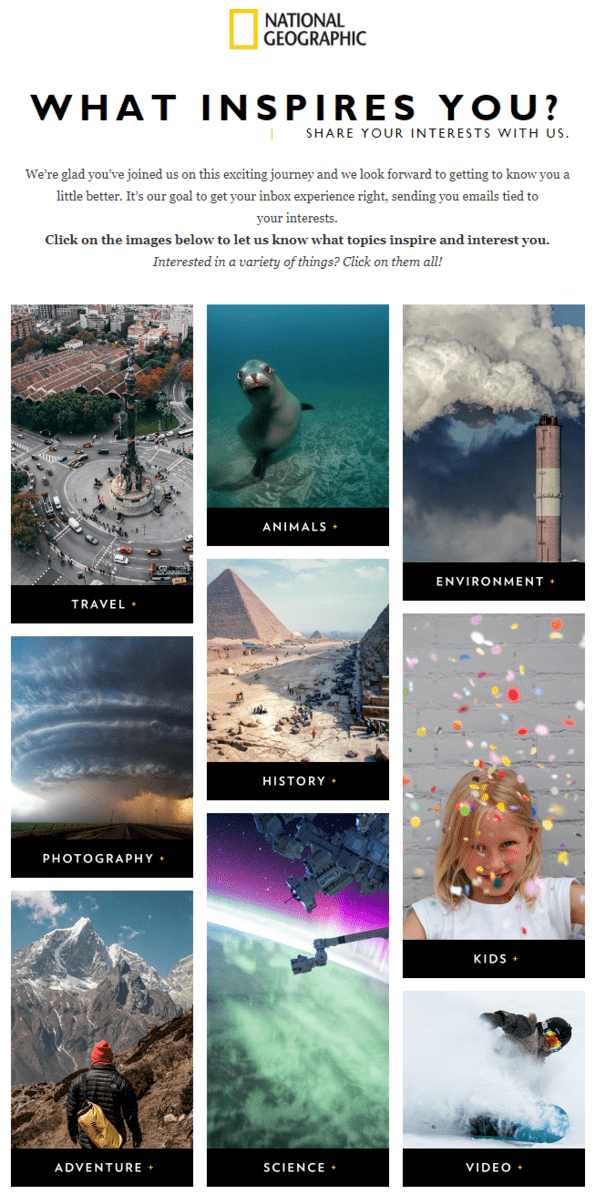 Behavior targeted email marketing
Interact with your subscribers based on their engagement with your campaigns and your website — track what content they browse or which pages they visit and come up with strategic responses:
The user views specific content on your website. Find out what exactly caught subscribers' eyes — your blog or high-value pages — gather the follow-up content, and send it to the users.
The user shows low interest in your email content. In case the subscriber doesn't open your emails, turn to a re-engagement campaign to win back their attention. Offer a tempting discount, free shipping, or ask users to manage their preferences so that you can send them relevant messages in the future.
A user has made a purchase. Reach them with a transactional email, provide the purchase and shipping details, come up with cross-selling options, add reviews or tutorials on how to use your products.
AliExpress, for example, sent an email with shipping confirmation and provide their users with some personalized cross-selling items to motivate them to come back for more purchases.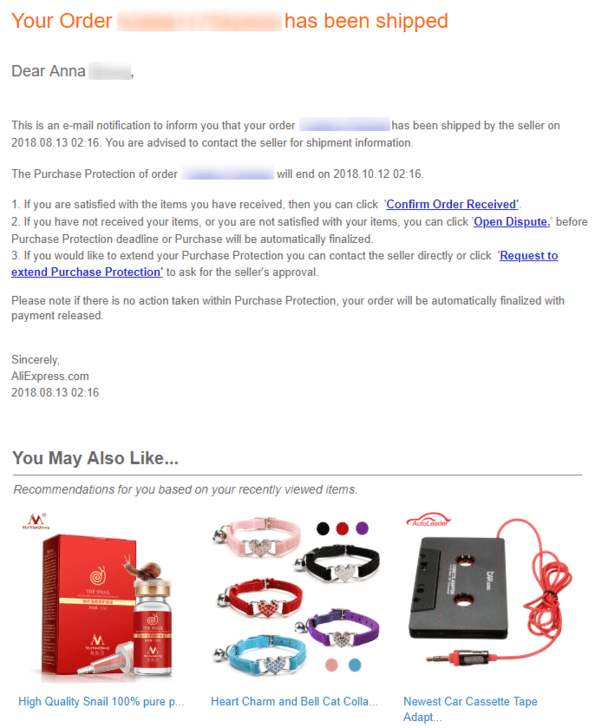 Lifecycle targeted email marketing
Your customers all take different positions at their unique customer journey. Each stage has its own peculiarities and you need to tailor your emails based on them.
Here is a typical customer lifecycle and email ideas you may target subscribers with at each stage:
New subscriber. Hitting your newly subscribed users with sale offers right from the doorway might simply scare them off. So instead, send a welcome email to tell your brand story and values, share your best articles or tutorials so that the users will know who they are dealing with.
Prospect. This stage is the right time to bring in discounts or a free shipping offer and tempt the subscriber to complete the purchase.
First-time buyer. So you closed your sale and got a new customer. Send a thank-you email, come up with useful tutorials, and guide users through your services or products.
Cart-abandoner. Whichever the reason users didn't finalize their order, you can still get a piece of your business pie with an abandoned cart email. Place the images of abandoned items, add special offers, and personalize your email to draw subscribers' attention to your email and push them to complete their order.
Loyal customer. At this stage, the users are familiar with your services well enough to recommend your brand to their friends. This part of your database is a sweet spot to invite to your loyalty programs, provide users with early product releases and samples for testing and reviewing.
How to do targeted email marketing
Here's a plan to follow in order to create data-driven and relevant emails:
Collect your database. You can't send targeted email campaigns if there are zero users on your mailing list. Use subscription forms to collect the addresses for your database, think of any other data you'll need — phone numbers, zip-codes, birth dates — and decide how you'll gather it.
Define customer personas. Determine to whom you are going to market. Think of the key segment of your audience, their shopping preferences, location, age — anything that would help you shape an image of a target customer, create relevant content for the users, and deliver it to them.
Segment your mailing list. Divide your database into preferable segments to decide how you'll be communicating with different users.
Create targeted content. Create and adjust your content so that it will resonate with the targeted group of your subscribers.
Test and analyze. Before sending your campaign, run an A/B test to experiment with the subject lines, content of your emails, CTAs, or timing. Choose the corresponding KPIs to identify whether the results of your campaign have met your marketing goals.
Implement the above-listed tips to your email marketing strategy and target your audience with unique and value-bringing emails, while SendPulse will help you to create, test and spread them.