Abandoned cart emails are considered to be the most effective type of triggered emails. In our article, we'll tell how these emails work, how to restore the abandoned cart and top everything up with building our own triggered email flow using Automation 360.
Why are abandoned cart emails effective?
Abandoned cart email is a type of triggered messages targeted at users who got stuck at some point of the sales funnel. These emails are meant to motivate customers to complete their order and make the purchase.They are almost twice more effective than business as usual (BAU) emails:
And here are two reasons why:
They boost conversions and revenue
Did you know that an abandoned cart email brings an average of $8 in revenue and keeps conversions up to 18%? That's mainly due to the various ways you can arrange such emails.For example, if you think a user got distracted and forgot about the cart, send them a reminder; those who are sensitive to prices can be motivated with an attractive discount or free shipping. It's always easier to maintain the bond with potential customers rather than search for new leads and start from the very beginning.
They improve users' experience
Think of customers' comeback on the sales funnel as of a chance to identify why the cart has been abandoned and change the situation.For example, high prices can turn out to be the reason why the customer abandoned the cart, so you might need to reconsider them. In some cases, users don't proceed to the checkout stage because of the expensive delivery, so how about cutting its price or making it free at all? This way you'll improve not only your service but also users' experience.
Why do carts get abandoned?
69% of users don't complete their orders. Look at the chart to see why this happens: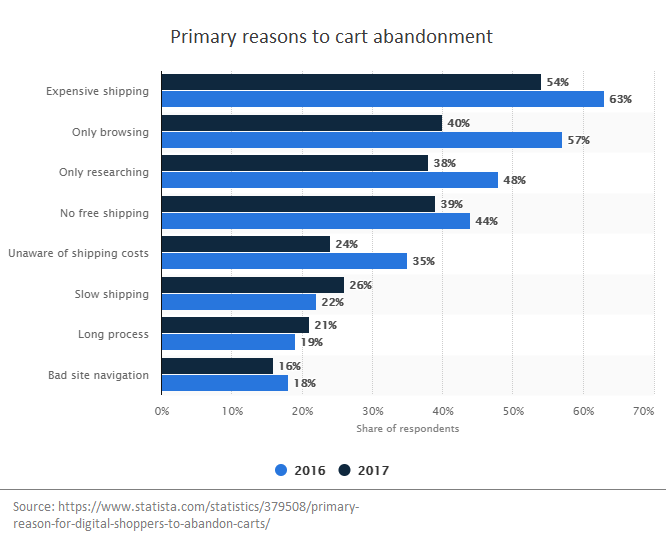 But it's too early to kiss goodbye to your customers —
63% of abandoned carts are potentially recoverable
with savvy post-abandoned strategies.
Three tips to recover the abandoned cart
Grab consumers' attention and get revenue from the campaign with these basic tactics.
1. Time and frequency
Your emails must be always engaging, but not annoying. Klaviyo found out how the number of sent emails affects the effectiveness of the series.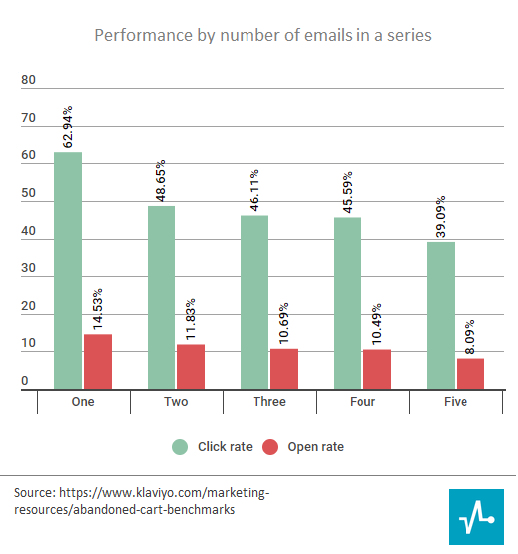 Open rate and click through rate shown on the graph prompt that one email will do. But is that enough to get a satisfying revenue from the abandoned cart email series?
As you see, email flows that contain two or three messages show better results and still don't make you too pushy.And here is where another question pops out:
when is it better to send those emails
? To answer this question, you can conduct your own research or check out what has already been done by other companies and stick to their recommendations.For example,
Barilliance
analyzed abandoned cart emails of 200 brands. They sent emails at different times, studied the conversion rate and worked out the following schedule:
Send the first email within an hour after a user has abandoned a cart.
Compare the conversion rate for the first email sent within an hour and a day:- sent within an hour — 20.3%;
sent within 24 hours — 12.2%.
If you hesitate to remind users about the unfinished order, they might get uninterested, your email might become irrelevant, and the conversion rate might scale down.
Send the second email within 24 hours after a user hasn't completed an order.
The comparison of the conversion rate of the second email sent within 24 hours and 48 hours justifies this recommendation:
sent within 24 hours — 20.3%;
sent within 48 hours — 12.3%.
Tracking the time when people left their cart and using this information to schedule the second and the third emails of the series increases the chances of catching a customer in the mood for shopping.
Send the third email within three days.
The conversion rate of the third email sent out after 72 hours is 18.2%.
2. Subject line
Email marketing is all about creating impression and catching attention. Around 33% of subscribers choose whether to open an email or not just based on the subject line.What you can do to engage a potential customer:
Add details about the abandoned item or refer to subscribers by their name. Subject lines with order details or user's name are opened in 52% and 48% of the cases respectively.
A discount or free shipping is another option to win a user back to your shop.

Enforce a subscriber's fear of missing a smoking deal by notifying that the abandoned items can get out of stock any time.

Using this option, you can show your customers that you care about them without being intrusive.

3. Content
Getting three identical emails within three days would look strange, right? Every email of this series is your chance to find out why a customer didn't complete the order. Start with a reminder about the abandoned cart, gradually embedding strategies to make the user buy from you.Here's how a series of abandoned cart emails can look like:
The first glimpse at such email should nod at exact items you're reminding about. As a rule, 60% of users come back to make a purchase 24 hours after they get personalized emails about their incomplete orders. So, add an image of the abandoned item, its name, and price.See how WP+Standard reminds its subscribers about the abandoned cart. The company sends an email where it thanks for the time spent on its website and provides a CTA button to restore the order.
Here's one more example of an email sent by MAC to remind about the unfinished order. The company adds images of abandoned items, their names, and a CTA to proceed with checkout.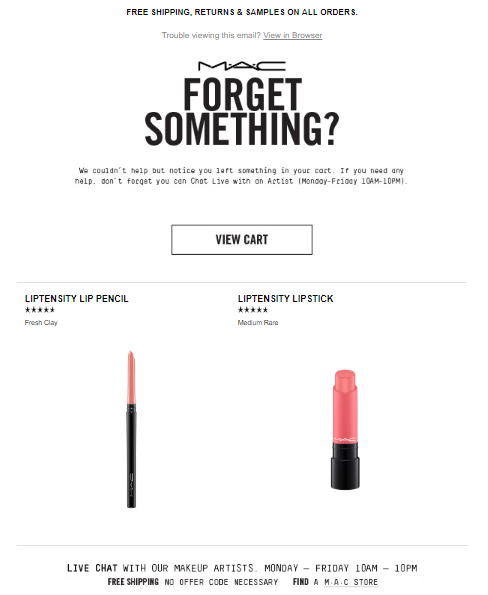 The second email is your chance to help users reconcile any difficulties they could face while making an order. Provide your subscribers with fast access to valuable information — link to FAQ, online chat, or contact number of the customer care. You can also include positive feedback from your customers and cross-sell by adding a list of items a potential buyer might also like.In its abandoned cart email, NYX, for example, informs how the subscribers can contact the customer care in case of any questions and recommends some items relevant to those left in the cart.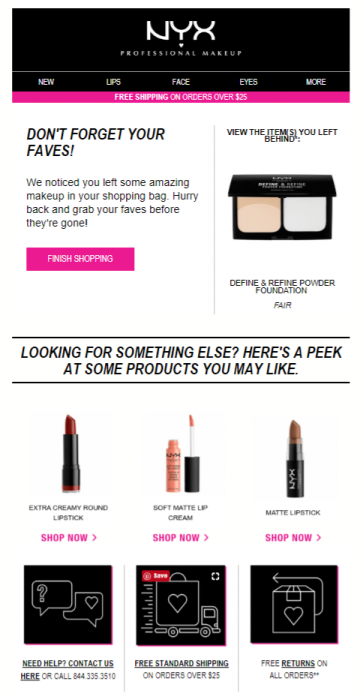 Dermstore, for its part, sends an email in which the brand both reminds about the abandoned order and presents some beauty tips as well as other goods that might come in handy for the user.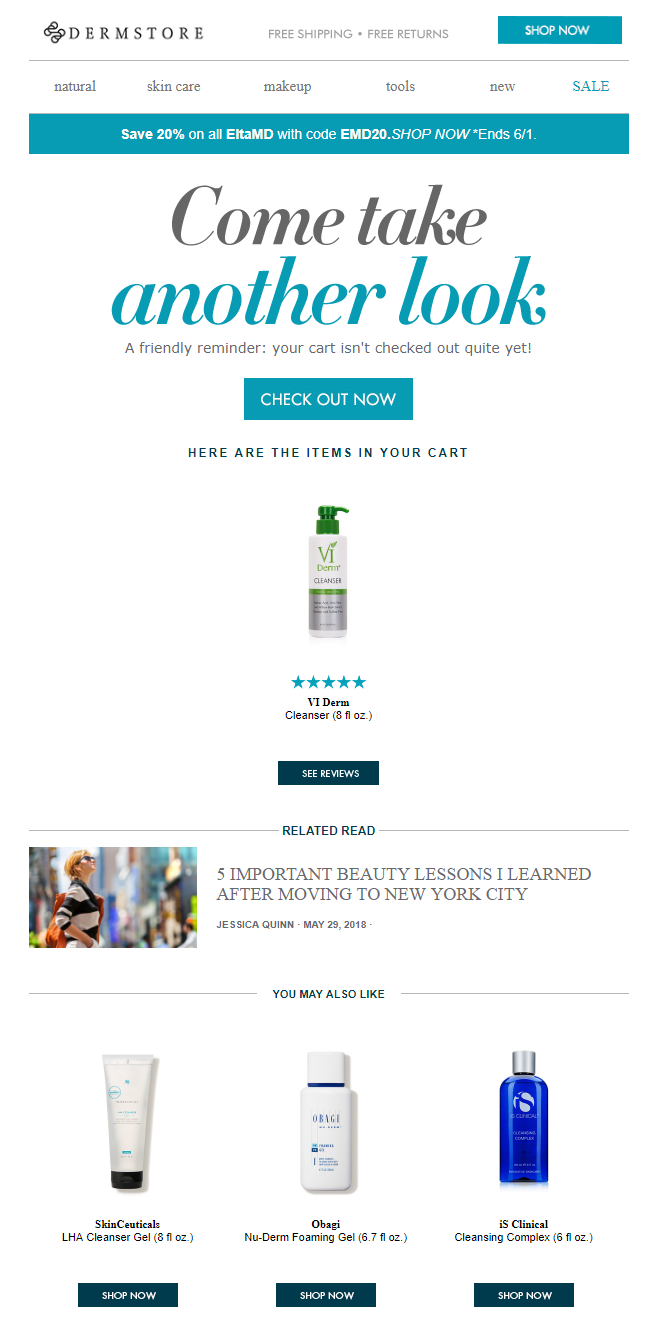 Add a special offer or free shipping to incentivize users to take action. Customize your offer according to the abandoned item, orders history, and location. Sometimes it's more profitable for a customer to accept free shipping than receive a 10% off.WP+Standard, for example, tempts the users to complete their order as soon as possible by offering them a freebie.
Fear of missing out is what may wake a user up. Add a
countdown timer
to get specific about how much time is left till your offer expires and hurry the customers up to make the purchase. See how Forever 21 leverages the sense of urgency in the abandoned cart email below:
To make your abandoned cart email even more powerful
add images of the abandoned items;
Seeing once is better than hearing twice. Moreover, a user can simply forget what goods they left in the cart.
Since the goal of your email is to make a customer complete their order, don't distract them with other CTAs.
provide a list of recommendations.
As a savvy email marketer, you should consider these emails as a chance to promote other goods that your potential customer might want to buy.
How to create a series of abandoned cart emails using Automation 360
Now that we are familiar with the essentials of the abandoned cart email content, it's high time to construct the actual email series. It takes five steps with the Automation 360.
1. Create the event before starting the email flow.
Go to "Events manager" and add the "Abandoned cart" block. It already includes a set of predefined variables, but you can delete or customize each of them. Once you add the event, the system generates its unique URL and ID. This URL is then used to send data received from your website or CRM-system.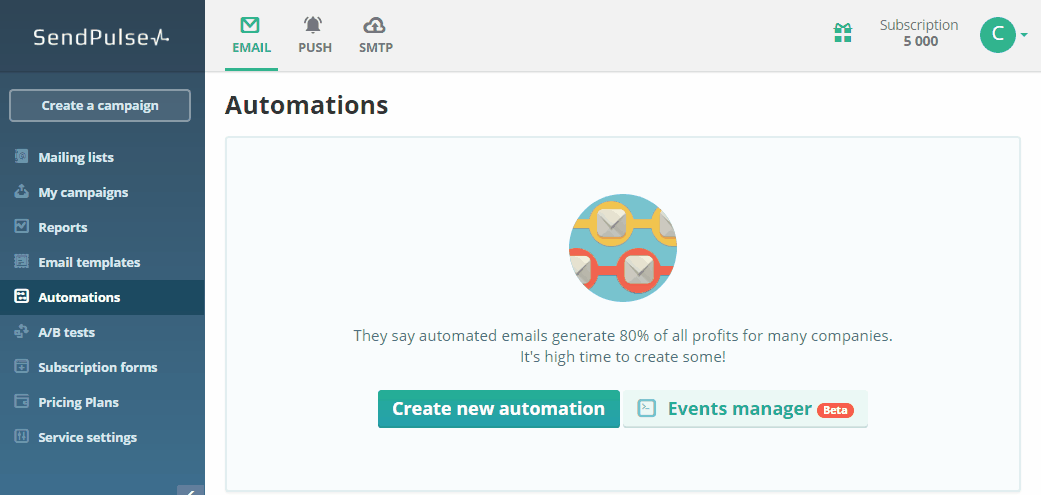 2. Launch a flow and create an abandoned cart email.
Proceed to the constructor page. The flow will start once the abandoned cart event is triggered. Drag the "Email" block to the working area of the constructor, enter its subject line and schedule the time when it will be sent. Select or create your own template.
3. Set the condition — the order has/hasn't been completed.
Drag the "Condition" block under the "Email" and choose the predefined condition from the menu. In our case it's "Purchase", an input event. Send a 'thank you' email in case of a purchase. Send another email in case the purchase still hasn't been completed.
4. Create another reminder about the abandoned cart.
Drag another "Condition" block. Connect the "Yes" option with the 'thank you' email and "No" option with an "Action" block to move subscribers to another mailing list.
5. Specify a goal which will stop the flow.
Drag a "Goal" block under the 'thank you' email and name it. Once the goal is achieved, the series stops.
Here you are! Now you can create your own series of abandoned cart emails.
Key takeaways
Here's a quick summary on what we've just talked about:
Include three emails into your abandoned cart campaigns.
Send the first email of the series within an hour after the cart abandonment.
Be sure to fill your email with images of abandoned items and place only one CTA.
Add a special offer to your subject line or personalize it to drag subscribers' attention.
Use SendPulse to create an abandoned cart email.