An event reminder is a message sent to update users on upcoming events like a webinar, course, conference, concert, etc. Reminders are also a great way to stir up interest in your event. Using SendPulse, you can send event reminders via email, SMS, web push notifications, and Facebook chatbots without much sweat.
Why is it important to send event reminders?
Today, people have a very short attention span, and their schedules are overcrowded with all sorts of activities and plans. Your event may easily slip users' mеmory entirely. Besides, they can also lose interest as the event date approaches, so without a doubt, attendees require constant reminders and updates about your event during the waiting period.
When should I send an event reminder?
Send event reminders at least three times to help attendees keep your event in mind and whet their appetite. That is a week before the event, a day before, and the day of.
It is a common belief that the best time to send such messages is during non-working hours, although this highly depends on your registrants. All in all, if you set up automated reminders, it will save you a lot of time and effort compared to sending emails to each user manually or bulk email blasting everyone on your contact list.
Email is among the most popular media for communication with attendees. It allows companies to provide all the necessary information, including images, text, CTA buttons, and links. Make sure your email is designed well and easy to digest.
How do I write an event reminder email?
Here are the two main things you need to consider when writing event reminder emails: the subject line with a preheader and email content. Let's have a closer look at both of them.
Event reminder email subject line
A subject line is, by far, the most important component of your event reminder since it's the first part that registrants see upon receiving the email. Over 69% of emails are marked as spam based on their subject lines, and you don't want your email to be one of them.
Write a subject line that clarifies your email is a reminder. Cliches like "just a friendly reminder" work well in this case. Nothing limits your creativity, though. "Email marketing giants are approaching." — this may be the perfect subject line for an event reminder email that gives more information about the speakers of an upcoming digital marketing conference.
Use preheader text to your advantage to support the subject line. An example below:
Subject line: "Email marketing giants are approaching."
Preheader text: "They know how to grow."
Personalizing email subject lines is simple with SendPulse, so use it to increase your open rates and user engagement. Follow these instructions.
Content in an event reminder email
Begin with an image of your event location or speakers. This will give attendees a better picture of what they should expect from your event. Add a small image so it won't take all attention away from the text.
Only include essential facts about your event, like the date, time, location, and schedule, include the discussion topics and the list of speakers. It's a good idea to format these ideas in a bulleted list to make your email more digestible.
Finally, give users a way to go somewhere after reading your email. For instance, provide a link to contact the event's organizers, or share an album on Facebook where users can enjoy photos from the last event.
Great, you've just learned how to write event reminder emails. Let's move on to the technical side of things and create a sequence of three emails - the most effective way to keep your audience updated and interested in your event.
How do I send an event reminder email series?
Create an event variable in your mailing list
Create email templates
Set up the start of your email flow in Automation 360
Create an automated email flow and schedule
Use SendPulse. It's a multichannel marketing automation platform that helps you communicate with your audience in various ways: via email, SMS, push notifications, and chatbots. Register and follow the instructions below to set up an event reminder series with three emails.
Step 1: Create an event variable in your mailing list
Select your mailing list and create a date variable with the name of your event.
Connect your event registration form with SendPulse and set up an automated adding of users to the mailing list via API. When subscribers fill out the form, send the event date as a variable along with contact data. Once you do that, your mailing list will look like in the screenshot below.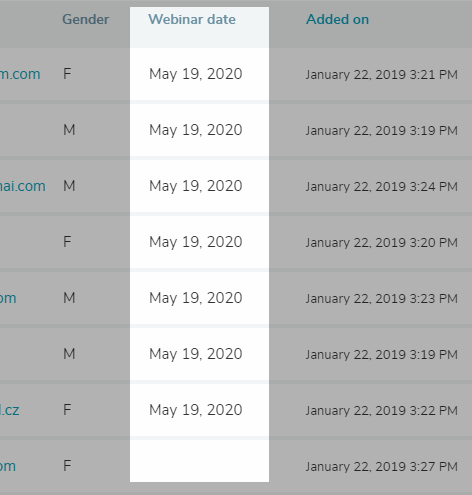 Step 2: Create email templates
There's plenty of ways to do it! You can build templates from scratch with SendPulse's intuitive drag and drop editor, use one of our free pre-designed templates, or save any email in your Gmail inbox as a template in your SendPulse account with our free Chrome extension.
Below is the example of an event reminder email created in our drag and drop editor.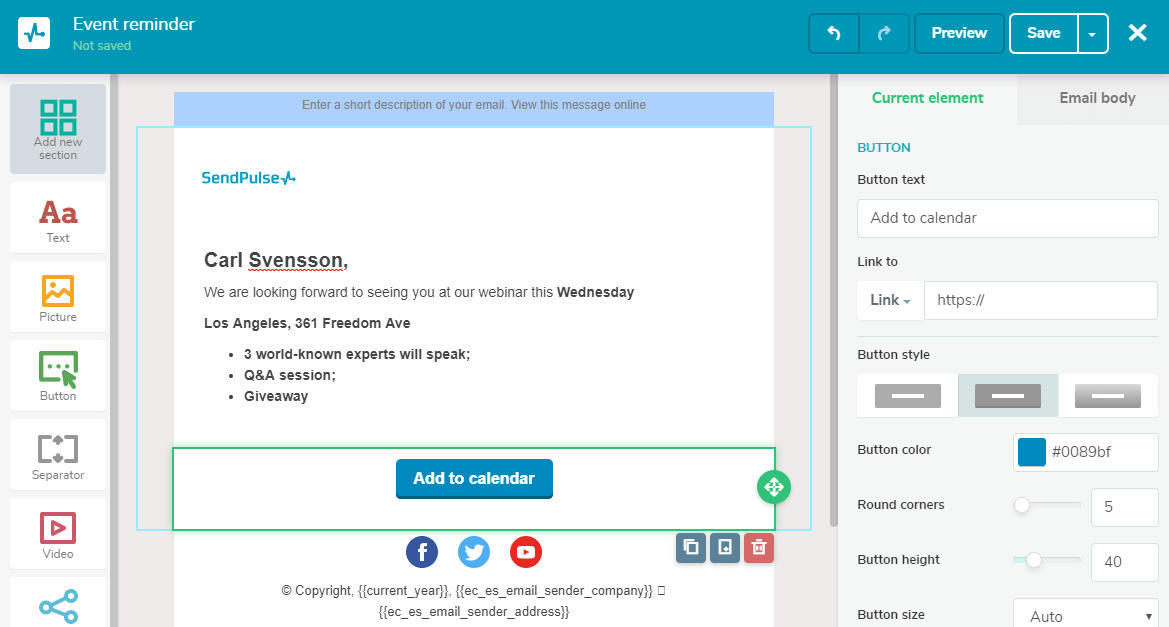 Step 3: Set up the start of your email flow in Automation 360
Go to the "Automations" tab, and set the "Special date" event as a trigger for sending the email. Select your mailing list, choose the previously created variable, and set up how long before the event date emails should start sending.
Step 4: Create an automated email flow and schedule
Drag the email elements from the left-hand side to the working area, choose previously created email templates, schedule the dates, and connect those elements with the start of the flow and with one another, like in the GIF below. Let's schedule the first one to send two weeks before the event, the second — a week before, and the last one — right before the event.
Now it's time to check out some inspiring examples of email reminders sent via email, SMS, and web push notifications.
Event Reminder Examples
Below is a great example of an event reminder email from FenderPlay. The template looks vintage and has all the key info that people need to know. The message says there will be a live online performance, an exclusive interview with the band, and a guitar giveaway.
Another great event reminder example is this minimalistic email from Upwork. It invites freelancers to visit a webinar, clarifies the topic and time of the event, and promotes more upcoming events.
Sending reminders via SMS is also an effective way to boost interest in your event since SMS has significant open rates. Below is an example from Sephora. The message says there are only three days left before the event and reminds recipients about the date, time, and location of their event.
Another SMS event reminder was sent the day before an annual charity fundraising event. It reminds the audience about the speakers and gives a link to pre-registration.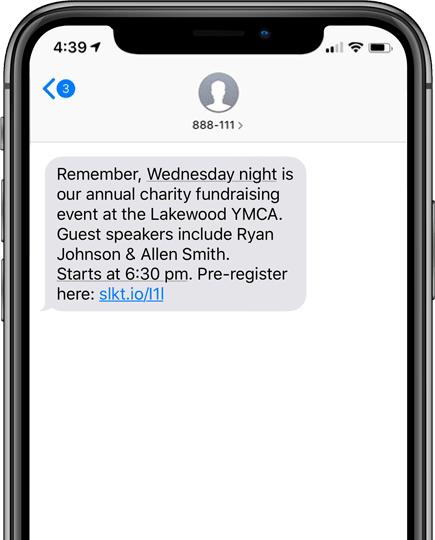 You can send automated bulk SMS with SendPulse, so register and give it a try.
You can also use web push notifications for sending excellent event reminders. The message below invites recipients to join an online live performance on KEXP radio. Below you can see how it looks on different operating systems and browsers.
Note that, you can send unlimited web push notifications to up to 10,000 recipients monthly for free with SendPulse. If you work with a larger audience, check our pricing page.
Now, as you've seen some examples, let's learn the best practices that will help you create efficient event reminders.
5 Best Practices of Event Reminders
Create a mobile-optimized subject line
Include the right images
Personalize your message
Provide contact info
Make a reminder email a one-page message
Create a mobile-optimized subject line
Use a subject line that is no longer than 41 symbols since a large number of emails are opened on mobile devices. The screenshot from the mobile phone below allows recipients to understand what that email is about: a "Q&A session with Dr. Laurie Santos" and the preheader text hints the topic is COVID-19.

Run A/B testing with SendPulse to define the best subject line.
Include the right images
Pictures capture people's attention easily, but figuring out what images to use can be challenging. Include any fun GIF from your event page, highlights of the speakers, or images from a recent event to help your audience understand what the message is about. If you send a reminder the day before or during an offline event, adding a map is ideal.
The example below is a well-structured reminder email from Synapse. It describes the speaker and includes an appealing image.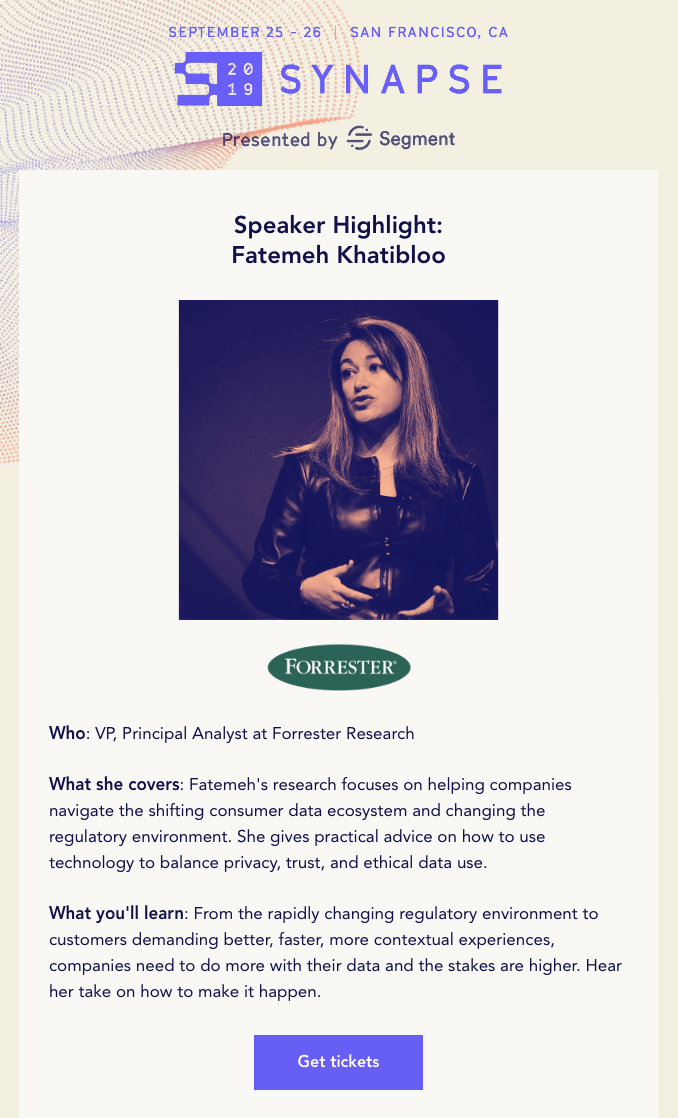 Personalize your message
Many event reminders are automated and look the same, but they can provide customers with additional value when you personalize greetings and other parts of your message. Also, make sure to include the names of your employees that curate the event and their contact information so that attendees can ask questions about the affair if needed and have the opportunity for additional engagement.
Here is an example of a personalized reminder that uses the recipient's name.
Provide contact info
In case of questions, ensure that attendees can quickly contact you or your employees for clarification. It can be a link to your FAQ section or direct contacts of the responsible person.
The screenshot below shares lots of details on the upcoming event and allows users to contact the organizer by following the easily visible link at the bottom.
Make a reminder email a one-page message
Don't repeat all of the details about your event in your event reminder. Just include the time, place, and the key reasons to visit your event with brevity. If you add an image, make it small and put it before the text.
As you can see, event reminders play a crucial role in the success of your event, and it is vital to compose such messages correctly. With the help of SendPulse automated email services, you can create an email marketing campaign, reaching out to different segments of your audience with the tailored messages for enhanced success. Follow the tips provided above and create informative and appealing email reminders easily.
Last Updated: 22.03.2023