SMS advertising is the promotion of products and services via mobile phones. Companies send short pieces of information to subscribers worldwide with the help of bulk SMS services to increase brand awareness and build trust with the audience.
Why is SMS advertising important?
It encourages high interaction
It has a global reach
It opens opportunities for local businesses
It is fast to create
It works with other marketing channels
It encourages high interaction. People check mobile phones 80 times a day. SMS advertising shows a tremendous open rate, which allows companies to increase their brand awareness and distribute proposals to the customers effectively with better chances to be noticed.
It has a global reach. SMS services can deliver a business's message across the world to any person who uses mobile. As five billion people have a cellular connection, SMS advertising can play a crucial role in your marketing strategy.
It opens opportunities for local businesses. Marketers can target SMS advertising within a specific geographical area — it makes SMS campaigns a powerful tool to use locally. SMS advertising allows local companies to send time-sensitive offers to customers that can drop by at any time.
It is fast to create. You can create an SMS campaign for advertising in a few minutes if you have subscribers' phone numbers (note that you don't have to have their email addresses to send SMS campaigns).
It works with other marketing channels. SMS advertising works best in conjunction with email marketing and web push notifications. Marketers often use SMS advertising as a supplement of email marketing campaigns. For instance, if an email wasn't opened, SMS advertising can deliver this message on a mobile phone.
Сhoosing the right service with reasonable prices, you can increase your income significantly.
Send SMS to double sales!
Promote your goods, inform clients about exclusive offers, and increase outreach by sending SMS campaigns.
How to Do SMS Advertising with SendPulse
Create an SMS campaign
Fill in the sender's name
Insert the text
Choose the recipients
Launch the SMS advertising campaign
Step 1 — Create an SMS campaign
Use the "Send SMS" icon on any page in the right upper corner in the website's header.
Step 2 — Fill in the sender's name
It can be up to eleven letters long, including spaces. Only Latin letters allowed.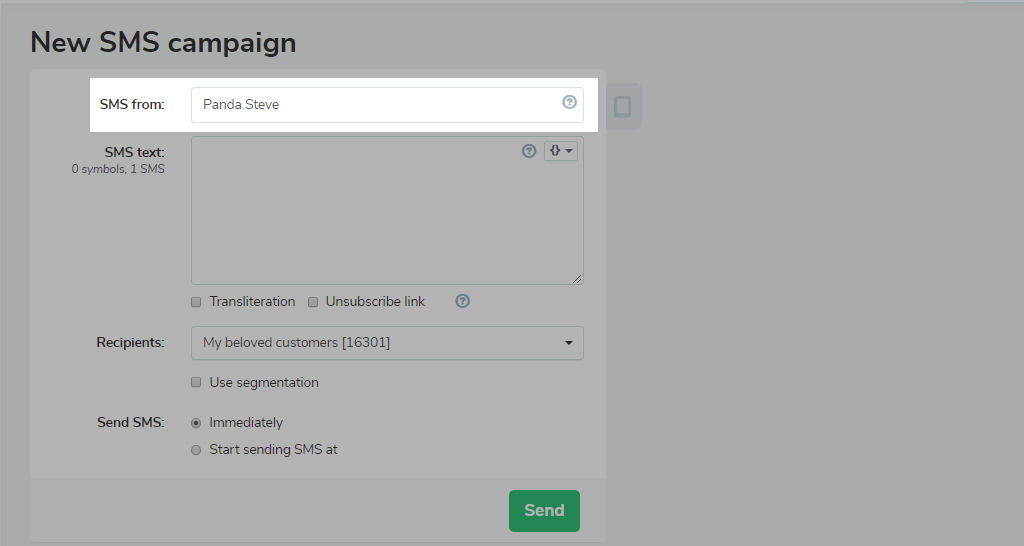 Step 3 — Insert the text
The length of one SMS is 160 symbols. You can personalize a message using variables. Different subscribers will receive slightly different SMS, based on personal data like name, gender, country, etc. You can see how your SMS advertisement will look on a mobile phone, by previewing it on the right-hand side.
Step 4 — Choose the recipients
Select one of your mailing lists or type in one number per line manually. Enter recipients' phone numbers in the international format. You can use segmentation to tailor messages to more specific groups of people.
Step 5 — Launch the SMS advertising campaign
You can send the message immediately or schedule it for the most convenient time and date.
Here are more detailed instructions about how to do SMS advertising.
SMS Advertising Best Practices and Tips
Keep your copy short
Get creative
Make time-sensitive offers
Personalize SMS
Segment your audience
Opt-in users
Experiment
Keep your copy short. The length of one SMS is 160 symbols. You have to fit your SMS advertisement in this frame. Separate message into paragraphs for better visual perception.
Get creative. Think about words that can provoke a wow-effect from your audience. Try to make your SMS advertising humorous, depending on the buyer persona of your subscribers to build trust with the customers.
Make time-sensitive offers. SMS advertising is an efficient tool for doing business locally. You can attract local customers with time-sensitive offers to inspire them to do spontaneous shopping. If the proposal is valuable and relevant, it increases brand awareness.
Personalize SMS. Implement personalization with your SMS advertising by using the variables in your mailing list. Personalization makes a message look more credible and gain a good impression. Mind that you cannot personalize or segment SMS ads if you add phone numbers manually at the moment of creating a campaign.
Segment your audience. Segmentation allows you to get more value from your SMS advertising. You can send a bit different messages to target particular groups of people based on gender, age, country, and so on. It results in more trust from your customers' side and a better shopping experience for them.
Opt-in users. Develop a list of phone numbers asking people to opt-in, even if they have opted-in for the email newsletters. Don't send SMS advertising without permission, because your recipients will not be interested in information about products and services that they don't want to buy.
Experiment. The idea of any advertising is to step out from the crowd of competitors to catch people's attention, provide them with a pleasant buying experience, valuable products, and services. Try different styles of SMS, experiment until you find what tunes in your audience.
SMS advertising examples
Domino's
Chelsea FC
AirKraft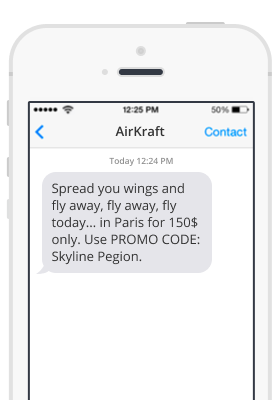 Last Updated: 22.03.2023